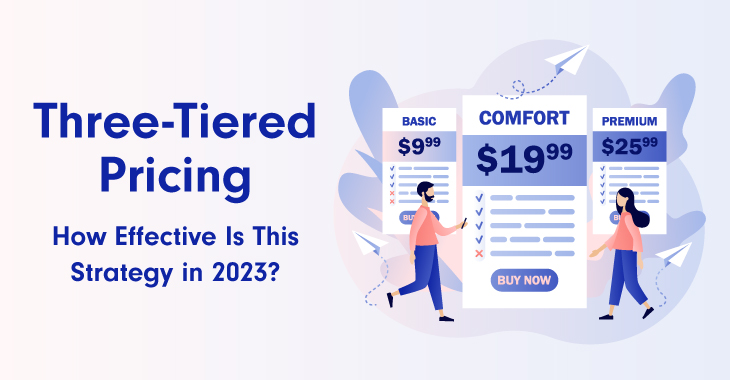 Published on May 24, 2023
Three-Tiered Pricing: How Effective Is This Strategy in 2023?
As a SaaS developer, you've probably given it your all to create an exceptional product. But will this guarantee you success in a fiercely competitive market?
Without focusing on pricing and developing a strong strategy that really makes your product stand out, chances are you won't see significant results in exchange for the value you offer your customers. And that would be a real shame, especially after all your hard work.
Even though so many businesses tend to overlook the importance of their pricing strategy, the truth is your success depends on it. Operating efficiently and profitably is all about having a solid pricing strategy that will improve your profit margins.
This is not our first time discussing the importance of SaaS monetization - we've previously published a comprehensive guide on pricing models. In this article, we are taking a deeper look at the tiered strategy to understand if it's still relevant for SaaS businesses in 2023.
Understanding SaaS Tiered Pricing
Among the most popular subscription billing models out there, tiered pricing offers users several plans or packages having different price points, charged monthly or yearly. The plans are different in terms of features, product usage, or number of users.
Here are the benefits of tiered pricing that are so appealing to SaaS companies:
Providing access to a product or service at scaling rates helps increase the likelihood of user acquisition and opens the door to multiple upselling opportunities meant to boost CLV.
For plug-and-play solutions, tiered pricing makes more sense to customers because it's not as overly complex as the value-based option, for instance.
By offering multiple packages and customized pricing, SaaS businesses can segment their audience and target different customer categories.
Tiered pricing boosts customer flexibility because it better accommodates their needs and budgets.
The 4 Factors to Consider When Implementing SaaS Tiered Pricing
Tiered pricing is extremely popular in the SaaS business, and that's mainly because it can be highly rewarding.
However, before you get too excited about bringing in the big bucks, you first need to implement it correctly, and that requires careful consideration of several essential factors.
1. Customer Requirements
It is very important to ensure that the packages you provide your customers reflect solutions to their needs. So, perform thorough market research, segment your target market into different groups, and, based on the issues they are faced with, start creating tiers.
You should also keep in mind that your packages need to gradually expand in terms of features following the growth stages all businesses go through.
2. Competitive Landscape
SaaS founders may be tempted to copy-paste the pricing strategies used by successful companies, a move we strongly advise you against. Yes, considering your competition to a certain degree is required.
But you need to be aware of how your competition is positioning itself on the market and use it as a starting point. Above all, don't let the competition's pricing strategies define yours, but use them for some inspiration.
3. Business Targets
Take the time to understand your business and, most importantly, your revenue, customer acquisition, and retention goals. Tiered pricing can help you hit those targets as long as you know how to play with numbers.
For instance, to acquire new customers, the correct route to take would be lower-priced packages to gain the attention of a larger market. In terms of retention, however, higher-priced plans offering access to advanced features would be the way to go.
4. User Acquisition Costs
When defining your pricing plans, you need to find that sweet spot between reward and operational workload. Tempting as it might be to have high-priced packages, you need to consider the work that goes into providing users with the features and services they have paid for.
At the end of the day, your CAC could swallow your profits, and that's no way to run a successful business. At the same time, lower-priced plans might mean lower customer acquisition costs but reduced CLV as well. So, it's very much a game of what you could gain in exchange for what you can offer.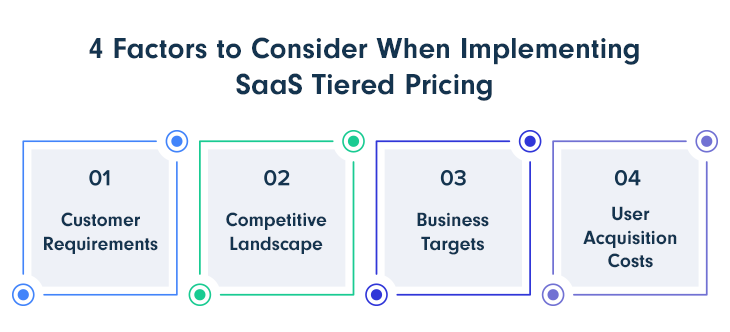 Common Mistakes to Avoid
Popular as it might be, we're still seeing the tiered pricing strategy incorrectly applied. As mentioned earlier in the article, the success of this strategy heavily depends on how well you implement it. Here are some of the common mistakes you should avoid.
Overcomplicating Your Pricing Structure
This is something we see all too often, and while it easily passes as increased customer flexibility, it's actually churn in disguise.
What complicated pricing structures with too many plans and unclear differentiations between them create is overwhelmed buyers that find it impossible to determine the right package for their needs.
Unfortunately, their confusion can lead to churn. So, be aware, unnecessarily complicated pricing could end up costing you down the road.
Lack of Adaptability
Tiered pricing is all about accommodating as much as possible the needs of your customers without going overboard. However, more and more businesses are drifting away from this idea and use pricing plans only in their own best interest.
Instead of being open to the idea of customization through add-on features, for example, SaaS founders stick to a three-plan bare pricing structure. By doing so, they are missing out on some great opportunities to boost customer satisfaction and decrease churn.
Disregarding Customer Feedback
It's no secret that the secret to successful tiered pricing is customer needs. Even so, only 6% have done sophisticated research on buyer needs. So, it would seem that many SaaS companies are winging it.
Not gathering sufficient information from your customers or, worse, ignoring the feedback received could prevent you from actually benefiting from the pricing strategy.
Deep customer understanding is required to get tiered pricing right, so if you do receive feedback, implement whatever you can.
Failing To Test and Optimize
52% of companies admit to not testing or piloting a new pricing strategy before releasing it. This means that the majority of SaaS founders are unaware of their product's value and growth potential. Additionally, they have no knowledge as to how they can adjust and maximize the effectiveness of their packages.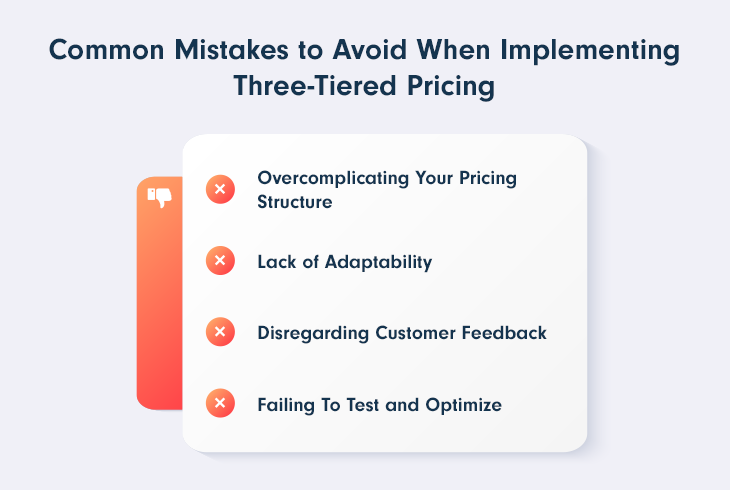 What Do These Successful SaaS Tiered Pricing Examples Teach Us?
Nailing tiered pricing might seem challenging. Nonetheless, it can be done, and the following SaaS examples prove it. Let's take a look at what is special about their tiered pricing models and see if there is anything to be learned.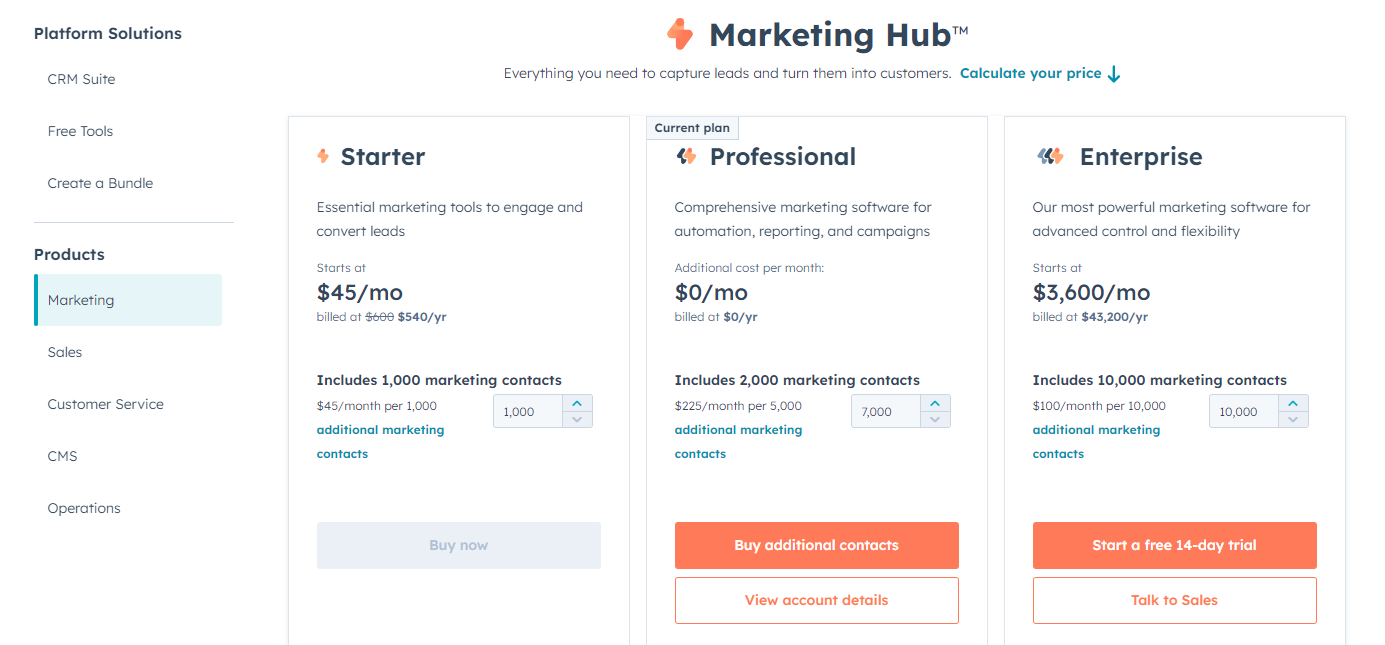 The highly popular marketing software HubSpot operates on a tiered pricing strategy, and it does so brilliantly. What is special about Hubspot's tiered pricing are the customization layers applied to it.
HubSpot doesn't specialize in a single market but rather in several of them. Effectively accommodating diverse needs across multiple customer segments is highly challenging.
However, they've beautifully managed to find a solution to this problem without overcomplicating the pricing page.
Instead of looking at market type, they considered the market size and features or, better said, individual apps. Also, through separate tabs, they organized the multitude of tiers offered. This allows them to successfully promote their package and highlight the differences between the pricing levels.
Additionally, each tier has the option of adding marketing contacts to it. This way, customers are no longer situated in between tiers and are awarded a balanced package that can accommodate their growing needs.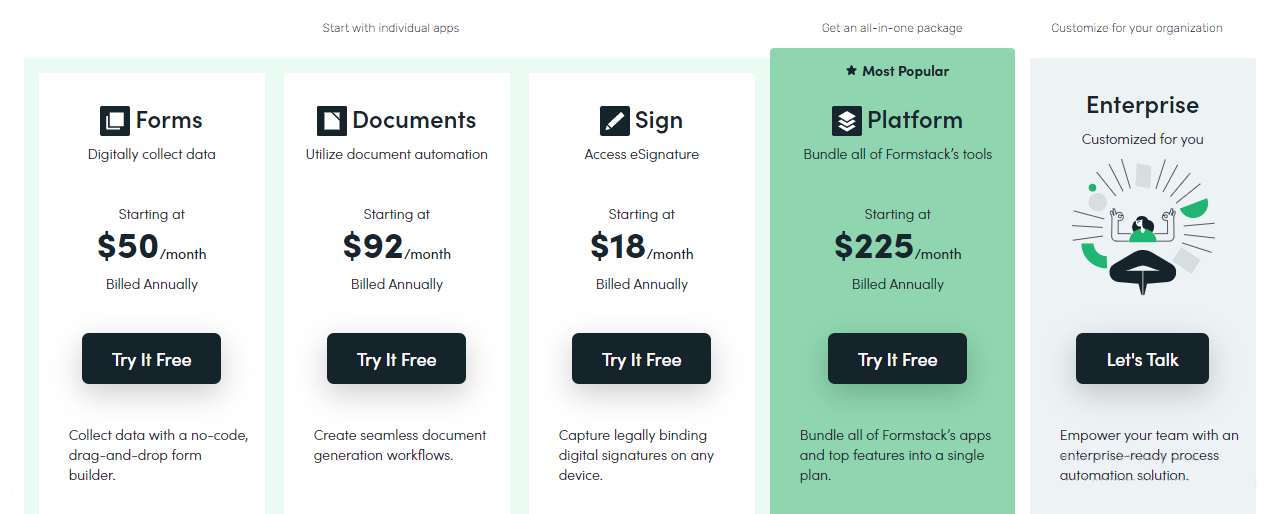 Formstack is a cloud-based platform that provides businesses with online forum creation and data management tools.
Because it offers a wide variety of features, the tiered pricing interpretation is rather unique. Once you've landed on the Formstack pricing page, you are welcomed by five apparent packages. In reality, however, there are only three.
Formstack has three distinct plans for their individual apps, appealing to business owners with highly specific needs. It also offers an all-in-one package and an enterprise plan which is fully customizable.
The great thing about this multi-level interpretation of the tier pricing strategy is that Formstack manages to capture more leads than it would otherwise.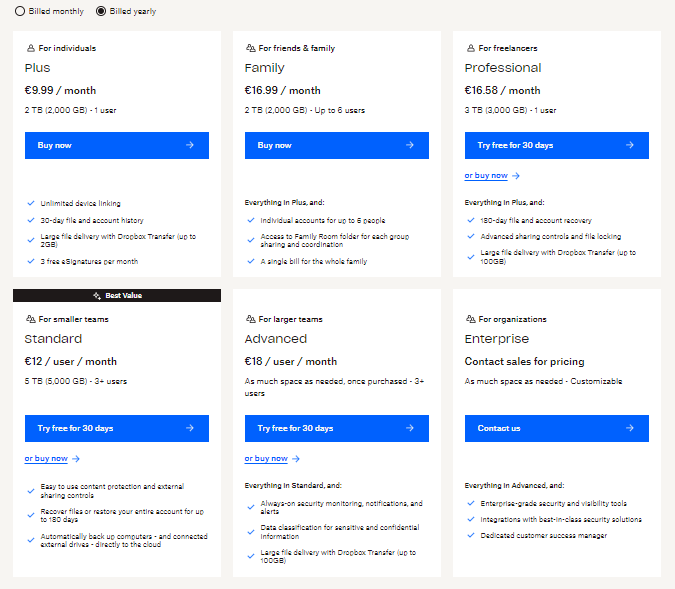 Dropbox needs no introduction. By looking at the number of pricing plans, it's safe to say that this cloud storage and sharing platform is definitely detail-oriented.
Dropbox's take on tiered pricing is all about the customer. This SaaS solution has dived deep into custom segmentation and has rolled out several packages, from options with basic features for individual use to a premium plan for enterprises, all to accommodate different needs.
What is also interesting about their pricing strategy, apart from the multiple options in terms of tiers, is the 30-day free trial for the corporate plans. This is appealing for businesses looking to test a tool before committing to it.
Dropbox's interpretation of the tier pricing strategy actually shows that the more audience segments you hit, the broader range and the bigger the potential gain will be. And when adding testing and optimizing to the equation, you can optimize your pricing model even further.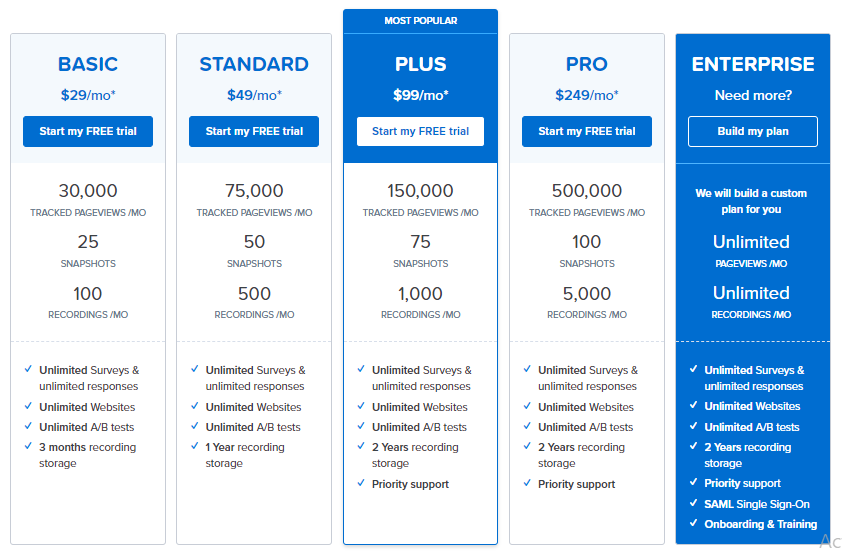 CrazyEgg uses a hybrid five-tiered pricing structure that works wonderfully for products with multiple unique features and has numerous use cases, and answers the specific needs of different user segments.
This hybrid approach entails a balanced combination of the tiered strategy and usage-based pricing. Not only does CrazyEgg differentiate its plans through its feature offer, which includes technical support, but also through its usage volumes as well. This makes its pricing highly appealing for businesses in different growth stages.
Furthermore, the website optimization and data analytics tool makes the third tier more noticeable for potential users, positioning it as the most popular and cost-effective option.
Lessons For The Future
While tiered pricing remains one of the most effective and appreciated strategies for SaaS monetization, you still need to think outside the box.
The traditional three-plan tactic is not competitive enough in today's market. So, here are a few lessons you might want to consider when improving your pricing model.
Four is The New Three
To be competitive using the tiered pricing strategy in 2023 and gain more customers, you need to step away from the classic three-plan structure. While it can be a great starting point, you need to up your game, further segment your audience and create profitable pricing tiers.
So, when implementing tiered pricing, consider defining buyer personas and designing your options around those hypothetical customers. Having at least four packages will allow you to better service your customers and gain a greater number of leads.
However, try not to get carried away. If your product accommodates the needs of multiple markets, instead of creating a long and confusing list of plans, try following Hubspot's simple example and include tabs that separate packages based on the apps you offer or on the type of clients you service. It's essential to avoid confusion at all costs (pun intended).
Make Tiered Pricing Your Own
Thinking outside the box means understanding your customers and the value they obtain from your product and figuring out how to best highlight the uniqueness of your offer. Now, let's translate that into pricing structures.
Introduce potential customers to your product through a free basic tier. Then, as they get to know and appreciate it, give them options, different tiers. You can go even further and maintain a free trial on your paid plans, allowing your customers to select the right option for their needs.
Customize Your Packages
When offering customized plans, you are giving your client the option to explain their exact needs and obtain a unique package which generally involves establishing a direct line to your team. These packages highlight the options on your pricing page not only through the high value they bring you but through the increased commitment level expected.
Additionally, segmenting your plans can be done through a well-thought hybrid approach between features offered and usage volumes, giving customers packages that can accommodate their growing needs. CrazyEgg does a brilliant job at combining the two and clearly defining the differences between the pricing options.
Choose Your Favorite
When analyzing the SaaS market, we've noticed that the majority of SaaS products offer a preferred package they highlight. This is advisable because it directs customers toward the offer that is regarded as the most effective, cost and feature-wise.
The reasons for which you favor a plan need to be practical and not sentimental. This package needs to have a higher perceived value for the average customer and be CAC-efficient for you as well. It helps boost sales and customer retention, as well as bring in more value. So, be sure to take the workload aspect into consideration when creating the plan.
Numbers to Remember
Here are three tips worth considering in 2023 when optimizing your pricing page:
Meet PayPro Global.
Your Dedicated eCommerce Partner.
Thrive with the industry's most innovative all-in-one SaaS & Digital Goods solution. From high-performing payment and analytics tools to complete tax management, as well as subscription & billing handling, PayPro Global is ready to scale your SaaS.
Sell your SaaS globally with PayPro Global!
How Can PayPro Global Help?
Through PayPro Global's unified eCommerce solution and access to AI-powered reporting capabilities, you can effectively test your tiered pricing strategies, verifying which option suits your audience best and making constant optimizations.
Customize your pricing strategy to ensure you are successfully engaging with your customer base. From testing volume pricing or other models, trials, and demos to optimized checkout pages, cross-sell, upsells, and add-ons, our platform gives you all the tools you could possibly need to turn SaaS pricing into a competitive advantage.
By providing you with the right mix of payment methods, currencies, and languages, as well as exceptional customer service, PayPro Global helps you to up your customization game.
Localized pricing has the power to secure your company's worldwide growth by responding to how your customer pay and PayPro Global is exactly the partner you need to make that happen.
Final Thoughts
SaaS founders have definitely had it rough over the past three years. With the global pandemic followed by a recession, it's no wonder we're seeing more and more businesses trying to optimize their pricing as best as they can. Still, tiered pricing continues to be the headline in SaaS monetization in 2023, although with a few changes.
SaaS products are no longer trapped in the traditional, blunt three tiered pricing strategy structure. Customization and different pricing tiers are the keywords here. Making your own version of the tiered pricing strategy will help you showcase the uniqueness of your product features and, ultimately, steal the spotlight.
And keep in mind to always consider different buyer personas and personalize your price levels based on your findings. This will allow you to gain more revenue and really make the most of the tiered pricing model.
The great thing about SaaS pricing is that it's never set in stone. You can always optimize your strategy and make sure that you are getting your product's worth. So, take the time to consider your business goals, understand your audience, and develop a pricing strategy capable of maximizing your conversion rates and, ultimately, your profit.
It doesn't take luck to make it, but it does take knowledge. Be the first to learn the latest industry insights and must know marketing tips and tricks. Sign up and enjoy! Always informed. Never Spammed.