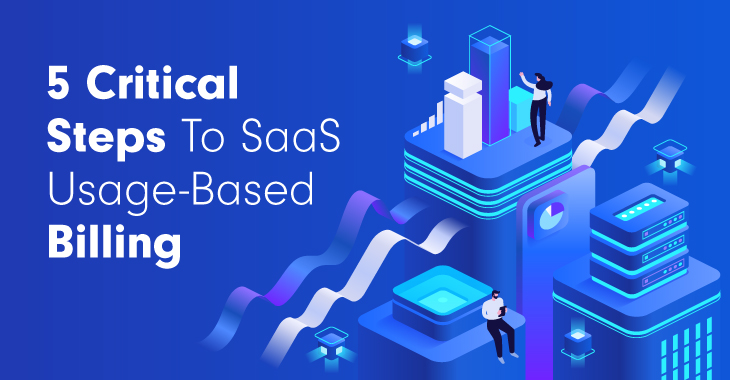 Published on November 24, 2022
Updated on May 10, 2023
5 Critical Steps To SaaS Usage-Based Billing
While SaaS companies have primarily favored the pay-per-seat billing model, which charges customers based on the number of users on their accounts, the usage-based billing model has been steadily gaining popularity. According to a 2021 OpenView report, 45% of SaaS companies surveyed indicated they offer this newer pricing model. This trend is also evident in the rise and success of cloud-based companies, and further proof is the fact that usage-based billing is the second-most common payment model enterprise technology firms use.
What is Usage-Based Billing?
Also known as metered billing-, consumption-based, and pay-as-you-go pricing, usage-based billing indicates how much or how often customers use your product or service. In short, it is based on a precise unit of measurement and the value associated with your offering.
Standard metrics for this model, which are defined differently depending on the SaaS industry in which you operate, include the number of units, amount of data, and consumption rate. Unlike the traditional user-based model that requires customers to pay for the product or service in advance, usage-based billing charges them post-use.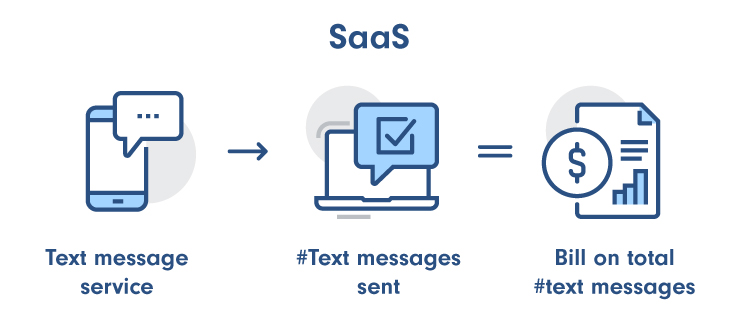 A well-designed, customer-centric usage-based billing system has many benefits but requires a considerable implementation strategy and a firm understanding of customers' needs. It allows greater flexibility, but with the appropriate automated payment system in place, you'll be able to optimize your business revenue and keep customers loyal.
Common Usage-Based Pricing Models
Some of the most common pricing models SaaS companies use are:
Pay-as-you-grow
Per-unit pricing
Usage tiers
The pay-as-you-grow model is ideal for startups because companies can initially pay a lower rate for essential services. As the name suggests - as they grow and need additional resources, they can incorporate those costs into their billing. Per-unit pricing involves charging customers a fixed amount per unit of goods or services. Alternatively, usage tiers allow you to group your customers into various levels and charge them accordingly.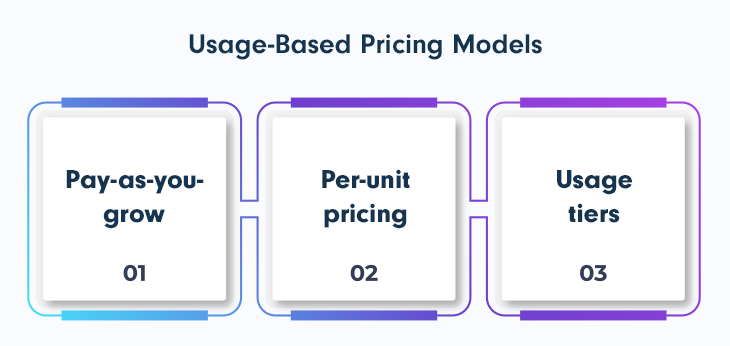 As an example of this model, workflow automation software company Zapier, offers tiered-usage pricing, grouping customers based on how many defined tasks they complete with their software.
The 5 Critical Steps to Usage-Based Billing
To successfully implement usage-based billing, you might want to consider these 5 crucial steps:
1. Identify The Right Value Metric
Usage-based models should be developed around value-based models In other words, the metric you are using to charge your customers should be linked to the value your customers receive. Keeping tabs on how satisfied your customers are with the services received is crucial for your SaaS business, so make sure you go through our article on essential customer satisfaction metrics. Your first step in setting up usage-based pricing should be identifying your primary value metric. Defining this metric correctly from the start is imperative as you will develop further pricing structures around this metric as your company matures and scales.
SaaS companies need to have a precise unit of measurement and value proposition associated with each unit which is, of course, the metric unit. Determining your value metric requires market research and a solid understanding of how your customers perceive the value of your products and services. You'll need to consider the number of users and the amount of data, services, or events/tasks that require processing over time.

In contrast to traditional pricing approaches, usage-based billing allows for a more flexible approach to monetizing your offering, as you can eventually combine different metrics into packages and ultimately offer value-based pricing on the varying needs of your users. You might want to use a trial-and-error approach in creating a flexible pricing strategy for your business and how to use these metrics to your advantage.
Most importantly, your customers should be able to quickly identify the value they derive from using your product and link that value with usage costs.
2. Decide on your pricing strategy
Once you've decided on your value metric, you'll need to implement an effective pricing strategy. Apart from the standard usage-based billing models mentioned above, there are others to consider, including volume pricing and overage pricing. Understanding the various options and their benefits will help you decide on your business's best strategy.
Start with a simple usage-based pricing model before implementing anything complex that may prove redundant in the long run. The most effective strategy will develop over time as the value of your product or service becomes clear.
To determine the most appropriate cost associated with your value metric, you'll need to consider the following:
your business's revenue goals
the current average usage of your product or service per customer
whether your pricing strategy is in line with the rest of the market
what your customers are currently paying so they're not suddenly charged more
Your usage based pricing strategy will evolve as your business grows, the market develops, and your customers' needs change. This flexibility is one of the reasons usage-based pricing is so popular with SaaS companies.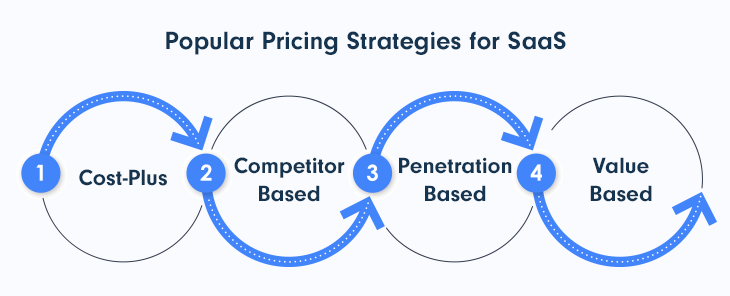 3. Explore Ways to Help Your Customer Budget
While beneficial for your business and your customers, usage-based billing can become overly complex if not implemented effectively. Adopt a customer-first approach where everything is clear and easy to understand so you don't lose them due to a second-rate billing experience.
To ensure your customers pay, transparency and a simple billing display that reflects usage charges are a must. This should include how much of your product or service was used, how much is charged per unit, and the overall cost to your customer for that period. This information will give them a clear indication of the value they are paying.
To help customers develop a forecasting budget, consider providing a simple-to-use, built-in pricing calculator. This will help them predict future costs based on the number of product or service units they need. This is particularly useful for cost-sensitive clients and during periods of economic uncertainty, as businesses can plan and budget accordingly.
4. Build in Customer Monitoring, Alerting, and Reporting
Monitoring and reporting usage data are essential from a business and customer perspective. By keeping track of usage records, you can alert customers when their usage exceeds or drops below specified levels. This will help them select the best pricing model for their usage levels and business requirements while helping them manage their costs. Customers should feel in control of your platform, monitoring and allocating their in-house consumption independently and suspending their accounts when necessary.
Monitoring and analyzing customer usage will also help you keep track of your business's operating costs and break your customer base down into appropriate tiers. This allows for a proactive communication strategy that empowers your team to upsell to heavy users and helps you keep your revenue growth on track.
Meet PayPro Global.
Your Dedicated eCommerce Partner.
Thrive with the industry's most innovative all-in-one SaaS & Digital Goods solution. From high-performing payment and analytics tools to complete tax management, as well as subscription & billing handling, PayPro Global is ready to scale your SaaS.
Sell your SaaS globally with PayPro Global!
5. Choose a Robust Billing Solution
When it comes to usage-based billing, you'll need a robust solution that allows for clear, accurate invoicing so that customers can quickly gauge what they're paying for. Recurring billing is done after customers have used your products or services and should aim to leave no room for misinterpretation.
A weak billing system that doesn't do an adequate job of managing your SaaS subscriptions could lead to increased customer churn, no matter how great your pricing strategy is. It almost goes without saying, but invoicing should be error-free, up-to-date, and easy to understand. Your billing solution should also be able to handle compliance requirements, especially as you scale to other regions.
An eCommerce partner backed by powerful technology can help your SaaS company not only implement different pricing strategies but also test their efficiency so that you can make informed decisions. You'll also want to work with a provider with a powerful analytics system that will allow you to determine how you can best meet your customers' needs and limit churn.
5 Reasons Why Companies Are Switching To Usage-Based Billing
There's a strong incentive for SaaS businesses to switch to the usage-based monetization model. According to OpenView, those that do see a 38% faster revenue growth rate and 50% higher revenue multiples than those that choose not to. And the benefits for customers are numerous, so let's unpack some of them and figure out why businesses choose to implement usage based pricing!
1. Improved Customer Experience
The flexibility of usage-based pricing allows customers to only pay for what they use, limiting wastage and not overpaying for their needs. They also have explicit knowledge of how much they will be charged at the end of a billing cycle, helping build trust with your company.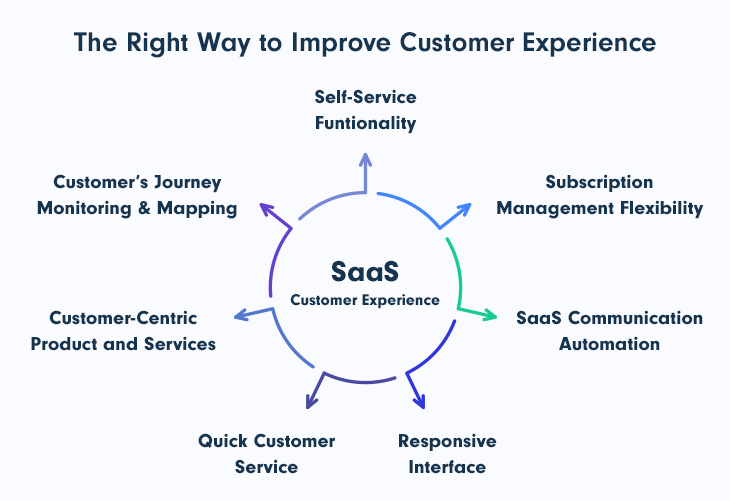 Usage-based billing is an easy-to-understand pricing model, so customers easily recognize the value of the expense. This makes your product or service accessible for SaaS startups who can adjust their usage levels as they grow.
2. Increased Revenue
According to research from Sapphire, public companies implementing usage-based pricing are growing more efficiently and experiencing faster revenue growth than larger public high-growth SaaS companies that don't offer this option. This makes sense, given that usage-based pricing allows for cost optimization based on product or service value, upselling opportunities, and pricing that aligns with customer success – all of which contribute to revenue growth.
A usage-based pricing strategy allows for greater customer satisfaction which results in reduced customer churn rates, making it an appealing strategy for potential investors.
3. Greater Customer Lifetime Value
With usage-based pricing, the higher your customer's profit, the more money they are likely to spend on your product or service, linking their growth to your growth. They are more likely to stick with your brand as they can adjust their costs as they scale and adjust as the economy ebbs and flows, as do their own expenses and profits.
The flexibility of the pricing strategy allows them to test your product without making a long-term commitment. As they grow with you, there are more opportunities for recurring revenue, which is less costly than acquiring new customers.

4. Expanded Customer Base
As a more affordable option than other pricing models, mainly for SaaS startups, usage-based pricing can help your business regularly attract new clients. This is especially important during economic instability when businesses seek more affordable solutions. They may be hesitant to commit to more traditional subscription models that require long-term commitments.
Usage-based pricing can also help your business grow its customer base by offering tiered levels of service that cater to various customers depending on their growth stage.
5. Higher Customer Retention
Usage-based pricing models lead to greater customer loyalty for several reasons: the flexibility to use the product or service on a trial basis, spending that's aligned to consumption, as well as pricing tiers that adjust as they grow. With this level of flexibility, customers are more likely to stick with your brand for the long haul rather than move to a competitor.
Affordability is a crucial determining factor in customer retention – if they can adjust their costs according to their budget or company performance, they are more likely to remain with your company.
Challenges Associated With Usage-Based Billing
Implementing usage-based billing has its challenges. One of which is the pricing difficulties that come with complex products. This makes it harder to assign a value metric to your product or service, so it requires careful consideration before implementing the model.
Your billing system needs built-in pricing agility so customers can scale up or down depending on how their needs evolve. Without the right system to support usage-based billing, your customers will likely end up frustrated and looking elsewhere for greater flexibility or better value. Businesses are looking to forecast revenue accurately, so with this challenge, it's also essential to understand how it may impact expenses before implementing this billing model.
Meet PayPro Global.
Your Dedicated eCommerce Partner.
Thrive with the industry's most innovative all-in-one SaaS & Digital Goods solution. From high-performing payment and analytics tools to complete tax management, as well as subscription & billing handling, PayPro Global is ready to scale your SaaS.
Sell your SaaS globally with PayPro Global!
Finally, managing usage data can be complex due to the volume and the technology needed for real-time reporting. Your billing system must have the necessary capabilities to preserve data quality, or you will leave your customers unsure as to whether they can put their trust in your company.
The right eCommerce partner will be able to help you efficiently address all these challenges and more with pricing model testing and implementation, supported by powerful analytics.
How Can PayPro Global Help?
Determining the right pricing strategy for your business is imperative for the overall, long-term health of your business. This is the kind of detail that can heavily influence the level of profitability of your SaaS. So, deciding on the pricing method is really a matter of testing, as you you need to find the one that best suits your business.
PayPro Global is the all-in-one solution that can be of tremendous help in ensuring a true payment revolution for your business. Giving users the freedom to test various strategies and track the results. Additionally, to ensure the best outcome for your SaaS product, we provide you with numerous sales strategies like trials, freemiums, or demos, allowing you to engage with different customer profiles and validate the right model.
Having complete access to a robust subscription management system, paced with valuable e-invoicing benefits, PayPro Global can help grow lifetime value and significantly reduce churn. Not only will you be able to increase your acquisition rate, but our reports will give sufficient insights into how you can recover lost customers.
Closing Thoughts On Usage-Based Billing
Usage-based billing has clear benefits for SaaS companies and their customers, but it's important to take the time to analyze your business. It's extremely important that you understand your customers to determine whether it's the right pricing strategy for you. Our SaaS pricing guide will help you master this art and figure out which model serves your business best.
Since every business is different, partnering with eCommerce partners that allow you to implement different pricing strategies and test their efficiency is key. PayPro Global's flexible subscription management system and powerful analytics platform will help you create a billing system that best suits your business's needs. Our subscription lifecycle solution means you can manage upgrades, downgrades, optimization, price editing, and packaging strategies all within our unified system.
Visit PayPro Global or reach out for more information on our effective subscription billing solution. We love to meet new partners and build new relationships in the eCommerce industry and would be honored to be a part of your business journey!
The most significant cause of churn is when customers are not receiving enough value from the product or service to justify the expense.
Infrequent login or usage, requests for refunds due to changes in billing, dissatisfaction with product updates, and lack of loyalty benefits--all are sure signs that customers are unhappy.
It doesn't take luck to make it, but it does take knowledge. Be the first to learn the latest industry insights and must know marketing tips and tricks. Sign up and enjoy! Always informed. Never Spammed.