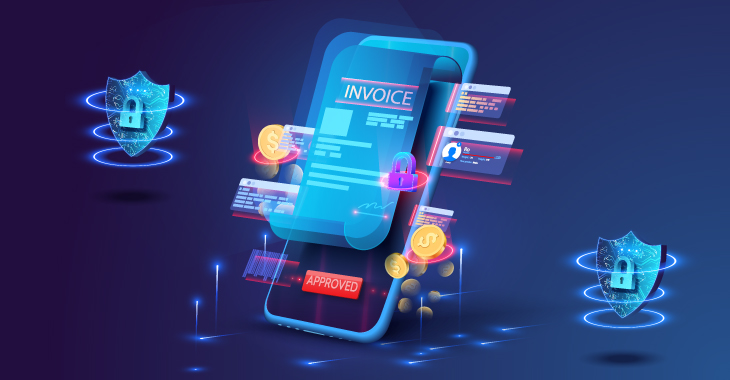 Published on February 7, 2023
7 E-Invoicing Benefits for Your SaaS
Global digitization has significantly altered business management in so many different ways. Enterprises that don't keep up with technological advances will find themselves out in the cold if they don't stay aware of current trends. One aspect greatly affected by updated technology is the invoicing process. It has always been a difficult but necessary business process, and most organizations are constantly trying to make the invoice creation system simpler and more efficient.
Cue e-invoicing. Although not a new technology, e-invoicing experienced exponential growth during the Covid-19 pandemic as the demand for contactless payment methods surged. The global e-invoicing market reached a value of US$ 8.74 Billion in 2021 and still continues to grow.
In this blog article, we will present some ideas about why you can't afford not to switch to this method. We want to take you through the key benefits of e-invoicing for your SaaS business to show you the many ways in which it will make your life easier!
What is E-Invoicing?
Electronic invoicing refers to creating electronic bills through a digital platform to exchange goods and services. Essentially, it creates a sales agreement between you and your customers. An invoice is submitted as proof of products or services sold, then submitted to receive payment. Both suppliers and buyers can manage this invoicing data on an integrated, central cloud-based platform.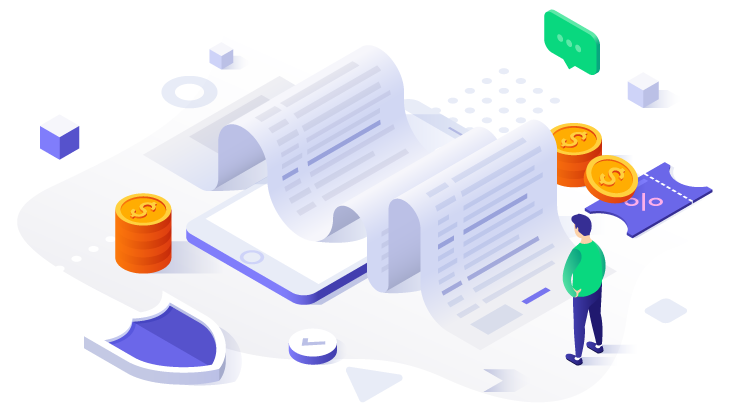 The Benefits of E-Invoicing
1. Saves You Time and Money
As the saying goes, time is money, and with automated invoicing, you'll be able to save on both. Incredibly, processing electronic invoices have been proven to reduce processing cycle time by 65%. There is also increased efficiency, less repetition and duplication of tasks, and fewer human errors. What's not to love here?
With the e-invoicing system, organizations can receive invoices from their suppliers in any format. Electronic invoicing provides a single platform for managing information about accounts payable, as well as other financial processes. Your employees assigned to managing invoicing before e-invoicing are freed up and can be given other tasks, increasing productivity business-wide. Additionally, invoicing tasks can be automated with dedicated software, also allowing you to spend your time on other tasks that will benefit your business and allow for growth and better margins.
E-invoicing systems work with automatic labeling and classification to allow for integration across systems and other relevant documentation. This provides both you and your customer with time-saving benefits.
Although you may have set-up costs, they will be more than offset by the savings e-invoicing offers. You'll have less paper consumption and lower costs, meaning no postal fees and fewer delivery, storage, and archiving costs. And the increased accuracy of e-invoicing will also result in fewer invoice-related support tickets to deal with, enabling you to focus on more critical customer service matters.
2. Shortens Payment Cycles
Another way in which e-invoicing can benefit you is by ensuring payments are processed in the most timely manner. Your customers will easily access the invoicing system and can approve your invoices more expediently, therefore creating shorter payment cycles.
As a result, you'll be paid faster, improving your cash flow and implementing a structured process. Invoices will be delivered to customers at the click of a button, requiring minimal effort and time on your part to pay an electronic invoice. Because of this, the customer will likely remit their payment within a shorter time period. With fewer errors in the creation and logging of invoices, payment turnaround times are reduced and more reliable.
Meet PayPro Global.
Your Dedicated eCommerce Partner.
Thrive with the industry's most innovative all-in-one SaaS & Digital Goods solution. From high-performing payment and analytics tools to complete tax management, as well as subscription & billing handling, PayPro Global is ready to scale your SaaS.
Sell your SaaS globally with PayPro Global!
3. Improves Customer Service
Payment-related issues are sure to produce dissatisfied customers. With e-invoicing, you'll reduce late payments, lost invoices, and payment disputes. With fewer business-related issues comes better customer service and improved customer SaaS retention. By eliminating the friction in your invoicing processes, you can then use your customer service resources in many other, more valuable ways.
4. Makes It Easy to Track Spending and Budgets
The ability to track your invoices at their various stages has multiple advantages. With the ability to see when invoices have been received, acknowledged, and processed, you can more accurately track the income and expenditure of your business. You can also gather strategic insights on cost centers and identify savings opportunities from invoice data, such as using early payment discounts.
5. Increases Compliance
Since global business enterprises must meet international invoicing mandates, it makes perfect sense to prioritize this task. Good e-invoicing solutions will help your SaaS business meet regulatory compliance requirements in multiple countries and jurisdictions with the headaches you're likely incurring now. Considered legal documents, in some countries, invoices are required to contain specific information as well as use a particular format.
Even better, because e-invoices allow for superior tracking, it's a more transparent process, making tax and compliance audits remarkably less stressful. An electronic system makes fraud, duplication, oversight, and human error less likely. With these factors that typically cause problems with auditors, your SaaS compliance process will be much simpler and without worry, With digital invoices, you'll have a centralized archive that stakeholders can access at any time, which will also contribute to everyone's peace of mind in this area of your business.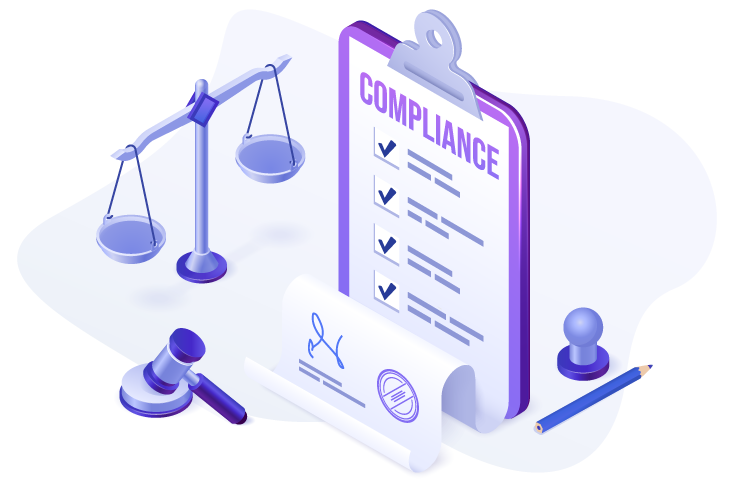 6. Reduces Safety and Security Risks
E-invoices are designed to be more secure than paper equivalents. They're usually sent through private networks or protocols like AS2, FTPS, web services, VANs, etc. Mails are encrypted to ensure a safe exchange, and data is protected against document loss or third-party intrusions. Additionally, money traces are easier to monitor due to the recording of payments and the use of electronic payments.
AP software usually allows users to keep a list of verified suppliers for their businesses. Since the e-invoicing software checks against your business' approved list before invoices can be issued, you have an additional benefit to using this process. On top of that, e-invoices use digital technology, which gives them unique security seals or certificates which makes forgery and fraud more difficult and less likely.
Quite simply put - on an elementary level, there is also no risk of losing paper documents due to secure, online storage.
7. An Environmentally Friendly Option
Not surprisingly, E-invoicing is also the greener alternative. It drastically reduces waste, and the percentage of CO2 emissions is considerably reduced when compared with what is generated with paper documents.
Meet PayPro Global.
Your Dedicated eCommerce Partner.
Thrive with the industry's most innovative all-in-one SaaS & Digital Goods solution. From high-performing payment and analytics tools to complete tax management, as well as subscription & billing handling, PayPro Global is ready to scale your SaaS.
Sell your SaaS globally with PayPro Global!
How Can PayPro Global Help?
PayPro Global is an all-in-one solution that helps Software, SaaS, and digital goods developers with the much-needed tools to successfully sell their products around the world. Providing access to a complete growth infrastructure, covering areas like tax and compliance management, payment methods and currencies, powerful, including real-time analytics PayPro Global also provides complete subscription handling.
Our advanced invoicing solution makes it easy for developers to automate the entire invoicing process, thus enjoying increased productivity and ensuring faster processing of payments. We give you the tools and systems to boost efficiency, externalize operational work and gain the freedom to focus entirely on what matters: your products.
Getting Started With E-Invoicing in Your SaaS Business
If you decide to go the e-invoicing route, you'll need to invest in a good e-invoice solution capable of offering a true payment revolution that will maximize operating efficiency. When comparing eCommerce partners, keep in mind you will need it to be compatible with your accounting software, have all the features your specific business requires, be internationally compatible, and offer excellent customer support.
For a full-service e-commerce partner with all these features and more, choose PayPro Global. Let our Merchant of Record unique model handle your tedious back-office tasks like invoicing, global tax and payment processing. As your online reseller, we'll keep things running smoothly while you concentrate on what matters most: your product. For a comprehensive list of all the additional benefits of partnering with PayPro Global, set up a call today. We work with SaaS and eCommerce businesses around the world and would love to learn about your company and show you how we can help serve all your eCommerce and saas needs.
The most significant cause of churn is when customers are not receiving enough value from the product or service to justify the expense.
Infrequent login or usage, requests for refunds due to changes in billing, dissatisfaction with product updates, and lack of loyalty benefits--all are sure signs that customers are unhappy.
It doesn't take luck to make it, but it does take knowledge. Be the first to learn the latest industry insights and must know marketing tips and tricks. Sign up and enjoy! Always informed. Never Spammed.