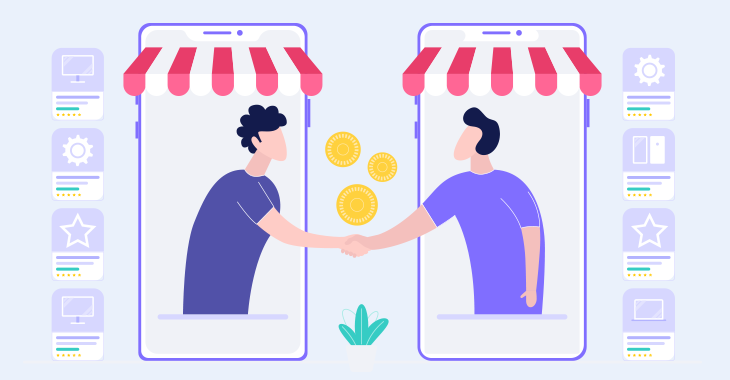 Published on November 23, 2021
What Is A Merchant Of Record: How Does MoR Cut eCommerce Risk?
If you sell SaaS online, you'll likely end up marketing your products across national and global markets.
However, there is a significant challenge in handling complex transactions, especially when a SaaS business goes global. That's what building a solid SaaS revenue infrastructure means. You suddenly must process credit card payments, billing, tax, and legal compliance. And all this while at the mercy of an industry full of ever-changing rules and regulations.
The good news is that using a Merchant of Record (MoR) model can make your job a lot easier, simplifying sales tax scaling and overall business operations while minimizing risk.
Merchant of Record (MoR)
What Is a Merchant of Record?
An MoR is a legal entity or organization that acts as a reseller between two parties in an eCommerce transaction. The MoR takes responsibility for reselling its vendor's products to their customers worldwide, providing you with the tools needed to manage your overall business operations. If you sell video games online, working with an MoR means having the freedom to focus on your product instead of tax-related paperwork.

What is a Merchant Of Record Responsible For?
The MoR is responsible for the entire customer interaction, from the moment the buyer initiates the purchase process until the customer receives their product. Even then, the MoR is still working away in the background throughout the entire customer lifecycle, taking responsibility for subscription management, support, reconciliation, managing refunds and chargebacks, maintaining international tax compliance, and taking care of currency conversion.
The MoR is also responsible for ensuring compliance with the Payment Card Industry Data Security Standards (PCI DSS), data privacy regulations, and other rules and regulations specific to the countries and regions they operate in.
The MoR is essentially the seller of the product, taking care of all the complex responsibilities that come with it. This means there's no need to assume financial liability or maintain banking relationships, merchant accounts, and payment gateways.
How the Merchant of Record Model Works (In 5 Steps)
The MoR model is simple:
A customer initiates the purchase process on the vendor's website and is then taken to the checkout page, hosted by the MoR solution.
When the shopper makes a payment, a single transaction occurs between the MoR (reseller) and the end-user.
The MoR passes the right of use ownership for the product from the vendor to the customer.
When the transaction is complete, the soft descriptor on the customer's credit card statement is usually the website's name where the purchase took place or a combination of the vendor and MoR.
The MoR is responsible for any post-sale disputes. For example, should a customer attempt to reverse the charges by initiating a chargeback, the MoR will be liable.
Does My Business Require a Merchant of Record Services?
One of the main benefits SaaS businesses with global reach gain when working with an MoR is the all-inclusive nature of the model. Besides vendor & shopper support, marketing tools, CRM & BI capabilities, lead management, and a large number of languages, currencies, and payment methods, the MoR also takes care of all financial, legal, and administrative work, including payments, billing, taxes, and compliance.

SaaS and Software companies that sell locally may be able to act as their own seller or MoR as it's more feasible to manage transactions within your own country. However, working with an MoR solution is still beneficial as even local taxes can get complicated. Case in point, look at the 14,000 + tax jurisdictions in the U.S.
The Top 7 Risks Facing eCommerce Businesses
Like many other businesses, eCommerce providers face various risks that can affect growth and damage customer trust.
Identity theft
Intellectual property violations
Poor customer service
Credit card fraud
Cyberattacks
Privacy issues
Non-compliance with taxation requirements
So what is the best way to minimize or even remove these eCommerce risks? Work with a Merchant of Record eCommerce solution with a track record for success.
Meet PayPro Global.
The Merchant of Record that helps you grow.
PayPro Global takes away the headache of selling your products worldwide. From local payment methods to simplified subscription handling and tax management, we give you the eCommerce tools you need to scale your business smoothly into the global market.
How an MoR Model Reduces eCommerce Risk (6 Benefits for SaaS Businesses)
1

. Your Financial Operations Simplified
Managing your eCommerce business becomes incredibly complex when selling online to customers all over the country, increasing as you grow your business globally. These financial operations are simplified significantly for SaaS businesses that partner with an MoR.
So let's take a closer look at what's involved:
Merchant Accounts and Payment Gateways
If you don't use a Merchant of Record model to manage your eCommerce business, you'll have to set up more than one merchant account in every country in which you have customers. This is so you can accept payments in other currencies, which is critical for localization services. An MoR solution will already have these connections in place, ready to instantly deliver maximum performance from your payments.
Payments, Billing, and Payment Processing Fees
An MoR solution should offer all the preferred payment methods your customers use and manage processing payments from start to finish. For example, the MoR handles the recurring billing process after purchase and for the remainder of the customer subscription, as well as all the needs in between.
From an accounting perspective, managing all worldwide payment processing fees surrounding debit and credit card acceptance is greatly simplified when partnering with an MoR solution. This is because they have the experience and knowledge to ensure complete compliance.
Disputes, Refunds, and Chargebacks
No matter how good your product or service is, sometimes the customer won't be happy with their purchase, quickly becoming an administrative nightmare. Some customers may request a refund or dispute a charge they claim not to recognize, which can be incredibly time-consuming to resolve but would thankfully now be managed entirely by your MoR partner. Remember, as resellers, they handle all liability for payments, including disputes, refunds, and chargebacks.
Fraud
MoR solutions typically have the most innovative and robust fraud detection and prevention mechanism in place, set up to flag fraudulent activity and review those online orders on your behalf.
Any good MoR model will also have an entire team handling these risk and fraud systems, keeping software up to date to prevent further fraud, carrying out advanced security checks, and contacting customers to verify suspicious activity.
This process would otherwise have to be managed internally by you on a case-by-case basis, which can be as costly as it is time-consuming.
Relationships with Merchant Banks and Payment Processors
If you don't partner with an MoR solution, you would be required to act as your own merchant account, making it necessary to create and maintain relationships with Payment Processors. These can be different depending on location and can be time-consuming and logistically challenging, making the process of obtaining a merchant account on your own difficult. Besides, if you need multiple merchant accounts, you'll have to look for merchant management software or deal with managing payments across different dashboards manually.
PCI-DSS and Other Payment/Data Laws
PCI-DSS is an information security standard that ensures companies handle credit card data securely, laying out operational and technical requirements to protect cardholder data. It requires those in the payments industry to set up a secure environment for handling payments using firewalls, encryptions, anti-virus software, unique IDs, and more. These are audited annually, and understandably, can be complicated to manage.
On top of the PCI-DSS, there are often other geographically specific data regulations in the countries your customers are based.
Currency Conversions
If you're not working with an MoR solution, you'll need to handle all currency conversions on foreign currency payments. If your business has a large global reach, this can get very complicated and cause increased revenue loss.
Taxes
Sales tax is an incredibly complex issue for any eCommerce SaaS company attempting to scale. There are thousands of different SaaS tax jurisdictions in the U.S. alone and many more across the world. Remaining tax compliant is a near-impossible task for global eCommerce businesses with a broad reach.

An MoR solution leaves all tax collecting and remitting up to the experts, who know all the ins and outs of tax requirements in different countries and jurisdictions.
Consumer & Data Protection Regulations
Consumer & Data protection regulations exist to prevent unethical and harmful business practices. Each country has its own consumer protection legislation with different rules, regulations, and technicalities.

Staying on top of all the legislation is tricky and can be costly if done incorrectly. Once again, an MoR setup can ensure that your business ticks all the right boxes and that you're compliant at all times.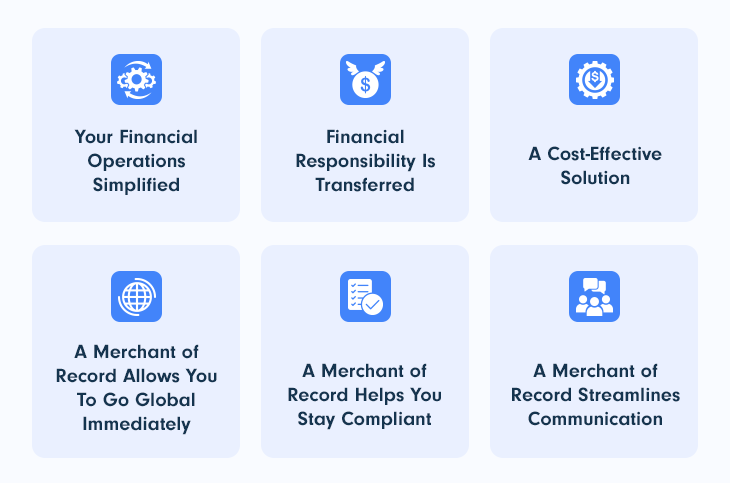 2

. Financial Responsibility Is Transferred
When you partner with an MoR, you can outsource and delegate all financial transactions and related concerns. As a result, you're no longer held liable for legal issues relating to transactions. You're also not responsible for collecting and remitting taxes, and you don't need to worry about maintaining relationships with banks.
Assuming financial liability for collecting payments across the globe can take a lot of time, money, and resources to set up correctly and maintain. In addition, if things go wrong, you could be spending vast amounts of time and money resolving financial and legal problems. By using an MoR solution, this is all taken off your hands.
3

. A Cost-Effective Solution
While contracting a comprehensive service like an MoR solution may seem an expensive step to take, in reality, the benefits easily outweigh the costs.
You'll no longer need to pay a lawyer, accountant, and a specialist in international taxes. These professionals would usually work out the tax and business regulations of all the different places you do business, and the fees for these services can add up. You would also have to hire someone to customize your platform for each country you sell and pay for translation services.
An MoR solution, on the other hand, already has this knowledge and capabilities. They take all the complicated admin off your hands, leaving you to focus on your business growth.

4

. A Merchant of Record Allows You To Go Global Immediately
One of the biggest headaches for expanding eCommerce businesses is localizing your platform and adapting to the currency and checkout process required in each country, which can be a long, costly, and complicated process.
With an MoR model set up, as soon as you sign up, the payment experience will be customized for your shoppers wherever they may be, locally or globally.
5

. A Merchant of Record Helps You Stay Compliant
It should be clear by now that each country has its own sales and tax regulations, which can be very hard to navigate. In addition, these regulations are constantly changing — a recipe for disaster if you don't manage to keep abreast of all the changes.
A Merchant of Record will track the changes for you and ensure you comply with all the relevant rules and regulations.
6

. A Merchant of Record Streamlines Communication
Instead of dealing with every customer, financial institution, and payment service provider, you will primarily work through the MoR partnership, which provides the tools and human resources to manage your business. This drastically simplifies and streamlines workflows and communication.
Although it may seem difficult to see the direct correlation between all the benefits of an MoR and reducing risk for your business, each aspect of your business management will be handled by experienced professionals, reducing the risk to you while increasing growth. An effective MoR eCommerce solution can save you valuable time and resources, allowing you the time to focus on the bottom line - growing your business!
Meet PayPro Global.
The Merchant of Record that helps you grow.
PayPro Global takes away the headache of selling your products worldwide. From local payment methods to simplified subscription handling and tax management, we give you the eCommerce tools you need to scale your business smoothly into the global market.
Selecting the Right Merchant of Record for Your Business in 4 Steps
When selecting an MoR, a few factors are essential:
The provider must be working as an MoR as their core business. They need to be solely focused on reducing risk for global online companies.
They must be flexible, agile, and adaptable. They need to be able to create a complete solution that satisfies the customer at every stage of the purchasing journey.
They need to have a good reputation and be knowledgeable and experienced in what they do. Their years of experience will be invaluable when tackling complex compliance issues or staying abreast of changing regulations.
The MoR also offers vendor support & end-user support, marketing tools, CRM and BI capabilities, Lead Management, and preferred payments, languages, and currencies.
The right MoR will be a global partner that makes growth easy. They'll have all the local entities and global infrastructure in place to facilitate your company growth.
Closing Thoughts on Minimizing eCommerce Risk With an MoR
Although using a Merchant of Record for gaming companies and SaaS may seem expensive at first, this partnership can play a vital role in helping you grow your business. An MoR may be just what your SaaS eCommerce business needs to allow you to focus on what matters most: your product, goals, and customers. So who can you turn to?
With over 15 years of experience in the industry, logging millions of orders for thousands of software vendors, here at PayPro Global, we are uniquely placed to recognize and resolve the challenges associated with eCommerce sales growth at home and worldwide. Together, we can run a successful localization strategy, help you ensure global SaaS compliance and growth worldwide.
As your Merchant of Record (MoR), PayPro Global takes the confusion, liability, and cost out of your worldwide sales. We calculate, remit, and file your taxes for each sale, ensuring you, your product, and your accounts remain compliant.
No matter the country, region, language, or channel, we have the knowledge and experience to take care of payments and taxes, letting you focus on the things that matter most to your business and customers. To find out more, check out our unified eCommerce solution here.
It doesn't take luck to make it, but it does take knowledge. Be the first to learn the latest industry insights and must know marketing tips and tricks. Sign up and enjoy! Always informed. Never Spammed.