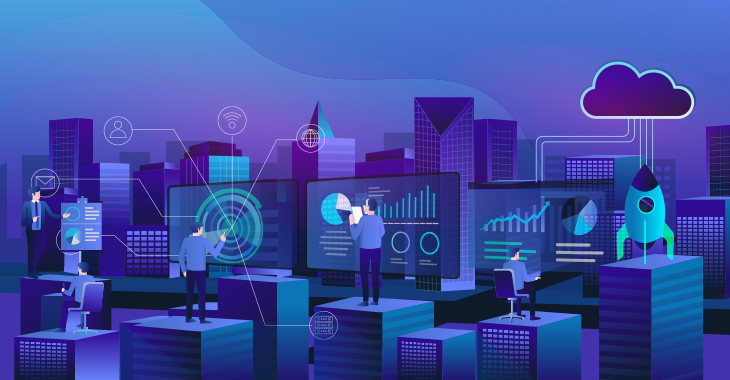 Published on October 19, 2022
Updated on March 22, 2023
Grow Your SaaS Business: 5 Features To Look For in an eCommerce Partner
As a SaaS business owner, we know you want to get your business on the path to success. Our first suggestion is to take some time to find the right product to suit the market. Once you have decided on this, you'll need to grow your customer base and work on a strategic plan to onboard them. Once all of this is established, you'll want to focus on increasing your fledgling business, so you can turn a profit. And this is where the question of working with an eCommerce partner comes in.
Strategic eCommerce partnerships have existed for a long time, but good partners have never been more relevant than today's globalized economy. eCommerce solutions provide SaaS online businesses with shared knowledge, fresh insights, greater market reach, vital services, and access to new users to help them succeed.
Choosing an eCommerce platform to help you grow your business can be complicated and overwhelming. But it doesn't have to be! We're here to help you understand what to look for in terms of features to ensure successful eCommerce partnerships.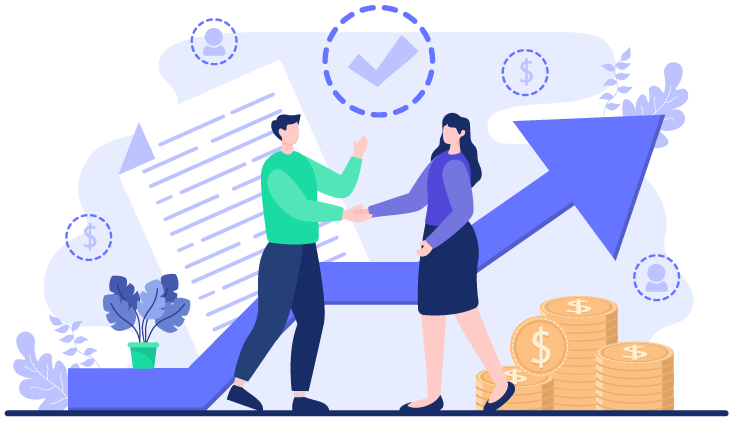 Why is Working With an eCommerce Partner Hugely Beneficial?
Acquire New Users
It is estimated that advertising across all digital channels will exceed 60% of global ad spend for the first time in 2022. Digital customer acquisition has become a key business strategy for SaaS enterprises, so partnering with an established eCommerce solution opens new paths to meet these goals and expand. With this particular strategy, you can access existing customers and tap into an entirely different market based on their services and expertise. Figuring out how much customer acquisition costs your SaaS business is an essential piece of this puzzle. So, use our guide, do the math and see how you can optimize and streamline user acquisition strategies.
Access to Experts
Bringing an eCommerce business on board can connect you to experts in many fields, saving the time and money it would usually take to find the right people to consult. With their expertise, your e-commerce partner can become your strongest tool for fast-tracking growth.
Reduced Opportunity Costs
An opportunity cost refers to those valuable opportunities you must pass up when you choose one path because you simply don't have the time to pursue alternative streams. Outsourcing other important but time-consuming work to your eCommerce partner will allow you to focus on exploring additional opportunities to grow your business. One such example is reducing customer churn, a strategy that can bring significant revenue. Optimizing SaaS spending is another excellent option to recover investments and reduce losses.
Building Brand Awareness and Credibility
When you are first starting your business, building brand awareness is complex. How do you get your name out there?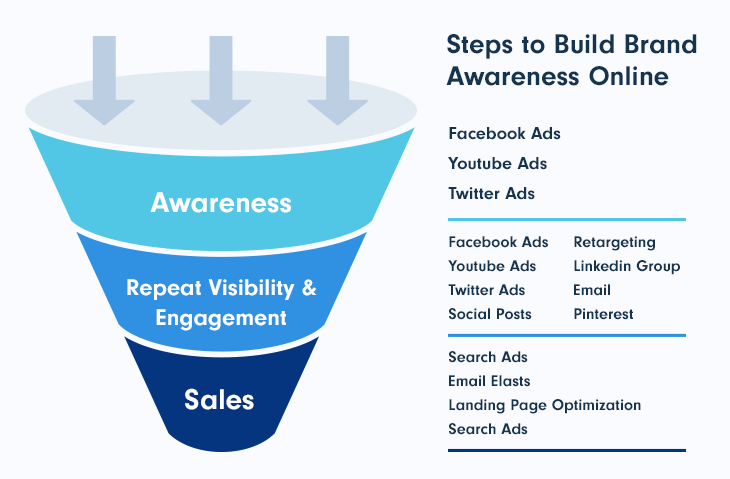 A straightforward way to enhance name recognition is to partner with a reputable, well-respected, mutually beneficial organization. Did you know that 46% of consumers in the US say they would pay more to purchase from a brand they trust? A recognizable brand can give you mainstream exposure and visibility, giving your existing customers more confidence in your business and attracting new customers. And as a bonus, you'll benefit from your partner's marketing and brand services.
Expanding New Markets
You will likely need to break into different territories to grow your business. An eCommerce partner can open up opportunities for your SaaS business since they offer localization services. This strategy would make your business accessible and desirable to customers in various global and local markets, as long as you also take the time to constantly follow up on SaaS trends & tools. Check out the list we've prepared for you.
Additional Resources
Working with an eCommerce partner allows smaller brands to access a larger company's resources, which would otherwise be beyond your reach. This includes a team of experts who have likely been in the industry a very long time, providing tools and knowledge that can then be leveraged to bring about growth and higher profits.
A Competitive Edge
Lastly, taking on an eCommerce partner with expertise in your industry and an array of skills and services can set you apart from your competitors. Their knowledge of the SaaS industry can help you generate growth in multiple ways, increase your profit, and build your solid reputation in the industry.
How To Choose the Right eCommerce Partner For Your SaaS Business
Making the right choice can be important to achieve your business's success. But what should you look for when researching who you would be most aligned with? We've summarized the most critical aspects for you to consider.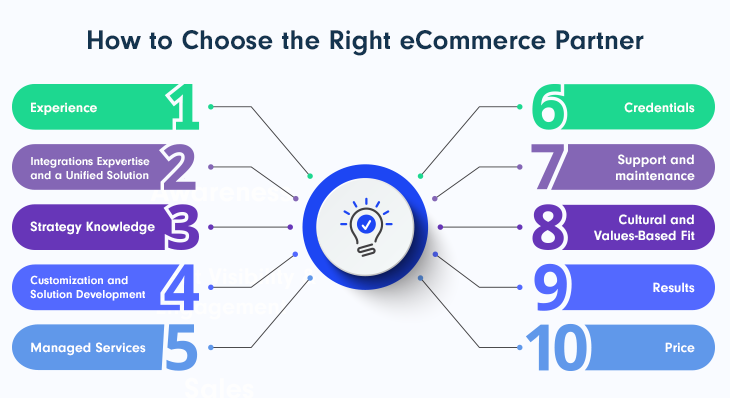 Experience
Does this organization have a proven track record in all areas of eCommerce? Do they have experience across different industries which will work to your benefit? Do they have both local and global experience? Does their expertise span across B2B and B2C? Can they demonstrate a complete portfolio of services to meet your specific needs? Do they have testimonials or client reviews of successful partnerships? If the answer is yes to all of these questions, ask for recommendations from other customers and request case studies to ensure the organization can realize your business vision.
Integrations Expertise and a Unified Solution
Does this eCommerce partner offer a range of integrations to improve the efficiency of your SaaS business and the overall customer experience? How about tools that can help in client retention?
They should be able to provide you with integrated services such as:
OMSs
PIMs
CRMs
Payment Gateways
Billing Mechanisms
Metric Tracking
Can your potential partner integrate with your current hardware and software, or will there be a painful process to go through this process? Are they experienced at implementing these integrations, and what is the time frame expected? A seamless integration can lead to greater flexibility and growth in your online store, but you should not suffer if the process is not smooth and if there does not seem to be a plan you feel confident about. Choose your partner wisely, always considering your expectations and requirements regarding software functionalities.
Strategy Knowledge
Your eCommerce partner needs to fulfill several functions. One of the most important of these is supporting your business strategy. Would this partner be able to collaborate with you on a comprehensive playbook? Look for a partner willing to work together with the latest industry knowledge on how to take your company to new growth. Good eCommerce partners should know how to combine different parts of a SaaS business and align them with your overarching strategy. Check out our SaaS growth guide to see what we mean by putting strategy knowledge to good use.
Meet PayPro Global.
Your Dedicated eCommerce Partner.
Thrive with the industry's most innovative all-in-one SaaS & Digital Goods solution. From high-performing payment and analytics tools to complete tax management, as well as subscription & billing handling, PayPro Global is ready to scale your SaaS.
Sell your SaaS globally with PayPro Global!
Customization and Solution Development
Your business is unique, and quite frankly, that is its superpower. Your eCommerce partner needs to understand that SaaS businesses have no one-size-fits-all solution. Find a partner that understands your specific needs and challenges and is willing to work with you and your vision.
Managed Services
You may want your eCommerce partner to offer managed services. According to a survey by CompTIA, 50% of companies who engaged a managed service provider saved 1-24% in annual IT costs. A managed service provider delivers services for each step of the customer purchase journey, allowing you to focus on the product while the customer experience is taken care of. By working with an "all in one" solution, you can save money AND time, rather than contracting with a handful of third-party companies necessary to run your business. One partner is all you need.
Credentials
When researching reputable eCommerce partners, does your potential partner come up in searches? Are they respected among industry peers? Check whether the company has won any awards or what is said about them in reviews. Although awards don't define the quality of a potential eCommerce partner, they'll help you to identify the strengths of the company. Chances are you will get a good feel if you speak to someone working with them, so don't forget to ask about references.
Support and maintenance
An effective partner should offer you an extensive support system and ongoing maintenance. You need 24/7 hosting, infrastructure management, and close monitoring, so ask them directly about these things. Downtime can damage a SaaS business in more ways than one. A customer with a poor experience might never return or share their negative feelings with other potential customers.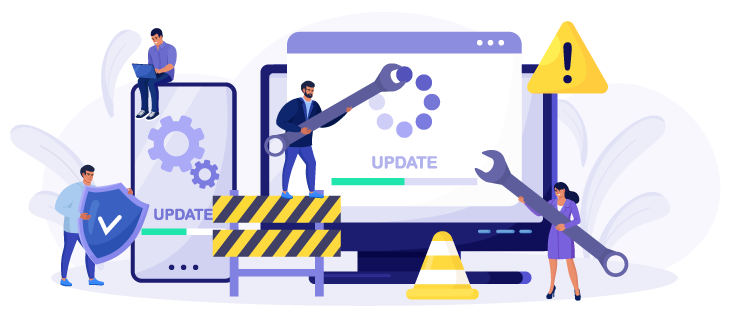 Almost 90% of customers in a Qualtrics survey said they trust a company whose service they rate as "very good." Your eCommerce partner should have a dedicated team and resources to keep up with hosting, maintenance, support, and eCommerce security. Ensure you understand the technologies and processes they use to keep your site running smoothly and your customer's data safe and secure.
Cultural and Values-Based Fit
Your eCommerce partner should have the same ethical standards as you. They need to understand the ethos, goals, and path you intend to take to reach them. You must interrogate their definition of success, principles, and collaboration ability to see if you are aligned. Your partner also needs to be highly ethical in the practical day-to-day, as they will deal with buyers and sellers. As the saying goes, you are judged by the company you keep.
Results
While evaluating culture fit is partly "gut feel," you must focus on facts and figures regarding results. Look at the metrics important to your SaaS business, then evaluate a potential partner's work results. You need to know they can produce tangible results, so set up that call and pay close attention to their demo.
Price
An eCommerce partner is not a small expense, so scrutinizing costs is essential. Are they affordable in terms of your budget? This may be the deciding factor, especially if your budget isn't flexible or you are just starting your business.
eCommerce partners often have varying price structures, which makes direct comparisons complicated. Take the time to understand their systems, and maybe even contact the sales team to provide you with additional details. PayPro Global sales experts are more than happy to help you grasp our pricing structure. You must demand transparency around pricing at different partnership stages to ensure you understand all costs. Once you have that information, conduct thorough comparisons, and make sure the partner you choose offers the best value for money.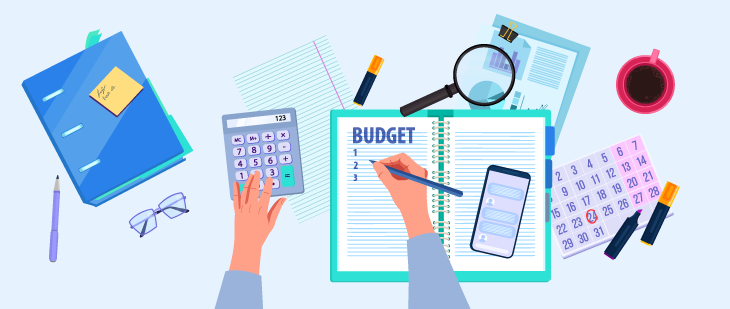 The top 5 Features To Look For in an eCommerce Partner
There are core services any good eCommerce partner should be able to offer.
1. Tax and Compliance Management
To run a successful business, tax compliance, general compliance, and liability are critical priorities in all companies. As your business grows, tax and compliance become more complicated, especially regarding global digital goods. A solid eCommerce partner should have a team of tax experts and lawyers to handle your taxes locally and globally. Consult our guide to handling tax as a SaaS business for more detailed information on this vital issue. Or use our Tax Panic Scale to determine each country's tax complexity score.
Your partner also needs teams well-versed in compliance regulations and complexities, especially as this is an ever-changing part of the business. To educate yourself on your compliance needs, read our range of informative compliance articles. You should feel confident that your partner is handling tax and compliance efficiently.
2. Dedicated Customer Support
In a PwC study, 73 percent of consumers cite customer experience as an important factor in their purchasing decisions. Your customers are the core of your business; obviously, you need to keep them happy, so your partners must share this vision.
Offering practical, efficient customer service is essential if you want to retain and grow your business. Customer support encompasses the services you offer your customers – before and after they buy and use your products or services – to get the most out of your product and resolve any problems.
By outsourcing this to an eCommerce partner, you can focus on providing the best product while adding another layer of customer satisfaction for your shoppers.
Meet PayPro Global.
Your Dedicated eCommerce Partner.
Thrive with the industry's most innovative all-in-one SaaS & Digital Goods solution. From high-performing payment and analytics tools to complete tax management, as well as subscription & billing handling, PayPro Global is ready to scale your SaaS.
Sell your SaaS globally with PayPro Global!
3. Fraud and Risk Management
According to PwC's Global Economic Crime and Fraud Survey of 2022, 46% of surveyed organizations reported experiencing fraud, corruption, or other economic crimes in the last 24 months. But does your SaaS business fall into this category? Knowing the answer to this question is crucial for the future of your business. Check out our article to get a better sense of the fraud & cybersecurity risks your SaaS is vulnerable to.
More than ever, your eCommerce partner needs to be up to date on fraud prevention strategies and be able to handle any questionable transactions quickly and carefully. The importance of getting ahead of risks to mitigate them cannot be overstated.
To understand potential risks as a SaaS business, read our article on whether your business is high risk.
4. Subscription Management and Billing
With the proper eCommerce partner in place, your revenue streams should be predictably reliable if they use intelligent subscription management and billing and have the tools to create a flexible pricing strategy for your users. A system like this can increase lifetime value and drive down churn. This will also allow you to manage your plans within the greater infrastructure, giving you the control to oversee your business finances. And it's relevant to mention that with subscriptions heavily affected by the rising inflation, partnerships with complete eCommerce platforms are essential in ensuring growth.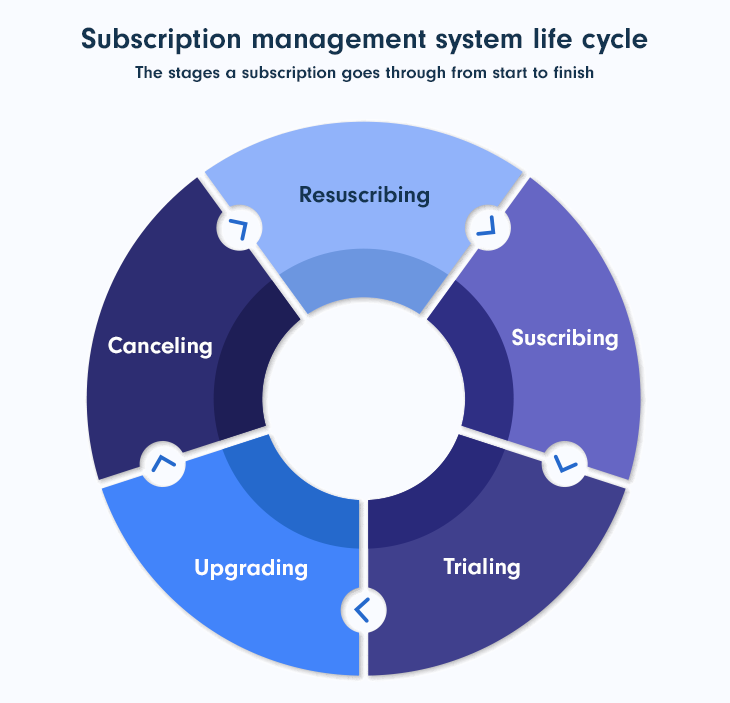 5. Data-Driven Insights
Like any business, understanding the numbers is vital for development and growth. According to McKinsey Global Institute, data-driven organizations are 23 times more likely to acquire customers. Your eCommerce partner needs to provide you with data that is insightful and strategic. . With this type of business intelligence, you will have a significant advantage over your competitors as you can map out long-term plans based on reliable reporting in all the critical metrics necessary to steer your business in the right direction.
How Can PayPro Global Help?
Suppose you find yourself looking for an eCommerce partner who can meet all your needs while helping your SaaS business grow and prosper, locally and globally. In that case, PayPro Global is a full-service eCommerce partner who can offer you a fully integrated, rewarding partnership.
We pride ourselves on using the latest technology, powerful analytics, and marketing tools and offering support to you and your shoppers that is second to none. Our number one goal is to drive sustainable growth for all our clients. Get in touch with us to investigate our strengths and how they may fit your needs in obtaining a unified eCommerce payment solution. We feel confident that you just might wish you had done that earlier since we have thousands of satisfied partners.
Drop us a note and introduce yourself; we would love to get to know another friendly face in the industry!
Concluding Thoughts on Features To Look For in an eCommerce Partner
Although all SaaS companies vary, each has to deal with similar challenges facing today's eCommerce businesses in this globalized world. There is much to be overseen, from tax to subscription management to fraud to data handling and so much more. An eCommerce partner is beneficial since they can provide a comprehensive solution in the form of an all-in-one solution. Suppose they offer a complete platform, including all the features and functionality mentioned above. In that case, they'll be able to catapult your business' growth to the next level faster than you are likely to accomplish on your own.
It doesn't take luck to make it, but it does take knowledge. Be the first to learn the latest industry insights and must know marketing tips and tricks. Sign up and enjoy! Always informed. Never Spammed.