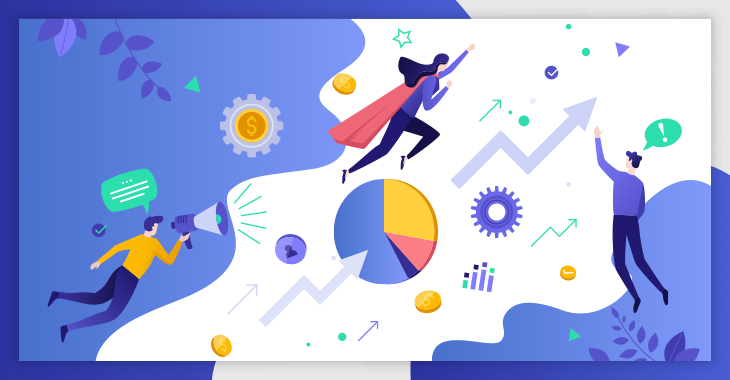 Published on July 14, 2022
Updated on September 1, 2023
SaaS Growth Strategy: How to Grow Your Business in 2022
The number of companies that sell SaaS online has skyrocketed, making the industry highly competitive. Therefore, driving growth is vital for business survival. A SaaS business will need a growth strategy, which is essentially a blueprint that contains your most effective methods of reaching customers, scaling, and increasing revenue. But keep in mind that every SaaS company is unique. To find the best SaaS growth strategies for your business, dive into this guide to help you achieve accelerated business growth in 2022.
The 5 Most Practical Strategies to Grow Your SaaS Business
1. The Product-Focused Strategy
The product-focus strategy makes perfect sense for SaaS businesses because the product itself is used to make the sale through its:
- Features
- Functionalities
- Constant improvement and development
In this first stage of growth, the product automatically creates engagement as soon as interest is displayed by a potential buyer, so using some extra SaaS tactics, you could have amazing results. For SaaS leaders to execute this strategy, they ought to think about the following:
Try the Product-Led Approach
The product-led approach involves focusing your massive growth strategy based on your product. Your product's value becomes the centerpiece that will drive business growth. One popular way to do this is to offer a freemium or free-trial model. This way, the product sells itself as customers can quickly try it and discover its value first-hand.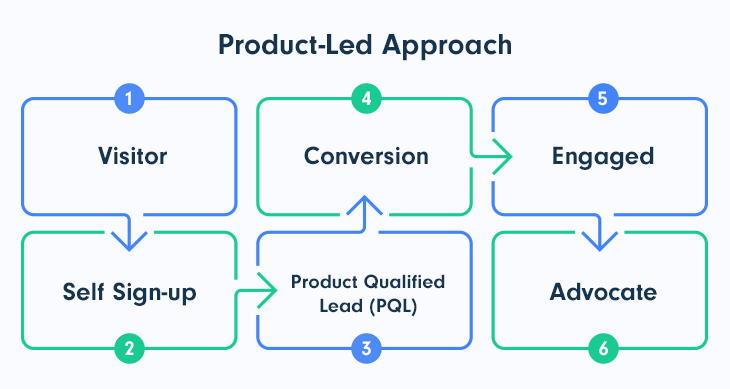 Here are three examples using the product-led growth tactic:
1. Zoom
2. Slack
3. Dropbox
They use free versions of their software offering basic features to draw in customers, but active users will need to upgrade to unlock more advanced features.
Focus on Product Expansion
So when it's time to grow your business, you should focus on its primary selling point: your products. By offering your customers a broad range of products to complete the solution that will address all of their pain points, you are sure to see growth. This will widen your target base and lead to more customers, which in turn will increase your revenue streams.
2. The Marketing Strategy
A SaaS marketing strategy is not a one-element plan. It is a puzzle composed of several pieces that connect to form the bigger picture. But what are these pieces of a successful SaaS business? Listen up, we're about to drop some knowledge!
Use Email Marketing Campaigns
Email marketing is the most straightforward way you can connect with customers. And a well-designed email campaign sent out over a few weeks is the most effective way to convert leads to paying customers.
Outside of your official traditional marketing campaigns, you can also use emails to share:
Newsletters
Essential updates
Blog posts
Product announcements
Sales offers & discounts
Remember that these email campaigns must add value to your conversations with potential leads for them to convert. No entrepreneur, SaaS or otherwise, will say yes to receiving your email unless they are offered something in return. Think of what constitutes value for your target audience - Ebooks, guides, industry stats & infographics, perhaps discount codes, whatever it is, use something to get them hooked first.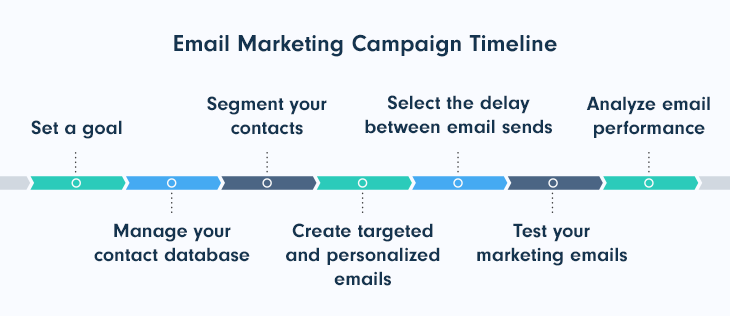 Optimize Your Website
What makes a top-class website in the SaaS market? One that is informative clearly defines the product and its features and contains all the necessary SEO value and metadata. It should have an impressive landing page with the right sales tools to convert leads to customers. And by this, we mean you should create and structure your content on the premise problem meets solution. After researching and establishing who your target audience is based on their needs and pain points, present your product as the solution they've been looking for. Make sure the check-out and sign-up pages are easy to find so that the user journey is seamless. Avoid confusion in this step, or you could lose them along the way.
Additionally, keep in mind that Individual landing pages containing a clear call to action will encourage potential customers to make a purchase.
Invest in Content Marketing
These days, marketing content is king. High-quality advertising content will help your business stand out from your competitors. Customers will come to you to solve their problems when you provide compelling and relevant blog and social media posts, videos, ebooks, podcasts, and interviews. By creating content and using a diverse marketing strategy, you can reach a broad customer base and establish your brand as an expert in your field.
Video marketing is a great growth strategy that can be used to generate clicks and communicate marketing messages very effectively. With over 244.4 million internet users in the US alone watching video content weekly, this medium is one you can't ignore and should take full advantage of. Check out our guide to video marketing for SaaS for more details and make it part of your marketing efforts.
Get Serious About Social Media
It almost goes without saying, but by all means, use social media to its fullest potential. A social media manager can create a social media strategy and work on the cadence of content, SEO, and other vital factors like optimizing your website. Invest time and energy in this endeavor to reap the full benefits of social media and digital marketing.

Different social media platforms serve different demographics and customer segments.
Therefore it's best to have a presence across all major social media platforms, such as:
Instagram
Facebook
LinkedIn
TikTok
YouTube
Twitter
Snapchat
But make sure to use the platforms with intention and purpose. Don't just follow what others are doing. Remember that your goal is to create value for those who follow you. This will help you reach many different audiences and keep them as they come to rely on and enjoy your content.
Always stay relevant to your business, so if your product has no place on TikTok, for instance, don't use your resources and spend your time trying to make it fit.
Maximize SEO and PPC
Make sure that when potential buyers Google "how can I do X," your website ranks high in their search results. To achieve this, you'll need to focus on SEO, which requires researching what keywords rank high in your industry. Google uses bots to crawl pages online with the sole purpose of collecting data about web pages and then using it to train their algorithms to determine the relevancy of different sites regarding a given search query. Keeping your focus narrow and specific to your product and niche is important. Once you do your keyword research, you can make sure you're incorporating them into all of your content so that Google can read the signals and rank your site as high as possible.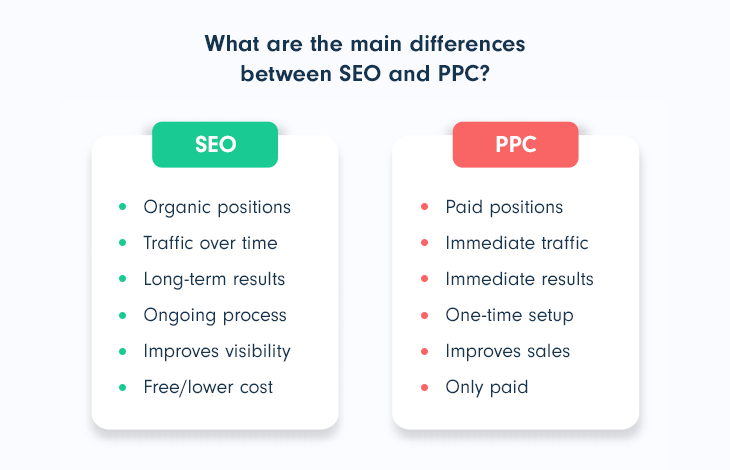 Some business owners prefer organic traffic, as it feels more authentic. Still, paid ads can offer another opportunity to get your name out there and put your product in front of your target buyers. There are many types of paid ads, so you should take the time to find the best fit. Banner ads, text ads, Google Ads, and social media ads are some of the best examples and an excellent place to start.
Pay-per-click (PPC) search engine advertising drives potential customers to your site. This is a form of internet marketing in which advertisers pay every time someone clicks on their ad. Essentially, you're buying clicks rather than relying on them to happen organically.
Now, in the SaaS world, there is some controversy on SEO Vs. PPC, and which is a better tool. . The truth is, there is no choosing between the two, only a need to master each one. You need to optimize your website content in terms of keywords, both product, and market-focused, and then run effective PPC campaigns with the intent of generating potential leads. If you disregard SEO, your PPC efforts will be in vain, as ranking high in targeted keyword queries leads to an increased level of trust on behalf of your audience. And this is what gets you those leads when running a PPC campaign.
Employ Retargeting Tactics
Retargeting means tracking people who have previously visited your website to other sites, where they'll see target display advertisements for your product. This can improve your conversion rates and is a great strategy to follow up on unconverted leads. You'll likely see an increase by using offers to encourage users to subscribe to your product, which they've already seen on other websites. Sometimes, a hesitant lead isn't a lost one. Putting your product in front of the audience repeatedly might eventually lead you to the results you're hoping for. To streamline this operation, a SaaS business or any business can use dedicated software designed to automate these retargeting processes, ensuring that your content reaches the right people at the right times.
Meet PayPro Global.
Your Dedicated eCommerce Partner.
Thrive with the industry's most innovative all-in-one SaaS & Digital Goods solution. From high-performing payment and analytics tools to complete tax management, as well as subscription & billing handling, PayPro Global is ready to scale your SaaS.
Sell your SaaS globally with PayPro Global!
Use the Referral System
With a referral system, a business will reward customers every time they share your product with other people. These rewards come in the form of discounts, credit incentives, or free resources. This strategy is highly effective, as people are more willing to trust those they know over a business with which they are unfamiliar.
Get Featured on Review Sites
In this internet-driven world, customers like to do their research and can easily do so. They rely heavily upon online reviews for making their purchasing decisions. Getting a positive review on popular review sites such as SaaSGenius or Capterra will give you visibility and drive potential customers to your website. You can greatly accelerate your growth through these inbound conversions.
Utilize Affiliate and Influencer Marketing
Another effective marketing strategy is to work with affiliates. These influential people will promote your product, and in exchange, you pay them a commission on every sale that comes from their affiliate links. Influencers can be very persuasive, as they have built a following that trusts their opinions and recommendations. You could benefit from their reach and gain many new customers and sales without contributing to the "ad fatigue" many consumers feel.

You'll want to target influencers and affiliates who are experts in your niche. This strategy has a low Customer Acquisition Cost (CAC) and can produce a high return on investment.
3. The Sales Strategy
No successful sales strategy is a stand-alone plan. It is a tested mix of various tools and SaaS growth hacks that can yield the expected goal results. Here are some of the ways in which you could drive more sales.
Upsell and Cross-Sell Your Products
Getting new customers is both expensive and complex. So once you've achieved a solid base, you'll want to maximize that revenue. The simplest way to do this is to offer upsells and cross-sells. Upselling refers to selling a customer a larger, more expensive package, whereas cross-selling is selling a customer additional, related products or giving discounts for add-ons at checkout.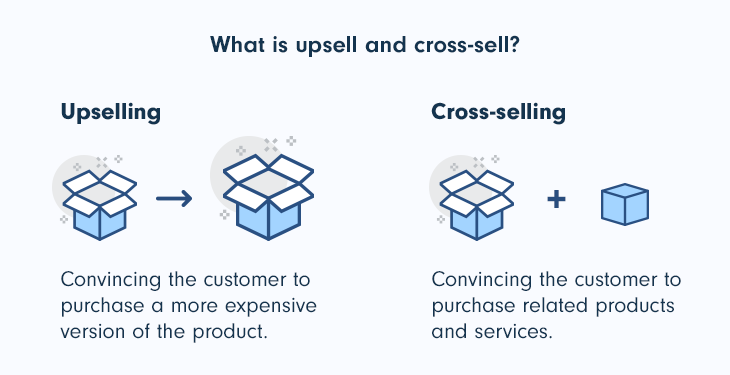 Because you provide a service, rather than charging a one-time cost, you must be sure to bring in good revenue over each customer's lifetime to offset CAC. This is where upselling and cross-selling become so very important.
Host Live and Virtual Event
Although SaaS products exist online, a live event can be an excellent opportunity to connect with users and also meet and woo prospective customers. These days, live events can be either virtual or in-person and are held in the form of webinars, panel discussions, product demonstrations, and many other similar formats. Customers enjoy the opportunity to interact 'in-person', and it's often effective to create a live event showcasing your product without an overt sales push. These events can lead to new partnerships and more leads and referrals.
Experiment With Different Pricing Models
Correctly pricing your products greatly impacts SaaS business growth and success. Our article on optimizing pricing will give you the lowdown on SaaS pricing models and help you get this important strategy right the first time!
Try Out Free Trials and Freemium Products
Due to the complexity of SaaS products, potential customers prefer to test-drive the products themselves and evaluate the value before committing to buying. This is where a free trial comes in handy, especially because they may be looking at your competitors, and this is a great way to show them you are better. Look at our article on cashing in on your SaaS free trial users to learn more about how you can make the most of this model.
Most SaaS businesses offer a 7-day or 14-day trial, but you can be flexible with this number depending on your base. Free trials are a great way to easily demonstrate your product's value and, with the correct sales and customer support techniques, can increase the number of subscriptions your business manages.
Use Partner Network
Partnering with businesses in your network that are not your direct competitors but operate in the same industry is a great way to acquire a more significant customer base. Your partner should be in the same market segment and have aligned values. For example, customers who subscribe to your product could also get a small discount on a subscription to your partner's product and vice versa.
Move Up or Downmarket
Moving upmarket means you start selling to customers with more money to spend. At the top of the market hierarchy are the affluent, enterprise-level businesses. Moving upmarket can mean more revenue from fewer customers. They also churn at a much lower rate. But this is logistically tricky because you'll be serving a broader customer base with specific needs and may need to shift from a product-led strategy to a sales-based one.
On the other hand, moving downmarket means appealing to lower-income, at-home users. To do this, you need to understand the value you can provide and how to simplify your time-to-value. This can be done by creating different value tiers and using new sales channels and marketing tactics to promote them.
Aim for International Expansion
What better way to drive growth opportunities than to open up across borders and offer your products to other countries? The answer you are looking for is the localization strategy. This growth technique aims to widen your customer base and prepare your business for global expansion. What does this entail exactly? To ensure you are penetrating the market successfully, you will need to collaborate with a trustworthy payment partner that can handle everything from tax, risk, and data compliance management.
Additionally, localizing payments means offering both currencies and payment methods specific to the market you wish to dominate. A payment infrastructure needs to improve processing time to ensure higher authorization rates. Indeed, this endeavor does require quite a bit of initial research, support, and sales work, but if done well, it can take your SaaS company growth to the next level.
Meet PayPro Global.
Your Dedicated eCommerce Partner.
Thrive with the industry's most innovative all-in-one SaaS & Digital Goods solution. From high-performing payment and analytics tools to complete tax management, as well as subscription & billing handling, PayPro Global is ready to scale your SaaS.
Sell your SaaS globally with PayPro Global!
4. The Community Strategy
Build Your Audience and Nurture Your Community
The world comprises billions of potential leads, but not all of them need your product. Your job is to find and establish your community of customers who will gain value from your product. They will remain loyal if you continue to provide them with the best service, showing loyalty to them.
To do this, find an online community for SaaS business users, connect with these customers and find out what they care about and where they interact online. Then insert yourself into the conversation using social media. Offer these groups clear value but not too much promotional-type content, which they may find pushy. Facebook groups, Quora topics, and LinkedIn communities can be very effective for this communication.
Promote Brand Advocacy
We've arrived at the customer-brand relationship stage associated with loyal advocates. Using brand advocacy is a cost-effective method to generate leads. When your customers believe in your products, they become your brand advocates. However, this doesn't happen overnight. It is the result of an ongoing investment in carefully executed customer success protocols. Because, after all, happy customers promote your brands.
Utilize Customer Testimonials
Word-of-mouth marketing has existed organically for hundreds of years. You can use this marketing style to your advantage through customer testimonials. Potential customers want to hear from genuine customers. You could create a video series with customers sharing their success stories. Highlighting reviews and social media posts from your existing customers and greater community serves the same purpose. Keep in mind that customer testimonials in SaaS are crucial. So don't take them for granted.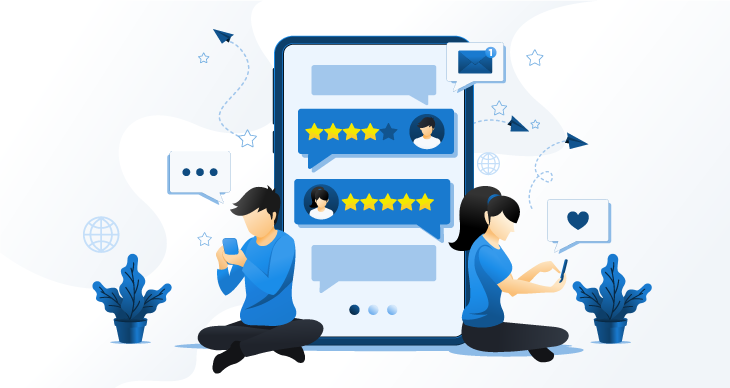 Improve Onboarding
Once you've managed to hook a customer, their first experiences with your business and products are more important than you might imagine. Read our comprehensive guide to get all the information on customer onboarding to drive your business. Making a good first impression counts, but even more so is starting your customers off on the right foot so that they see the ROI quickly, or you could lose their trust and eventually their business.
Educate Your Customers
A business can no longer simply offer a product for purchase. These days, customers want more in exchange for their money and loyalty. One way to meet this need is to create educational content. This will help your customers better understand your business and product and build trust. They are also more likely to purchase after getting educational value from the company. Remember, they are oftentimes looking to you to be their expert on certain subject matters related to the industry you are working within.
Invest in Customer Success
Businesses, more than ever, are beginning to realize that customer success is a part of their company strategy that cannot be ignored. It's a business methodology that anticipates customer needs and challenges while proactively offering solutions. But it's also making sure that your customers are using your product to its fullest potential. Without results that show your product has made a positive impact, customers will not be satisfied with every part of their experience with your business. Last year, Forbes found that 87% of business leaders cite customer experience as their top growth engine. Therefore, investing in keeping your customers happy and asking for customer feedback is investing in the growth of your business and keeps churn at a minimum
Use a customer success team whose job is to keep customers satisfied. Build a top-quality product. Onboard new customers effectively and communicate well. Focus on customer service by getting regular feedback from your customers and acting upon it. Constantly optimize your onboarding process to eliminate unnecessary friction. Use metrics to measure customer success. Check out more helpful tips in our guide on actionable customer success metrics.
5. The Business Intelligence Strategy
Business intelligence is the technical infrastructure that collects, stores, and analyzes data produced by a business. To adapt and innovate towards accelerated growth, a business needs to be able to harness all of its data to make smart decisions.
Track Your Metrics
Here's a growth hack: SaaS metrics are the health and success indicators of your business. Some of your essential metrics for growth are annual recurring revenue, monthly recurring revenue, customer lifetime value, churn rate, SaaS retention rate, MRR growth rate, and renewal rate. Calculate and monitor these metrics regularly to ensure your SaaS business stays on a growth trajectory.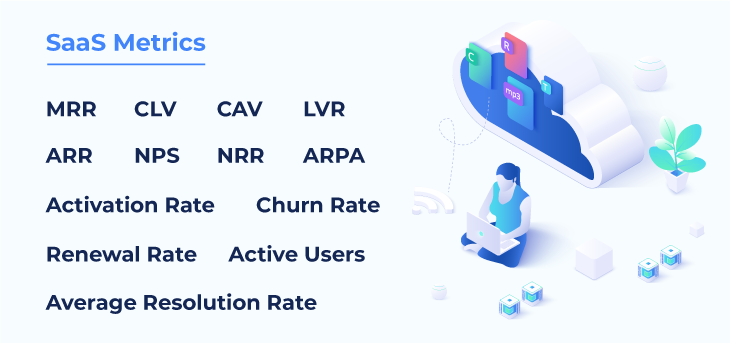 Mine Your Business Data For Success
As a business, you always need to ask "why" when you spot high churn rate, low engagement, or other red flags in your data. By exploring these growth metrics proactively, like the expansion revenue or conversion rate, you can manage your customers better and leverage your analytics with clear, actionable, quantitative data. It can help you track your performance results, implement a flexible pricing strategy, optimize your sales and marketing techniques, and ultimately drive faster business growth. The more you know about your business, the better you can optimize and achieve sustained growth.
Make Use of Price Testing
Price testing is exactly what it sounds like: testing different prices for your products. However, this is a somewhat dangerous practice, as you don't want to scare off your current or prospective customers by being unaware of the online market, which is constantly changing. You'll need to consistently engage in price testing to keep up with product changes, new competitors, and much more.
But before you do, make sure you have a clear pricing strategy in place. Have a look at our breakdown of pricing strategies for SaaS businesses.

The ultimate goal is to keep your pricing linked to the value of your product. If you think you can provide enough value to increase the price, test it out, and if it checks out, then watch your business grow.
How can PayPro Global Help Fast-Track Your SaaS growth?
PayPro Global offers a complete all-in-one solution that gives users the necessary tools to grow their business locally and globally. By providing you with a unified infrastructure, you can test your growth strategies extensively while measuring their results through our AI-powered SaaS metric and BI tools. Additionally, with the help of our comprehensive system, you can improve customer experience, leading to a significant boost in recurring revenue. From trials to freemiums or demos, PayPro Global assists your SaaS business in identifying the right way to engage different customer profiles and ultimately validate the best-performing model for your needs.
We are your growth partner in all things payments and so much more. Through innovative technology and one of the most experienced industry-leading teams on the market, you can trust PayPro Global to fast-track your international SaaS business expansion.
Concluding Thoughts on How to Grow Your SaaS Business in 2022

The SaaS industry is competitive but also ever-evolving and offers businesses many growth opportunities and dedicated eCommerce partners. Avoiding working with a payment provider stalling SaaS growth and using the strategies in this article, you can level up your company and edge out your competitors.
Here at PayPro Global, we are passionate about guiding SaaS businesses to maximum growth and revenue and are excited to help you succeed through our eCommerce platform. We love to meet new partners and hear about your business goals. From start-ups to established SaaS businesses to startups that sell software online, we love new opportunities and challenges!
FAQ
What is SaaS growth marketing?
SaaS growth marketing is increasing awareness and adoption of a SaaS product or service. This can include tactics like content marketing, social media outreach, email marketing, and paid advertising.
What is a good growth strategy?
For a startup, the best growth strategy is usually to focus on product-market fit and acquiring users through word-of-mouth. Once you have a strong user base, you can experiment with other growth channels such as paid acquisition or marketing.
For a larger company, the best growth strategy will vary depending on the business. However, most large companies will need to focus on organic growth (growing revenues from current customers) and inorganic growth (acquiring new customers through mergers and acquisitions).
How fast should a SaaS company grow?
One way to think about this is known as the "Rule of 40." This rule states that for a healthy saas company, growth should be equal to or greater than 30%.
It doesn't take luck to make it, but it does take knowledge. Be the first to learn the latest industry insights and must know marketing tips and tricks. Sign up and enjoy! Always informed. Never Spammed.