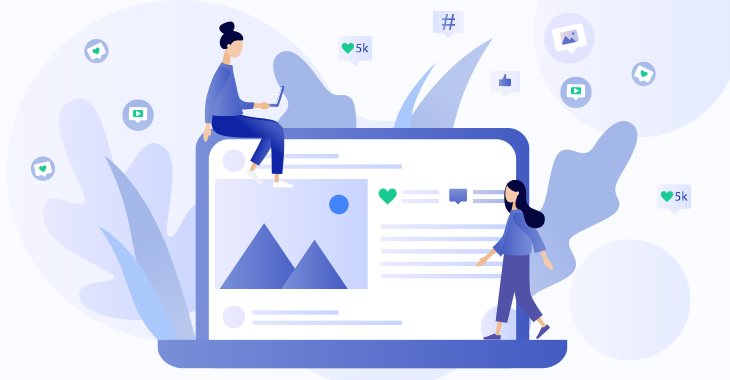 Published on August 9, 2021
Updated on March 14, 2023
Using Your SaaS Social Media Marketing Strategy For Customer Acquisition
With 3.78 billion users worldwide in 2021, social media is ubiquitous and part of our everyday lives. Over the past few years, it's changed the marketing game across all industries. So, it's no wonder that the way brands communicate with their customers has changed too.
Customers used to contact newspapers to lay complaints; now, they leave comments on social media threads and create hashtags. And what used to feature on billboards or TV advertisements now pops up on Instagram Stories and Facebook ads.
Social media isn't going anywhere. As a result, incorporating the relevant platforms into your Software-as-a-Service marketing strategy isn't just an option but a necessity.
But doing social media marketing can be tricky. With new platforms popping up, it's becoming harder for businesses to stay up to date. Not quite sure where to start? Let's explore the ins and outs of creating a social media strategy for your SaaS company and how it can help you effectively sell SaaS online.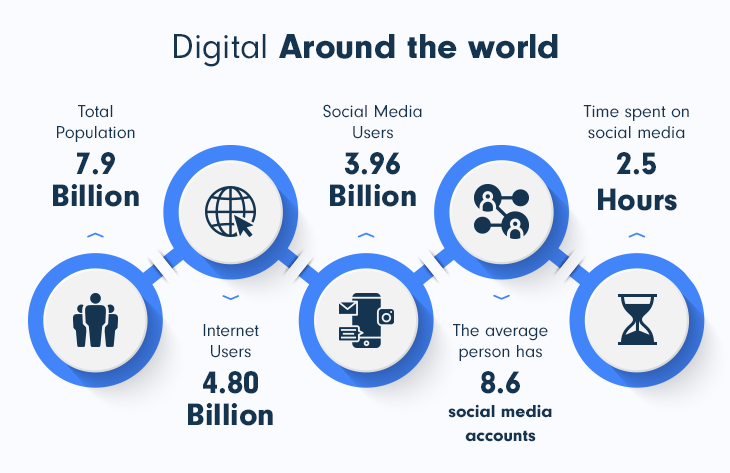 4 Important Benefits of Social Media for a SaaS Marketing
Social media platforms such as Facebook, Instagram, Twitter, and LinkedIn offer an alternative and affordable way to advertise your products and services. It helps you blend your product with your customer's day-to-day activities, making your brand a constant presence in their lives.
Adding social media to your SaaS marketing strategy will give you 4 killer benefits.
It reinforces and bolsters your other marketing efforts.
It helps you to build brand awareness, expanding your reach.
Social media can help you to create a community of enthusiastic, engaged fans.
These platforms can drive traffic to your website and lead to conversions.
What Is SaaS Social Media Marketing? An Organic Vs Paid Strategy
Social media marketing relies on platforms and websites to promote a product or service. So, if you were looking to optimize the way you sell video games online, you should consider making use of social media. But how can you use social media to reach potential customers? Before we dive into adding social media to your SaaS marketing strategy, let's look at the different campaign options.
Launching Organic SaaS Campaigns
These campaigns are free to run. Brands share content with their followers on social platforms, and, hopefully, the fans interact with what's been shared. The hope is that they share the content with their friends and followers.
These campaigns can help you to build brand awareness and engage with existing and potential customers. But organic campaigns won't have as big of an impact as paid ones.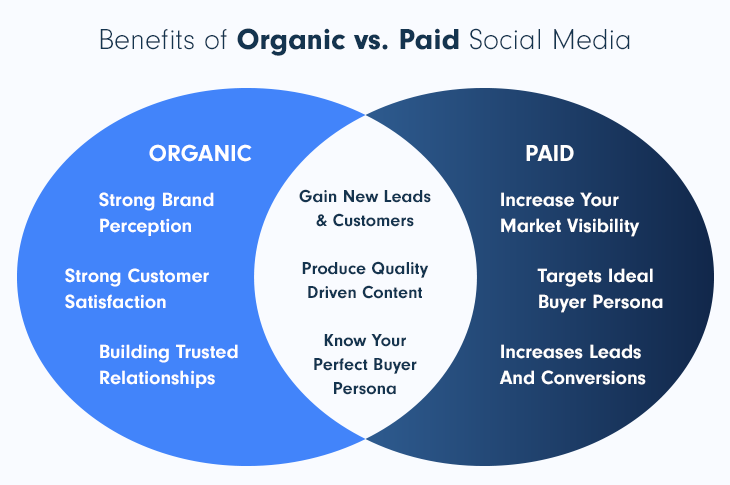 Launching Paid SaaS Campaigns
With paid social media campaigns, you pay the social platforms to boost the visibility of your content. Like organic campaigns, paid campaigns can help you to build brand awareness and engage with your audience.
They can also help you to generate leads, drive traffic to your website, and even gain SaaS free trial users. But they do so by targeting specific people, using the platform's algorithms. So, for example, by setting up a paid campaign, you'll be able to target some of your SaaS buyer personas that live in specific geographic areas.
Top tip: Combining organic and paid social media content marketing is a great way to gain traction on social platforms. Paid campaigns help provide quick access to potential customers. Organic campaigns are more likely to help forge lasting relationships with them.
Creating a Social Media Strategy for Your SaaS Product That Works
Like most aspects of business, success hinges on proper planning. If you want to use social media in your SaaS content marketing strategy, it's essential to create a clear social media strategy that's aligned with your SaaS company goals.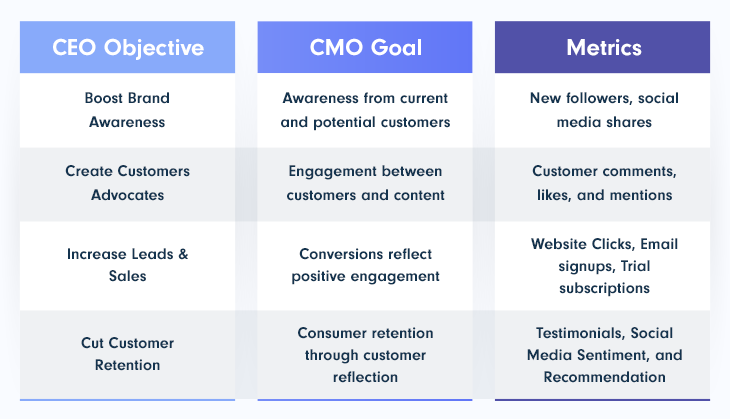 7 Actionable Social Media Tips for your SaaS Pre-launch Strategy
Your social media strategy doesn't just become relevant once your product is out there – it's crucial before it even goes to market.
Here are our 7 top tips for using social media before you launch your Software-as-a-Service product:
1. Use Social Media for Market Research
Start by using social media for market research. You can use social media tools to:
Find Your Target Audience - Try joining groups, meetups, or online discussions on platforms that relate to your product or niche. By paying attention to the problems users discuss and the questions they ask, you'll be able to see whether potential customers exist in these circles.

Better Understand Your Market - Gone are the days where businesses had to invest in expensive surveys or polls to learn about their audiences. With social media, you have the option of tapping into conversations to really get to know your market. It's also easy to run free polls.

What you learn might be very useful as the nature of social media encourages unsolicited opinions. Users are more candid with their thoughts and responses, which could translate into learning more about how the current market is serving its customers.

Learn About Your Competition - Understanding your competition is imperative to SaaS marketing and product success. Social media helps you learn about your competitors as you can discover how your target audience speaks about their brands. You'll be able to compare your product to theirs, highlight what makes it unique, and learn where the gaps are.
2. Pinpoint Ideal Social Media Channels
There are loads of social media platforms available today, and more are on their way. Some work better for marketing SaaS products than others. When integrating social media into your SaaS marketing strategy, choosing the proper channels for your business is vital.
As you want to use social media to reach your audience, you'll need to choose popular platforms among your potential customers. Using an automated social listening tool like Sprinklr or Socialbakers can speed up this process. These tools can provide an overview of your market and pinpoint precisely where key conversations are happening.
Once you know which social platforms these conversations are happening on, you'll see where you need to be. You'll also gain insight into where, when, and how others mention your brand and products.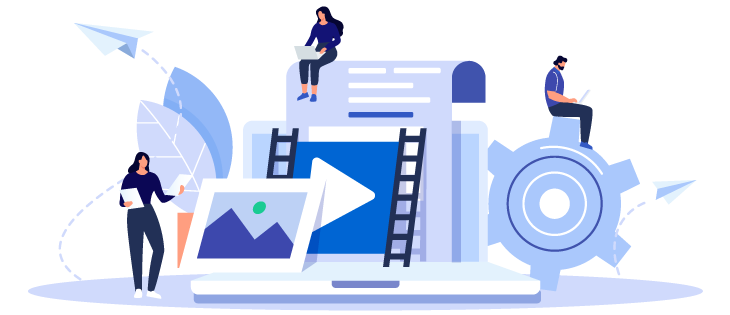 3. Generate Buzz
Generating a pre-launch buzz should be a critical part of your SaaS marketing strategy. After all, how can you successfully launch your product if no one knows it's coming?
Using social media, you can prepare for your product to get the attention it deserves, even before it's out there. Here's how:
4. Encourage Early Adoption
Use social channels to create a community of early adopters. You can get leads by interacting with prospective customers. Try converting them to early adopters by offering discounts or rewards for early signups for your product.
Nurture your pre-launch leads, as they're most likely to become brand advocates in the future.
5. Use Viral Signups
Use viral signups to create interest. For example, you could ask users to do a free trial or offer newsletters with tips and other helpful information, talking about your new product.

6. Create Curiosity Around Your Product
Create curiosity for your product by mentioning it in social media groups or forums. You can explain how your product solves pain points and answer any questions users might have. The comment sections in blogs and product reviews, and Q&A websites are also great spaces to do this.
Meet PayPro Global.
Your Professional
eCommerce
Partner
No 3rd party integrations. No hidden costs. No wasted time.
Just a solution as unique as your business's needs.
7. Streamline Your Content
Content can also really help you to strengthen your SaaS marketing strategy. Producing good-quality content that speaks to your audience is often the key to increasing conversions.
You can use social media content to keep your audience informed on topics related to your product and industry. But your content needs to go a step further than education. It must entertain, enthrall, and emotionally connect to users to be successful.
Always create content that relates to your audience, look for trending topics within their areas of interest, and create content that will help position you as a thought leader. Your content needs to provide value and be relevant to your target audience's lives. Speak to their worries, dreams, and goals.
Top tip:
Create demo videos for your SaaS product.
Post images of users using your product.
Provide easy-to-understand how-to guides.
Users will feel more confident in what your product can do before they decide to buy it.
7 Actionable Social Media Tips for your SaaS Post-launch Strategy
After launching your SaaS product, your social media strategy will have to change. You're no longer promoting an unknown product – it's available, ready to use, and it needs to sell.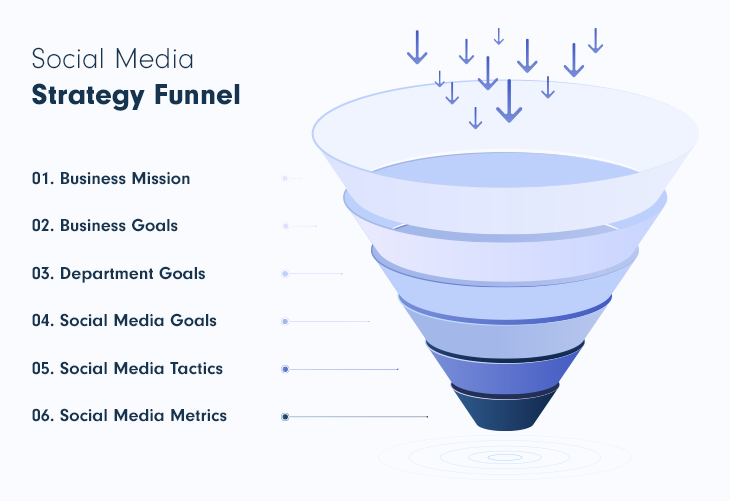 Here's how to use social media in your SaaS content marketing strategy after you've launched your product:
1. Tap Into Influencer Marketing and Brand Advocacy
An excellent way to market your product through social media is by tapping into influencer marketing and brand advocacy.
Influencer Marketing - 'Influencers' are celebrities in the social media world. They're social media content creators with large followings, and many people look to them for inspiration and advice.

Getting started with influencer marketing is relatively simple. Start by following popular influencers in your niche who might want to endorse your product. Then, interact with their content by commenting or sharing to bring your brand and product to their attention.

Next, approach them to collaborate. Influencers can share your content with their network, and you compensate them with money or other benefits (e.g., a free subscription to your product). If the partnership is successful, you'll build brand trust and credibility among your target audience, reach new customers, and improve engagement with your brand.

Brand Advocacy - Using brand advocacy in your SaaS marketing strategy is highly effective for lead generation. A brand advocate is a customer or employee who has expert knowledge about your industry, product, or niche – knowledge they can use to influence others.

Starting a brand advocacy program speeds up the results you can get from referral programs. You'll have a team of individuals dedicated to spreading the word about your product and, in return, you can offer them discounts or rewards.
2. Create and Engage With Your Community
Building a supportive, stable community around your brand should be a goal included in your SaaS marketing strategy. Using social media, you can form and foster close connections with your audience, keeping them linked to your brand wherever they go.
Creating a blog is a great way to bring people into this community. You can position your brand as a thought leader in the industry by sharing your niche expertise. You can also use your blog posts to raise awareness about your business, product, and services.
Once you've got your blog up and running, you can use social media to share posts. Socially promoting your blog posts can increase conversions by driving more traffic to your website. The more traffic you have, the more likely you'll get conversions.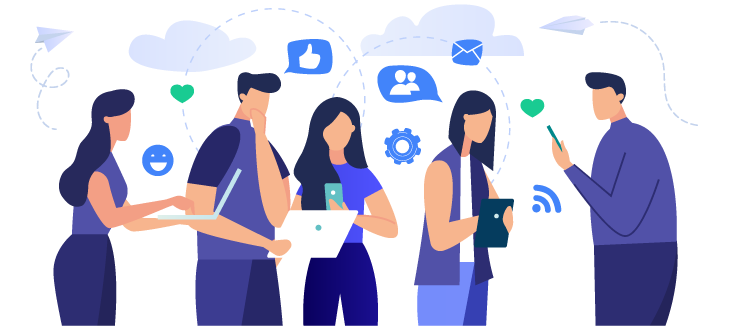 3. Use Customer Feedback to Address Pain Points
One of the caveats of social media is that it makes customer service infinitely more complicated. Mistreat your customers or neglect them, and you might find your brand up for public scrutiny.
Using social media as part of your SaaS content marketing strategy means you can track your customers' reactions to your product. Is it working? Are they happy? Is there anything extra you can do to make adoption easier? The insights are endless.
You can use customer feedback via social media to address customers' pain points and improve your offerings. By showing them how you've incorporated their advice, your customers will feel appreciated and, if you're lucky, become brand ambassadors.
4. Incentivize Audience With Referral Programs and Discounts
SaaS buyers are just like everyone else – they love a good deal. Referral marketing programs (where you reward customers for telling their contacts about your brand) and discounts offered via social media are both excellent ways to tap into this mentality.
Offering discounts and rewarding customers for referrals can give you a competitive edge, as it makes your product more attractive to potential customers. In addition, as social media allows you to reach a wider audience, you'll also be able to cast your incentivization net wide, catching more customers and growing your business.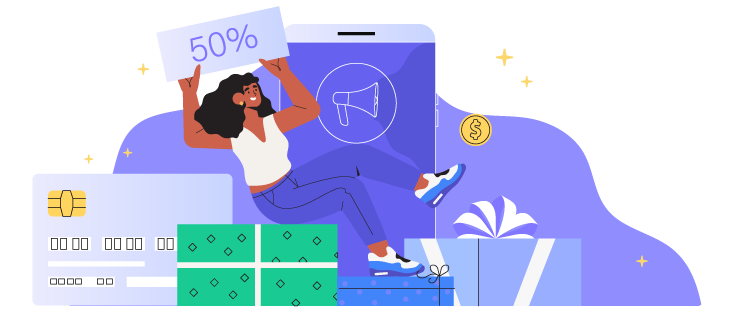 5. Create Solid Ad Campaigns
Adding strong ad campaigns to your SaaS content marketing strategy can boost your sales significantly.
Social media ad campaigns allow you to target and retarget your audience in-app while they're scrolling. Having optimized ads for your product appearing on the right feeds also increases the odds of users clicking. In addition, these ads can lead to more conversions, especially if you're advertising special deals.
Make sure your ads are optimized correctly for the social platforms they're on, as well as for the users they're targeting. Your visuals and copy need to be sharp, and your landing pages should speak to the ads to avoid confusion. Also, ensure your ads highlight the advantages and special features of your product.
Meet PayPro Global.
Your Professional
eCommerce
Partner
No 3rd party integrations. No hidden costs. No wasted time.
Just a solution as unique as your business's needs.
6. Use Testimonials As Social Proof
What has the most impact on customers' buying decisions? Ads? Content? Incentives? While these are undoubtedly important, it's the opinions of others that hold the most weight. For example, a recent survey showed that reading positive online reviews influenced the buying decisions of 90% of customers.
So, another social media tactic to include in your SaaS content marketing strategy is showcasing testimonials. Testimonials act as social proof for the quality of your product and services and the reliability of your brand.
Positive testimonials highlight that your customers are happy with the products they've purchased and the service they've received. It helps assure prospective customers that they, too, will be satisfied with your product and brand.

7. Use the Right Social Media Tools for SaaS
Last on the list for utilizing social media for SaaS content marketing is finding the right social media tools. The correct tools will help you automate and optimize your social media marketing processes, saving you time, energy, and costs.
A wide variety of social media solutions are currently available, from tools that help you design ads to those that help with scheduling, listening, and testing.
If you need help with anything social media-related, chances are there's a tool out there that makes the process easier.
The following popular social media tools are worth investigating:
Canva: A graphic design tool that helps you to perfect your visual content.
Hootsuite: A tool that helps you to schedule and manage your posts easily
Linktree: A link-building tool that allows you to use one link to redirect users to all your target URLs.
HypeAuditor: Ideal for influencer marketing campaigns, this tool can be used to flush out fake followers and track your influencer marketing campaigns.
NapoleonCat: An all-in-one social media management tool. It helps you plan and execute your campaigns, schedule your posts, and collect data for analysis.
Final Thoughts on Social Media for SaaS
With the popularity of social media growing every day, your business has to be there. It's where your target audience spends a significant amount of time, and it's one of the best ways to grab their attention.
If you can use it correctly, social media can be a powerful, potent marketing tool in your SaaS marketing strategy. To find out more about how you can use social media to promote your SaaS product, reach out to us at PayPro Global today. Our innovative tool, as well as knowledge and expertise on payments, tax, and global SaaS compliance, will fast-track your business growth.
We'd love to talk strategy and help you tap into the wealth of benefits that social media has to offer!
FAQ
How do SaaS companies acquire customers?
Lead generation. Lead generating is about making new prospects aware of your product or service with the aim of converting them into leads.
In time, you convert those into paying customers, starting with one important element: awareness!
What is a customer acquisition strategy?
A company's customer acquisition strategy determines how they will attract new consumers and convince them that buying their product or service makes sense.
What are the stages of customer acquisition?
- Awareness (I know what you do but I don't buy it)
- Consideration (I'm thinking about buying, I'm not sure)
- Purchase (I've bought your product or service)
- Loyalty (My family and friends use your product/service too!)
It doesn't take luck to make it, but it does take knowledge. Be the first to learn the latest industry insights and must know marketing tips and tricks. Sign up and enjoy! Always informed. Never Spammed.