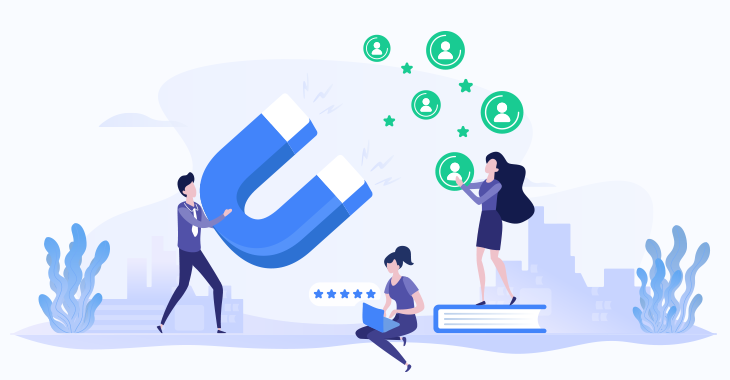 Published on March 31, 2021
Updated on September 1, 2023
Lead Generation for your SaaS Business: A How-To Guide
Think of your SaaS business as an orchard. If you don't tend the trees, they won't bear fruit. Similarly, if you don't maintain your services, you won't make a profit. Generating SaaS leads for your business is essential to maintaining your business's health and growth. Whether you sell video games online or SaaS, software, or digital products, understanding how lead generation works will offer you a huge advantage over your competition. We're here to outline the different ways to generate SaaS leads and why and how SaaS lead generation can work for you!
What is Lead Generation?
A lead is someone who has shown an interest in your product, to the point where they've given you their information. You'll need to nurture this interest to turn it into customer action, as well as generate more leads for your business.
There are 3 stages to creating leads for your SaaS business:
1

. Attracting Visitors
You must attract people to your website or platforms to create leads for your b2b SaaS business. You can only give them a form and ask for their contact information. For this, you'll need a strong lead magnet to draw them toward your page. A lead magnet offers value, such as a free download or product discount. Strategies revolving around the idea of SaaS free trials for users are usually quite successful.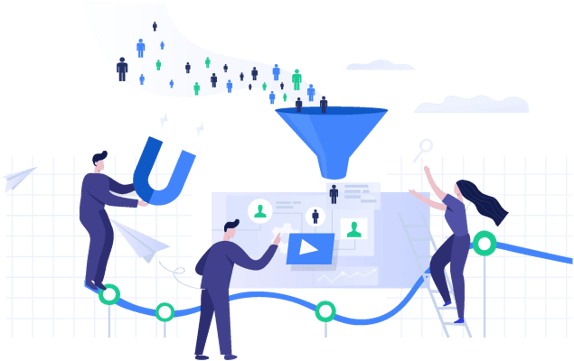 2

. Encouraging Action
To access the lead magnet (free ebook etc.), the visitor must click on the call-to-action (CTA) and 'land' on your landing page. So the next step is to use compelling content to engage your audience and encourage them to click.
3

. Conversion Time
The third and final stage to lead management creation for your SaaS business is to convert visitors into leads. Your landing page should be set up to provide more details about your lead magnet offer. If the prospect likes what's offered, they'll complete the process by filling in the form on the landing page to get the offer. Once the prospect's information is captured, the visitor becomes a lead.
So we know what creating leads for your business means, but how do you create a SaaS lead generation strategy? Let's jump right in.
How To Develop a SaaS Lead Generation Strategy
Increasing your conversion rates is influenced by the lead generation tactics you use. It's essential to evaluate these tactics to increase your business's leads.
Choosing smart ways to generate leads for your SaaS product requires innovation. Whether it's trying something new, revamping old tactics, or amping up working approaches, creativity is key! But before you can get creative, you need to plan your basic SaaS lead generation strategy.
Establish Objectives
The first step in creating leads for your business is setting your lead generation strategy objectives. Make sure these objectives are specific, realistic, and measurable. To set your goals correctly, make sure you:
Outline what you want to achieve.
Keep your marketing and business objectives in mind.
Set KPI and SaaS metric benchmarks for each objective.
Include stakeholders when brainstorming objectives.
Give each objective a specific timeline for completion.
Evaluate whether you have the resources to achieve each objective.
Figure Out Your Target Audience
Next, you'll want to narrow down your target audience - who do you want to attract to your page? Finding the right target audience is essential to creating leads for your b2b SaaS business. You must understand your target audience and their needs to offer something they will perceive as valuable.
Collecting data and segmenting your target audience is a great way to pinpoint your target audience. Try providing surveys or conducting customer interviews to collect this information. Then you can analyze the data and collate it to define exactly who your target audience is.
Define Your KPIs
You need KPIs to track your business strategies' performance and if they're creating leads for your business. This helps you see where you can improve, save time or money and determine if you're giving your visitors the value they're after.

10 Strategies to Increase Leads for Your SaaS business
In our search for the best SaaS lead generation strategies for your SaaS business, we've mapped out what creating those leads entails and how to create a strategy. Now we need to look at specific tactics that can make your strategy ultra-effective!
Here are our top 10 lead generation strategies for your business that you can incorporate into your campaign.
1

. Craft Compelling Content
Remember earlier we spoke about the importance of attracting people to your product? This is where content creation comes in. You need to create content that speaks to your target audience and bolsters your lead magnets' appeal, then weave this content into your pages to motivate visitors to complete the CTA on your landing page.
For content to help with lead generation for your business, it needs to stand out and offer people value. To up your content game for your lead generation campaign, try some of the content tips below.
Make Videos
Many people are visual learners, so using audio-visual tools like interactive videos will likely resonate with most visitors. Videos facilitate quick and entertaining access to information. They also build trust with your audience as you can answer questions directly and make your product more relatable.
Informative Blog Posts
Blogging is another excellent content tool for creating leads for your business, helping to place you as an authority within its niche. Through regular blog posts, you can share your expertise and address your customer's potential pain points. Just make sure you post high-value content consistently and use effective CTAs links.
Content Repurposing
Maybe you've created content before which didn't generate many leads for your business. Instead of throwing the content away, why not try to repurpose it? Change or improve the content and repost it when the time is right. For example, you could turn a blog post into an infographic or an ebook.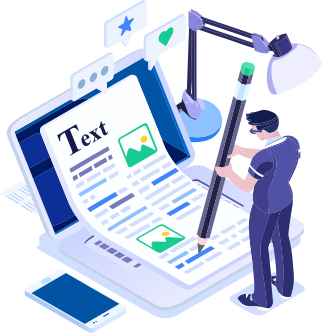 2

. Start a Collaboration
Another useful tactic to increase business leads is integrating your product with other software. Working with other SaaS companies attracts new leads and establishes your reputation among peers. Both parties can gain value and share responsibilities from the joint campaign - it's a win-win!
You can also integrate with non-competing vendors as a way to bring in leads for your business. Combining your products offers more value and opportunity for both of you. Try creating a mutually beneficial relationship with vendors who sell a complementary solution to your SaaS.
3

. Offer to Guest Post
Guest posting is a great way to build brand awareness and increase lead generation for your business. You can contact bloggers or influencers to feature content you've written on their platforms. In most cases, you'll be given an author bio which you can use to show your skills and product. This drives people to your website to learn more about you, bringing in new leads.
Schedule your consultation With Us
4

. KPI Tracking
Earlier, we mentioned that setting KPIs for your objectives is necessary. KPIs are metrics you use to check that your strategies are working. They show where you can adjust and improve to increase leads for your business steadily. At PayPro Global, we can track and improve your metrics to skyrocket leads for your business.
Here are some key KPIs we'd look into when generating leads for your business:
Organic Traffic. This is traffic generated from people showing interest in your product and actively searching for information about it.
Traffic-to-lead ratio. This number tells you how much of your traffic is being converted to leads. As your website traffic increases, so should your lead conversion. Otherwise, something could be wrong with your user experience.
Conversion rates. The number of visitors who convert into purchase prospects.
Average session duration. This is the average time that visitors stay on your pages.
Bounce rate. This is the number of visitors who leave your web page without visiting other pages on the site.
Exit rate. This is the number of people that leave a single page on your website, showing which pages are popular.
Cost per lead. This shows you how much cost goes into a single lead (human resources, tech, advertising, etc.).
Click-through rates. This number shows you how many people are clicking on your links and which links are more popular.
5

. Research Keywords
Keyword research is an important marketing tactic to improve lead generation for your business. A keyword refers to a word or string of words that users type into web browsers to find something they want. They help your target audiences find your content on the internet - your blog, for example.
Keyword research isn't as complicated as it's made out to be. Start by thinking like your customer and choosing words you think they would use to find your product. Then type these words into a keyword research tool like Google Keyword Planner. This will determine which words will work best to create leads for your b2b SaaS business.
Keywords help determine your ranking on search engines like Google. When choosing keywords, make sure to pay specific attention to the word's monthly search volume. This shows you the monthly average range of people who use that keyword to search for something. After choosing and using your keywords, check your domain authority to see how well you've ranked.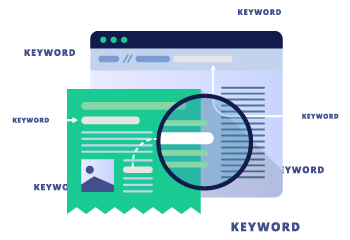 Offering free trials is a sure-fire lead generation strategy to improve your business. You give potential customers complete or partial access to your product for a specific time, and they give you their contact details in return.
Free trials provide people with the chance to give your product a try and test its potential. This generates more leads for your business as the allure of testing out a product prompts visitors to provide their information. Users will also feel more confident buying your product as they'd have already experienced its benefits firsthand.
Even if most users don't end up paying for your product, they'll help with lead generation for your business. Users can share their free trial experiences with their networks. This motivates more people to use the free trial, which in turn creates more leads.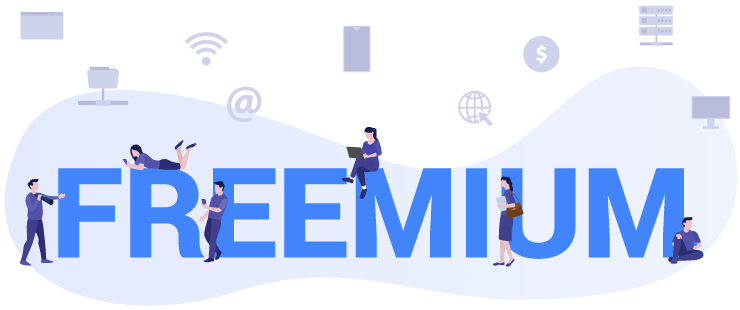 7

. Nurture Leads
Lead nurturing is excellent for building a steady influx of leads for your SaaS business. This process centers on building customer relationships at every stage of the buyer's journey. As a result, you'll foster trust and boost credibility for your product as well as your business presence.
To nurture leads, you'll need to up your communication game with potential and existing customers. Try:
Referral Marketing
Referral marketing can accelerate SaaS growth, amping up leads for your business. Get loyal customers to 'sell' your product's appeal with their friends and family. If these customers get more people to try your free trials, you can reward them with unpaid premium access.
Use Social Media
These days almost everyone is on some form of social media. Capitalizing on these platforms' reach and ease is an effective way to create leads for your business. Using social channels to communicate with your audience allows you to connect on a mass scale.
Contact Influencers
To catapult the reach of your SaaS, try forming bonds with influences outside of your software niche. These influences should represent your ideal customer. Using influencers who would buy your product to 'sell' your product increases your chances of reaching potential customers. They'll rely on the recommendations these influencers provide, shooting up leads for your business.
8

. Perfect Your Lead Magnet
Your lead magnet is an offer related to your content that attracts your business's potential leads. To work, lead magnets have to provide some sort of benefit or add value to people's lives. The 'magnet' draws visitors toward your offering, they complete an opt-in form, and the visitor becomes a lead.
Gated content is a perfect example of an effective lead magnet. By requiring visitors to give their contact information to access the offer, you generate more leads for your business. Think downloadable content (ebooks) or access to premium features on free trials.

To generate leads for your b2b SaaS products, we can help create lead magnets that are tailored to your business's DNA. We'll make sure your lead magnet is:
Targeted toward a specific audience.
Relevant to your business.
Features content that aligns with what is being offered.
Lists the benefits visitors gain by giving their information.
Includes a compelling CTA.
Immediately communicates value to your audience.
9

. Host Webinars
As webinars require a time commitment, these attendees are more likely to have serious intentions for using your product. This means they're more likely to become leads for your business. Your webinars could be tutorials, workshops, or courses that provide free problem-solving advice.
To take full advantage of this tactic, here are some ways you can improve webinars to boost leads for your SaaS business:
Try inviting industry experts to feature in the webinar. This will attract their audience to your platform and boost the event's credibility.
Remind people to attend. Life gets busy, and when you aren't paying for an event, it's easy for attendance to slip your mind. To improve your attendance rate, send a reminder to attendees in the days and hours leading up to the event.
Offer an incentive to stay till the end. Attendees are more likely to attend if they know they're going to get a reward at the end. Try promising high-value content or one-on-one interviews with guests.
Use scarcity tactics to increase attendance. Tell your audience there's only a limited amount of space available for the webinar and that it will not be recorded.
10

. Reach Decision Makers
Our final tactic to increasing leads for your business is to make sure you reach decision-makers. If your target audience is other businesses, you need to push your strategies toward connecting with corporate leaders. Examples of such leaders would be:
CEOs, presidents, or department heads.
Decision-makers who report to a board of directors for consent.
Influencers who confer with stakeholders before purchasing.
Schedule your consultation With Us
Final Thoughts on Lead Generation for Your SaaS business
If you are looking to improve the way you sell ebooks online, SaaS, software, or video games for that matter, streamlining your SaaS lead generation strategy holds untold benefits for your business. You'll increase your session durations, decrease bounce rates and maximize the return on investment. Bringing in new leads for your business is imperative for success.
By partnering with PayPro Global, we can help you become a trailblazer in your niche. From global SaaS compliance, payments, and taxes to complete subscription management and more, we can fast-track your company's growth. It's time to take power away from your competitors - contact us today for more information; we'd love to hear from you!
FAQ
What are lead generation strategies?
A lead generation strategy is a set of tactics used to attract the interest of potential prospects and turn them into paying customers. These methods can include anything from email newsletters or landing pages to viral videos and webinars.
What are the types of lead generation?
Outbound includes cold calls (which may not work without a warm introduction) or targeted online ads that increase visibility. Inbound includes SEO optimization techniques such as keyword research/placement across various platforms like social media sites and search engines.
How do you create a marketing strategy for SaaS?
You can do this by running a PPC campaign and using content marketing, which will help generate qualified leads through high-quality articles. It might take some time for your SEO efforts to show results, but when it does pay off you'll see an increase in traffic from Google searches.
It doesn't take luck to make it, but it does take knowledge. Be the first to learn the latest industry insights and must know marketing tips and tricks. Sign up and enjoy! Always informed. Never Spammed.