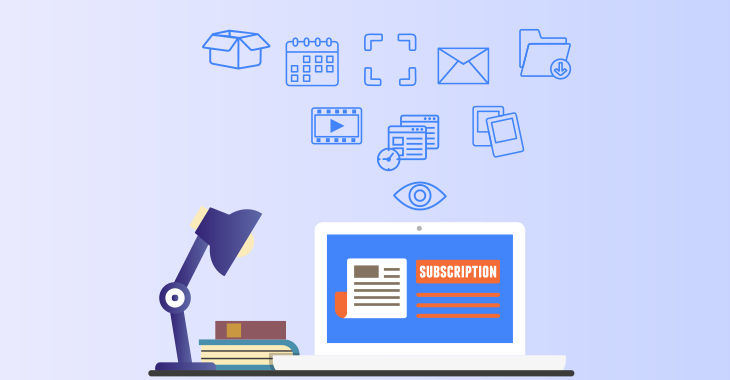 Published on February 18, 2014
Updated on March 13, 2023
Freemium Business Model: Its Benefits, and the Pitfalls to avoid
While some pricing strategies come and go, freemium has remained a consistent method across the software and SaaS industry, growing in popularity over the last few years.
For a good reason, Freemium is popular with companies and their consumers. Users are given more time to find the value of a product, meaning increased revenue. But is it that simple?
While its popularity and usage increase, founders and experts within the industry are undecided about the actual benefits of the business model. Does Freemium generate increased revenue while lowering the cost of customer acquisition, or is it nothing more than a gimmick, delivering low conversation and return on interest rates?
In this article, we will try to determine the value of the Freemium model by outlining its benefits and the pitfalls you should be aware of. But how exactly does freemium work?
How does a freemium model work?
While the Freemium business model might look like a free trial, they are very different pricing and acquisition strategies. SaaS free trial users are offered all the features of its paid counterpart, but for a limited time. However, with the Freemium model, the product or service is free, in its most basic form, forever.
Unlike the free trial, this model gives users plenty of time to fully explore and experience the product, discovering its features and learning about its full potential. As users recognize its value incrementally over time, they become more likely to pay for the product's premium features and capabilities. This premium version of the product will have other resources, services, and advantages available for customers who pay a small recurring subscription fee.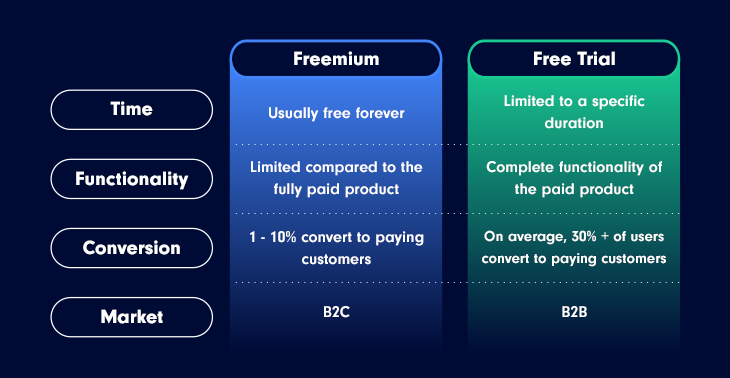 Early-stage start-ups often use the Freemium model to quickly acquire users, helping them test their product's market fit and overall viability. However, it is expected that most users within this model will not ultimately upgrade to the premium version.

With that in mind, this model works best for companies whose potential customer base is large, while their product is quick and easy to adopt and understand. To be truly successful, the product must continually engage and interest your free users if you want them to convert to paying customers.
Meet PayPro Global.
Your Professional
eCommerce
Partner
No 3rd party integrations. No hidden costs. No wasted time.
Just a solution as unique as your business's needs.
Examples Of Freemium Pricing
Dropbox
Online storage company Dropbox is one of the best-known and most successful examples of the Freemium model.
They offered their users 2GB of storage space for free, which was more than enough for most people's needs, but not enough to cover bigger companies and heavier users.
The chances are that if someone managed to fill their free 2GB of online storage, they were already likely to have realized the product's full value, so they were more likely to pay for increased storage space.
While the free version is incredibly popular and fits the needs of most users, paid subscribers received a significantly increased volume of storage and additional features, such as remote file wiping and advanced sharing controls.
As of 2020, Dropbox reported having 15.48 million paying users.

Hootsuite
Founder Ryan Holmes told how Hootsuite spent no money whatsoever on marketing, PR, or advertising during their first 3 years. Instead, they used the freemium model to attract hundreds of thousands of users.
With companies like Hootsuite, the most significant advantage was being well ahead of the curve within their niche, offering a comprehensive social media dashboard during the earliest years of social media use. Over time, many of their free users upgrade to premium users, paying for additional users on their account, increased functionality, and additional support.
Over half of HootSuites current paying customers (including many of their Enterprise clients) were once free users. Also, the company offers its community a freemium option to this day, helping to ensure its product remains competitive within an increasingly crowded market.
Today Hootsuite has over 200,000 paid accounts and millions of users from around the world.

Spotify
Spotify and its freemium subscription model for music have changed the way people buy, sell, and consume music, helping bring new life to an industry that was in decline less than a decade ago.
While Spotifys' free plan allows customers to stream most songs, they can't skip to specific tracks within an album or playlist and are also presented with adverts between songs.

Spotify's free version more than meets the needs of casual music fans and contains an enormous value for them. Meanwhile, music enthusiasts benefit from the increased functionality and an ad-free listening experience with a paid account, proving how successful a freemium business strategy can be within the B2C industry.
In January 2018, Spotify claimed to have over 70 million paying customers and over 165 million users in total.

Mailchimp
Our last example of effective Freemium model usage is the email marketing platform Mailchimp, providing its users with a significant amount of emails and contacts free of charge (2,000 contacts and 10,000 emails per month).
The catch here is that when users have reached their free usage limit, they are faced with one of two choices. They can either upgrade to the premium model through a subscription fee or go from the hassle of migrating their email list to a competitor's service.
By the time a business has reached the size where it needs the additional functionality, chances are high they have benefited from the service and are more likely to upgrade from a free account than they are to churn.
Mailchimp is an excellent example of the freemium model helping companies grow by scaling their success alongside the service they're using.
MailChimp has over 11 million active customers, with an estimated total global audience of more than 4 billion users.

The Pros and Cons of Freemium Pricing
The Benefits Of Freemium Model Pricing
Increased Exposure:
Giving your product away for free is the best way for your company to attract a broad audience of curious users and lets you build a relationship with them in a pressure-free environment.
A happy free user who recognizes the value of the product and wants to unlock further features can then choose to upgrade to the premium version in their own time. If your free version becomes a viral hit, you can even capture market share ahead of the competition.
Loyal Followers:
By giving people the time to get comfortable with your product, you're increasing the likelihood of finding its value. Once they have become accustomed to using it, they are less likely to swap to a competitor's product.
Because there are no time limits within the Freemium model, your users are more likely to find your SaaS, product, or software becomes an indispensable part of their day-to-day work routine, making it much easier to move them to a paid subscription.
Collect User Data:
As the Freemium model can often attract large audiences very quickly, you benefit from access to significant volumes of data and feedback about your product. By building an online community for the SaaS business, you have access to information. Using this information can help you improve your targeted marketing efforts, narrow and fine-tune your perfect buyer persona, and define the costs and features of your premium tiers.
Scale With Your Customers:
The Freemium strategy is a fantastic way to create genuine partnerships with your customers. For example, using this business model means limiting the actions or volumes of whichever service you provide to a level appropriate for small businesses.
As a free user scales with your product, their business requirements scale too, and by the time they reach their usage limit, they are comfortable with it and have already recognized its value. It makes sense to pay rather than migrate your data and learn how to use a whole new tool in these instances.
The Pitfalls of Freemium Pricing
Freemium Isn't Free:
While a free user might not be paying for your product, it certainly comes at a price. Handling customer accounts, providing data storage, and building and maintaining the product itself all costs money.
And remember, with a conversion rate often lower than that of the free trial, a large number of your users will never move over the paid premium version. Freemium might be a terrific acquisition method for many companies, but they soon find that its costs can outpace any resulting revenue.
The Wrong Customers:
The nature of the Freemium model means your business can find itself attracting users who aren't a good fit for your product. Many of these free users will never convert, sticking instead with the free plan as they won't need the additional features of your premium offering.
On the other hand, users who would benefit from the features of the fully paid premium version might overlook your product completely as they can't access what they need within the Freemium version. A free trial might be better suited for your product in these cases.
Meet PayPro Global.
Your Professional
eCommerce
Partner
No 3rd party integrations. No hidden costs. No wasted time.
Just a solution as unique as your business's needs.
The Value Of Freemium:
Giving away a free version of your product or service can negatively influence its value. If you have been charging a user $0 to use it, it can be challenging to justify asking them to move to a fully paid subscription if they haven't organically come to recognize its value. If you need a higher subscription price to make a profit, freemiums may work against you.
ROI requires a huge volume:
Phil Libin, CEO of Evernote, once explained that the easiest way to get 1 million paying customers for a product was to get "1 billion people using it." As the conversion rate of Freemium plans is usually relatively low, you're going to need your number of free users to be hundreds of times larger than your paid customer base.
This means an increased cost in maintenance, which for smaller start-ups or companies operating in a niche, Freemium might not be a viable option.
Conclusions and Takeaways
According to various studies, around 95% of freemium users don't pay and will never pay. This is why driving value from the huge number of free users is vital for a freemium product's survival.
Although these users are not paying for your product, they still provide value by watching ads inside the app, providing valuable usage data, or driving referrals.
If you decide that the SaaS freemium model is right for you and your business, that's great – it's a model that can be a strategic weapon for the right company in the right circumstances. Regardless of your decision, freemium should be approached with extreme caution as the variables for its success are hard for most companies to cultivate.
You can find out more about Freemium here. To discover how to successfully sell your SaaS products and services, message PayPro Global today and see how our unified eCommerce solution can help you scale your business worldwide. With over a decade of experience, we are ready to fast-track your global growth by providing our partner with assistance in all regards, from handling tax and subscriptions to achieving global SaaS compliance.
It doesn't take luck to make it, but it does take knowledge. Be the first to learn the latest industry insights and must know marketing tips and tricks. Sign up and enjoy! Always informed. Never Spammed.