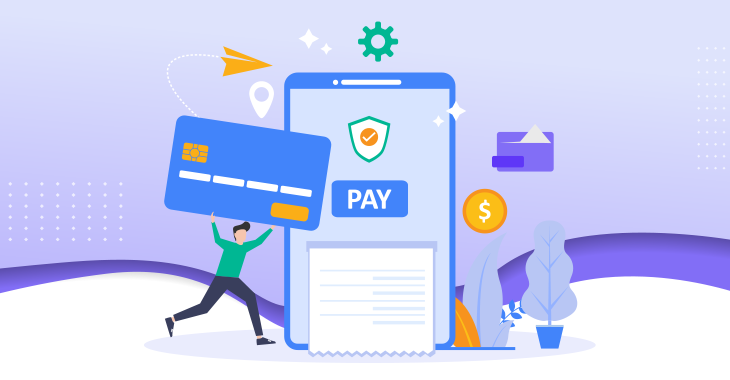 How to improve conversion from free trials to paid version?
While the decision to offer free trials for software is still a hot discussion subject among the software producers, today's blog will be focusing on some practical insights for the ones offering it, and as all the companies selling software online, we want to improve the conversion of the paid products or services.
On the logical side, offering a free trial version is a very efficient method to get the users to understand the value of your product and create demand for your solution. It's a great way to show how efficient your tools are and that your particular solution is the right answer to the user's problem. Moreover this technique reduces risk element for you and your prospect. By offering your customer a free evaluation period, you reduce the possibility of an eventual refund request from his side in case your product wasn't what they had in mind. The customer, on the other hand, doesn't risk spending money on an unneeded product. The bottom line is that summing up the advantages, this method has become a standard in software marketing.
Unfortunately, the process of converting free trials into paid customers is often neglected and there are substantial amounts of money leaking in the whole process due to numerous friction elements. Just imagine money leaking from your wallet. Yes, this is a very similar situation.
The free trial period is a nurturing process where you nourish customer demand into a need and eventually into a sale. This nurturing period can be sectioned into 3 general parts, the most decisive of them being the expiration point, when the whole process gains momentum.
1. During (creating demand during the actual trial)
2. Expiration point
3. Post trial period
Creating demand
We introduce the user to software by offering a set of features of your product for free, giving a chance to the user to try out some of the key functions of it, as well as experience its usability. It is crucial to create the right set of features that would give the user a glimpse of the possibilities that your product can open for them IF they upgrade to a paid version. In this article we will concentrate on the types of products that have offer a BASIC version for free with limited functionality and unlimited by time. This BASIC version goes along with a PLUS paid version that offers premium set of tools. Before we get to it, just remember that It is very necessary to stay out of the user's way and market your product during this process by simply providing an excellent service to demonstrate your value during the evaluation period.
Gaining momentum
As I mentioned above, the moment of expiration of the free trial is the important moment to persuade the prospect to join the "paid customers club". In many situations we see this moment pass and very few users actually upgrade. We blame it on a million different factors and neglect the ones that really depend on us. The friction elements can occur due to lack of pricing flexibility, poor specificity, lack of clarity and anxiety. Let's take a look on a real-life example of these elements and try to address them accordingly.
We have chosen a product that has 3 types of packages: Basic, Plus and Pro. The Plus package being the product's cash cow, it is offered as a time-limited free trial for the new users, after the expiration, the user either pays to stay in the Plus zone or to switch to the feature-limited Basic account.
Messaging
As we mentioned in our previous article on Copywriting, clarity and specificity of the value proposition are the king and queen of conversion. From our experience the word "Get" is the ultimate driver of conversion, it works best on consumer psychology and delivers the right message to the user. It clearly expresses a gain. In this particular example it is actually a loss, as the user is about to lose everything, but we transform it into a positive, rather than just sticking with a negative. Instead of just saying "Get all of your favourite PLUS features back when you upgrade" we used "Get 100+ templates ONLY if you upgrade to PLUS". This message provides better clarity and specificity.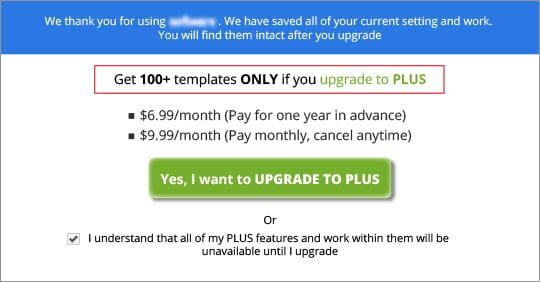 Pricing
Another micro conversion step is, of course, the pricing. Psychologically consumers do not react well to large numbers, therefore it is imperative to provide more options, rather than just sticking to an annual plan. Offer your users a monthly plan along with a bigger one to spread the cost and provider a better flexibility. Do not forget to A/B test your pricing display as this element can produce a lift of at least 10% in conversions when done right. To actually know which one is right, A/B testing will clear things out. Intuition is never a solution in this kind of matters.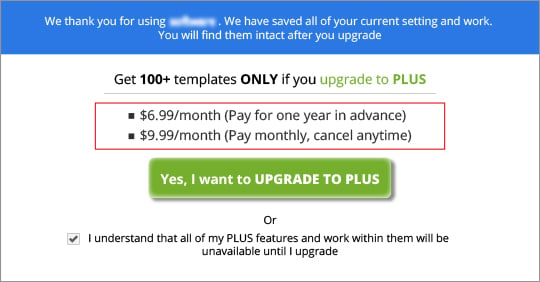 Call-to-Action and using friction in your favor
Another step is the call-to-action. Although the "Yes, upgrade to PLUS" button is colorful, more visible than a simple hyperlink "No thanks, I'd prefer BASIC plan" next to it. This can be perceived as you are encouraging the user to stick with the BASIC plan. Why not create a friction element here? Why not put a checkbox and add a better message before they hit the submit button? here we have put a checkbox along with "Yes, I acknowledge that all my PLUS features and data within them will not be available until I upgrade to PLUS". This is the best example when you can use friction, anxiety and fear of loss in your favor.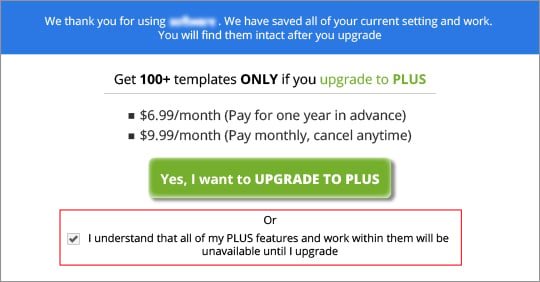 Reassurance
Anxiety is another friction element that serves as a major impediment for conversion. One of the most common examples of anxiety on user's side is that all their setting and work will be lost after the upgrade. This is a concerned that can be anticipated and easily eliminated with a short and simple message to get it out of the way of conversion, like "We have saved all of your current setting and work. You will find them just as you left them after you upgrade.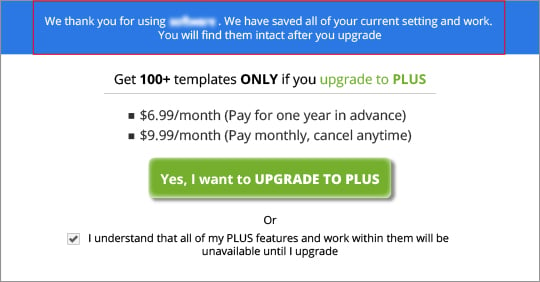 Intensifying momentum
Let's try something else. Everything that was mentioned up to this point provides only the standard set of incentives that are lain in the core value proposition of the product. Why not create another incentive within this process and eliminate the concerns about the cost along the way? After all we have already addressed the other friction elements and we gained momentum. While it's warm, we can intensify this momentum by offering a special offer. Let's call it "Trial expiration Upgrade" and include a discount to it. We used -25% in our case, but the value can vary depending on various factors of your product. A/B testing can come in handy here, where you can see which works best for your product. While providing this additional incentive, do not forget about the urgency factor which increases decision velocity. The urgency factor can be introduced by using such simple words as "Special time-limited offer".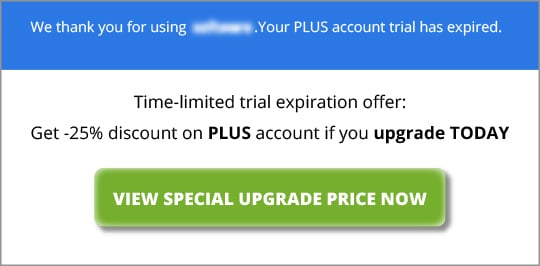 Post-trial period
The above mentioned techniques can produce a conversion lift of around 54-68% if used right in combination to your product. Of course the remaining deserters of your conversion funnel can be addressed by applying some well-known lead nurturing remarketing practices, which can produce another lift of around 15%. Check them out in our previous post.
Putting it all together
Regardless whether your product is a classical shareware or a SaaS product, you can apply the above treatment to your marketing efforts to boost your conversion rates. Nevertheless, constant A/B testing will show which parts of the treatment work best for you and your customers and where to make adjustments. After all, marketing without testing is like shooting blindfolded. Don't forget to get feedback from your customers, their feedback is the most valuable information you can get to market your product the right way.
It doesn't take luck to make it, but it does take knowledge. Be the first to learn the latest industry insights and must know marketing tips and tricks. Sign up and enjoy! Always informed. Never Spammed.