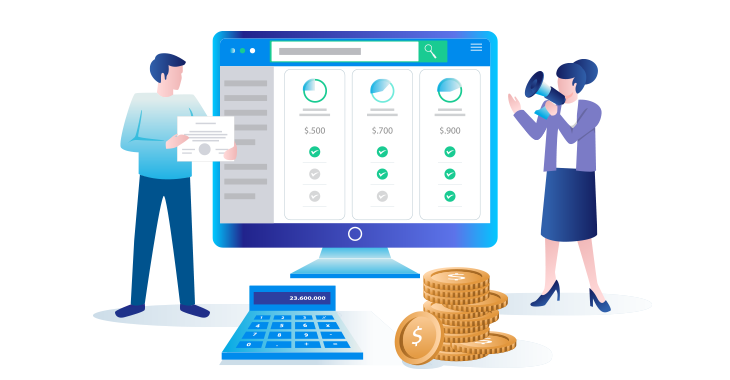 Top SaaS pricing display elements that sell
The SaaS business model has claimed its success quite a while ago, SaaS revenue is expected to reach $22 billion by 2015, this is a 52% increase from 2012. But debates about SaaS pricing is still a subject of hot debate across software communities from all over the world.
Fortunately, we can now see plenty of SaaS companies that are already standing firmly on their feet and can show off their successful strategies behind their SaaSy success. Let's have a look at a few brilliant examples of successful SaaS pricing display elements that sell.
Value what...?
A product's value proposition is the attention grabber for a prospect. It's the element that attracts their attention to make them interested enough to scroll down and check out what the company has on offer. A great example of value proposition on pricing page is from SalesForce. This company has several products on offer with different pricing plans and value props for each. We liked the value proposition for their Marketing Cloud product "Turn connections into Customers for life", which is clear, short and persuasive.

Free trial or no free trial?
Most of the successful SaaS products are B2B by design, they offer the best flexibility when it comes to scalability and implementation costs. Nevertheless, they usually don't come cheap. Enterprises often have to pay for one year upfront and it's a hard decision to take with which solution to go. Especially in today's tough economy. The best way in communicating value to your prospects is offering free trials for every plan. This way you can start building close relationships with the indecisive folks and segment them efficiently. Free trials are also a great source for sales qualified leads for your sales team.
Only annually... Seriously?
A huge lump of cash... well, not literally. An annual plan for a business solution can look like a big commitment for many companies out there. Lately we see a lot of companies who become more flexible when it comes to their pricing plans. They remove friction related to commitment. Offering a more expensive, yet month-to-month plan is a great choice, as many teams are quite reluctant to pay a large chunk of money upfront. The folks from New Relic have put a tiny switch that lets the prospects compare between month-to-month and annual pricing plans. Check it out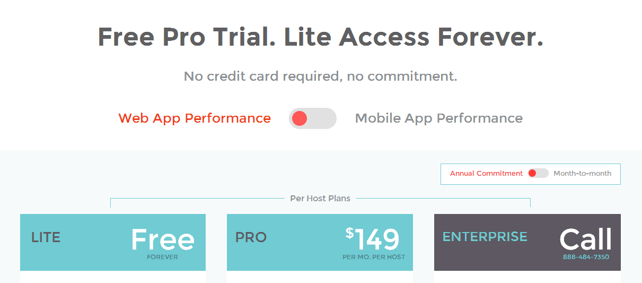 annual pricing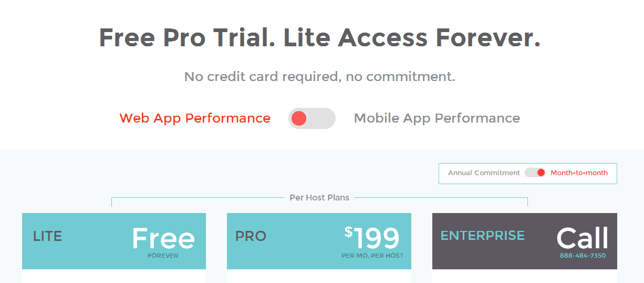 No commitment comes at a price
Another element that deserves attention is that the Enterprise plan doesn't have a price tag. The reason for this is that more and more companies are currently offering custom solutions to larger buyers. This means that the sales team can tailor a package according to prospect's needs and budget size. It's also a great opportunity to communicate value to the prospect and sell more features as a result.
The common sense behind user behavior
Many SaaS companies try to go with innovative solutions to stand out from the crowd. But if we look how the prospects choose the product they are willing to make a commitment to, it turns out it's not all rocket science. The truth is, prospects navigate between several competing products at the same time. They extract value from a feature list. They want to open several tabs and choose the option that offers the most for the lowest price. Simple as that. Offering a comprehensive list of features and an additional full feature comparison chart between editions is a great driver of conversion. Don't forget to peek at your competition to stand out from them and deliver the best value perception to your prospects. As an example, ZenDesk is doing a great job in clearly communicating what a buyer gets for his buck.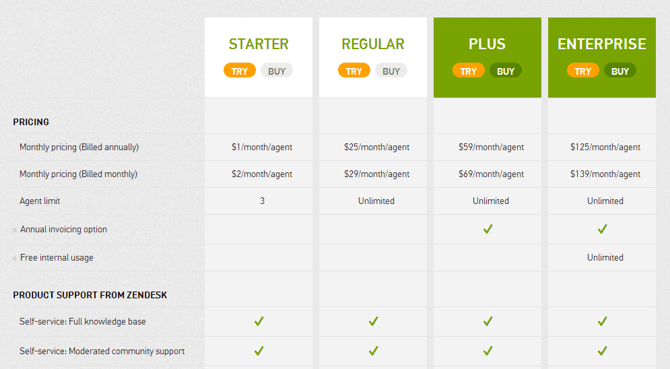 We are showing here just a fraction of this list, it's indeed pretty long. Another token of appreciation of their job is the navigation. The pricing plan names keep following you as you scroll, which greatly facilitates navigation and improves clarity.
The plans
We are all familiar with the well-known 3-5 pricing plan strategy with the most profitable one standing out. Let's talk about something new. The guys from Hubspot have taken an unorthodox approach and are... winning.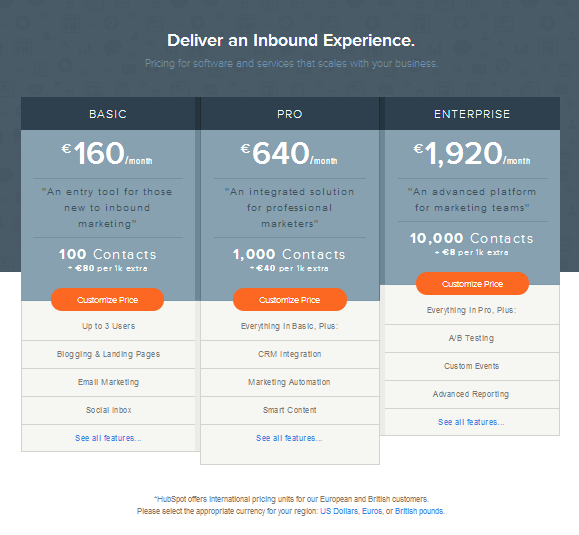 They offer only 3 predefined plans, against the already traditional 5. The prospecting visitor can get a detailed feature comparison chart to compare packages. Take a look at their CTA (call-to-action). It doesn't say BUY NOW, it doesn't say TRY FOR FREE. A prospect can customize his price, by tailoring the package to his own needs and wallet. This is what we call self-service pipeline done right! The whole process is very fluid and extremely user friendly. It offers the user a step-by-step guide to help tailor the right package for his business.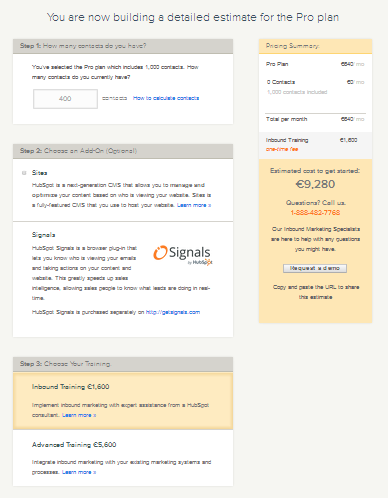 Last but not least, notice that the whole offer shows multiple conversion paths featuring a phone number, a demo request and a free marketing assessment. Combined, their pricing display is unbelievably clear and user-friendly. All this price transparency and user price customization significantly increases the comfort level for the prospect before getting a bill for the whole year upfront. Just brilliant.
Meet PayPro Global.
Your Professional
eCommerce
Partner
No 3rd party integrations. No hidden costs. No wasted time.
Just a solution as unique as your business's needs.
Which example did you like the most in the article? Do you have other brilliant examples that could complete this story?
Please share in the comments below
It doesn't take luck to make it, but it does take knowledge. Be the first to learn the latest industry insights and must know marketing tips and tricks. Sign up and enjoy! Always informed. Never Spammed.