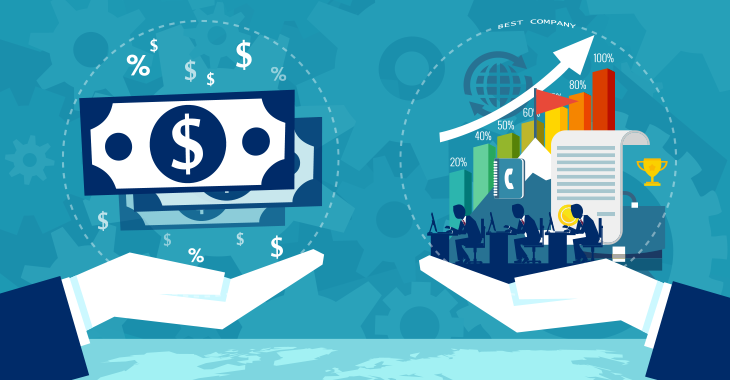 Published on November 11, 2014
3 steps to develop your SaaS product pricing strategy
Software and SaaS product pricing strategy is the topic that raises the most questions among start-ups and seasoned enterprises alike. After all, this is the most crucial factor of your business success, and a wrong approach in the product pricing strategy can cost a business a lot of money. Various company departments usually have strong personal opinions on the topic, and reaching a consensus between them becomes increasingly difficult. This is where mistakes are made.
Often we can observe a charge less than competition approach, which many companies perceive as safe and can never go the wrong approach. This is wrong, as a low price can result in money leaks, and it can also affect your brand credibility as a result.
Unfortunately, there is no golden rule or silver bullet when developing a successful product pricing strategy. There are several universal steps that can help in your decision-making, together with our SaaS pricing guide that can help obtain the big picture.
Step1: What are your goals?

A good starting point for each product pricing strategy is developing a goal framework. As many company departments are involved in this process, it is important to reach an agreement on what pricing and packaging should look like to satisfy each team in the pursuit of their goals. The two initial steps in this process would be:
Develop the intended customer profile (this could determine the number of SaaS free trial users your products gains)
Identify the goals sales, marketing, and product development teams are trying to achieve.
The typical product pricing and packaging components are:
Price point
Billing term (one-time, monthly/annual subscription, on-demand etc)
Pricing model (Freemium, free trial, paid only)
Your business goal priorities can help you identify which price points, pricing models, and terms are appropriate and effective. The common business goals usually include:
Conversion (new customer acquisitions and user base growth)
Market share
Profitability (factors and margins that support the business model)
Long-term value creation (optimizing for expected LTV and repurchase over customer acquisition)
Cash (funds available at hand and maximizing it to fund the business)
Inventory balancing (using discounting and bundling to maximize the product sell-through)
Step 2: Identify your target customers

The target customer profile plays an important part in sales and marketing decisions, pricing model and price point are key decisions here. For a start, ask yourself these questions:
What is the main purpose of your product - Is it a productivity application, entertainment, or development software?
Is your product intended for personal or work-related use? - Is it intended to serve consumers, freelancers, or businesses?
How many people would be involved in the purchase decision-making? - if your product is business-oriented, oftentimes, business users need to be differentiated as end users or top-level management who have company-wide authority.
Step 3: Focus on value

This is the most important step in developing your product pricing strategy, as customers care only about the outcomes and how they affect them (in the pre-purchase phase, of course).
To do this, it is important to understand your customer's goals, opportunities, problems etc.
For example, if you sell a marketing automation solution that can be replicated in-house, it is important to calculate the cost of doing so. In other words, if your solution saves $10k for your customer, this is the exact value that your product delivers. Divide this number by ten, and you get your product price point. If you can explain to your customer that your solution delivers ten times the ROI, then you are on the right track.
Starting from this, you can explain why your company charges a premium price for this product - so that you have a large enough margin to provide this extraordinary value and experience.
Conclusion and takeaways
If your company departments agree on who your target customer is, the business goals and their priorities, and the product's perceived value, then pricing and packaging decisions can be made much more efficiently and result in more successful product pricing and stronger purchasing rates.
Remember to always put yourself in your customer's shoes to understand their motivations.
Keep an eye on the competition. Never forget that buyers always do their homework regarding comparison shopping. Your competition can be a good example of identifying the price point your customers are comfortable with. It is always important to know who your potential clients compare you with.
Meet PayPro Global.
Your Professional
eCommerce
Partner
No 3rd party integrations. No hidden costs. No wasted time.
Just a solution as unique as your business's needs.
If your pricing is complex (which is sometimes unavoidable), make sure you put in extra effort into buyer education as part of your sales & marketing efforts. Additionally, consider collaborating with a trustworthy eCommerce solution. PayPro Global is a powerful example in this regard, assisting SaaS, software & digital goods developers in offering clients faster and safer payments, ensuring global SaaS compliance, as well as managing subscriptions and taxes.
It doesn't take luck to make it, but it does take knowledge. Be the first to learn the latest industry insights and must know marketing tips and tricks. Sign up and enjoy! Always informed. Never Spammed.