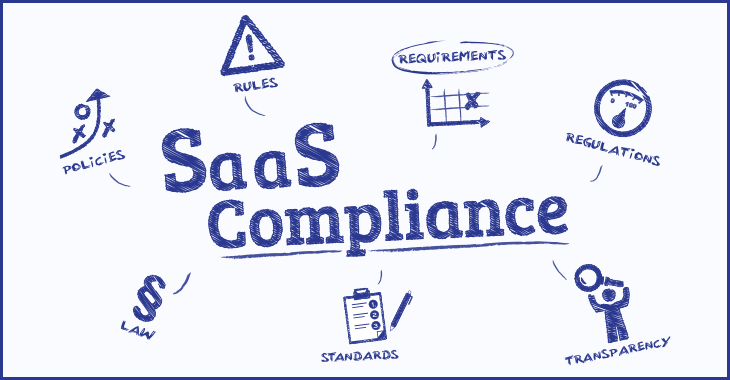 Published on August 23, 2022
Updated on May 9, 2023
SaaS Compliance: What is the True Cost?
For businesses that sell software online, adhering to compliance regulations and standards as well as taking security measures are non-negotiable tasks. The legal and financial consequences of noncompliance can be fatally serious and, at minimum, could easily harm the reputation of your business.
A Statista survey shows that 93% of global executives are concerned about SaaS data security. This is understandable given that in the US alone, 98% of companies reported at least one cloud data breach between 2020 and 2021. Since collecting, processing, and storing user data is a very important part of your business operations, there is significant responsibility to keep that cardholder data safe and secure.
You'll need to meet specific data regulations, compliance standards, and industry-specific regulations to assure your stakeholders that you are serious about cybersecurity and have taken the requisite steps to store customer data in a secure environment. This is especially important if you're considering expanding your operations and target market across industries and geographies.
Compliance and data protection, however, is a highly complex field that requires extensive knowledge of regulations and continuous monitoring. Here, we unpack some of these complexities and explain the consequences of potentially getting it wrong.
But before we drill down into the details, let's look at what SaaS compliance means and some of its benefits.
What is SaaS compliance?
Global SaaS compliance regulations provide guidelines on how user data should be managed and secured as well as frameworks for financial reporting.
These regulations can be:
country-specific
region-specific
industry-specific
Examples include the Health Insurance Portability and Accountability Act (HIPAA) in the US, the General Data Protection Regulation (GDPR) applicable in the EU, and the International Financial Reporting Standards (IFRS), which have a global reach. But more on these later.
Compliance standards are set by a third-party organization, which awards certification after demonstrating that your company has met all the relevant requirements.
Why SaaS Compliance is Vital and the 4 Benefits it Offers Vendors
Certification from a reputable international organization is not only mandatory by law and helpful for achieving network security and gaining trust, but it also helps maintain your growth trajectory by keeping your data integrity and SaaS business processes safe and secure.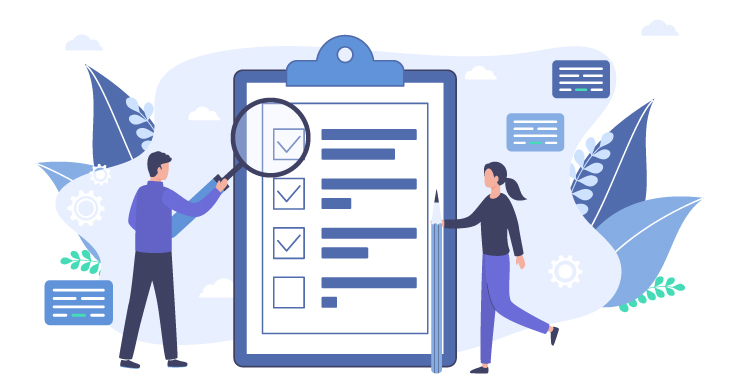 Let's take a closer look at some of the benefits of having all your compliance ducks in a row.
1. Build Consumer Confidence
With client data leaks and security breaches becoming more prevalent and publicized in recent years, your customers are acutely aware of the vulnerability of their information. For instance, the Identity Theft Resource Center in the US reported a 68% increase in data breaches in 2021 compared to 2020. Your compliance credentials will help you address customer concerns and attract new clients who are comforted by these measures. It's also essential to ensure your business partners are just as committed to compliance as you are, keeping you and your customers secure from the growing threats.
2. Enhance Investor Confidence
PwC's 2022 Trust in Data Report links rigorous information governance, revenue growth, and investor confidence as essential benchmarks to success. This is particularly important for small- to medium-sized SaaS businesses that rely on the initial investment to support growth. Investors are more inclined to partner with companies that prioritize SaaS risk management and recognize the benefits of a robust cybersecurity strategy. Respecting security requirements and avoiding data breaches should be among the top priorities for all software developers.
3. Continued Business Security
Cyberattacks pose a significant threat to business continuity, bringing operations to a halt as you scramble to secure your software. And this threat grows exponentially with each SaaS solution you offer. Compliance does not guarantee impenetrable protection, but it will help you mitigate potential security risks that could disrupt your operations and scandalize your good name.
4. Focus on Product Development and Scaling Up
But if you are distracted by potential security risks, you won't have time to focus on what matters most, such as product development and business growth. In addition to supporting risk management, SaaS compliance will help you streamline your internal processes and optimize your platform performance. With things running smoothly, you'll be able to stay nimble and grasp growth opportunities as soon as they arise.

The 3 Reasons why SaaS Compliance is so Complex
Meeting SaaS compliance standards requires an attentive, well-planned multi-step approach across all departments. And the more products and services you offer, the more complicated the process will likely be. You'll need to permanently allocate resources to ensure the required policies are followed, continuously monitor processes, develop incident-management protocols, and train key staff.
Further SaaS compliance complexities include:
1. Multiple Regulatory Frameworks
Multiple regulatory frameworks – each with its guidelines – must be followed precisely to achieve and maintain compliance. And this list just keeps growing as your SaaS business expands and scales up, not to mention as technology changes and fraudsters get smarter.
Complying with all existing regulations is not a linear process. Each framework requires ongoing monitoring and continuous revision of your processes and systems. You'll need to understand each framework and how to apply it to your specific business.
2. Different Regions, Different Requirements
You'll need to be highly conscientious in following mandatory compliance regulations when expanding your geographical reach, as each state, country, and region may have varying requirements.
3. Unique Product Security Challenges
Each of your SaaS products comes with unique security challenges. Because of this, you'll need to review the potential risks throughout their development and routinely once in the marketplace. Be sure to address any vulnerabilities swiftly to keep your customer's data secure and their confidence high.
The 6 Business Areas Linked To Compliance Regulations
Most common compliance frameworks cover not only data security but financial reporting as well. Let's look at some essential areas to consider when preparing your compliance checklist: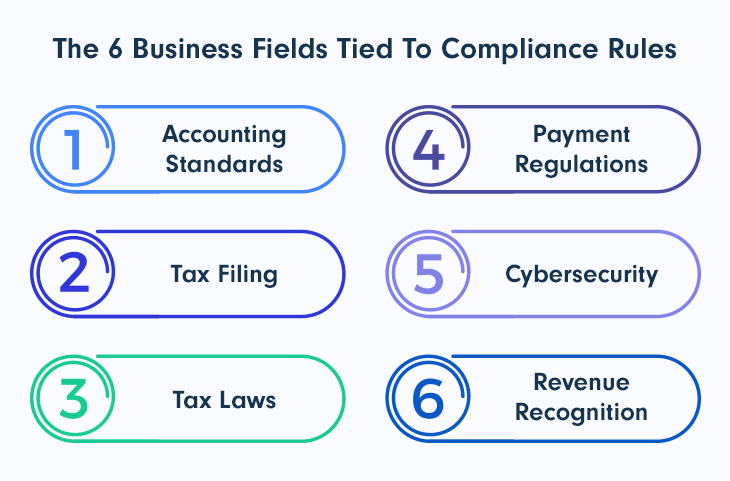 1. Accounting Standards
Accounting standards provide guidelines on when and how financial information is measured and reported, thus ensuring accuracy and transparency. One example is the International Financial Reporting Standards (IFRS) set by the International Accounting Standards Board. These guidelines were developed to bring consistency across companies' and countries' financial reporting.
SaaS providers usually experience challenges around accounting standards due to their sales models. The complexities lie in subscription renewals, sales tax, and employee commissions. These standards are also constantly being revised, presenting an even further challenge for this type of model.
2. Tax Filing
Taxation jurisdictions vary in many respects, and filing requirements are one of them. This makes the entire process incredibly complex and challenging to manage. As a SaaS developer, you must register in every jurisdiction you have economic nexus in.
As you can imagine, this implies that you will have different filing deadlines to respect and requirements to fulfill. Additionally, there may very well be a difference in filling frequency. There is no question about it. The more jurisdictions you are registered in, the more complicated tax filing gets.
3. Tax Laws
Tax compliance is a crucial area of regulation, especially when expanding abroad. While your internal team might confidently handle local requirements, international tax regulations can be burdensome since they are highly complex.
Be sure to explore which services are taxable in every country you operate, as the potential penalties for noncompliance can be outrageously costly.
Meet PayPro Global.
The partner that helps you grow.
Protect your customers' data effectively and unlock unprecedented growth with PayPro Global. Let us take the compliance burden from your shoulders so you can focus on your product.
4. Payment Regulations
Adhering to online-payment regulations is critical for SaaS providers as they protect not just the customer but also the seller. Card-network regulations for online payments include installing multi-layer security protocols such as Know Your Customer (KYC) and PSD2.
These regulations and policies are frequently updated to ensure a safe transaction environment, so you'll need to stay on top of these.
5. Cybersecurity
Research from Gartner shows that through 2025, 99% of cloud-security failures will be due to customer oversight. Therefore, rigorous security governance structures should be top of mind for every SaaS provider.
You also need strict protocols when vetting any potential third-party vendor you may decide to work with. Performing thorough due diligence and ongoing monitoring is a must and also a requirement in many jurisdictions! The Payment Card Industry Data Security Standard (PCI DSS) requires organizations to be fully compliant, and on top of that, their vendors must also meet specific security risk compliance requirements.
6. Revenue Recognition
Revenue recognition refers to precisely when a payment is recognized as having been received, and the various compliance standards determine this. In the case of Generally Accepted Accounting Principles (GAAP), for instance, SaaS companies are required to recognize revenue received over a contract or subscription regardless of whether it is paid for in full upfront.
This presents a challenge when a subscription is canceled before the term is up, when the term of the subscription plan is amended, and when there are additional fees to consider. Remember when we said this was all very complicated?
6 Examples of Domestic and International SaaS Compliance Regulations
SaaS compliance requirements depend on where your company is based, the industry in which you operate, and where your customers are, so a large variety of domestic and international regulations may apply. The list of current compliance standards is considerable, but let's look at those most commonly used.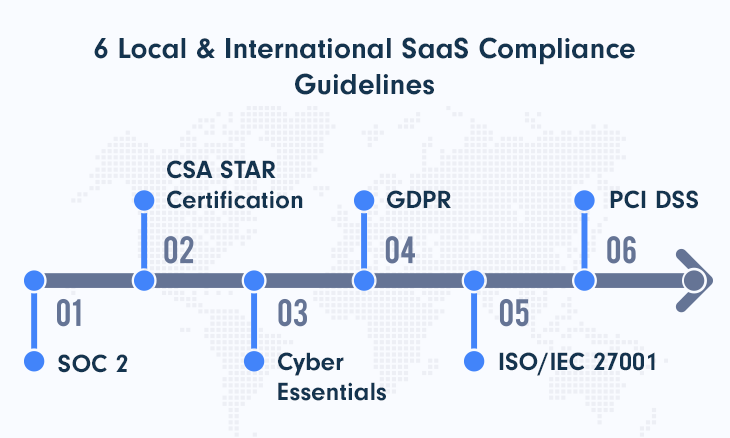 1. Service Organization Control 2 (SOC 2)
A voluntary compliance standard in the US, SOC 2 guides SaaS companies on how to manage customer data in the cloud. They must establish rigid security processes and policies across the organization before conducting a technical audit against the certification requirements.
Note that SOC 2 is one of the most common SaaS compliance frameworks and is usually tackled first.
2. CSA STAR Certification
Explicitly designed for cloud-based service providers, the Cloud Security Alliance (CSA) Security Trust And Risk Assurance (STAR) program provides global certification. Once tested against the framework's security and privacy controls, a SaaS company can apply to join the official registry.
CSA STAR has two levels of assessment. The first is a free self-assessment for companies with low risk, while Level 2 requires a certified third-party audit for companies with medium-to-high risk.
3. Cyber Essentials
Initiated by the National Cyber Security Centre (NCSC) in the UK, Cyber Essentials certification is typically voluntary. However, it is a requirement for all companies that want to work for the UK government under specific contracts.
There are two levels of certification. A self-assessment option helps implement technical controls that protect against common threats and Cyber Essentials Plus, which requires a technical audit.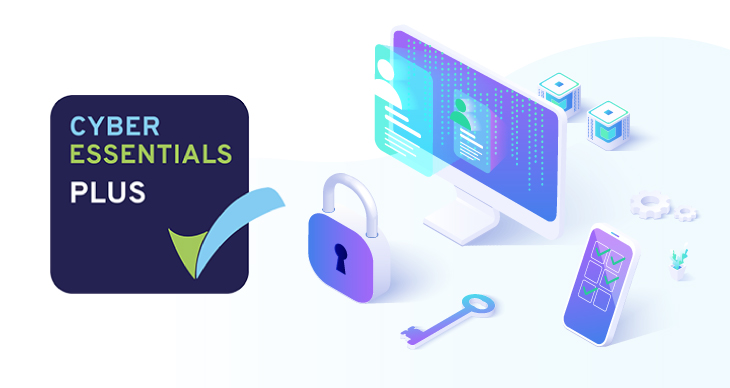 4. General Data Protection Regulation (GDPR)
GDPR is a regional data-protection law covering all European Union (EU) residents. It guarantees the rights of individuals to access and edit their data, export and remove it, and decline the processing of their personal information. Unlike the previous ones, this set of regulations is not voluntary but mandatory.
Regardless of where they operate, all organizations must abide by the GDPR. Individual countries of the EU have the power to impose some of the most severe fines on organizations that violate this law.
5. ISO/IEC 27001
ISO/IEC 27001 guides SaaS companies on risk assessment and security management regarding financial data, intellectual property, personal information, or any data provided to third-party organizations. Formal accreditation is acquired through compliance assessments carried out by accredited external auditors.
This international standard requires a data-security policy, along with details on risk-assessment processes as well as monitoring and measurement steps.
6. Payment Card Industry and Data Security Standard (PCI DSS)
PCI DSS, a requirement for eCommerce enterprises, entails security protocols for accepting and transferring payments and storing user-card information. The standard has 12 requirements for securing customer data related to organizational policies, procedures, software design, and network architecture, among other areas.
PCI DSS compliance applies to all SaaS companies worldwide.
Costs of Managing Compliance Internally and the Consequences of Getting it Wrong
Business growth that skirts security and compliance requirements could land your company in hot water with hefty fines, legal repercussions, and, in some cases, a complete ban on your products or services.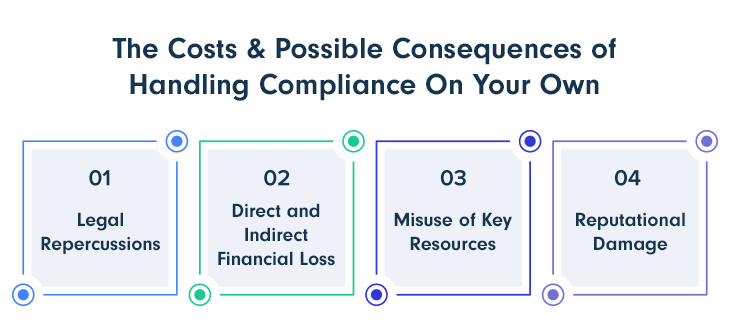 Let's explore some of these consequences a bit further.
Cost of Legal Repercussions
Non-compliance with specific standards can result in legal action that could hold your company responsible for significant financial penalties and even imprisonment in severe instances.
This is the case with HIPAA, where non-compliance is a criminal offense and could result in fines up to $250,000- and ten years of jail time.
Case Study
A proposed class action lawsuit against SuperCare Health was filed earlier this year in California for the alleged failure to secure sensitive health information. This resulted in a data breach that affected over 300,000 patients. SuperCare is accused of not following security guidelines and standards, including HIPAA.
Cost of Direct and Indirect Financial Loss
While some business leaders may have in the past factored in non-compliance with the price of doing business, the financial implications are now far too onerous to dismiss or take lightly. Data breaches in 2021, according to IBM, cost an average of $4.24 million, up 10% from the previous year.
Non-compliance with the GDPR, for instance, can cost a company as much as €20 million or 4% of its annual turnover.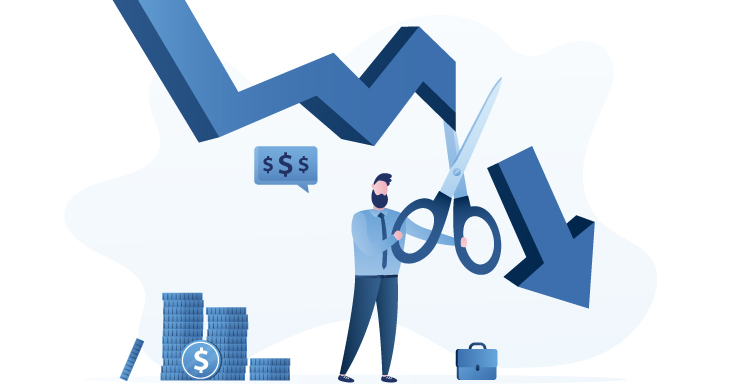 Case Study
Clearview AI was recently issued a €20,000,000 fine in Greece following a complaint filed for unlawfully processing personal data. The regulatory authority also found that the company had not provided the individuals whose data they'd collected with access, violating one of the main components of the GDPR.
Misuse of Key Resources
Adhering to compliance regulations internally can put a lot of strain on your resources. It is a painstaking initiative that requires dedicated focus and ongoing monitoring by your team, who will have to become experts in every industry and region your growth trajectory takes you.
The SaaS compliance audit checklist is a long one. Because of that, outsourcing this part of your business to a trusted organization with extensive experience may be the safest option.
Cost of Reputational Damage
Contrary to the cliché, there is such a thing as bad publicity. The reputational damage suffered by SaaS companies guilty of not achieving regulatory compliance or not taking security incidents seriously can be disastrous. Over the year following a data breach, some companies have reported as much as a 25% drop in market value. And for startups with fewer resources to help them bounce back, this could be a death sentence.
Thankfully, proactively seeking regulatory compliance and following security practices can boost public relations and give your business a leg up on the competition. There might be bad publicity, but the general public seems to have a very short memory and is pretty forgiving regarding these transgressions.
Meet PayPro Global.
The partner that helps you grow.
Protect your customers' data effectively and unlock unprecedented growth with PayPro Global. Let us take the compliance burden from your shoulders so you can focus on your product.
How can PayPro Global help?
Having over a decade of experience within the SaaS & software market, PayPro Global can significantly simplify the compliance ordeal, taking this burden and allowing you to feel confident you are in good hands. Our unified eCommerce solution handles everything from a robust payment infrastructure, ensuring software developers can quickly provide customers worldwide with their preferred payment methods to complete tax and compliance management. And everything in between too!
A localization strategy is highly advantageous for your business, easily fast-tracking its international growth. Due to our innovative technology and expertise, the PayPro Global team can ensure you avoid hefty fines and reputational damage while skillfully taking care of the less glamorous side of eCommerce. This way, your brand grows, and you get to focus on your product and long-term goals.
Closing Thoughts on the True Cost of SaaS Compliance
Undertaking SaaS compliance is unavoidable if you want to grow your business and continue to sell SaaS online. And while its complexity may be daunting, trust that making an effort will ultimately stand your business in good stead.
The repercussions of getting data protection requirements wrong can be catastrophic for SaaS businesses. Your best move is to take a proactive stance on compliance and risk management, securing your business well into the future.
Visit PayPro Global or reach out to discuss how you can become a fully compliant, fast-growing SaaS enterprise. We'd love to hear from you and have a chat about how our abilities fit your needs!
It doesn't take luck to make it, but it does take knowledge. Be the first to learn the latest industry insights and must know marketing tips and tricks. Sign up and enjoy! Always informed. Never Spammed.