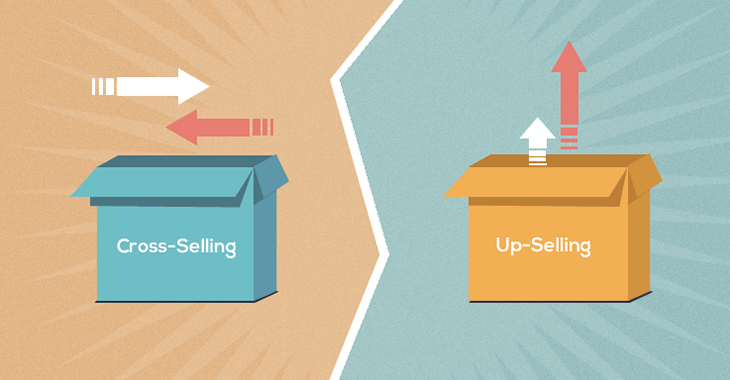 Published on September 1, 2014
Updated on August 1, 2022
Up sell vs cross sell: plan your strategy
Up-selling vs. cross-selling… It seems like a pretty tough choice since both are considered top eCommerce sales boosters, and many case studies are proving the effectiveness and profitability of each. However, remember that if you want to go after customers worldwide, you must ensure global SaaS compliance. Both strategies are often confused, but each has a different approach and techniques. This article is meant to shatter all doubts about how, when, and why you should apply up-selling and cross-selling into your conversion funnel.
It all begins…
For those of you who never tried or only heard a bit about these sales boosters, we'll start by defining them but in a more digestible way, avoiding all the "fancy" marketing terms.
Cross-selling: your website/blog visitor found the product he is interested in and wants to buy it. After proceeding to the order page (shopping cart), he reviews the product and sees an additional offer of complementary (similar) products or services (now we are talking about traditional cross-selling, stay tuned and subscribe to find out more ways to cross-sell). Offering extra products in pursuit of the initial order items is what cross-selling is all about.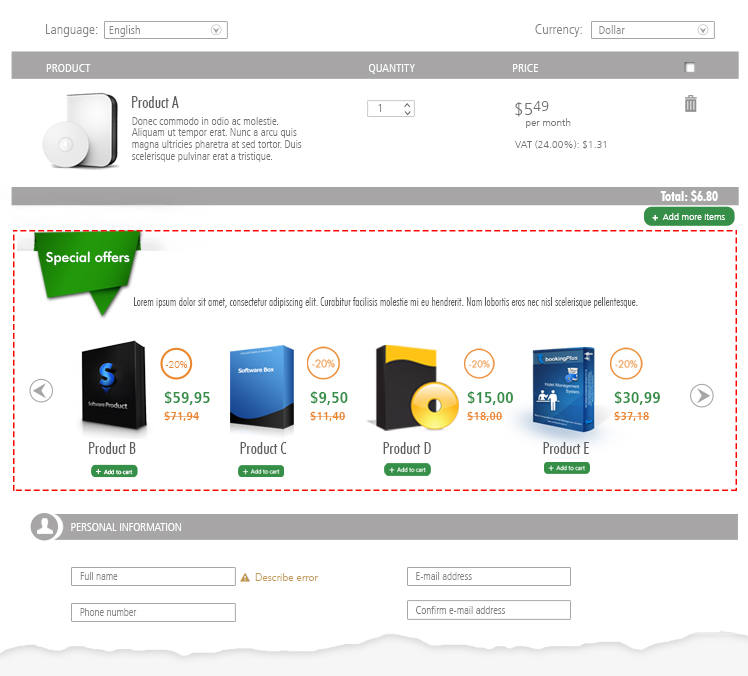 Up-selling: again, we are seeing the same picture, only this time, instead of extra items, a shopper is offered an upgraded, premium, or extended product plan (same product but high-priced license or plan) with an acceptable price. In this case, the quantity of shopping cart items stays the same but the value increases.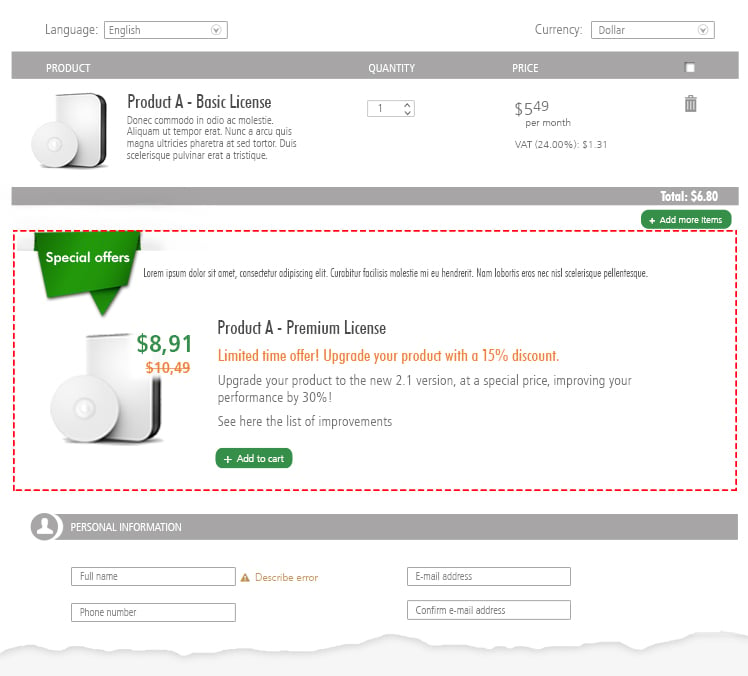 Different approaches
This is probably the most obvious difference you can see right after defining the two.
In cross-selling, the main goal is to understand what your target buyers are looking for and offer them exactly what they need with the supplementary items.
In up-selling, the focus lies on the selected product itself, meaning that the main challenge, in this case, is to prove how valuable the product or service is and what benefits can be found in its premium version.
Many consider both selling techniques deadly for shopper retention. This is a wrong accusation. Like any strategy, when done correctly, you'll gather rewards: increased conversion, average shopping cart value, and, in the end, revenue. When offering related items, focus on proving the increased value of the upgraded license is better than the basic one, your buyers will be thankful for your suggestion. Present a comparison chart of basic and premium plan/license features, display product user reviews to increase credibility, and create free tutorials and ebooks to go along as perks.
When is it applicable?
Considering the definitions, a conclusion can be drawn: while cross-selling implies a strategy that introduces customers to new products and services (or even affiliate products), up-selling is about a short-term sales cycle by getting commitments now (at the point of purchasing) rather than after.
So depending on your business model and product pricing strategy, you can decide which path to go. To do so, list all your products and opportunities for cross-selling and up-selling. Then start thinking like an advisor rather than a product pusher and determine which products your customers are more likely to add or upgrade before the checkout.
In case you have only one product, consider segmenting it by splitting features and creating add-ons for each of the plans in your offer. Selling add-ons as additional items can work as an effective cross-selling technique, furthermore, grouping them into bundles will be a smart up-selling offer. This practice also works for the SaaS business model, so consider building incremental add-ons and features with up-selling in mind.
After figuring this out, you need to implement the right strategy. But wait, why not try them both?
Take your time and test

Split your products to Group A sold with cross-selling offers and Group B with up-selling opportunities. Now be patient and track progress. This will give you insights into your ROI (return of investment). If you see that one strategy works better than the other, you might consider investing more.
Don't push!

Your up-sell and cross-sell messages should never be on the way of the initial purchase. It's better to place them at the end of the product list. Another important tip is always giving your shoppers a clear choice for accepting or declining your offer. All additional items or up-sells should be opted-out by default so that customers see exactly the total amount they expect and don't get scared off.
You don't want to shock your customers with a much higher price, rather, add an incentive with a discount (displaying the regular item price versus the offer price) and make it a limited-time offer, specially for this purchase, to create a sense of urgency. Use friendly and credible phrases like "Customers also bought", "You might also like," and so on.
Up-sell with free services

Instead of providing free CD/DVD shipping or 24/7 support right away, you can use them as an up-selling trigger. For example, if the buyer purchases a premium version or plan, he will receive premium support for free. Providing these opportunities will not only increase the shopping cart value but also give the shopper significant benefits in purchasing from you over the competitor.
Analyze your sales

Monitoring all of your shopping carts is not of the least importance, regardless of the cross-selling or up-selling tools in place. Analyzing your customer's behavior, what items they are most interested in, and which products they are most likely to buy in a bundle will give you insights into how you can improve your sales strategies.
Meet PayPro Global.
Your Professional
eCommerce
Partner
No 3rd party integrations. No hidden costs. No wasted time.
Just a solution as unique as your business's needs.
Summary
There is no perfect working-for-any-business sales strategy being so different yet still similar. Placing up-selling vs. cross-selling makes sense only when testing both for your e-sales. However, knowing the difference in approaches and techniques is a must to drive your business onto the successful path.
It doesn't take luck to make it, but it does take knowledge. Be the first to learn the latest industry insights and must know marketing tips and tricks. Sign up and enjoy! Always informed. Never Spammed.