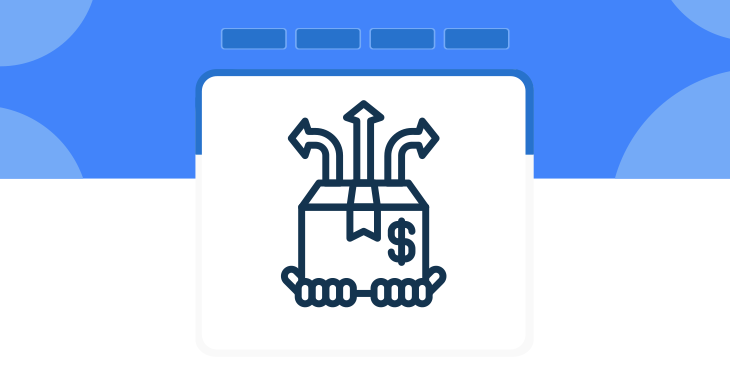 Published on November 13, 2014
Updated on July 29, 2022
Cross-selling techniques: 10 ways to optimize your cross-selling strategy
Cross-selling is a widespread practice across all industries. It does a great job at increasing the average shopping cart value and also ensures that your products are evenly sold through. There is no question about all the benefits it brings to software and SaaS companies. Although cross-selling can increase your average cart value by 10-20% or more at no extra cost, the techniques applied in your cross-selling campaign make all the difference.
Let's take a look at 10 ways to optimize your cross-selling strategy for the best results:
1. Start at the top of the funnel

Cross-selling is more efficient if it "follows" the customer through his conversion path on the website. Include information about your additional products on the main product description page. This way, you give the customer a chance to get more familiar with the product range and create a desire.
Tip: Remember that the cross-selling elements should never be more expensive than the selected product.
2. Understand the customer

The key to understanding your customer is "listening" to their needs and wants, understanding their preferences, and nurturing their confidence in you. This means building relationships with your customers. Many businesses understand these relationships as special care of pressing and pushing, which can only worsen things and irritate your customers to the point of shopping cart abandonment.
Tip: The customer should be convinced that they need the additional product from your inventory and that their needs are understood. This is vital in optimizing your copy when you throw a cross-selling pitch.
3. Analyze your customer's behavior

You can mine a lot of data from your existing customers to better understand who your potential customer is and their buying patterns. This way, you can classify your customers by product preferences and create the most efficient scenarios for each category, predicting the future behaviors of potential customers.
Tip: This cross-selling technique will greatly improve your additional products sell-through.
4. Focus on relevancy

The products you offer in your cross-selling campaign must complement the main product in the shopping cart. If they are not related, it is often no use to cross-sell them because it just won't work. If you identified the needs and challenges your product meets for your customer, then it is a pretty easy task to choose the right product combination.
Tip: In software and SaaS products, add-ons work great for cross-selling, maybe it would be a good idea to sell a feature of your product as an add-on that is sold separately, in case you do not have a wide product range.
5. Create a sense of urgency
Customers love to get unique opportunities and hate to lose them. This is when you can play the feeling of urgency in your favor. For example, if you are cross-selling in your shopping cart, the best trick for digital products is to create a special offer based on shopping cart value. For example, messages like "Your current purchase is $85 if you purchase amount is above $100, qualify for special discount or gift".
Tip: This cross-selling technique incentivizes the customer to take the desired action and meet your business objectives.
6. Include testimonials

Customers are growing increasingly immune to the messages businesses try to deliver to them. It is a normal tendency not to trust the salesperson as his objective is to sell you something, this is why he is always considered biased.
On the other hand, customers are very receptive to the opinion of their peers - the customers just like them. A testimonial from an existing customer who shares his positive experience can make wonders in convincing your potential customer to add another product to the cart.
Tip: In case there is no space for a full testimonial, Amazon's famous "Customers who purchased this item also bought…" always works great too.
7. Offer more options

If you have a large selection of products in your offering, try to offer three products. Place the product that is your primary cross-selling goal in the middle. The product in the middle will always draw more attention, therefore, added to the shopping cart more often. Never offer more than 3 products while cross-selling, as it can confuse the customer.
Tip: This cross-selling technique can be improved by mining the behavioural customer data, which can help to offer the "best price" to the customers, which leads to more win-win situations.
8. Spotlight the value

One of the greatest pain points for your customers is price. While cross-selling, it is natural to include a discount to create an incentive. But sometimes, a simple discount is not enough to deliver the message of value. Always tell them how much they save by acting now.
Tip: A simple sticker near the price which says "You save 30%" will greatly improve your cross-selling efforts.
9. Provide good customer service

Nothing improves customer loyalty and drives repurchase as customer service. When customers like how they are treated, they are more likely to buy from you again. These customers can be pitched by e-mail when you have a new product offer or a new version coming up.
Tip: Remember that one of the best cross-selling techniques is customer satisfaction.
10. Try post-purchase cross-selling

Not everything is lost if your pre-purchase cross-selling techniques didn't work out. PayPro system offers an exclusive feature for such cases - Cross-sell Pop-up.
After a customer submitted the order, a pop-up appears offering an additional product. The customer can just click Yes, and it will be added to the shopping cart, and the order will be updated automatically. If he chooses No, nothing will happen, and he will only be charged for his initial selection.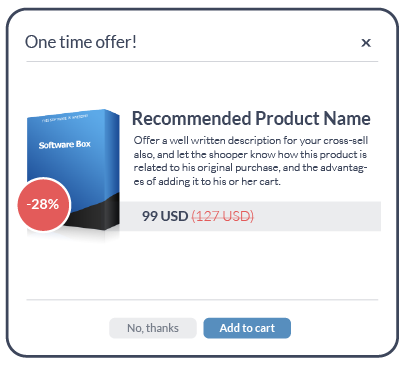 Tip: This cross-selling technique is risk-free in terms of scaring the customer away from the purchase, as the purchase is already finalized. This method proved to increase sales by 10% on average.
Meet PayPro Global.
Your Professional
eCommerce
Partner
No 3rd party integrations. No hidden costs. No wasted time.
Just a solution as unique as your business's needs.
Keep reading PayPro Global Blog to discover more about cross-selling techniques and other optimization strategies or tips on achieving global SaaS compliance for your online business.
It doesn't take luck to make it, but it does take knowledge. Be the first to learn the latest industry insights and must know marketing tips and tricks. Sign up and enjoy! Always informed. Never Spammed.