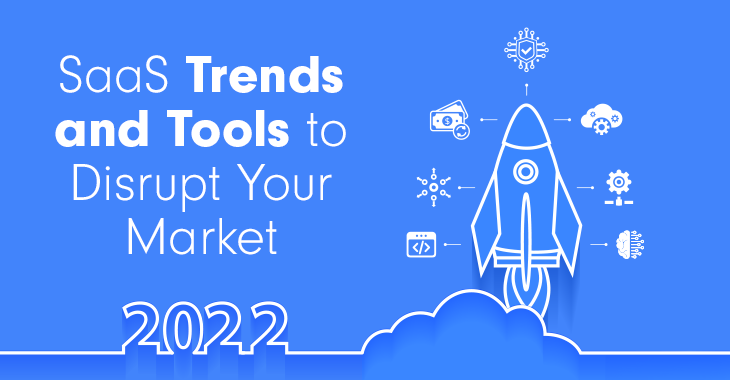 Published on June 16, 2022
Updated on May 10, 2023
2022 SaaS Trends and Tools to Disrupt Your Market
The SaaS market has exploded in the last decade, meaning the need to stand out in an already cluttered market is greater than ever! The most successful and popular software companies have stayed ahead of the curve by managing to identify a gap in the market, building a creative solution to fill it, and marketing their service both creatively and cleverly using smart SaaS growth hacks. This has allowed companies that sell SaaS online like Zoom, Slack, Canva, and many others, to establish themselves as trendsetters and power players in their respective industries.

In 2022, it's clear that the business and tech industries are not the only ones to have evolved – the customer base has, too. Many SaaS companies now need new services that help them adapt to the increasing number of remote workspaces. We are looking at a whole new breed of sophisticated shoppers. With access to an abundance of SaaS solutions, they will likely compare and heavily research their options before committing to one. Most customers will want software that achieves the hyper-specific goal of optimization. We'd like to show you the road you need to take and how you can do precisely that.
What Is 'Disrupting The Market'?
In Layman's terms, disrupting the market means introducing innovative, distinctive, and replicable methods of selling your service. Many SaaS vendors tend to make the mistake of settling into customary industry practices and, as a result, miss many new opportunities. If you take the time to innovate your service with the latest technologies, strategies, and research, we're confident you'll stand out as a leader and trendsetter in your industry.
3 Reasons You Need To Disrupt Your Market
Make your SaaS software stand out in a saturated industry
It's safe to say that every SaaS company will try to stand out, so you must strive to be on top of your game from the get-go. Keep up to date with the latest SaaS tools and trends for your industry, consider micro-SaaS ideas, and always maximize the benefits your customers will reap from using your services.
Broaden your appeal beyond the current market
When a company successfully disrupts the market, it will inevitably gain attention. Even better, your products will be visible to your native market and across other industries and fields.
Keep your SaaS relevant
Keeping up with the latest SaaS trends and tools will help you improve your product and boost your brand's reputation. Think of Microsoft's Skype, which started as a dominating force in video conferencing but failed to capitalize on opportunities.
Zoom, on the other hand, wisely made the following moves:
Adapted and flexible pricing strategy with models for the social context
Marketed themselves consistently and strategically as an effective communication solution during lockdown
Built cross-platform integration between Zoom and most significant social media and work apps
Continued introducing new features, such as the auto-generated captions tool
Kept users informed about improvements to existing features
The result is obvious. Zoom's popularity exploded, their stock price soared in just two years, and they're now one of the most popular video-conferencing tools and a household name because they kept abreast of the SaaS tools, trends, and needs of the moment.
Top 7 SaaS Trends for 2022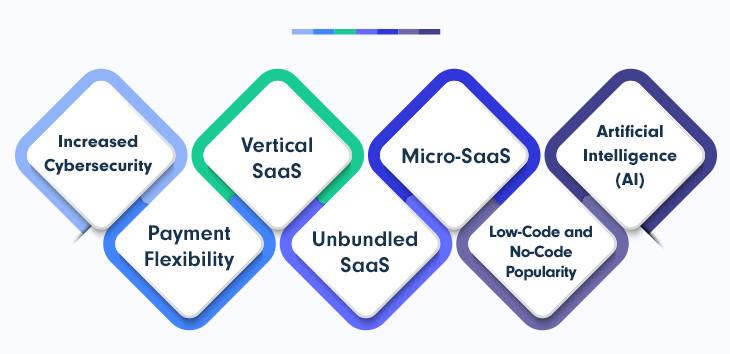 Increased Cybersecurity
Unfortunately, as valuable technology evolves, so do the methods of malicious hackers. These days, viruses that target companies can damage the software, the business, and customers. The startling range of viruses, bots, and malware means that your servers could be destroyed, but shoppers could also have their private information leaked and exploited.
The best way to counter hacks is with the latest cybersecurity technology. Make sure you use software that provides full encryption for all your stored and transferred data. This also applies to your eCommerce business' checkout process. For instance, PayPro Global's payment tools ensure safe and secure transactions that keep your customer's information safe and confidential.
Payment Flexibility
It's a fact that different shoppers have different budgets. So naturally, the more pricing plans you offer, the more varied and broader your client base will be.
But always remember to plan your price models strategically. You don't want to offer a freemium option if you don't have the resources to support a large base of non-paying users. On the other hand, you do want to offer a freemium option if the nature of your service allows advertising (such as the watermark on unactivated versions of Microsoft Windows 10).
Payment flexibility is also about offering your audience a wide range of currencies and payment methods. We at PayPro Global provide our partners with over 70 payment methods and more than 110 currencies. Additionally, thanks to our smart routing system and direct connections with acquiring banks & terminals, the authorization rates increase considerably, boosting your revenues in all markets you wish to expand in.
When it comes to payment, we are ready to equip your business with the required adaptability to succeed in all corners of the world.
Meet PayPro Global.
The most innovative SaaS tool for your business.
Trust our all-in-one solution designed for hypergrowth to remove the complexities of global SaaS growth. Gain the freedom to focus on your product, while successfully scaling your business with PayPro Global.
Vertical SaaS
One of the top SaaS industry trends is vertical SaaS. Yes, it's true, this industry segment is the pure definition of being part of niche markets. But don't let that fool you into thinking it's too small to make big. As it turns out, these SaaS innovations are why customers ditch the one-size-fits-all solutions.
Vertical SaaS solutions are products that address specific needs in a clearly defined industry. Due to the nature of its client base, vertical SaaS solutions are often created by or in collaboration with experts in that industry. This contrasts with horizontal SaaS, which refers to cloud platforms (like Slack and HubSpot) catering to a wide range of clients.
A well-known instance of a vertical SaaS is Adobe Photoshop. This product is famous for its powerful image manipulation properties, creative capabilities, and the professional knowledge behind its design. Although Photoshop was initially designed as a one-time purchase product, it now forms part of Adobe's Creative Cloud subscription services.
The future of the SaaS landscape is heading towards niche-specific apps, no doubt. With machine learning, AI, API integrations as essential parts of software development and targeted customer acquisition strategies, it's simple to understand why this is among the most important SaaS trends.
Unbundled SaaS
An unbundled SaaS can be considered a hybrid of the horizontal and vertical SaaS models. It has the range of solutions that a horizontal SaaS would but "unbundles" these solutions into vertical branches for different clientele. This might initially sound counterintuitive, but this strategy works for companies whose markets might span various niche industries or customers who only want to pay for the one or two products they use.
In this case, the Microsoft Office Suite is an excellent example. Previously, if users wanted to create a slideshow in MS PowerPoint, they had to purchase the whole suite. Users were forced to waste money buying software entirely incompatible with their needs (such as an accounting firm purchasing MS Publisher even if they only required MS Excel). However, the suite has been unbundled in recent years, allowing users to purchase the service they are interested in rather than spending money on something they will never use.
Micro-SaaS
Micro-SaaS focuses on targeting niche markets while using minimal resources to problem solve. Micro-SaaS differs significantly from vertical SaaS, as small teams or single users usually work on micro-SaaS products without the benefit of external funding. Since this kind of software addresses hyper-specific needs within unique target markets, it is essential to access expert knowledge and current research on your client base and their needs.
The literature-tech industry has produced several successful micro-SaaS products, such as yWriter and Scrivene. Single creators or small teams developed these products to address a specific solution for a relatively small but ambitious target market. What's more is that they are great examples of adapting expertise to inform practice, as they are programs designed by authors for authors.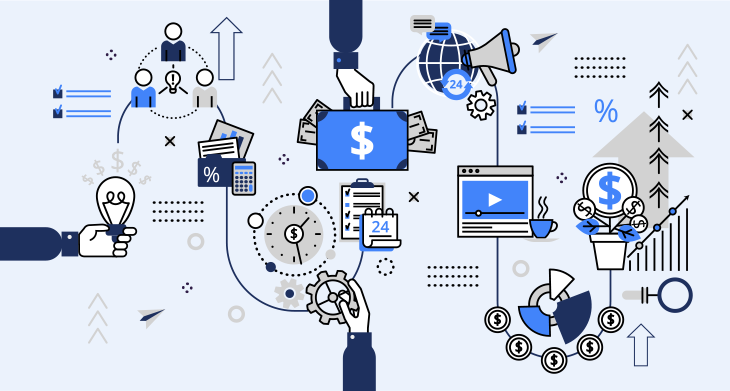 Low-Code and No-Code Popularity
Gone are the days when clunky software solutions developed through labor-intensive coding techniques were a thing. Today, users no longer wish to get lost in programming languages. Instead, they are looking for ways to rapidly build software without having to add a line of code.
That is why it should come as no surprise that some of the most popular SaaS apps are website builders like Squarespace and WordPress The drag-and-drop features of these products allow people without expert coding knowledge to build their own professional-grade websites. They also sport a huge variety of free and premium themes, which is an attractive option for many shoppers out there. If your typical end-user can create a technically complex product without additional technical skills, your software will likely land with bigger audiences.
Low-code platforms are on everyone's mind right now. Yes, moving away from traditional software requiring tremendous technical knowledge is the right path to take.
Artificial Intelligence (AI)
AI has evolved in astonishing leaps and bounds over the last decade. Looking at the majority of SaaS platforms currently released on the market, we can safely say that AI is the main innovation driver. Truth be told, this particular industry segment has been firmly planted atop the list for developers for quite some time now. So, how come the world hasn't had enough of it by now?
The correct answer would be that we are still figuring out the entire AI-enabled transformation. Surprisingly enough, given the many advancements triggered by this trend, AI is still in its infancy.
Yes, it's still about data-trained algorithms and process automation capabilities. Only this time, we see other game-changing uses for them. Building evolving, flexible data pipelines capable of extracting real-time information could secure revenue streams in many distinct markets. Additionally, AI could easily amplify the power of automation, known for being a solid revenue provider. ChatGPT API for SaaS, for instance, can be a great growth tool when used wisely. The development of RPA, robotic process automation pipelines, is a trend to keep an eye on. Furthermore, we are witnessing the evolution of NLG, Natural Language Generation, which is incredibly efficient in turning natural language into software codes. Imagine the amount of information you would be given access to when using this tool.
Because we are still in the dark regarding the power of artificial intelligence, it would be wise to say that this one is no dying trend.
4 SaaS Tools To Use in 2022
The dynamic nature of the SaaS market can quickly turn running a business into a nightmare. As a SaaS developer, you are constantly under pressure, always focused on showing the world how strong your product is. But there comes a time when you have to admit that you cannot do it all on your own. You need help from SaaS apps designed to boost your growth. We are talking about cloud-based or AI-powered platforms that aim (and quite frankly, succeed) at simplifying workflows and increasing productivity while propelling your business further.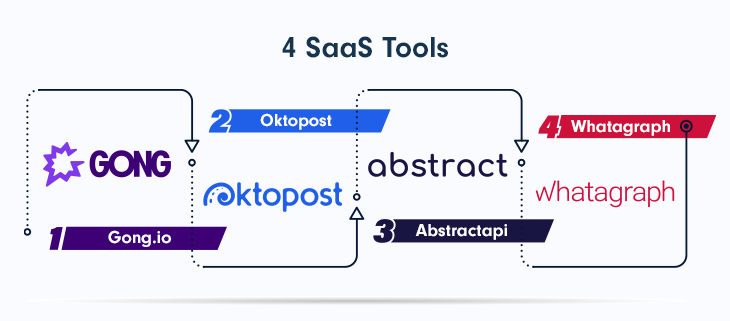 And yes, it's better to integrate new features than trying to replicate them within your product, not having access to the secret recipe. You could be heading towards an IT disaster, and no one wants that. So, let these effective SaaS tools accelerate your expansion in 2022.
Gong.io
What do all SaaS businesses want? Easy to sell subscriptions. Besides carefully building a marketing strategy, you must dive deeply into your business insights. Considering your metrics is the only way you can verify if the marketing strategy you are following is the right one to help accomplish your conversion goals. Gong.io is the app that can take you out of the data maze. By bringing forward data collected from multiple channels and customer-facing interactions, this app completely transforms how you go to market. It gives you the intelligence you need to understand your business's risks and opportunities better. This tool manages to streamline the marketing process, giving you tools to create more targeted sales approaches, save time, and boost the conversion rate.
Oktopost
Establishing a strong media presence is a must, regardless of what some might think of these communication channels. However, posting on Facebook, Twitter or Linkedin can be time-consuming, taking you away from what matters most: your product. This is when using a dedicated B2B complete social media engagement suite makes all the sense in the world. Oktopost is the app you have been looking for, as it gives you the tools you need to make your presence on social media noticed and appreciated. This all-in-one platform allows you to schedule and post content, tracking each post's impact only to improve it further and gain more clients. Monetizing your social media presence is possible through this app because you are given the right tools to understand your prospects.
Why is this particular tool better than everything else out there? Due to its smooth integration and onboarding process, you are adequately familiarized with the true power of this app, making the best of it as soon as you start putting it to use. Additionally, the analytics section is very generous in terms of data, making it very simple to understand your clients and their expectations.
Meet PayPro Global.
The most innovative SaaS tool for your business.
Trust our all-in-one solution designed for hypergrowth to remove the complexities of global SaaS growth. Gain the freedom to focus on your product, while successfully scaling your business with PayPro Global.
Abstractapi
There isn't a business out there that hasn't heard of the power of email marketing. Somehow, though, only a few companies are doing it right. Why is that? Well, it's the list. You might be surprised (or not) by just how relevant the email marketing list you are using is regarding the results of the campaign itself, specifically over the number of sales you manage to achieve. Your emailing efforts could get lost in mailboxes where they may never be opened.
So, ensuring that those lists are not just usable but effective in terms of conversions and compliant as far as GDRP and other similar regulations are concerned is time-consuming. Of course, you could do this manually, but can you imagine the amount of time you would be losing, plus the possible human errors you would be exposing your business? That's where Absractapi comes in, a free email validation and verification API. This SaaS app helps you to boost your delivery rates while allowing you to quickly sort through your lists and remain compliant.
Whatagraph
One cannot stress enough the importance of insights. Yes, we live in the data era, and there is no denying it. But it's a good thing, a positive and helpful feature of our culture. Insights into each strategy we'll help us improve our workflows and processes. They allow us to reach our goals faster and without losing resources. The biggest problem in all of this, however, is gathering the information that is of real use to us and presenting it in a way that is easily digestible by readers.
Instead of obtaining general data that needs to be manually sorted out into helpful reports regarding a strategy, anyone would prefer to receive automated, consolidated campaign performance reports. Whatagraph is that kind of tool. It drills down into different metrics, collects helpful data by interrogating various channels thanks to its custom APIs, and composes everything into balanced reports in minutes. PR and marketing agencies are the target audience here, although any business running multiple campaigns simultaneously can benefit from Whatagraph's helpful features.
2 SaaS Trends To Keep An Eye On
FinTech
Finance technology, or FinTech, has revolutionized online banking and shopping, making global transactions more accessible than ever before.
Some of the newer FinTech innovations, however, have drawn mixed reactions. The blockchain and cryptocurrencies like BitCoin and Ethereum have provided new ways for secure and anonymous transactions via the Internet. But the resource-heavy production of BitCoins and other currency produced by the Proof-of-Work algorithm has taken a devastating toll on the environment. The damage includes kilotons of waste caused by discarded graphic cards, the current silicon shortage, and over 57 million tons of carbon emissions annually.
For these reasons, we'd suggest that you approach adopting cryptocurrency with extreme caution. But certainly don't disregard crypto entirely because more eco-friendly solutions such as the Proof-of-Stake and Proof-of-Activity mechanisms are the newer players, which bodes well for emerging cryptocurrencies with even smaller carbon footprints.

PaaS & IaaS (Platform/Infrastructure As-A-Service)
More companies are now offering the use of platforms or infrastructure as subscription-based services. These services allow users to rent and use resources via the web instead of running software on their own devices.
PaaS provides users with web-based platforms to conduct their work by app creation or shipping management. IaaS goes further and provides users with the infrastructure to monitor and manage networks remotely. Microsoft Azure, for example, offers a range of products, including virtual machines and the implementation of server-free code.
These services are usually only used by companies with extensive user bases and budgets to conduct a large part of their work via virtual subscription software. Unfortunately, there are also numerous security concerns around these types of software – especially considering the amount of confidential information being stored. We hope they'll continue to improve because they offer such a valuable service. Since technology, after all, is constantly evolving, we know it's likely these concerns are already being addressed.
Is PayPro Global the right SaaS tool for you?
If you sell software online, Saas, video games, or digital goods, the answer is yes. Our unified eCommerce solution carefully combines powerful payment tools with tax, SaaS compliance, and subscription management, rapidly becoming the partner you need to expand successfully in markets worldwide. PayPro Global's mechanisms take things to a new level, as the goal is always to secure new revenue streams and improve existing ones. Trust our solution and watch your business grow anywhere in the world.
Thoughts On SaaS Trends & Tools To Disrupt Your Market In 2022

Business and technological solutions and the global economy continue to shift rapidly. For this reason, it's always important to keep an eye on the SaaS trends and tools that will help you attract customers and build your reputation. There seems to be an endless range of tools available, but it's crucial to identify which ones best suit your brand, industry, clientele, and goals.
With Covid as the main wave pushing the SaaS industry forward at a never-before-seen speed, try to develop a system that focuses on your immediate needs. And in all global expansions, securing fast and flexible payments, as well as abiding by worldwide tax rules and regulations, are the two major priorities.
FAQ
What are SaaS tools?
SaaS tools are software applications delivered over the internet and accessed via a web browser. They are also referred to as cloud-based or web-based apps. SaaS tools can offer many benefits for businesses, including lower up-front costs, ease of use, scalability, and accessibility from anywhere with an internet connection.
What are the top 3 most important aspects of SaaS?
1. Simplicity: Keep things simple for your users. The more complex your software is, the more likely users are to make mistakes and the less likely they are to use it.
2. Usability: Make sure your software is easy to use and intuitive. People won't use a product if they can't figure out how to use it.
3. Customer Service: Provide excellent customer service so that users know you're there for them when they need help. Users will be more likely to stick with your product if they feel you're invested in their success.
Which SaaS is most popular?
Some popular SaaS options include Salesforce, Microsoft Office 365, and Google Apps for Business. Each of these options has a large user base and a wide range of features that can cater to various business needs.
It doesn't take luck to make it, but it does take knowledge. Be the first to learn the latest industry insights and must know marketing tips and tricks. Sign up and enjoy! Always informed. Never Spammed.