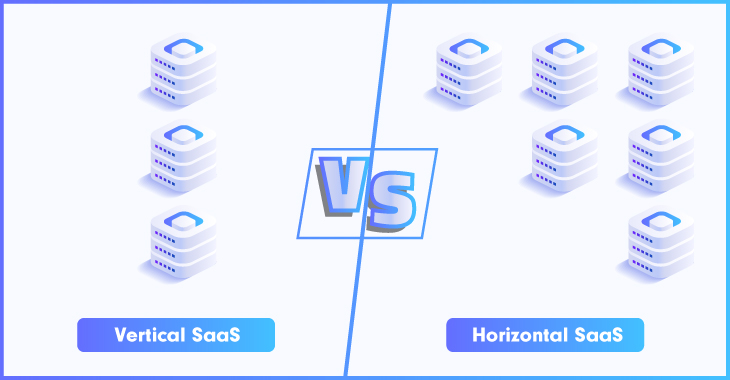 Published on November 17, 2022
Updated on May 10, 2023
Vertical SaaS vs. Horizontal SaaS: 7 Key Differences
SaaS adoption is snowballing. A recent Harvey Nash survey revealed that SaaS was voted the most important technology in helping achieve business goals. BetterCloud research found that organizations with more than 1,000 employees use over 150 SaaS applications.
Products within the SaaS industry serve an immense number of functions. While some are intended to cater to the specific needs of a particular group of users, others help a hugely diverse client base, providing solutions to a broader market. This critical distinction has resulted in two key SaaS models: vertical and horizontal.
If you're thinking of becoming part of the SaaS industry, you'll need to clearly understand these two different models and determine which one is right for your business. Simply put - the better your understanding of these services, the higher your chances of success are. We're here to provide you with all the information you need to understand vertical and horizontal SaaS, what makes them different, and which one will best suit your business.
What is Horizontal SaaS?
Horizontal solutions target a wide audience, regardless of the industry, and focus on satisfying the needs of most businesses rather than trying to solve more distinct and individual challenges. Apps operating in horizontal SaaS aim to be relevant across different industries. These solutions include CRMs, human resource management tools, email marketing tools, website builders, and communication software.
Horizontal SaaS is the more entrenched model since it has been around for over 10 years and dominates the SaaS landscape, as seen in G2's list of best software companies for 2022. One of the most famous examples of horizontal SaaS is the widely used productivity software Microsoft Office 365. Other famous examples are Slack, Quickbooks, Salesforce, and Hubspot.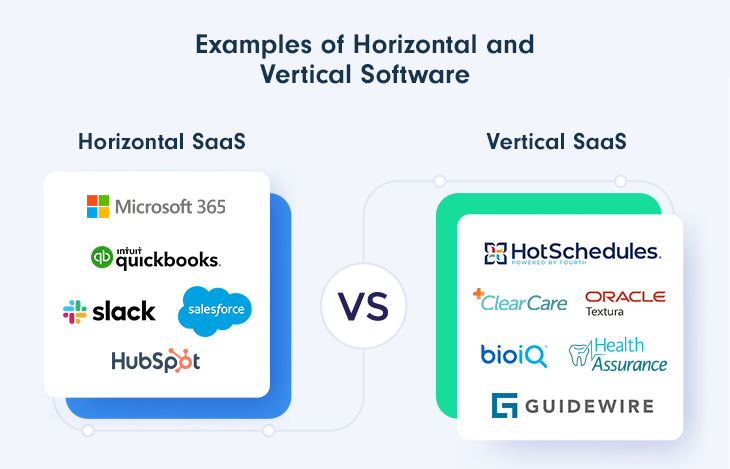 What is Vertical SaaS?
Vertical SaaS solutions refer to software targeted at specific industries or niche. These businesses are purpose-built but by no means do they aim to cover broad categories. This type of SaaS focuses on specific industry verticals such as retail, automotive, or insurance, among others. Because of this, vertical SaaS companies have a much narrower market than horizontal software.
The vertical SaaS company looks to solve problems unique to a specific industry or to meet custom needs. Developing solutions within this model differs because it requires the involvement of experts having insider knowledge of common pain points. For example, a motor-vehicle specialist could develop an appointment system built specifically for the car-servicing industry. They would have first-hand experience with the challenges those in the automotive industry face when managing appointment administration and could more easily aim to find an effective solution. In the same way, an expert part of the healthcare industry could craft a vertical solution fit to answer the needs of this specific niche, providing users with SaaS applications packed with targeted features.
But Vertical SaaS is newer and, therefore, less familiar to most people. A successful example of vertical SaaS is the restaurant-management software HotSchedules. Some other prominent examples of vertical SaaS are ClearCare, Textura by Oracle, BioIQ, Health Assurance Plan, and Guidewire.
The 7 Key Differences Between Vertical and Horizontal SaaS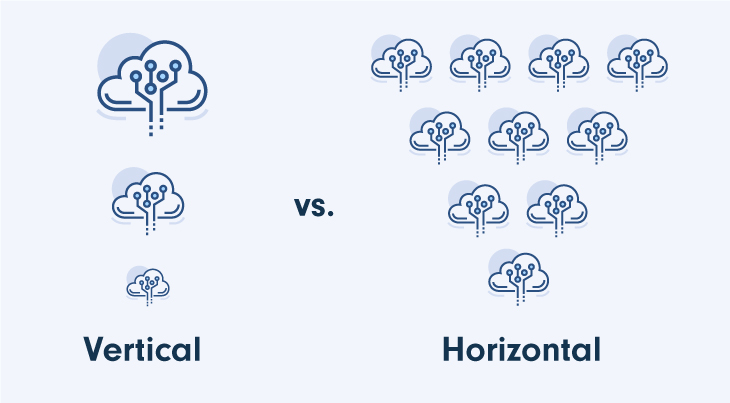 1. Scope of Industries and Market Size
Obvious from the definition, the major difference between vertical and horizontal SaaS rests within the industry and the potential market they target. As we've pointed out, Vertical SaaS looks to solve the pain points of a specific group of customers in a precise industry making, their market much smaller than horizontal SaaS. Think of someone who creates a product that is an accounting solution for fitness centers. The customer base this Vertical software can reach is limited. However, horizontal SaaS companies service a broader industry and have a much greater potential reach. To follow that same example, a general accounting solution can be used across multiple industries by different businesses.
2. Business models
The vertical SaaS business model is an end-to-end solution designed for the needs of a specific sector. These solutions' software features are specially designed to streamline particular industry operations. On the other hand, horizontal SaaS solutions are less industry-personalized and more problem-oriented. Their increased applicability across several industries sets them apart from horizontal SaaS.
3. Customer Acquisition and Retention Approaches
In the vertical SaaS model, acquiring customers takes less time and effort than in horizontal SaaS. As you can imagine, if only a few businesses offer solutions to a niche problem, customers will likely choose a business and stick with it. Make sure you have a look over our SaaS customer acquisition guide, as it might come in handy.
With a broader industry scope, customers have many solutions and can be more discerning about which suits them best. With this level of competition, retaining customers in horizontal SaaS can be much more challenging due to the number of options available to them. Vertical SaaS businesses must focus intensely on customer success to keep customers paying over the long term to retain loyal customers.
Meet PayPro Global.
The industry's most innovative eCommerce Partner
Unlock unprecedented growth with PayPro Global leading-edge eCommerce solution. From comprehensive tax management and simplified payments to automated billing, gain access to all the necessary tools to scale your SaaS business worldwide.
4. Sales and Marketing
The marketing focus is also very different for vertical and horizontal SaaS. For horizontal SaaS businesses, the goal is to encourage as many customers as possible to use their software. A popular marketing strategy is to offer the product for free or at a low cost and then charge for premium features. Horizontal SaaS businesses rely heavily on customer feedback to ensure they are marketing the product correctly with a strong focus on adoption and usage.
On the other hand, vertical SaaS provider focuses their marketing efforts on building strong personal relationships with their existing customers. They can customize their marketing campaigns for their niche. It's easier to find out what customers like or dislike and what marketing channels or tips are most effective with this group of users.
For the vertical SaaS solution, the intention is to encourage customers to stay with the business and renew their subscriptions. So, they also generally have lower lead-generation spending. One common tactic for customer retention is offering potential customers free trials. This ensures that when they sign up for the paid product, they have had a chance to try it out and are more likely to stay with it over the long term.
5. Competition Levels
Vertical SaaS has lower levels of competition because it's a newer, smaller model with fewer big players. Horizontal SaaS comes with greater competition since it has been around for a while and has more established players. Because the scope is vast, it makes sense that more horizontal SaaS businesses compete for customers.
6. Growth Prospects
Horizontal SaaS has the upper hand regarding growth potential. It's much easier to scale a horizontal SaaS business because they can sell their product to anyone in various industries. Vertical SaaS businesses are less likely to grow at the same rate as horizontal SaaS because they can only sell to specific customers with particular needs.

7. Manageability and Scale
Vertical SaaS businesses may only need a small team to build their minimum viable product and maintain their software. This is because the software is often easier to manage, and it's more adaptable and scalable because it has a narrow product scope.
On the contrary, horizontal SaaS is more complex to manage and scale due to the vast scope of the products and the many different industries they may be servicing. Read our SaaS scaling guide to learn more about the steps to ensure your business achieves sustainable growth.
Comparing Vertical and Horizontal SaaS: The Pros and Cons
When starting a SaaS business (or at a crossroads with your business) and deciding whether to scale vertically or horizontally, it's always good to look at the advantages and disadvantages of each model. We've put together the most important factors to consider.
Vertical SaaS: The Pros
Because vertical SaaS is a newer model, it provides more opportunities for business ideas. As an entrepreneur, you can stand out by creating a niche business idea for a specific sector rather than a general one.
The relative newness of vertical SaaS also means that it has fewer competitors operating in the market.
It's easier to take a large portion of the market share and become the number-one provider of your particular service because you are viewed as the expert in your field. This makes it easier to attract customers, especially when your business is first starting out.
Because there are fewer competitors, you're less likely to lose customers to other businesses providing the same services.
Vertical SaaS requires only a narrow approach to marketing since marketing efforts are more targeted. This can end up being significantly cheaper than horizontal SaaS.
It's also easier to upsell a vertical SaaS product, as customers are generally tied to the product as one of only a few in the industry.
Because vertical SaaS operates within a specific industry, it's much easier to comply with relevant legislation and regulations within that space.
Vertical SaaS: The Cons
It's more challenging to scale and expand a vertical SaaS business. This is because there is a limit to your pool of potential customers. So, you must do thorough research to ensure you have enough potential customers.
Achieving widespread brand awareness is challenging in a vertical SaaS business. Because your focus is only on one vertical, getting your name out beyond that specific vertical or niche industry will take more work. It may take longer to get to the point where the public is familiar with your brand.
Horizontal SaaS: The Pros
With horizontal SaaS, you have an enormous scope for customers. Your pool of potential buyers extends across multiple industries.
Your marketing efforts can be broader, and you will likely reach potential customers more quickly since you don't have to target niche markets.
Because reaching customers is simpler, customer acquisition costs are probably lower, saving resources for other growth initiatives.
Successful horizontal businesses operate across many industries. This means that you should be able to achieve brand recognition quickly with a wide range of customers.
Horizontal SaaS: The Cons
You'll have to contend with many more competitors than in vertical SaaS. There will probably be competitors out there with a similar product or service. Without unique positioning at the beginning, it's harder to stand out amongst the crowd.
Potential customers are likely to compare your product to several other solutions, which means you'll need to offer the best quality and prove that you're the most cost-effective option.
The stiff competition makes it more difficult for horizontal SaaS businesses to acquire and retain customers.
How Can PayPro Global Help?
Creating great products to sell is only part of the work that goes into building a successful SaaS, even with open source. The real challenge is acquiring and retaining customers allowing you to turn a profit. The simplest way to do this is by joining forces with a reliable, trustworthy partner with the infrastructure you need to get your product in front of buyers worldwide.
Whether you are contemplating a micro SaaS idea or considering starting a vertical or horizontal SaaS company, know that you can rely on our one-stop eCommerce solution to help you scale your business. With over a decade of experience, PayPro Global has the technology and expertise to drive global sales, streamline revenue streams and constantly identify new growth opportunities. From providing you with multiple payment methods and currencies to thoroughly taking care of tax, compliance, and subscription management, our solution helps grow your business while you sleep. Gain the freedom to focus on developing new and exciting products and leave the operational work to us.
Concluding Thoughts on Vertical vs. Horizontal SaaS
There are many factors to consider before deciding whether to scale your SaaS company horizontally or vertically. Every SaaS business is unique, and you alone can decide which model best suits your business.
One thing we do know is that SaaS demand continues to grow. So, will you be a jack of all trades or a specialist? Joining forces with dedicated eCommerce partners ready to provide you with access to configurable or out-of-the-box software, depending on your needs, that can effectively scale your business. At PayPro Global, selling software and SaaS online is simple. Get in touch with us to partner with an e-commerce partner with all the tools you need to drive your business growth.
The most significant cause of churn is when customers are not receiving enough value from the product or service to justify the expense.
Infrequent login or usage, requests for refunds due to changes in billing, dissatisfaction with product updates, and lack of loyalty benefits--all are sure signs that customers are unhappy.
It doesn't take luck to make it, but it does take knowledge. Be the first to learn the latest industry insights and must know marketing tips and tricks. Sign up and enjoy! Always informed. Never Spammed.