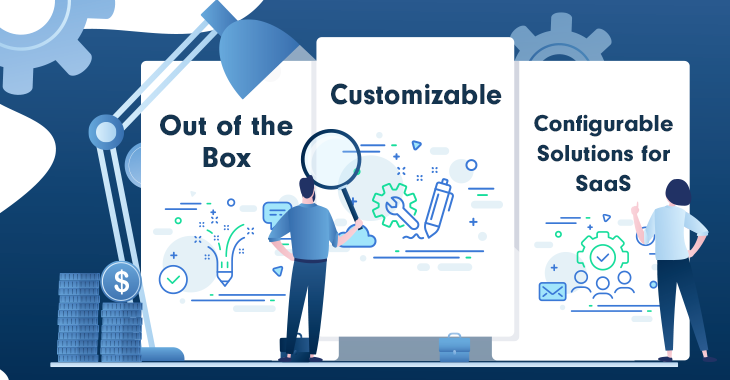 Published on September 27, 2022
Updated on May 9, 2023
Out-of-the-Box vs. Customizable vs. Configurable Solutions for SaaS
The B2B payments sector in the United States is set for continued growth in 2022, with transaction volumes predicted to reach $28.611 trillion this year. Payment providers are expected to capitalize on this incredible momentum as numerous new solutions make their way into the entire industry.
Aside from partnering with the right provider, selecting the best software systems for your SaaS business means deciding between an out-of-the-box, customizable, or configurable platform. The first thing to consider is your organization's growth, development costs and path, processes, and overall expenses. Because ultimately, the solution you choose must align with the unique needs of your business.
Let's unpack each of these options, examine their pros and cons, and discover how you might make an informed decision and find the perfect fit solution for your organization in the long run.
Defining Out-of-the-Box Software Solutions
Out-of-the-box software provides ready-to-implement shelf software that caters to a broad market base ready to handle business processes. It is typically easily installed as it is designed by the manufacturer with little to no changes to user experience and behavior when integrating.
This software type's properties, components, pre-designed templates, and workflows are developed to suit most users. The vendor regularly updates out-of-the-box software with new features and functionality.
Out-of-the-Box Software Examples
Many out-of-the-box software solutions are available to accommodate various business requirements, including payments, customer service, marketing, operations, website development, analytics, and communications.
As a SaaS provider, you might prefer an out-of-the-box solution, for example, regarding your payment gateway technology. Giving eCommerce platforms the ability to process transactions securely, this software can be particularly complex to develop yourself.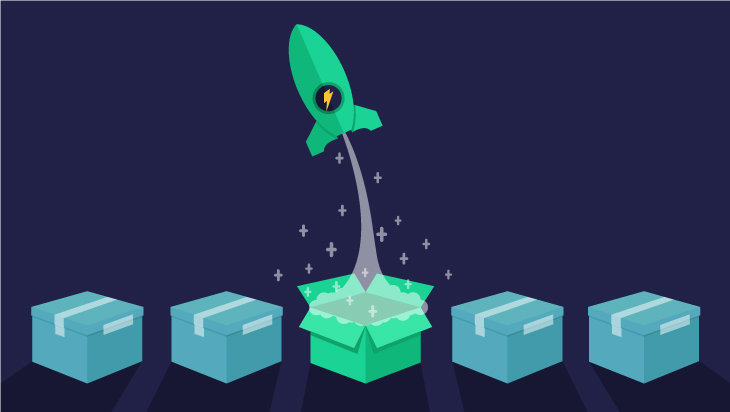 5 Out-of-the-Box Software Pros
Ready to install: As the name suggests, these solutions can be quickly installed and implemented across your organization.

Regular updates: The developers are constantly improving on and adding new features to the software, and these updates are regularly shared with users. Sometimes new functionality is driven by user requests and developed with specific customers.

Integrations: Software integrations are readily available to connect your solution to other platforms and easily create a single, unified system.

Support access: Out-of-the-box solutions are usually accompanied by customer support platforms to assist you should any issues or questions arise.

Cost efficient: Ready-to-use software is cost-efficient due to its standardized nature and broad use.
4 Out-of-the-Box Software Cons
Stock standard solution: Out-of-the-box software is limited by pre-defined settings, so it is not designed specifically to meet your business's needs.

Ongoing costs: The vendor may charge recurring subscription or licensing fees, and upgrades and support might come at an additional cost.

Pay structure: You may need to pay per user, which can become costly as your business grows.

Altered business processes: It might require switching up your processes to function within the requirements of the software.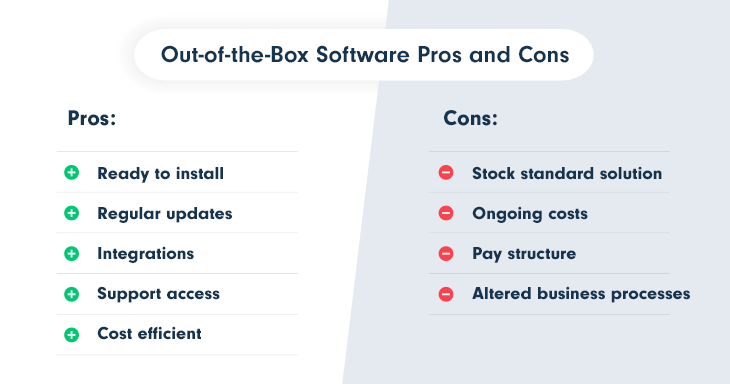 When To Opt for an Out-of-the-Box Solution
Businesses with a small IT team will find out-of-the-box solutions most beneficial as they require very little technical know-how. They are also ideal if you have a modest budget, as software development can be expensive, ranging from $3,000 to $120,000 per project.
Deploying a widely used, out-of-the-box solution makes sense if your customer base has standardized needs. In this case, investing in customized software wouldn't give you a competitive advantage.
Ready-to-use software is also useful when you need a quick solution, as it can be implemented without a long and painful process. However, be sure to acquire a platform that meets most of your specific business needs and can be scaled as you scale, saving you time and money.
Defining Customizable Solutions
Customized solutions allow you to offer tailored user experiences by modifying or adding to existing code, resulting in fundamental changes to the core software. This approach is usually required when you need a solution to a current problem or desire functionality that doesn't yet exist.
If a vendor doesn't offer customization, you'll need a highly skilled development team to write the code for any special modifications or to develop entirely new features and functions. Building a solid team, however, isn't simple, with more than 13% of IT companies acknowledging it as a challenge.
Customization Examples
Each SaaS company offers unique solutions, so you may require customizable eCommerce software that can be aligned to the services you provide and the way you do business.
A customized payment system, for instance, allows for:
Tailored payment processing forms
Payment gateway integrations
While a unique CRM system means you can customize and work directly on how you track customer interactions, offer support, and store prospect data.
4 Custom Development Pros
Tailored solution: Customizable software can be adapted to suit your unique offering and business processes. You also have more control over how long it takes to implement any enhancements.

Long-term, flexible solution: You can customize it as you scale, making it a long-term solution that doesn't need replacing. Changes can then be made as and when you need them, allowing you to plan and budget accordingly.

Greater productivity: Software customized around a business's needs and processes can help boost productivity as it improves workflow.

Competitive advantage: Customizing widely used software to gain more value may give you the upper hand over those who use out-of-the-box solutions.
Meet PayPro Global.
The eCommerce Solution To Help You Grow.
Offload operational entanglements and thrive globally with PayPro Global's cutting-edge, complete solution, ready to offer your SaaS business the flexibility your customers expect.
5 Custom Development Cons
Complex systems: Unnecessary customization may result in overly complex, expensive systems that are difficult to use or contain features that are not in demand.

Code misalignment: Customization of out-of-the-box software may result in problems with expected behavior p when the vendor releases updates or upgrades, impacting business productivity and customer experience.

Compatibility issues: When integrating software solutions, your customizations may not carry through to the new system. Additional coding may be needed, complicating the integration further.

Greater costs: A higher upfront investment is needed as you are paying for the upgraded software solution and a team to manage the customization project.

Support issues: If you run into problems, the vendor's support service may be unable to assist since the protocols and processes are not standard.

When To Opt For A Customizable Solution
When your current solution no longer serves you, or you can't find a suitable out-of-the-box solution, investing in customization becomes a real option. Customizable software offers you greater flexibility in features and functionality. That is why, when your business reaches a rapid stage of business growth, investing in customizable solutions is the right route for you.
For example, if you're using numerous software platforms, customizing a unified solution will help reduce inefficiencies, streamline operations, and improve productivity.
Finally, if customizing your software allows you a competitive advantage, developing a unique solution will help drive your success and could be the deciding factor in putting your business at the top.
Avoiding Over-Customization
Taking an extreme customization approach does come with risks. The more you customize, the greater the potential for software issues, the longer it will take to implement, and the more it will cost. You also risk missing out on the advantages of vendor upgrades and will likely run into problems regarding software support.
Unrestricted customization could also lead to an unending cycle of design, development, testing, and reiterations. To avoid this highly costly scenario, businesses should ensure additions and improvements are justified and prioritized based on their potential return on investment.
Using add-on products is another way to avoid complex, costly customization. Developed specifically to be integrated with your out-of-the-box solution, customization can improve your user experience without the need for heavy coding and alleviate any worries about user problems since they were designed to work together.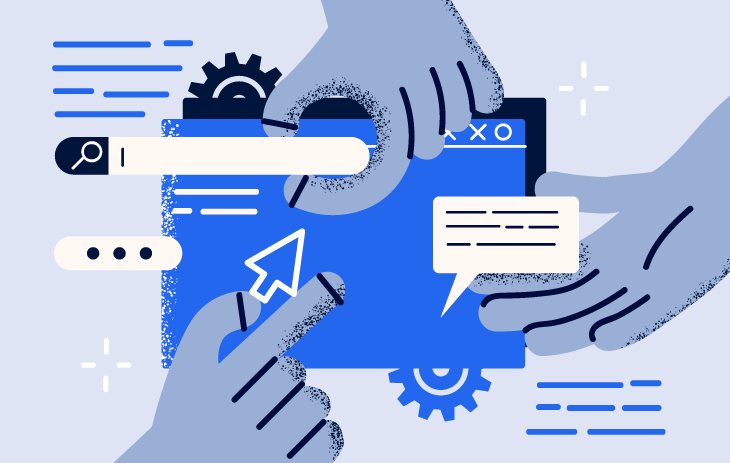 Defining Configurable Solutions
Unlike customization, configuration doesn't require writing new code to personalize a platform. It is a less complicated and expensive process involving fine-tuning your software's settings.
Businesses can adjust aspects of the software's features and functionality to best suit their needs. The level of configuration possible, however, is dependent on the options provided by the vendor.
Configuration Examples
Software settings you may configure according to your business's preferences include security and team roles, email templates, custom and mandatory fields, and dashboards.
When it comes to payment solutions, you might configure:
Membership types
Revenue recognition schedules
Payment options
Accepted currencies
The checkout process with specific major payment gateways
4 Software Configuration Pros
Personalization: With greater control, businesses can configure their software to meet their needs.

Cost-effective: As opposed to customization, for which every change comes at a cost, configuration is more economical.

Non-technical: Changes are made using the tools provided within the software, requiring no complicated code.

Efficient implementation: As no coding is required, software settings are configured simply and efficiently, so solutions are up and running in a short time.
Software Configuration Cons
Limited configurable settings: Not all your software's features and functions may be fine-tuned, so configuration might not provide you with everything you need to complete your solution.

User training: Configuration may have a high learning curve, so the vendor might need to train your staff to take full advantage of the solution.

Extended implementation time: Depending on the configuration level you'd like to achieve, it may take considerable time to implement.

When To Opt For A Configurable Solution
A configurable solution is ideal for many businesses that need software for a specific purpose they can quickly implement but still have some control over. More cost-effective than a customizable solution, it still provides long-term use as you can adapt some of its functions and features as you scale.
As with an out-of-the-box solution, you still would reap the benefits of regular platform updates. Configuration requires less effort than customization and carries less risk because changes are made without modifying the core software.
4 Factors Affecting Total Cost of the Configurable Solution
1. Implementation Time
The longer it takes to implement your payment solution, the more likely it is to cost. As the most time-efficient solution, out-of-the-box software is usually the most cost-effective.
On the other hand, customization is lengthy due to its technical requirements, so it has the most significant overall cost. In a Unilog B2B digital commerce survey, 51% of respondents reported that implementing custom eCommerce solutions took more than nine months.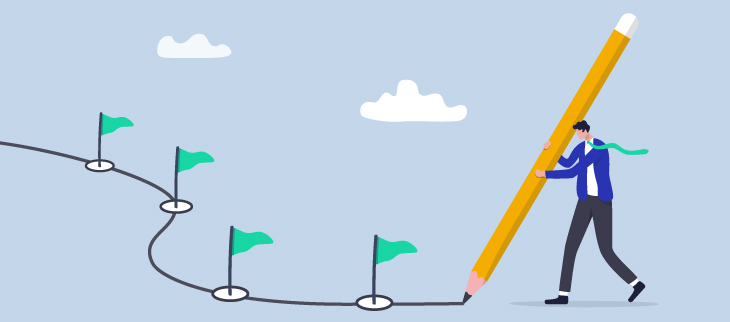 1. Adaptability
The more adaptable your solution, the more it is likely to cost. Implemented as is, out-of-the-box software is the least flexible and the most cost-effective solution.
Configurable software is more adaptable, but no technical work is required, keeping its cost low. With customization, new code enables unlimited flexibility, but with this comes a much higher price tag.
3. Technical Complexity
Out-of-the-box and configurable software solutions require no coding and, thus, very little technical expertise. They are, therefore, more cost-effective than customization. The level of customization and who is appointed to carry out the task will dictate how high the total cost reaches.
4. Access To Support
Out-of-the-box and configurable solutions are typically managed with ongoing support from the vendor throughout their use, so with no additional assistance needed, costs remain low.
With customization, however, issues aren't usually easily solved, and the user is responsible for overcoming obstacles, driving up the cost of the solution, sometimes quite significantly.
Deciding Which Solution Is Best For Your SaaS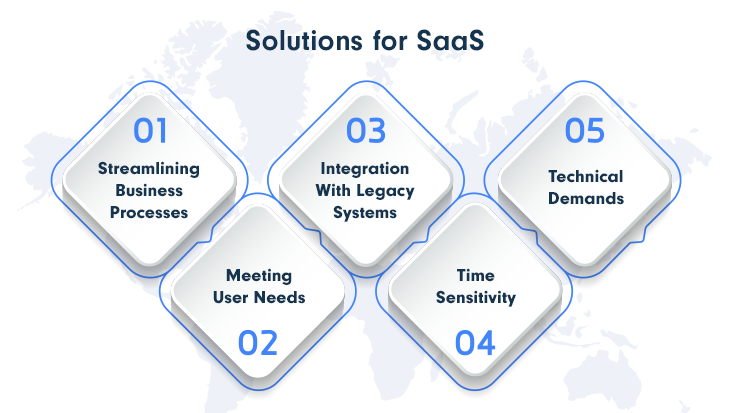 Streamlining Business Processes
Start by considering the needs of your business and the processes you are trying to streamline. These may be general enough to adequately address with an out-of-the-box solution, whereas more complex issues may require using a more sophisticated solution.
When it comes to subscription billing, for instance, a large SaaS provider with a diverse client base may need a configurable or customizable solution to handle billing cycles and provide all the necessary tools to manage the business.
Meeting User Needs
If an out-of-the-box solution satisfies the primary needs of its users, it may be worthwhile going this route while investing in additional 3rd party tools or integrations to fill the less vital gaps.
However, payment solutions that lack key features, such as tax management, may need to be customized.
Integration With Legacy Systems
Data migration from legacy systems may prove problematic when integrating it with an out-of-the-box solution. If it's too challenging, it may be best to customize your existing software for a less complicated, more targeted solution.
For example, a legacy sales tracking system may be updated through customization rather than investing in new, out-of-box software that might not align well with the older system.
Time Sensitivity
Time is a critical consideration when selecting software. Out-of-the-box and configurable solutions are beneficial when the need is urgent. If a customized solution would ultimately provide the best solution, you could invest in out-of-the-box software initially while tailoring your ideal solution over time.
For example, implementing a subscription lifecycle solution is a top priority for SaaS providers. While using standard software, a unique solution can be customized for future use.
Meet PayPro Global.
The eCommerce Solution To Help You Grow.
Offload operational entanglements and thrive globally with PayPro Global's cutting-edge, complete solution, ready to offer your SaaS business the flexibility your customers expect.
Technical Demands
Do you already have an internal IT team or plan on hiring one that can customize, maintain, and provide your business with ongoing software support? If yes, then a customizable solution is within your reach.
However, if your business doesn't employ the requisite technical team, an out-of-the-box or easily configurable solution is your best bet. For instance, developing a customized payment gateway is a highly complex task that demands an expert technical team.
How can PayPro Global help?
PayPro Global offers a complete all-in-one solution, giving users access to a broad range of features and answering different business requirements with the purpose of fast-tracking your company's global growth.
With our dedicated eCommerce solution, we are giving you access to software with extensive capabilities providing you with the freedom to focus on growing your product, controlling operational costs, and boosting sales.
Imagine having one unique solution completely solving payment processing, tax and SaaS risk management, smart routing for revenue recovery, subscription and billing handling, and access to a portfolio of more than 70 payment methods and over 110 currencies. With a robust and trustworthy eCommerce solution like PayPro Global, your SaaS business can thrive globally.
Concluding Thoughts on the Out-of-the-Box vs. Customizable vs. Configurable Debate
SaaS companies need a holistic understanding of the payment pain points they want to address or processes they'd like to improve. This and the pros and cons of each option will help you choose the best solution for your SaaS.
To help you make the right decision, you should consult a reputable payment solutions vendor. Visit PayPro Global or reach out, and we'll help you uncover your best path to SaaS success. We partner with thousands of vendors worldwide with whom we have helped grow their business. We'd love to offer our expertise, so introduce yourself and let's talk about your options!
It doesn't take luck to make it, but it does take knowledge. Be the first to learn the latest industry insights and must know marketing tips and tricks. Sign up and enjoy! Always informed. Never Spammed.