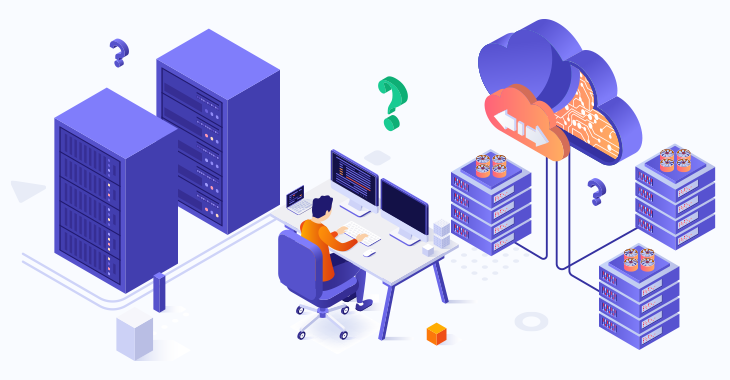 Published on February 2, 2022
Updated on May 10, 2023
SaaS, On-Premise, or Off-Premise: Which is best?
As the shift toward a more digital world accelerates, many organizations opt for cloud solutions, Software-as-a-Service (SaaS) delivery, and licensing models to fulfill their software needs.
If you're asking yourself whether a SaaS solution — where software is centrally hosted and licensed on a subscription basis — is the best option for your company, this article is for you. We break down the basics and pros and cons of SaaS vs. on-premise and off-premise solutions.
A Few Key Definitions
Looking for an on-premise vs. cloud definition? Or perhaps a SaaS vs. off-premise comparison? How about SaaS Open Source? We get that. As you begin your journey toward finding the right software solutions for your business, you're more than likely to encounter a few unfamiliar terms. To understand the SaaS vs. on-premise vs. off-premise debate, let's quickly detail what each of these terms means:
What is Software-as-a-Service (SaaS)?
With SaaS, a cloud provider hosts your software applications centrally, and the software is made available to end-users (in this case, your employees) via a subscription model.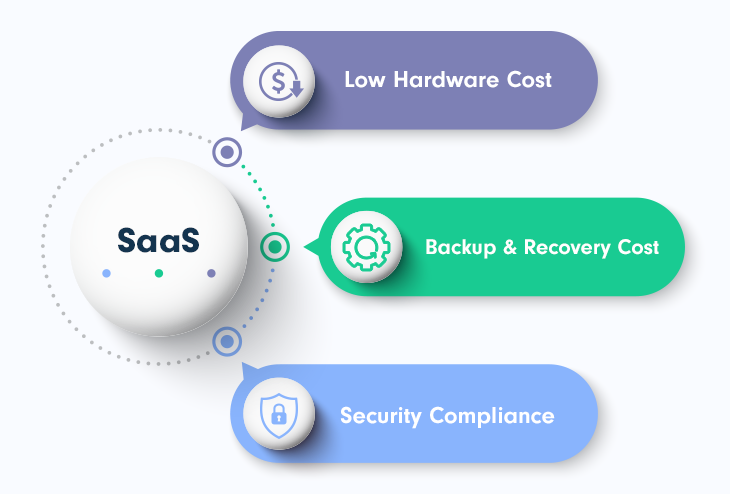 SaaS began as an alternative to traditional software, which required businesses to install and maintain typically expensive software packages locally. With SaaS, the end-user just needs an internet connection and a subscription to access the tools they need. As long as the software license is in place, the user can access the software via their internet browser.
It's important to point out that the SaaS vendor retains ownership of the product and takes responsibility for the infrastructure needed to run it.
Popular SaaS products include Zoom, Grammarly, Google Workspace, Dropbox, Slack, and Canva.
What Is On-Premise Software Hosting?
With traditional on-premise solutions, a business purchases licensed software, which is then localized and hosted entirely on the business' premises. The company manages and maintains all the stored data, servers, security, operating systems, and software applications in-house — usually at the company's physical location.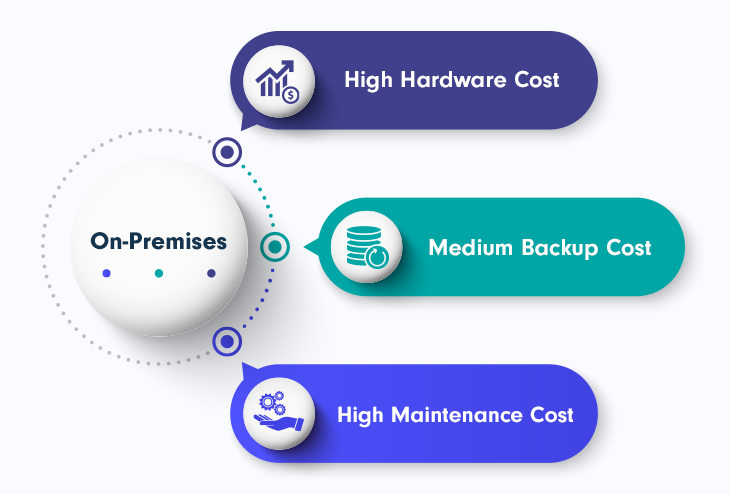 What Is Off-Premise Software Hosting?
With off-premise software hosting, the software solution is hosted on dedicated hardware and infrastructure that belongs to a third-party vendor and is located in a different location to where the end-users work. The third-party company takes responsibility for the operation and maintenance of the hardware.
With an Off-premise system, administrators have the same, albeit remote, access to the servers as they would with an on-premise solution. This differs from SaaS solutions, where they are not responsible for maintaining the system's back end. It just happens to be located somewhere else.
Getting Started on Choosing the Right Solution
Now that we're all on the same page with the terminology, it's time to choose a software management solution that's right for your organization. The first step is to take a long, hard look at your specific business requirements.
Here's how to get the ball rolling:
Evaluate Your Current Situation and Future Needs
Suppose you're looking for a new software hosting solution. In that case, it probably means one or more of three things: your business is scaling, your current software hosting solution isn't fulfilling your exact needs, or you require new software and are weighing all of your options.
First off, ask yourself the following questions:
What are your software needs?
What is your budget?
What does your current hosting infrastructure look like?
If you have the infrastructure already in place, how easy/difficult is it to maintain?
Do you have a strong IT team?
Does your business run from one location, or do you have teams working remotely?
Does a one-time investment in software plus infrastructure and ongoing maintenance make sense, or are SaaS subscriptions better suited to your business needs?
It's imperative to get answers to these questions before going any further. For example, if you have an IT team and solid hosting infrastructure in place, it probably makes sense to stick to an on-premise solution. If you don't, SaaS or off-premise, third-party-supported solutions could be the way to go.
Evaluate Your Data
Before looking at new hosting solutions, it's essential to evaluate your data storage needs. What is your current storage capacity? If you have your own servers, are they running at total capacity? How easy would it be to expand your existing infrastructure as your needs grow?
It's also really beneficial to look at the cost of data storage when evaluating your needs. While generally more secure, on-premise solutions can be very costly. Keep in mind you'll need to purchase and maintain your servers, allocate space, bring in a team of IT professionals, and cover electricity costs.
Once you're clear on your data needs, you're another step closer to finding the hosting solution that is a good match for your business.
Meet PayPro Global.
The industry's most innovative eCommerce Partner.
Why waste time, money, and effort with in-house solutions when you can keep up with the latest SaaS growth innovation at a fraction of the cost?
Sell your SaaS globally with PayPro Global!
SaaS vs. On-Premise vs. Off-Premise; The Key Differences
Deployment
With SaaS, the software and data are hosted on remote servers in the cloud. Companies or individuals who subscribe to the product can access the application anywhere as long as they are connected to the internet through their own equipment.
With an on-premise solution, all hosting, data storage, and maintenance are deployed and managed internally, usually by an in-house team that works on your business premises.
As the term implies, your software is hosted off-site by a third party with an off-premise solution. However, your team can still access the software whenever they need to. Deployment is quick and easy because the necessary infrastructure — which belongs to another company — already exists.
Ownership
If your business chooses to go the on-premise route, you'll own the software applications, hardware, and related data. Your team will need to install, manage, and maintain protocols to keep it running successfully.
However, with SaaS solutions, the software is owned by the vendor, and the hardware is also owned, managed, and maintained by a third party.
For many modern businesses, a SaaS or off-premise solution makes the most sense — especially from a cost perspective. But there are some drawbacks. For example, if the third-party server goes down, you won't be able to access the software or data, and you'll have little control in resolving the problem, leaving you to wait, possibly in the dark, unsure of when it will be resolved.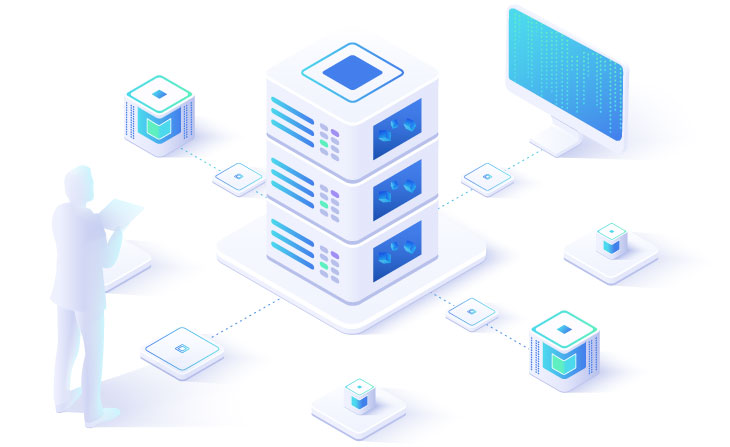 Cost
We've all read the SaaS or cloud vs on-premise cost comparison opinions. Keep in mind the following detail. The basic cost for SaaS is almost always lower compared to on- and off-premise solutions.
SaaS companies usually offer different subscription plans, making it possible to select the best option for your business, team, and budget. What's more, your employees don't have to worry about maintaining physical infrastructure and hardware.
To be blunt, the costs of running on- and off-premise hosting and data storage solutions are high. If you have an on-premise solution, you'll need to pay for server hardware and upgrades, power consumption, space, and other equipment. Even if your software is hosted off-premise, you'll still pay the third party a fee to maintain the hardware and infrastructure.
In both instances, you'll need a team to set up new software and offer support to the rest of your employees. It's also entirely possible ongoing IT training may be necessary, adding additional fees to the solution. Hopefully, this will end any SaaS or on prem vs cloud cost comparison.
Licensing
If you opt for an on-premise solution, you'll buy software licenses and install and use them locally. You're essentially buying copies of the software your staff members need to use to do their work.
With an off-premise solution, you'll also buy and own the software, but it will be hosted on third-party, remote servers. If you choose to go the SaaS route, you're purchasing a license to use the software through a subscription rather than the software itself.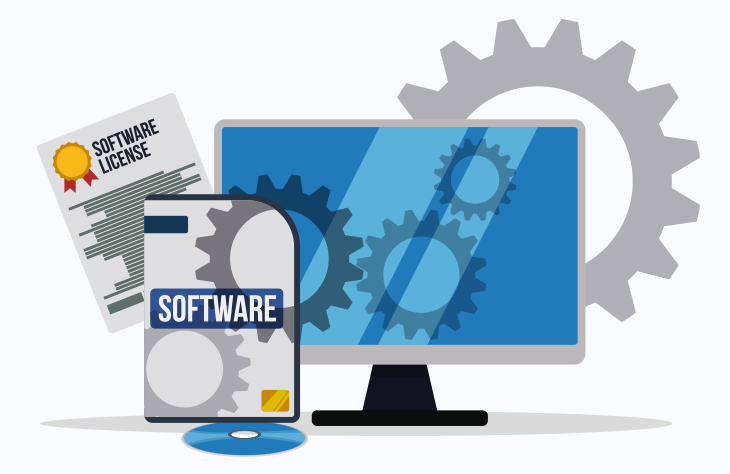 Speed of Implementation
On-premise solutions can be slow to implement as they require careful timing, space, and resources to set up. Your team will have to install the software on servers and individual devices.
Off-premise solutions are much more easily set up, as the physical hardware is off-site and usually managed by a third party, often making it a faster process. SaaS requires little to no implementation time at all, as it's cloud-based. As a result, users can start using the software just as soon as the license is paid for.
Customization
Traditional on-premise software solutions give you more flexibility in developing and supporting your customized business systems.
SaaS businesses frequently offer tiered license types and features that are the same for everyone. However, it may be possible to add additional functionality to meet your specific business needs. In the case of SaaS, customization, and upgrades will depend on the provider and how flexible they are with your needs.
Just remember, some SaaS providers will be able and willing to provide more scope for customization than others.
Support and Maintenance
With on-premise solutions, support and maintenance is completely your responsibility. This requires a skilled IT team (either your own or an outsourced team), but on the upside, it does allow for more control.
Off-premise solutions and SaaS are maintained by a third-party provider, which means you don't have to be involved in the support and upkeep. However, you should check to see that your service provider is being compliant and maintaining appropriate levels of security.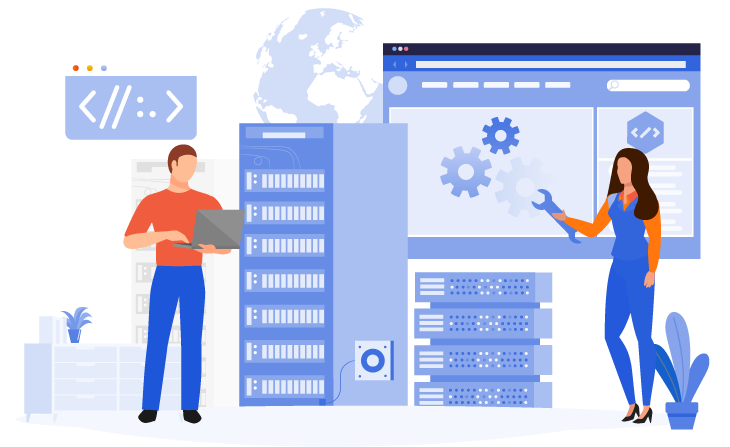 Opportunities for Growth
Both on- and off-premise solutions are usually much more complex to scale than SaaS solutions, as you'll have to invest in and install new hardware. Increasing your hosting capacity, for example, generally takes time and requires some budget and planning.
On the other hand, SaaS is easy to scale, even during a set subscription term — you can upgrade your plan with the click of your mouse. However, downscaling may be a bit trickier, and you might have to wait until the end of a subscription term to make changes to your account.
Compliance and Security
The issue of security and global SaaS compliance is a fairly complex one, and frankly, the different solutions all have both pros and cons.
If you're hosting on-premise, you'll need a team to help with security installations and updates, and costly security features will all be taken out of your budget. But, as your hardware and software will be on your premises, security is controlled by your team, which you may find to be less risky. For many companies that have to follow tight cyber security and SaaS compliance policies, it's best to house their data in their office building instead of in a data center where they have little control over what goes on.

While SaaS and other off-premise vendors generally ensure top-level security and comply with legislation, this may not always be the case. We strongly recommend carefully checking their security process before signing on with a provider.
Meet PayPro Global.
The industry's most innovative eCommerce Partner.
Why waste time, money, and effort with in-house solutions when you can keep up with the latest SaaS growth innovation at a fraction of the cost?
Sell your SaaS globally with PayPro Global!
Backup and Recovery
For both on- and off-premise solutions, you'll have to rely on data recovery systems and duplicate data storage systems for backup and file recovery. This way, if the central processors stop working, you don't lose valuable data.
With SaaS, backup is automatic to the cloud. In other words, all your data is stored centrally. The cloud makes restoring data much less of a concern and pressures internal IT departments regarding security measures.
Functionality
Software functionality is usually not as flexible and limited with on- and off-premise solutions when you've purchased software packages. Large software suites, for instance, are often difficult to modify. With SaaS, it's generally easy to add on or subtract features you may find you need for your specific business.
SaaS vs. On-Premise vs. Off-Premise: Benefits and Limitations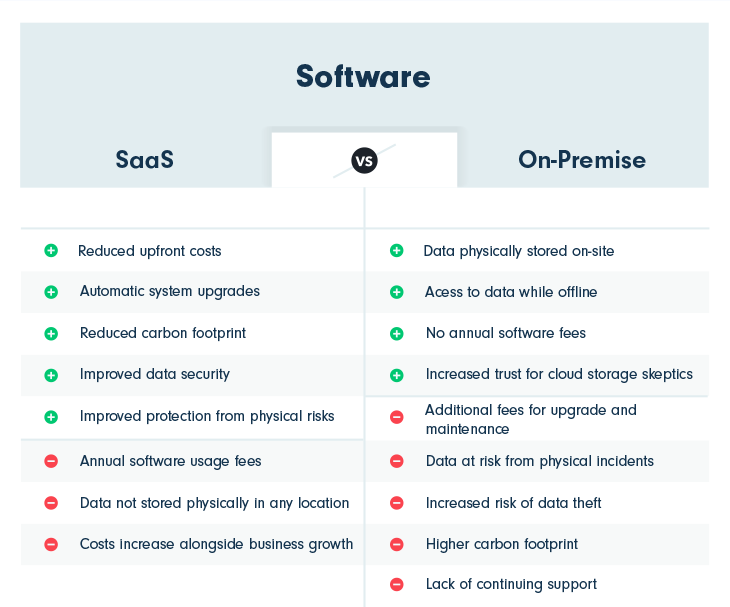 Let's recap and take a last look at some of the key benefits and limitations of the different options:
SaaS Benefits

SaaS is quick to implement and easy to configure and use.

The software vendor handles support, maintenance, service, and updates.

The vendor assumes the risks and costs associated with cloud storage and infrastructure.

Using SaaS reduces IT costs, both in terms of staffing and infrastructure.

SaaS pricing models are usually flexible, which means you can select a plan that suits your business needs and budget. You also don't have to worry about significant upfront costs.
Upgrades are generally included in the subscription package.
Most SaaS vendors aim to provide a high level of security for their clients.
Data is backed up automatically to the cloud.
SaaS makes for quick, easy scalability as it's not linked to one business' physical infrastructure.
SaaS Limitations

SaaS is sometimes difficult to integrate with other existing business software.

Businesses don't have complete control over their data, which could be risky.

SaaS vendors often control the timing of updates and maintenance, which could occur at inconvenient times.

SaaS subscriptions usually run as monthly or yearly contracts. Over the long term, an annual subscription may be more expensive than an upfront cost to purchase the software.
On-Premise Benefits

Companies have complete control of their software platforms, hardware, and data.

The risk of data leaks and tampering is low.

Security is managed internally.

Budgeting is easier due to one-time payments.

There's no need for internet connectivity. Users can access the software locally.
On-Premise Limitations

This is likely a costly option.

Installation, maintenance, and updates must be managed in-house, which requires a skilled team.

File recovery and backup can take time.

The management of hardware and software is time- and resource-intensive.

Speed may decrease with additional users.
Off-Premise Benefits

Deployment is quick and easy as the infrastructure already exists.

It's easier for individual businesses to upgrade and scale.
Off-premise is more cost-efficient than on-premise solutions.
Off-Premise Limitations

Because the software is off-site, the security risk is higher.

Support isn't internal and could be more challenging to access.
Different service providers may provide different levels of service.
Factors To Consider Before Switching Software Solutions
A Change Requires a Fresh Mindset
When you choose a new software solution, you may change how you work. This, of course, will save money but can impact jobs. For example, if you switch to SaaS, you won't need an IT department or staff trained in installing, maintaining, and the security that goes hand-in-hand with software systems.
Also, let's not forget how important it is to evaluate each of the different solutions' return on investment and risk. You may be able to speed up return on investment and lower SaaS risk if you successfully shift to a more efficient solution such as SaaS.
Think Pricing
When choosing your software solution, consider your budget and associated costs. How will the change affect your overall business costs? And, in turn, how will the switch impact the product or service you're selling? Of course, the goal is to keep operational costs as low as possible and maximize the value for your customers. Employing a flexible pricing strategy is your best option.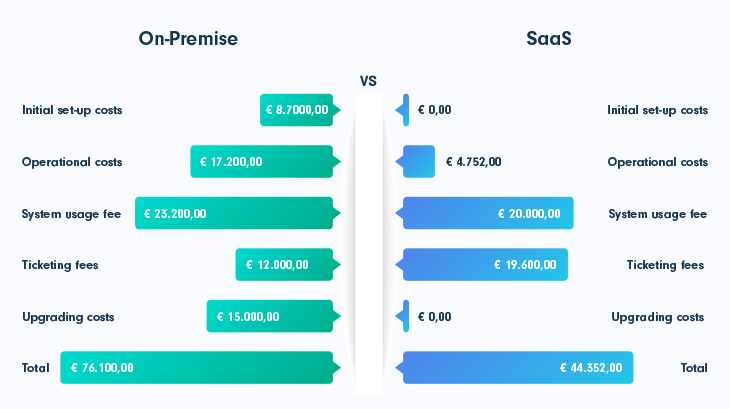 Service-Level Agreements
When you change software solutions, you'll be signing new service-level agreements (SLAs), which are designed to give you stability with the provider you choose to contract with. Ensure that the SLAs are thorough and specific and that all your business needs are adequately covered.
The agreements should include information on managing downtime, the kind of support that's available, guarantees on the length of downtime, the response time on issues, refunds, and any other details relevant to your business. Make sure all the boxes are ticked.
Skillful Customer Support
When choosing a software solution, you need to consider customer support carefully.
Ask the following questions:
How will your service provider or your company's in-house team resolve the problem when things go wrong?
In the case of SaaS, are the providers regularly maintaining and updating the software?
How well will they look after their hardware if you use an off-premise vendor?
What level of responsibility are you looking for from your software provider?
Ensure that the customer support element is efficient and effective, whichever option you choose. With on- and off-premise software solutions, the responsibility will likely lie with you and your team. With helpdesk software, the onus lies with the provider. Ensure that the customer support element is efficient and effective, whichever option you choose. And don't forget to measure customer success in SAAS.
SaaS vs. On-Premise vs. Off-Premise: What's the Right Solution for Your Business?

No one but you can decide which software solution is right for your business. But armed with the knowledge of what SaaS vs. on-premise vs. off-premise solutions entail, you can make a truly informed decision for your company. As a reminder, if you're looking for an all-in-one e-commerce solution to help you sell software online, you know where to find us!
Frequently Asked Questions
Is SaaS better than on-premise?
SaaS may be the better option if you deal with a considerable amount of data and use old hardware. Storage scalability is another reason businesses favor this type over others; many don't have enough human resources for on-premise solutions.
Is SaaS cheaper than on-premise?
The average SaaS application costs about 62% of the total solution price. On-premise software, on the other hand, is only 17%.
What is the cost difference between SaaS and on-premises?
SaaS subscription service allows you to pay an ongoing annual or monthly fee, whereas on-premise solutions come at one initial cost.
It doesn't take luck to make it, but it does take knowledge. Be the first to learn the latest industry insights and must know marketing tips and tricks. Sign up and enjoy! Always informed. Never Spammed.