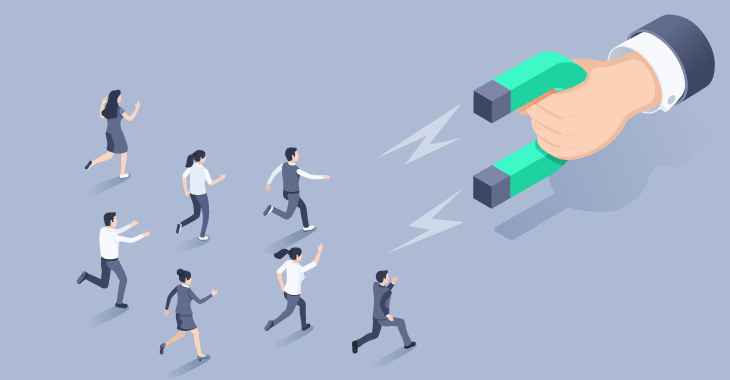 Published on January 26, 2023
Updated on May 10, 2023
SaaS Renewal Rates: Proven Tactics to Boost Retention
It's no secret that the SaaS model relies heavily on recurring subscription revenue, whether on a monthly or annual basis. However, customers churn. It's a fact. So, the focus should be on customer acquisition and SaaS retention. As we all know by now, acquiring new customers is more expensive than retaining existing ones. The average CAC for a small B2B SaaS financial services company is $1,450. With the enterprise level being $14,772. So, keeping customers happy and giving them a reason to renew their subscriptions is very important and worth your while!
The hard truth is that your SaaS company is unsustainable without a good customer renewal rate. Poor customer renewal rates can come from various problems, such as an ineffective pricing strategy and unsatisfactory customer experience. But keep in mind that in financial services, a 5% increase in customer retention produces more than a 25% increase in profit. It's time to admit the truth. Customers renews matter. Successful SaaS businesses know very well that because customer acquisition costs are high, instead of focusing on boosting the customer growth rate, the solution is to ensure customer satisfaction and increase contract value. This means tracking the gross renewal rate and improving the SaaS renewal process.
A healthy SaaS renewal rate is considered above 80%, with successful SaaS companies averaging a renewal rate of 90%, or even over 100%, typically because their existing customers are buying upgrades, upsells, and cross-sells.
To better understand what we are talking about, we've put together some simple techniques to boost your SaaS renewal rates and your recurring revenue.
So what exactly is a Customer Renewal Rate?
Customer renewal rate comes from a part of the greater category of customer retention. SaaS renewal measures the percentage of customers who renew their subscriptions at the end of a subscription period rather than leaving. These customers are choosing, manually or automatically, to continue paying and receiving value from your product. Customer renewal rates, therefore, demonstrate the success of the customer experience, your product, and your business. If the rate is high, the company will more likely to retain customers over the long term and bring long-term revenue.
Is Renewal Rate Different from Retention Rate?
In short, yes, it is. Although retention and renewal rates are similar when tracked over the short term, they need to be understood as different over the long term. The main difference lies in customer intent. For customer retention, see it as the customer not actively canceling when they have the chance. On the other hand, renewal is just part of customer retention. Specifically, the renewal rate measures the number of customers ready to sign up for another subscription cycle when the previous one ends.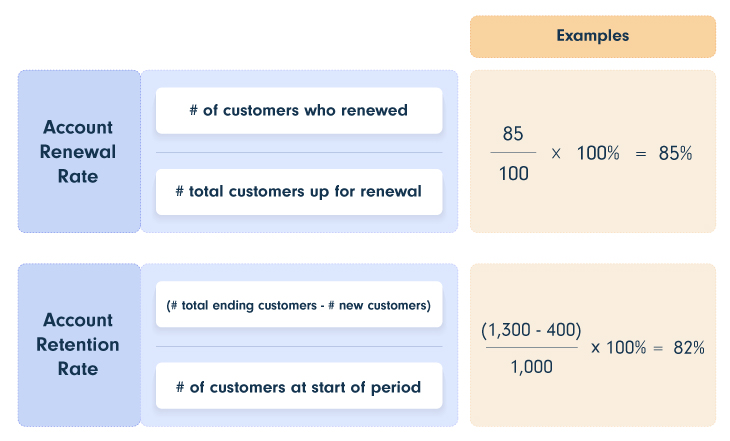 Why You Should Measure SaaS Renewal Rate
Measuring SaaS renewal rates over time allows you to spot customer interest, trends, and barriers to revenue growth before your business is in trouble. It helps you to understand whether your business is healthy, how to boost your monthly recurring revenue and retain more customers while also saving those at risk of churning. It can also help you accurately project your revenue which is critical since. SaaS businesses will struggle to lock in sales and marketing budgets without accurate monthly subscription revenue data.
How to Calculate Customer Renewal Rates
Luckily, there is a renewal rate formula you can use. Start by deciding what time frame you will be looking at to analyze these metrics. Look at renewal across various periods (days, weeks, months, years), as each will provide valuable insights. For example, analyzing the renewal rate metric after the first month will indicate the success of your onboarding process. Tracking renewal rates year-on-year could tell you about your customer's satisfaction with your product and the overall financial health of your business.

To calculate the customer renewal rate:
The number of customers renewing ÷ total number of customers who can renew.
Answer ✕ 100 = percentage
The customer renewal rate can't exceed 100%, as obviously, you can't have more than your total of possible renewals. But when you calculate the more general revenue renewal rate, you can calculate over 100% because of upgrades, upsells, and cross-sells. For the revenue renewal rate, you simply divide the total renewed revenue during the specific time period by the revenue that could be renewed and convert it to a percentage. A business should always aim for an over 100% revenue renewal rate for long-term sustainability. So make a habit out of using the renewal rate formula to measure customer success.
Tips to Boost Your SaaS Customer Renewal Rate
Starting this process of improving your SaaS renewal revenue may seem daunting, so we've put together some tips to simplify it and help you boost your renewal rates in an efficient and targeted manner. Before you begin, we highly suggest reading our articles focused on onboarding and customer success, as these aspects should be the focus of your customer efforts to boost not only retention but customer lifetime value. Together with constantly measuring renewal rates, applying these tactics will most certainly help you increase profits.
Meet PayPro Global.
The industry's most innovative eCommerce Partner.

Why waste time, money, and effort with in-house solutions when you can keep up with the latest SaaS growth innovation at a fraction of the cost.
Sell your SaaS globally with PayPro Global!
Act Early
You don't want to scramble to get your customer base to renew their monthly subscriptions when your renewal rates are tanking and your business is in danger. Instead, you should be re-acting when you spot even the slightest signs of trouble. Customer satisfaction in crucial for all SaaS businesses. Being proactive rather than reactive is the name of the game here.
One way to do this is to perform renewal research up to 90 days before a customer's subscription is due to expire. Email them 60 days before the expiry date to acknowledge the impending opportunity for renewal. Then take them through the renewal process a month before the subscription ends. Send out friendly reminders and hold the customer's hand throughout the process. If you spot a trend of renewal-related problems, you can address them immediately.
Gather the Right Kind of Data
Data should always be a major focus when attempting to boost SaaS renewal rates. Collecting the correct data can help you understand why your existing contrasts churn and renew subscriptions.
By tracking user behavior SaaS metric benchmarks, you'll be able to understand it and put together a plan to boost your renewal rates. Look at user experience, content performance, conversion rate optimization, website accessibility, engagement, and survey data to obtain these higher ratios. This will guide your strategy in your quest and provide you with the results you are looking for.
Identify Customers at Risk of Churning
As we mentioned above, it's important to identify the customer count showing signs of leaving or being statistically more likely to churn. Your data can help you to identify these people through satisfaction surveys and engagement metrics, among other methods.
Here are some signs to look out for:
Customers have several support tickets open, which the experts are struggling to solve and close.
Customers seem to be logging in significantly less. This may mean that your product isn't useful enough for them or that they may be shopping around for products that meet specific needs.
They're referring your business to others less than they once were. This shows that they may not have much confidence in the business anymore.
Your product hasn't been updated in a while, thus leaving your customers feeling like they are not receiving the best there is to offer.
Their user behavior changed shortly after you raised your prices.
They're underutilizing your product and showing little interest in making plans to learn more about the features and functionalities available.
They've disputed a bill recently. This could show that they're not satisfied enough with the product to open a support ticket or pay for it.
All these scenarios require close attention and considerable customer follow-up to see how you can help to prevent customer churn. Find out what the customer issues are and work to solve them. Often, it will be something like a lack of usage in the early stages after onboarding, which you can try to remedy with targeted emails. Or it could be a problem they are experiencing when using their account. You can increase customer success and satisfaction by proactively working with them to find a solution.

Improve Your Product's Adoption and "Stickiness"
Product adoption is the frequency of use by your existing contracts, aka your customers and is often referred to as "stickiness". The more usage, the more value they get out of it. And the way to get great product adoption is through sticky features.
Product "stickiness" refers to how much users keep returning to your product because it's engaging and valuable to them. On an elementary level, if your product does what the customer needs and helps them to achieve their own goals, they're more likely to stay with it for the long haul. On the flip side, if it lacks some key functionality and does not meet their needs, they'll most likely leave searching for another product that can meet their goals. You want your product to become something that a customer can't live without – that is product stickiness and is one of the best ways to improve renewals.
Keep An Eye on Competitors
Sometimes, a drop in your renewal rate may not be directly linked to your business but is more of a result due to your competitors. For example, if a new business enters the market, it could draw some customers away from your product. Your competitors may even decrease their prices to get a larger share of the market, which could lead to a loss of even happy customers. So, being aware of the movements of your direct competitors is something you might want to incorporate into your strategy. Make sure your value proposition is high so that customers are willing to pay for the superior value you can offer them.
Offer Targeted Promotions and Renewal Incentives
Offering promotional discounts, and special pricing makes customers feel like they're getting a high-value product at the best rate can go a long way in improving your renewal rates and in succeeding to generate revenue. One technique for achieving this is by providing customers with discounted rates before expiration dates or attempting to re-engage customers who've recently canceled by offering promotional pricing. One way of doing this is to offer incremental increases in promotional discounts as customers get closer to their subscription expiry date. These may also attract customers who are still undecided about renewing and sealing the deal before they churn.
However, you'll need to ensure you've thought carefully about your pricing strategy and can sustain the lowered prices you may offer. Every discount means a drop in your total revenue, so be careful of being too aggressive in this regard. A smart way to counter these losses is to use your data to target customers more likely to respond positively to your efforts. At least that's how most SaaS companies witnessing customer success do it.
Get Rid of Renewal Friction and Prevent Involuntary Churn
A KPMG study suggests that 1 out of every three customer dropouts during the purchase journey is caused by media friction. You don't want to lose your customer due to frustration that impedes their desire to renew. Make your renewal process as simple and frictionless as possible, and by doing so, this will prevent churn and boost the number of customer who choose to renew their subscriptions.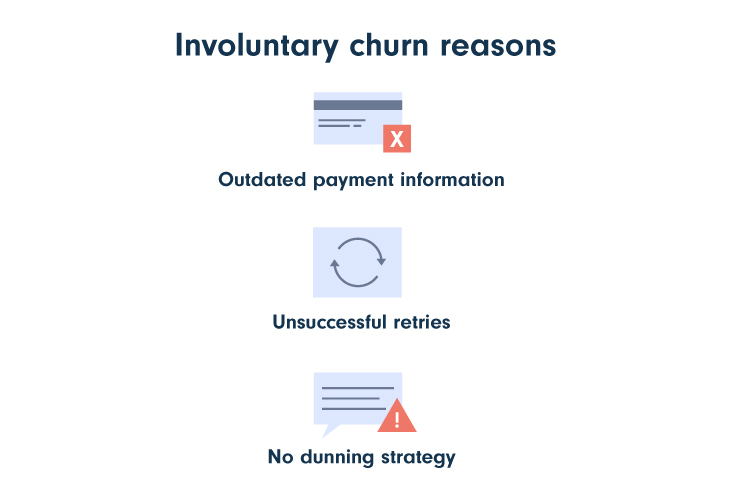 Speaking of churn, active churn from customers is noticeable and usually gets your attention, creating a sense of urgency to resolve any problematic issues. But involuntary churn is quiet and strips away your subscribers and revenue in the background much more quietly, going unnoticed until it's too late. We have found that involuntary or unintentional churn often occurs because of failed payments. Read more about how to combat this in our article on reducing churn fast.
If you look closely at reporting, you will find that expired credit cards often cause failed payments. But in general, failed payments are occurrences you can fortunately prevent. For example, some programs or services can automatically email customers regarding their payment details before their credit cards expire, and payment failures can even occur. They will also retry payments multiple times when a payment collection has failed at strategic intervals. Even without a service handling payment in this way, you can set up a manual email to send to your customers to confirm their details before renewal. Or you could work to set up direct debit payments, bypassing the credit card issue entirely. Taking these steps would significantly help in boosting your renewal revenue.
Build a Database of Repeatable Successful Plays
Improving your renewal rates using a specific strategy is not something you can do once and then check off your list. If there's no database or place to record successful instances and strategies, you'll be unlikely to pull them off consistently. You'll need an actual blueprint for boosting renewal rates which will be available to all of your various teams within the business. Each person needs to be on board with the specific business strategy to truly improve your renewal rates. These teams can then compile and use all action items to ensure that the product has continued engagement, action, and winning results.
This playbook will then include strategies for contacting and managing customers when there is a payment issue. Documenting how to track which customers have renewed and which still require recovery messages should also be thoughtfully planned out. You could even include incentives for your teams when customers renew early to incentivize and show this goal's importance. Build a detailed collection of standardized organizational knowledge for all who work in the business, and you will create processes and protocols within your organization.
Meet PayPro Global.
The industry's most innovative eCommerce Partner.
Why waste time, money, and effort with in-house solutions when you can keep up with the latest SaaS growth innovation at a fraction of the cost.
Sell your SaaS globally with PayPro Global!
How can PayPro Global Help?
PayPro Global's unified eCommerce solution is the ideal blend between powerful payment tools, extensive SaaS reporting, and robust subscription management. Using our solution, SaaS companies, as well as software and digital goods developers, can scale their business worldwide in record time because they can adapt their strategies using relevant data on their varied customer base and subscription-specific tools.
What sets PayPro Global apart from other eCommerce partners in this highly competitive market is our in-depth understanding of the very popular subscription model. Our solution brings forward different tools that make subscription management successful and allows you to make the most of your customer's contract. From handling all subscription types and offering grace periods or trials to coupon management and consistent tracking of customer data to adequately predict growth, we give you the needed infrastructure to grow your SaaS business and the freedom to focus entirely on your product.
Concluding Thoughts on Boosting SaaS Renewal Rates
In the SaaS industry, keeping your focus on renewal rates is a key factor in customer retention and, ultimately, in the future growth of your product. This is the correct approach to eliminating SaaS risk. As a business owner, the biggest challenge is finding a partner capable of fast-tracking your success instead of a payment provider stalling SaaS growth. At PayPro Global, we offer a full-service e-commerce partnership capable of bringing home more customers but also significantly boosting customer renews. Check out our eBook to find out what tactics we're using to successfully recover revenue. We have helped thousands of eCommerce businesses find their way to success and meet their yearly or monthly revenue goals.
As part of our services, we help our clients with subscription management, reporting, analytics, and customer support. We take the hard work off your hands so that you can focus on your product and meet your customers' needs. We welcome the opportunity to discuss your business and how our expertise and your solution can make 2023 your best year!
It doesn't take luck to make it, but it does take knowledge. Be the first to learn the latest industry insights and must know marketing tips and tricks. Sign up and enjoy! Always informed. Never Spammed.