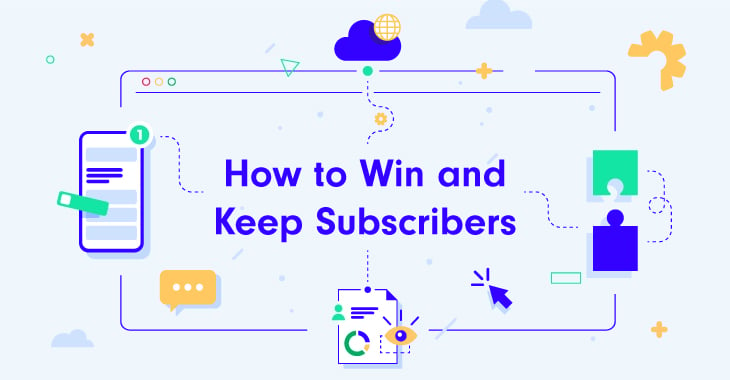 Published on June 15, 2023
How to Win and Keep Subscribers: 12 Must-Try Subscription Marketing Strategies
Netflix, Hubspot, Spotify, Slack, these are all subscription-based services you might be using every day, whether it's for business or pleasure, proving that this business model is a favorite y of SaaS entrepreneurs.
Easy to understand why, considering that the subscription market is forecasted to reach 1.5 trillion USD by 2025. It is also reported that 78% of adults benefit from subscription services, so it's safe to say that the subscription model is here to stay.
While users enjoy the convenience of subscriptions, developers are in it for the recurring fee from their existing customer base, which is a real challenge because of the crowded subscription market.
This is when having a great subscription marketing strategy comes in handy. Implementing effective strategies can make the difference between a prosperous subscription business and a storefront that just isn't profitable.
In this article, we'll be looking into:
Why Implementing Subscription Marketing Tactics Matters
The lifeblood of the subscription business model is recurring purchases. A solid subscription marketing plan, made up of different strategies, will revolve around this distinction.
Unlike pay-per-product companies, subscription-based businesses must hit two goals - acquiring and retaining users. This is exactly why the tactics you employ for your business are somewhat different from those part of traditional marketing.
Remember!
In subscription marketing, you're not just focusing on selling products but building rewarding user relationships.
Indeed, this can be a challenging endeavor, but it's worth it for several reasons:
Gain new subscribers: Through well-researched marketing tactics, SaaS subscription products could land new customers, which is always a goal for all product developers, regardless of the business model.
Lower customer acquisition costs: By optimizing and improving different product areas through targeted techniques, you could significantly lower your CAC, leading to better use of resources.
Decrease churn rates: With churn having different triggers, SaaS entrepreneurs need to figure out a way to control this phenomenon before it takes a turn on revenue. A good marketer will use the information gathered and develop strong strategies meant to eliminate churn triggers.
Increase customer retention rates: By applying dedicated retention strategies, you are focusing on an area of your business that could generate extra revenue over a long period. This can be a highly cost-effective approach and a rewarding effort simultaneously.
Grow brand awareness: Subscription marketing strategies focus on getting your product out of the pool of subscription services nobody knows about and placing it in front of the target audience.
Meet your KPIs: As we've mentioned, subscription marketing is a complex endeavor, having to hit different goals. An effective plan will help you meet your established KPIs.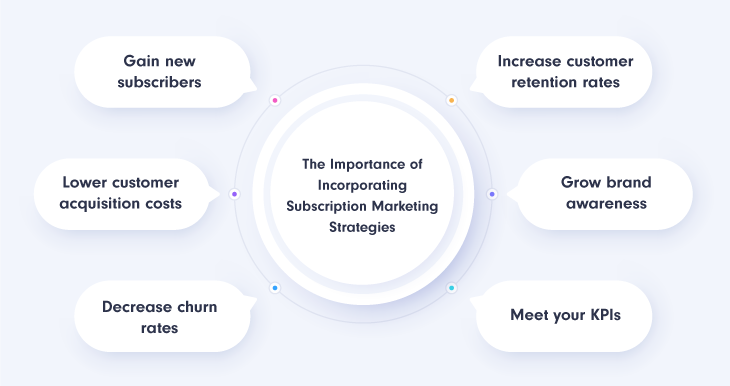 The Challenges of Running a Subscription Business
Subscriptions just might be the golden child of digital commerce. That's not to say that SaaS marketers preferring this business model don't have to deal with challenges.
Understanding and addressing these hurdles is vital in ensuring sustained business success.
A Highly Competitive and Saturated Market
The subscription economy has grown more than 435% in the last nine years. This clearly shows just how popular this business model is. But with great popularity comes great competition.
Everyone wants a piece of the subscription economy, making it extremely difficult for new players to stand out. As a SaaS marketer, the pressure to develop innovative marketing strategies is high.
The Annoying Customer Churn
Achieving and, most importantly, maintaining a steady recurring revenue stream is the Holy Grail of the subscription economy. Customer churn is inevitable, making it quite challenging to retain subscribers.
Reducing the churn rate is an ongoing effort, and before you jump into this battle, you need to understand what makes users say goodbye and improve the experiences you are offering.
A Faulty Pricing Strategy
Pricing can be a tricky thing to do. It is hard work, time-consuming, and a never-ending task. But getting it wrong could mean losing valuable customers. While there are many things to say about choosing the right pricing strategy, there is one worth mentioning.
The goal is to find that sweet spot between affordability and profitability. And that usually entails performing thorough market research and competitor analysis as well as achieving a deep understanding of your target audience.
Customer Engagement
Being part of the subscription economy will ultimately make you reach the following conclusion: gaining users isn't as challenging as retaining them. You must build strong, long-lasting customer relationships to secure uninterrupted revenue streams.
And unfortunately, that's not easy to do. Valuable content, personalized experiences, and seamless customer support all matter, and all are expected. But when the road is difficult, you know the destination will be worthwhile.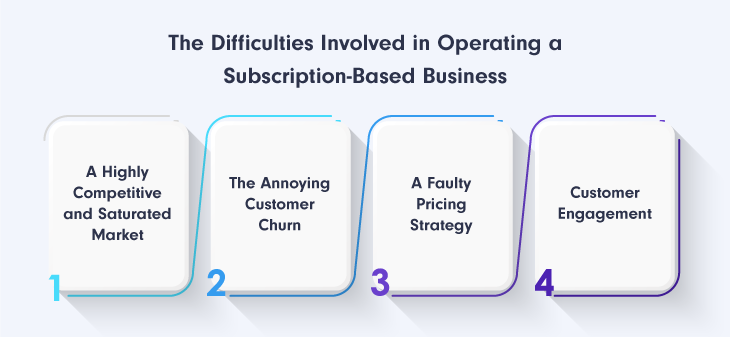 12 Subscription Marketing Strategies Worth Trying
1. Great Pricing is Fair and Transparent
No one likes surprise fees and hidden expenses, but it's a reality in the subscription market. So, after performing all calculations, researching, and identifying your price range, leave the fine print aside and be honest with your clients.
How do you do it?
Don't hide your pricing.
Brag about it. Use the pricing page to show off your subscription tiers and explain to your audience what each plan gives them. Using this area of your website is important to shift the user's perspective from pricing to investment. You can only achieve this goal by displaying your product's key features.
Be fair and square.
Correct pricing is table stakes in today's subscription industry. If your customers think they are being taken advantage of, they will wave your product goodbye. Put yourself in your customer's shoes, consider your competitors, and don't make profit your first priority.
2. Identify Upsell and Cross-sell Opportunities
Good marketing has drifted away from the Buy me, Buy me attitude. Today, it's more about putting the customer and their needs first.
Now, we are all about bringing value. And that's why cross-sells and up-sells are so important in subscription marketing. Their role is to increase the AOV and strengthen customer relationships.
How do you do it?
Consider your customer's needs when making recommendations.
Whether you apply consumer behavior tactics or not is up to you. What matters is putting together products that click and make sense to your users. Offering value in terms of extra features, in the form of cross-sell or upsells, is crucial.
Test and optimize.
This strategy can bring you closer to your customers, but you need to be open to testing. Run multiple campaigns simultaneously and decide, through A/B testing, which one performs the best. Once you have that data, be sure to make the changes accordingly.
3. Offer localized shopping experiences
With the meteoric rise of cross-border payments, there is really no room to doubt the role localized shopping experiences play in achieving success.
How do you do it?
Make sure you have as many payment methods as possible and local processing in place.
Work with a dedicated partner that has a robust payment infrastructure in place, making it easy for your customers to pay wherever they might be and allowing you to expand your business worldwide.
Customize checkout pages with local currencies and languages.
Needless to say, your users should be able to read what's written on the checkout page, including the price. Price localizations go a long way in earning the trust of new users and can have a huge impact on your conversion rates.
4. Set-up Automatic Renewals
You don't want to bother your customers with monthly notifications about renewing their subscriptions. It's annoying and tedious and could make them abandon your service. Automatic renewals are the solution here.
How do you do it?
Work with a dedicated solution provider.
You need access to a robust billing management system that allows you to complete the set-up process and even allows you to customize billing cycles and customer communication.
5. Offer Free Trials
Free samples, the oldest marketing trick in the book, also apply to the subscription industry. Giving your potential users a taste of your product will help you increase the number of subscribers and nip churn in the bud. Through a free trial, users not convinced by your offer will probably not sign up, but having them churn is worse for subscription companies.
How do you do it?
Set a period during which your free trial is available.
This can be 3, 7, or 15 days. You can go as high as 30 days, but remember you are sacrificing short-term revenue.
Consider your target audience when offering a trial.
We can all agree that plans designed for medium-sized companies to enterprises need a longer free trial. Customize your offers based on your plans and consider your targeted potential customers in the process.
The freemium model is always an option.
Think of this pricing model as a prolonged free trial. Canva, for instance, gives users access to basic features but charges them for premium ones. If you are smart about creating your offer, having just enough basic features to get the user hooked on your service makes switching to a paid plan much easier.
6. Use Gamification To Boost Adoption
Gamification is a strategy that should not be taken lightly because, when done right, it can significantly boost product adoption and increase user engagement as well as participation. Basically, this strategy could have an impact on gaining and retaining clients.
How do you do it?
Turn product interaction into a game.
Implement a system in which users can unlock different features, content, or even levels as they progress. Even though this might sound strange, this technique increases curiosity and motivates users to continue using the product to obtain new experiences, possibly leading to boosting customer lifetime value.
Personalize experiences and communications.
If your product permits, consider giving users control over customizing their profiles and product features. Also, offer constant feedback and assistance based on user action and progress.
7. Provide Excellent Customer Support
Happy customers, successful businesses. If your customers are satisfied with the services offered, they are more likely to stay on board. So nurture your customer relationships every chance you get.
How do you do it?
Implement surveys.
Keep in close contact with your existing customers and measure their satisfaction levels. You might uncover problems that can be solved effectively before they stop using your product. Also, answer any requests or questions quickly, and ensure you offer customized and rapid assistance.
Provide payment-related support.
Working with a dedicated partner that can provide your users with dedicated assistance regarding their payment issues can help improve communication and reduce churn rates.
8. Leverage Data and Analytics
Marketing isn't all about finding innovative ways to sell your products. It's also about having an eye for numbers and a willingness to break down stats and implement changes to attract customers.
How do you do it?
Perform periodic strategy testing.
Whatever technique you decide to use to boost your acquisition and retention numbers, you must consistently test and analyze the data obtained. It's not enough to A/B test landing or checkout pages if you are unwilling to implement your findings and fine-tune your approach.
9. Turn Loyal Customers Into Brand Ambassadors
Rewarding long-term customers is a great idea. Loyal subscribers that have gained value from using your product are more likely to recommend your SaaS business. But they might need help to do it.
How do you do it?
Implement loyalty programs.
Designed to encourage customer fidelity, a loyalty program has a high potential of nurturing long-term relationships between you and your users. This is mostly because they offer various incentives. Whether these are product discounts, rewards, or different privileges, users are more likely to support your brand publicly.
Social proof matters.
The more testimonials and reviews you obtain, the better. So, make sure you collect and display them, as they will allow potential users to understand your product.
10. Optimize Your Onboarding and Engagement
The onboarding and engagement processes are two crucial phases in your users' lifecycle. While one refers to the product interaction moment, the other is about post-adoption and focuses more on your repeat customers.
By optimizing and improving them, your chances of increasing conversion and retention rates are considerably higher.
How do you do it?
Offer comprehensive product training.
During onboarding, it is essential to walk the user through all the available features, emphasize the benefits offered, and give straightforward product usage directions. Try to provide a mix of interactive training sessions, online modules, and hands-on experiences and maintain a warm and welcoming atmosphere throughout the entire process.
Stay in touch with subscription customers.
Whether during the onboarding process or after product adoption, remaining close to your new customers is very important. Ask if they require your help, offer feedback and tips, and consider creating a helpful newsletter.
11. Make Your Product Stand Out
Easier said than done, correct? Standing out in a saturated market can be challenging. Still, it can be done. And usually, in the subscription game, the inspiration comes from users.
How do you do it?
Deliver exceptional value.
Today's marketing strategies are all about connecting value with customers. To achieve this goal, you need first to understand their demands. What are their specific needs? How are other products failing at delivering value? What can you implement regarding extra features that speak your customers' language? Perform thorough market research, look at the flaws of your competition, and try to turn mistakes into valuable product specs.
Get it from the horse's mouth.
To drive continuous improvement, you must actively listen to your customers' feedback and suggestions and incorporate them into your product enhancements.
12. Boost Subscription Sales Through Affiliate Programs
Affiliate programs can be an effective way to increase subscription sales. You are leveraging the reach and influence of your partners as long as you do it the right way.
How do you do it?
Define your affiliate program and recruit the right partners.
It's necessary to have everything planned and organized, especially the incentives or commissions you will offer your partners. Also, consider the affiliate's audiences and whether they align with your targeted public.
Work with a strong partner that can help you manage your affiliate programs.
It is crucial to have control over these revenue streams.
Meet PayPro Global.
Your Dedicated eCommerce Partner.
How Can PayPro Global Help?
PayPro Global's unified eCommerce solution, packed with numerous dedicated subscription management features, is the right partner for your SaaS business.
Gain access to extensive AI-powered capabilities and perform ongoing testing on different strategies, enabling you to decide which techniques perform best.
Offer your customers localized shopping experiences and allow them to pay how they want. Combining over 140 currencies with localized processing routing, followed by a dynamic cascading system that effectively guides your customer's transactions throughout an extensive infrastructure, we help you reach customers all over the world.
PayPro Global takes care of all the behind-the-scenes payment technicalities, boosting your sales and revenue.
By allowing you to test different pricing models, including the freemium model, up-selling and cross-selling campaigns, as well as supporting trials and automatic renewals and offering dedicated 24/7/365 customer support, PayPro Global is the partner that can help your subscription business expand worldwide.
Final Thoughts
The subscription economy has been on the rise for some time, and there are no signs that it will slow down anytime soon.
As a subscription-based business owner, you need to be able to develop a strong marketing plan, using different puzzle pieces to obtain the best possible results.
It's important to increase the lifetime customer value, use all available marketing channels to promote your subscription offering, and offer your full support to both your customers, potential and existing.
Whatever technique you decide to try, remember that subscriptions are a rare bird among SaaS companies.
To ensure constant growth, you need to add your personal touch to the strategies implemented and develop a plan that allows you to achieve two goals, not one.
Always focus on finetuning the acquiring process and working to improve customer retention if you want to successfully sell your digital products.
It doesn't take luck to make it, but it does take knowledge. Be the first to learn the latest industry insights and must know marketing tips and tricks. Sign up and enjoy! Always informed. Never Spammed.