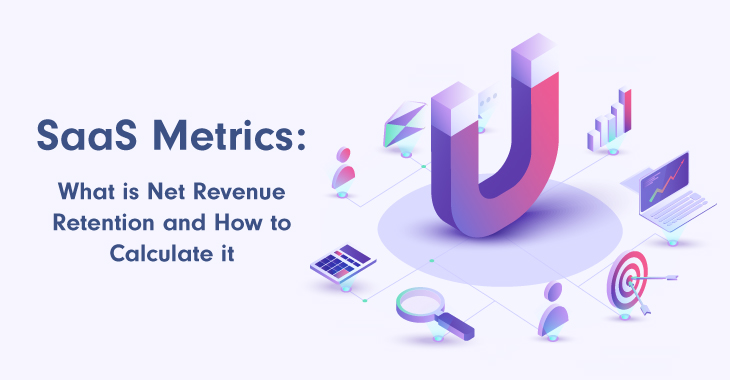 SaaS Metrics: What is Net Revenue Retention and How to Calculate it
$1.5 trillion. That's how much the subscription economy is projected to be worth in 2025. Being part of one of the fastest-growing markets is, without a doubt, good for business. But do you know what else is even better for business? Tracking your performance by routinely checking metrics designed to lead you to success. When it comes to achieving sustainable growth in subscription businesses, one gold standard metric is the net retention revenue rate (NRR).
SaaS founders, leaders, and even product developers know how important it is to look after your existing customer base and monthly recurring revenue. One important way to do this is to ensure that revenue leakages are not left unattended. Since NRR offers great insights on both matters, it's no wonder everyone turns to this metric to keep the growth graph rising.
So let's get into it:
What is Net Retention Revenue (NRR)?
Net revenue retention rate, also known as net dollar retention, is a key metric that measures recurring revenue generated from existing customers over a set period of time. While NRR does not include new customers, it recognizes downgrades, upgrades, and even customer churn to correctly indicate a company's true growth potential.
Out of the many customer success KPIs SaaS companies use to measure company financial performance, NRR is the most popular one, mainly because it gives you a complete overview of your active subscriptions as well as the total revenue derived from them.
Calculating Net Revenue Retention
The reason SaaS leaders focus on NRR is that, out of all the other revenue-monitoring metrics, it gives you the full picture, offering insights into product adoption, expansion, and even customer satisfaction. Because of this, the net revenue retention formula is complex, requiring you to understand these four standards:
Starting MRR
This metric refers to recurring revenue gained at the beginning of a set period of time. To calculate it, you must add the total recurring revenue generated at the beginning of the month.
Expansion MRR
This represents supplementary revenue generated by either upgrades or additional product purchases. To calculate expansion revenue, you need to add all the additional revenue gained within a month.
Contraction MRR
This metric is the sum of your total losses in MRR due to downgrades.
Churn MRR
This metric indicates how much revenue you've lost due to account cancellations. To find out the value, add the MRR of lost customers over a set period of time.
Having all four values ready, you can calculate your net revenue rate using the following formula:

As an example, let's assume that Company A has the following numbers:
Starting MRR: $10,000
Expansion MRR: $2000
Contraction MRR: $500
Churned MRR: $1000
The NRR would be ($10,000 + $2,000 - $500 - $1000) / $10,000) x 100, which is 105%, which is average, as benchmarks will soon tell you.
NRR Benchmarks
Understanding industry benchmarks and how your NRR rate compares to them allows you to figure out if your growth tactics are working and if you're on the right track. Before we dive in, it is worth mentioning that benchmarks can vary depending on a company's size and growth stage.
A solid NRR for a SaaS company should be above 100%, but high-performing companies can reach NRRs of even 140%. SMBs, on the other hand, usually have an NRR of 90%. Anything below that indicates that something isn't working as it should.
Why Does NRR Matter?
Slack, Snowflake, Twilio, what do these companies all have in common? An NRR above 100%, indicating scalable, predictable growth.
While the subscription industry continues to be regarded as incredibly fast-growing, being part of a volatile economy has made many SaaS leaders abstain from a "grow-at-all-costs" perspective to a more focused approach in achieving a sustainable expansion. This means paying more attention to your existing customers and their needs rather than putting all your efforts and resources into winning new users. To clarify, without working hard on customer retention and user acquisition, while a crucial part of securing company growth, might cost you more than you can handle.
Simply monitoring your MRR is not enough.
High churn rates and account downgrades can have a serious impact on your company's growth because they often indicate issues with your pricing strategies, onboarding processes, and even the overall customer experience. By looking solely at your monthly earnings and getting excited about the high acquisition rate, your business performance is at a standstill in the long run.
That's why NRR is a game-changer and rests at the heart of sustainable growth. With NRR tracking your entire history with an existing customer gives you access to the good and bad of that relationship. Retention is the soul of the subscription industry, so the higher that rate is, the better it will be for your SaaS company.
4 Net Revenue Retention Best Practices
1. Reduce Customer Churn
Churn is bad news for any SaaS business, but working hard to reduce it will pay off. Since revenue churn can impact all things revenue, it's safe to say that NRR is one of its victims. Before we get into how you can improve your churn rate, it's important to understand that there is voluntary and involuntary churn. Each has specific causes, and fixing them will result in less lost revenue.
It's possible your subscribers are saying goodbye due to increased friction when operating with your product. Perhaps your product might be outdated and no longer serves the needs of your users. Your customer support, or better said, the lack of it, could also be causing account cancellations. An ineffective pricing strategy is another reason to consider if you're losing customers.
By frequently adding new features, you'll keep your product relevant to your customer base. Also, remember to make it user-friendly, and invest in customer support. Look for low-hanging fruit like a well-managed knowledge base and consider improving your pricing or testing other strategies as additional strategies to increase satisfaction among your buyers.
As for involuntary churn, also known as the silent revenue killer, a solid dunning management system should keep these numbers down by preventing this type of churn altogether.
2. Improve Your Onboarding Process
Your company's onboarding process not only represents the user's first real experience with your product, it also shapes their perception of it. Keep in mind, you only get one chance to make a really good first impression. A complicated onboarding process might really turn otherwise enthusiastic users away, whereas a great experience will convince them they made the right decision in choosing to work with you.
When it comes to offering compelling onboarding experiences, be sure to:
Keep the onboarding flow simple and straightforward.
Personalize the user's journey as much as possible to show how helpful your solution is.
Offer an interactive walkthrough packed with how-to videos and guides.
Collect user feedback and act upon it.
Improving your onboarding process isn't a one-time-only thing. It is a work in progress, especially if you are continually updating the system or adding new features. Because it is highly rewarding in terms of user retention, it's well worth the effort put into this initiative.
3. Enhance Customer Experiences
When solid customer support joins forces with true customer success, you get powerfully positive user experiences. Our industry which is so heavily focused on experience, makes all the sense in the world to imagine that the happier your users are, the greater your NRR will be.
You can win their appreciation through personalized and timely support that aims to solve all issues your users might be facing when using your solution. Another thing you could do is to regularly check up on them and see if you could further address any concerns. This is an excellent way to prevent them from churning.
In the SaaS world, everyone talks about how important feedback is, but many businesses fail to act upon it. You could use your collected data to further personalize your offer to better fit your users' needs and expectations and actually make targeted product improvements with this info. Also, consider using NPS surveys to take the temperature amongst your users. Customers with low NPS scores might be a click away from churning, so give those your complete and undivided attention and convince them to stay.
In summary, the more your users feel like they are seen and heard, the longer they will return for renewal after renewal .
4. Offer Personalized Upsells and Cross-sells
Upselling, and cross-selling are great ways to increase recurring revenue, but you need to make them as relevant as possible to your existing customers. One of the reasons SaaS businesses fail to capitalize more on these strategies is that they are not connecting the offer with the user's needs.
You're given a door into the mind of your users through customer feedback, and you would be wise to use them to your best advantage. Personalize your upselling and cross-selling offers to ensure the highest chances of success.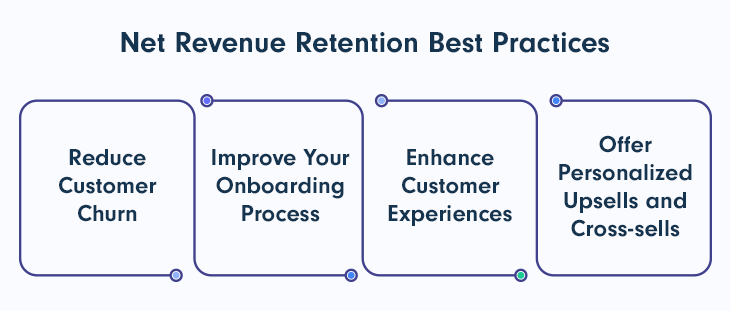 Net Retention Rate Vs. Gross Retention Rate
While they are revenue-focused metrics, NRR and GRR offer two different insights on retention revenue, which is why it is wise to track both to obtain a comprehensive view of your retention revenue.
The gross revenue retention rate measures the number of customers that remain subscribed to your service over a set period, subtracting churn from the total revenue. But unlike NRR, it does not consider downgrades and expansion MRR. For this reason, your GRR cannot exceed 100%. Keep in mind, the average GRR for SaaS companies is around 90%, and 80% for SMBs.
Meet PayPro Global.
Your Dedicated eCommerce Partner.
Thrive with the industry's most innovative all-in-one SaaS & Digital Goods solution. From high-performing payment and analytics tools to complete tax management, as well as subscription & billing handling, PayPro Global is ready to scale your SaaS.

Sell your SaaS globally with PayPro Global!
How Can PayPro Global Help?
PayPro Global's unified eCommerce solution offers the ideal blend between powerful payment tools, extensive SaaS reporting, and robust subscription management. Thanks to our innovative platform, SaaS, software, and digital goods creators can skyrocket their global growth effortlessly and in record time.
Having an in-depth understanding of the subscription model, PayPro Global helps you streamline customer retention through a robust dunning management system, which significantly increases annual revenue by retaining existing customers and reducing involuntary churn.
Additionally, you can adapt your pricing strategies, customize billing cycles and upsell offers, improve customer experience through the Self-service user portal, and offer grace periods and trials.
Through our extensive reporting capabilities, you can gain access to valuable insight into customer behavior and customer pain points and easily track your most crucial metrics, including the NRR. By keeping tabs on different customer segments, applying specific growth strategies, or reducing churn tactics, you can significantly increase your monthly basis earnings and begin generating additional revenue. Contact us today to find out how you can effectively manage payments worldwide and implement growth strategies, sure to consolidate a leading market position.
Final Thoughts
SaaS leaders cannot afford to leave customer retention as a low priority in our ever-changing economy. Increasing churn rates and customer acquisition costs will put your growth on hold. With NRR being the north star of revenue metrics, consistently tracking it needs to become a top priority for subscription companies.
Not only will you obtain a comprehensive view of your business's performance and revenue retained from your current customers, but you will be able to reduce churn, optimize annual recurring revenue streams and capitalize on long-term growth opportunities.
Frequently Asked Questions
What is the difference between NRR and gross retention rate?
While net revenue retention NRR considers several aspects like churned revenue, expansion revenue, as well as downgrades, gross revenue retention looks only at the number of customers that stay by your side. Because of this difference, gross revenue retention GRR can only offer a snapshot of customer satisfaction, whereas NRR gives you the full picture.
How can SaaS businesses reduce churn?
Lowering churn can be done by employing a number of tactics. First, you must identify the reasons why clients are churning. Perhaps your product is outdated, lacking features or adequate customer support. Once you have the causes revealed, you need to work on fixing them and thus reduce churn rates.
How can NRR impact a company's long-term success?
Since NRR assesses the level of customer satisfaction, this metric reveals areas that need improvements. Acting upon the insights received will ultimately have a serious impact on long-term business success.
How can PayPro Global help improve NRR?
PayPro Global offers seamless and localized payment experiences, instant access to strong reporting capabilities providing real time insights on key metrics and solid revenue recovery tools. Our all-in-one eCommerce solution can help streamline existing revenue streams and generate new ones.
It doesn't take luck to make it, but it does take knowledge. Be the first to learn the latest industry insights and must know marketing tips and tricks. Sign up and enjoy! Always informed. Never Spammed.