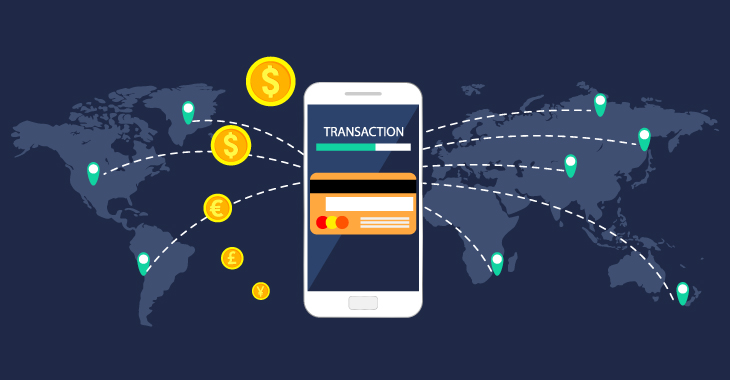 Published on March 9, 2023
Updated on September 1, 2023
Payment ISV Guide: Streamline Your Business Transactions
Given the rising trend of software publishers processing online transactions, it has become increasingly critical to have a dependable and efficient payment solution in place offered by trustworthy eCommerce partners.
To cater to the many SaaS and software businesses seeking a processing solution, Independent Software Vendors (ISVs) provide an extensive range of payment services, security and compliance features, and other value-added features.
Why are Payment ISVs a Hot Topic?
With 50% of small businesses using ISVs as payment providers, it's abundantly clear that this option is grabbing market share, most certainly due to rising demand for online and mobile payment options. Businesses and software users alike are always on the lookout for ways of accepting payments that are fast, dependable, easy to integrate, and above all else, capable of offering a seamless user experience.
Gaining access to a robust integrated payments ecosystem gives SaaS and software providers the much-needed tools to handle their transactions, including mobile and recurring payments, while streamlining and optimizing all customer interactions to increase SaaS retention.
Additionally, innovative integrated payment solutions take things to the next level by equipping the software vendor with fraud management protection and chargeback handling to stay ahead of the market.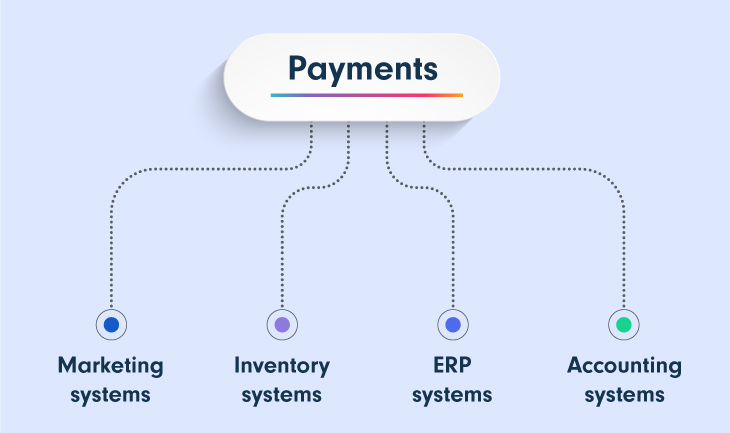 With data breaches and fraud attempts pushing businesses to further boost confidence and trust, integrated payment partners are implementing strong security measures and ensuring compliance with industry norms and current legislation.
Getting to know Payment ISVs
What Are Payment ISVs?
ISVs are an innovative solution and an important part of the payments industry. They process credit cards, mobile, and recurring payments and provide fraud prevention, enhanced security, and chargeback management to assist organizations in securing transactions.
Due to their easy-to-integrate technology, this interface allows companies to accept payments quickly and easily without costly programming. Integrated online payments also allow businesses to brand the processing system with their own logo and messaging, personalizing the payment experience.
4 Key Benefits Payment ISVs Offer SaaS Companies
With the help of an integrated payments partner, SaaS businesses can unlock an array of advantages:
Lower developmental expenses
With the help of payment ISVs, SaaS companies benefit from the vendor's expertise and infrastructure. With their efficiently implemented secure and dependable payment processing system, there are no substantial development efforts.
This approach can reduce significant associated costs and allow SaaS companies to focus on other aspects of their business.
Faster time to market
By utilizing payment ISVs, SaaS companies can expedite the implementation of their processing system, avoiding potential delays associated with developing a custom solution.
As a result, SaaS companies can bring their products and services to market more rapidly, gaining a significant competitive advantage. This streamlined approach can help SaaS companies stay ahead of the curve, benefit from explosive growth, and gain a foothold in the market faster.
Combat payment fraud
Integrated payment solutions are widely recognized as experts in security and compliance, devoting substantial resources to keep their systems updated with the latest security standards and regulations.
SaaS companies can leverage this expertise and ensure their payment processing systems are secure and compliant. This can help SaaS companies combat payment fraud and protect their customers' sensitive data, thus building trust and confidence in their brand.
Flexibility and scalability
These solutions are known for delivering comprehensive payment alternatives, including credit card processing, mobile payments, and recurring payments.
SaaS companies can give their clients numerous payment choices, providing a high degree of flexibility and catering to a greater range of payment preferences. Additionally, payment ISVs can scale their payment processing systems to handle the increasing transaction volume of business growth and expansion.
How do Payment ISVs Work? (step by step)
An integrated payment processing partner enables fast, secure business operations between companies and consumers. Their fundamental basics are:
Step 1:

The merchant enrolls in payment ISV services, providing the business's name, contact information, payment processing services needed, and estimated transaction volume. The ISV will also do KYC on the business and provide the merchant with a merchant account for payment processing. During the sign-up process, you will be required to link your merchant account to their platform to enable payment processing.





Note! Some payment ISVs may offer their own merchant account services as part of their platform, while others may require you to have an existing merchant account with a bank or payment processor. In either case, you will need to provide certain information and documentation to set up and activate your merchant account, such as your business information, tax identification number, and banking information.





It is important to note that merchant accounts may have associated fees and requirements, such as transaction fees, monthly minimums, and chargeback policies. Be sure to carefully review the terms and conditions of your merchant account and payment ISV to ensure you understand the fees and requirements associated with their services.



Step 2:

The payment ISV gives the business the tools to link its payment processing system with its website or software. The payment ISV's system and the merchant's website or software usually communicate via plugins or APIs to ensure a seamless integration.
Step 3:

Once the integration process is completed, the merchant begins processing payments. The merchant's website or software allows customers to enter their payment information, which the processing system securely sends to the provider. The software provider can rest easily knowing that client payment information is delivered and handled securely and efficiently.
Step 4:

The payment ISV's system verifies the payment details and authorizes it, providing it meets the requirements. Afterward, the system promptly and properly evaluates the payment information to establish authorization eligibility.
Step 5:

The payment ISV's system transfers funds from the customer's account to the merchant's account after authorization. Before doing so, transaction fees and other expenses are normally deducted. The payment ISV's system ensures accurate and fast payment settlement, allowing the merchant to receive consumer payments immediately. However, this will depend on the merchant agreement, as it can be monthly or bi-monthly.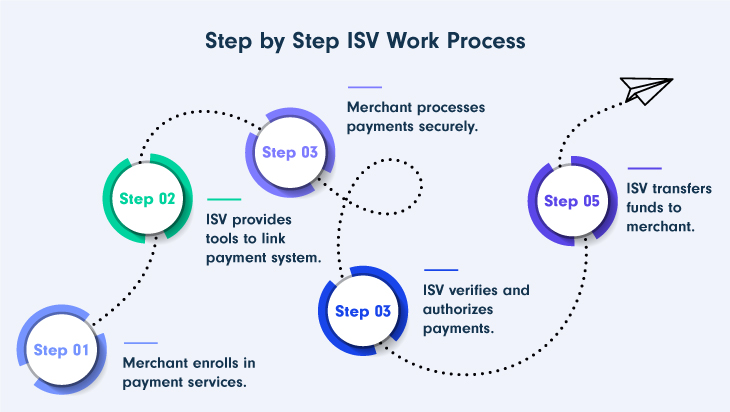 5 Payment ISV Business Models
Payment Independent Software Vendors offer processing services and solutions under various business models, such as:
Aggregator
Merchants and processors use aggregators. They provide merchants with several services in one easy-to-use platform. Aggregators profit from processor transaction fees.
White-label
White-label payment merchants may modify ISV payment platforms. The merchant can then brand their payment processing services. White-label payment ISVs make money via transaction fees or platform usage fees.
API vendor
Developers can integrate payment processing into their programs using APIs from providers. API providers make money by charging a portion of transaction fees or a monthly or annual fee.
Customization
Developer fees ISVs create merchant-specific payment processing solutions. This may entail specialized software development, system integration, and payment processing.
Processor

Gateway payment ISVs connect merchant websites or software to payment processors. They facilitate data flow between merchants and payment processors. Gateway payment ISVs charge a portion of transaction fees or a monthly or annual fee.
What to Look for in a Payment ISV: 6 Key Indicators
To make sure your SaaS grows at a rapid pace, you should consider these details when choosing a payment ISV:
Payment Options
Choose a payment ISV that supports your customers' preferred payment methods. Credit cards, e-wallets, mobile payments, and bank transfers are examples.
Integrations
Integrated payment solutions offer accounting and e-commerce tools. To prevent development work, partner with a system that integrates with your software stack.
ISV Payment Technology
Evaluate the technology used by the integrated payment solution and choose a payment processor that uses encryption and fraud detection.
Approval Times
Payment ISV approval times vary. To avoid customer payment delays, use a provider with fast approval times.
Charges
The fees integrated payment platforms charge tend to vary considerably. It would be wise to carefully evaluate this detail to meet your budget requirements.
Expertise
Choose a payment provider with a solid reputation for reliable payment processing. To do so, verify reviews and testimonials provided by SaaS developers.
8 Reasons Why SaaS Companies Should Use Payment ISVs
Boosted security
As cyber threats evolve and become more complex, protecting customer data is more important than ever. Making sure your customers' information remains secure entails modern encryption technology, two-step verification protocols, and other progressive security measures.
Ensured compliance
Compliance with industry regulations such as PCI DSS and GDPR is key to protecting your customers, avoiding hefty penalties, and ultimately staying ahead of the game. Make sure that all software systems used in your business are meeting these standards.
Seamless checkout experience
Customers should experience a smooth, stress-free checkout no matter their payment preference; from traditional cards to modern mobile payments - make sure the process is quick and effortless.
Personalized customer interactions
Personalization is a powerful tool, allowing you to create positive customer experiences and boost sales. Leverage data analytics capabilities to target customers with tailored offers based on their unique preferences and buying habits. Personalized content that speaks directly to each individual's needs is key to success.
Recurring payments
With recurring payments enabled in your payment system, customers can set up reliable billing cycles that facilitate convenient access for both parties involved. The key is powerful subscription management tools.
Optimized mobile payments
Online purchases are increasingly being made on mobile devices. Ensure your payment system is responsive, including mobile-friendly checkout pages.
Excellent customer support
Customer satisfaction is always a high priority - so be sure to provide round-the-clock support for any questions or issues related to payments. A responsive team is key to keeping customers happy and loyal.
Data analytics & reporting
By leveraging the power of data analytics, businesses can gain a deeper understanding of customer habits and payment preferences. With this newfound insight at your disposal, you are perfectly positioned to optimize payment systems and enhance user experiences in ways that were never before thought possible.
Meet PayPro Global.
Your Dedicated eCommerce Partner.
Thrive with the industry's most innovative all-in-one SaaS & Digital Goods solution. From high-performing payment and analytics tools to complete tax management, as well as subscription & billing handling, PayPro Global is ready to scale your SaaS.
Sell your SaaS globally with PayPro Global!
How Can PayPro Global Help?
PayPro Global has been essential in revolutionizing the eCommerce market, giving SaaS providers, as well as software and digital goods developers across the globe a comprehensive solution to grow their business.
Our specialized services range from offering countless payment options and fraud prevention techniques to ensuring complete subscription management while providing access to powerful AI-driven reporting, all done with utmost security. Ready to handle multiple pricing models and strategies, from freemium to usage-based billing, we can help you increase your profits.
With our dedicated team by your side, you can tap into new markets and optimize and gain additional revenue streams for maximum success. So don't wait any longer, let us help accelerate your journey toward achieving your business goals!
Final Thoughts
Payment ISVs (Independent Software Vendors), like Merchant of Record, offer secure and effective payment processing systems and are a valuable service to organizations. The two are different business models, but they share a common focus on enhancing payment experiences. Through this integrated approach, businesses can streamline their payment processes, save time and money, and give their consumers a better experience by outsourcing processing to a payment ISV.
Payment ISVs are expected to play an increasingly significant role in assisting businesses with their payment transactions. They will do so more effectively and securely as the environment of digital payments continues to change. Businesses can guarantee that they are offering the finest payment experience for their clients while streamlining their own operations, all the while remaining up to date with the most recent payment processing technologies and best practices and enjoying several value-added services.
SaaS subscription service allows you to pay an ongoing annual or monthly fee, whereas on-premise solutions come at one initial cost.
It doesn't take luck to make it, but it does take knowledge. Be the first to learn the latest industry insights and must know marketing tips and tricks. Sign up and enjoy! Always informed. Never Spammed.