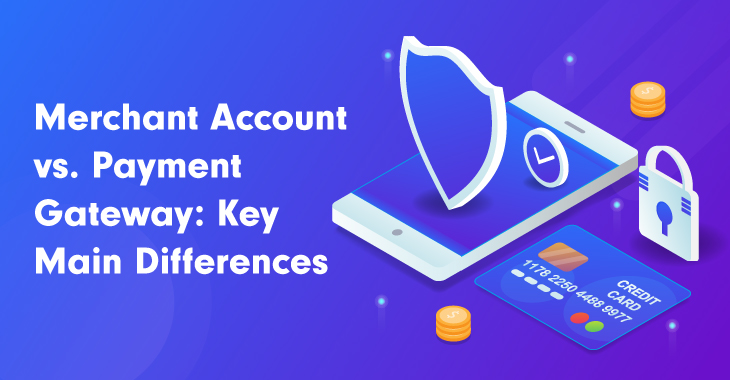 Published on December 6, 2022
Updated on May 10, 2023
Merchant Account vs. Payment Gateway: Key Main Differences
If you're in the process of launching a SaaS product or service, you've probably heard of the terms "merchant account" and "payment gateway". But do you really know what the difference is between the two? And have you worked out which one would be best suited to your SaaS business?
In this article, we tackle the topic of merchant accounts vs. payment gateways so that you don't have to.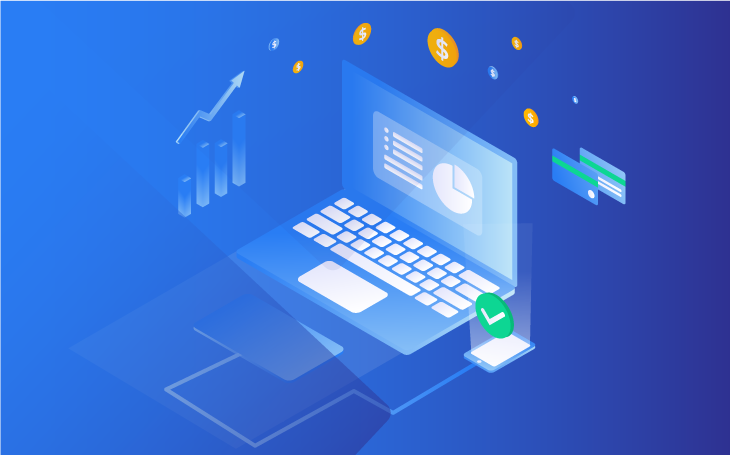 What is a Merchant Account?
A merchant account is a type of bank account that enables businesses to accept credit card payments and other electronic payments from customers. Your business needs a merchant account if you're going to process payments through your website using a payment gateway. Money will pass through your merchant account and flow into your bank account.
However, you won't access funds from the merchant account. It merely acts as a "middleman" between your business and the banks to acquire funds and transfer them into your business account. All the revenue is stored in the merchant account until the settlement date, which typically occurs once a week. Once the funds are settled, they are transferred to your business bank account. Many confuse a merchant account with a business bank account — but they're two very different entities!
There are many companies, financial institutions, and banks that provide merchant accounts. Even some payment processors and payment gateways may have merchant services to offer.

The 2 Types of Merchant Accounts
1. Standard Merchant Accounts vs. Internet Merchant Accounts
An internet merchant account is specifically designed to handle online payments made with credit or debit cards. On the other hand, a standard merchant account is used to process credit or debit card transactions in person, such as those that occur at a physical store or location.
This difference is significant because online payments are generally considered to be riskier compared to card-present transactions. As a result, internet merchant accounts often come with higher fees to cover the additional risks that are associated with processing online payments.
2. PSPs and Independent Sales Organizations (ISOs)
For smaller businesses, payment service providers are often the ideal option for easily processing payments. These independent companies offer low setup costs and reduced maintenance fees compared to Independent Sales Organizations and areperfect for smaller organizations that are unable or unwilling to manage more complex transactions.
Alternatively, ISOs have higher overhead expenses but generate greater profits when dealing with larger sales volumes, and therefore are a great solution for bigger businesses looking to scale their operations quickly!
Differing Features of Merchant Accounts
Not all merchant accounts are created equal. Take a look at some of the differences you'll find when exploring the various options that are out there:
1. Multi-Currency vs. Single-Currency Accounts
Not all merchant accounts can process global currencies. Some operate only in USD, so if you want to expand your business, make sure your merchant account is multi-currency.
2. Not All Underwriting Is Equally Strong
The best merchant accounts have been through a custom underwriting process, ensuring your business has the right coverage level for your transactional risk. This process also means that the chances of you running into difficulties with miscalculations or other complications are low.
Some Are Shared Accounts
Your business' risk profile is unique. However, some merchant accounts will be aggregated accounts, covering all the merchants serviced by that payment gateway. Aggregated accounts may benefit some businesses, particularly those with a higher SaaS risk profile. But it will likely be a drawback for those with low exposure since their lower risk factors cover those that are riskier.
Be sure to check whether your merchant account is dedicated or aggregated. Once you know, you can evaluate which would be the most advantageous to your business needs!
Advantages of Merchant Accounts
While merchant accounts are mandatory in running a business, there are several advantages SaaS developers will enjoy.
The major benefits are that they can help you to:
Improve your cash flow
Increase your sales
Stay competitive in the market
Protect your business against online fraud
Obtain detailed reporting and analytics
High-Risk vs. Low-Risk Merchant Accounts
A high-risk merchant account is one where the products sold pose a higher risk of chargebacks, and refund claims are thought to produce a high number of incidents. "High risk" would apply to merchants in the gambling, forex, and online dating sectors, for example.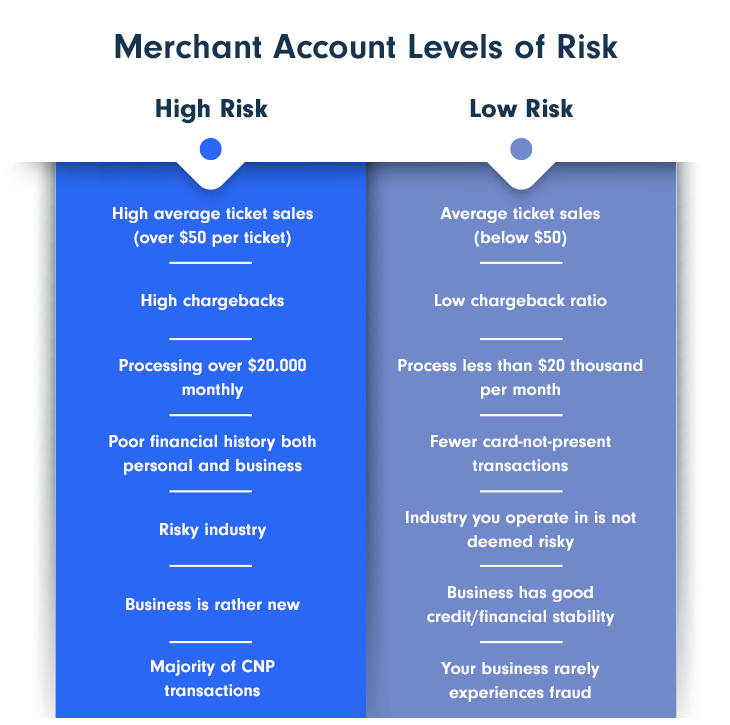 Newer businesses are usually labeled as high-risk, as are those with high sales volumes or expensive, high-end products. As a result, these accounts will generally come with higher fees than regular or low-risk merchant accounts.
A low-risk merchant will have high transparency and a low risk of chargeback and refund claims from their customers. They often sell low-risk items and have smaller sales numbers. In some instances, there are companies that sell a very reliable product and have a long history of little to no exposure to these types of threats.
Keep in mind that SaaS businesses generally fall into the high-risk category. Subscription-based companies are labeled high-risk, as customers forget about free trials lapsing and then request the money to be credited to their accounts.
What is the difference between a merchant account and a business account?
When considering financial accounts for businesses, keep in mind the two distinct types that serve different purposes: a merchant account and a business account.
To begin with, a merchant account is a unique and specialized bank account designed to allow businesses to accept electronic payments, such as credit card payments, from their customers. These accounts are typically established with a merchant services provider that processes transactions and, in turn, charges fees for their services. Funds obtained from these transactions are subsequently deposited into the merchant account, which can then be transferred to a standard business bank account.
By contrast, a business account is a general-purpose bank account that caters to day-to-day business operations. Its primary usage involves depositing and withdrawing funds, paying bills, and managing cash flow. Although it is capable of receiving customer payments, a business account lacks the specialized features and capabilities of a merchant account.
How Do I Get a Merchant Account?
To operate an e-commerce business, you'll need at least one internet merchant account. To set this up, it's usually easiest to approach the bank that holds your business or personal account.
A previous or established relationship can lead the way to an excellent business partnership, making things possibly faster and easier.
Be aware that merchant account vendors will apply specific criteria to your business when deciding whether or not to offer you an account. These criteria can include whether your business is high or low risk in terms of credit card transactions, the age of the company, your business history, and your merchant account history, all of which they will be inquiring about.
Remember that being "high risk" isn't necessarily a bad thing, and some industries like software or SaaS are classified as high-risk by default. It may just come with higher processing fees, which you can renegotiate at a later stage.
Also, some online payment gateway providers provide full payment solutions and include a merchant account with the package.
What is a Payment Gateway?
A payment gateway connects your customers' banks to your merchant account so the funds can go from theirs to yours during payment transactions. The gateway collects all the necessary transaction details and passes them on to your payment processor or merchant account. Thus, customers making online payments don't interact with your PSP or merchant account — they interact with the payment gateway.
The payment gateway stores and verifies the payment information, ensuring that the money is available, and then transfers the funds to you. This process takes place while making sure the information is entirely secure.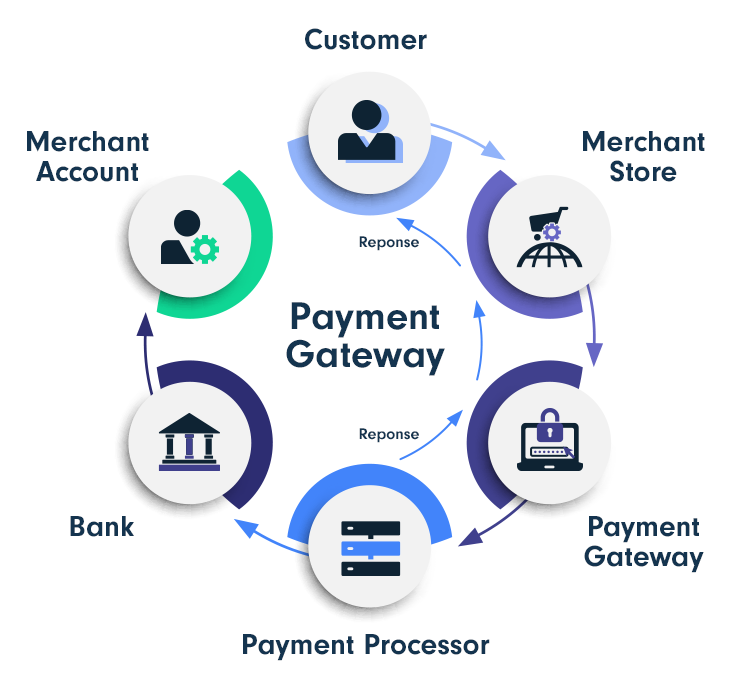 A payment gateway:
Integrates with your online store.
Captures details securely from transactions.
Sends this information to the payment processor or bank.
Sends a "funds approved" or "declined" message to the merchant.
If the transaction is approved, the customer will be directed to the next step of the payment process.
Types of Payment Gateways: Classic Gateways vs. Modern Gateways
A classic gateway requires a more complex process when setting up your merchant and business bank account. A modern gateway, in turn, is all-inclusive and relatively quick to set up. They have shifted their business model to a PSP.
Nowadays, the majority of PSPs and acquiring banks incorporate a gateway service. Plain gateways that only provide this solution are now being deprecated.
Modern gateways are connected to multiple acquiring banks and payment processors, providing the merchant with various merchant account options.
If you're a larger business transacting worldwide, a modern gateway is probably the better option. This gateway is better suited to large companies because it supports rapid global scaling, offers local payment methods and currencies, and better customer experiences.
Differing Features of Payment Gateways
As with merchant accounts, payment gateways also have a primary function. However, some gateways offer more robust services than others, making them the more desirable choice.
Here's what to look out for:
Multiple payment methods — many customers like paying in various ways, not just with credit and debit cards. Different payment options could attract a broader range of customers, particularly on a global scale.
Fraud protection services, including comprehensive prevention and detection.
Automated billing and related services. If your business has a subscription model, you can probably benefit from recurring billing tools, including payment reminders, billing plans, and automatic updates to customer information.
Fast payment processing - it's essential to ensure that funds get transferred without delay and that customers obtain a streamlined user experience.
Payment analytics, which can be invaluable for understanding and driving business growth.
How Does a Payment Gateway Work?
Still not quite sure how a payment gateway works?
Follow this typical scenario for a helpful summary of the entire process:
A customer submits their order, and the payment details go to the gateway.
The gateway encrypts the data and sends it to the payment processor.
The payment processor sends this data to the customer's bank for authorization.
The payment processor then sends the message of whether the funds are approved or declined.
Finally, the gateway lets the customer and merchant know of the decision.

Advantages of Payment Gateways
Payment gateways are ideal for e-commerce businesses because:
They help to create a smooth buying experience for the customer.
The easy checkout experience means you'll likely make more sales and catch impulse-buying customers.
They're security compliant, providing safe ways to do online transactions.
They provide multiple payment options, chargeback prevention, fraud management, and recurring billing.
Is a Payment Service Provider (PSP) the Same as a Payment Gateway?
When it comes to online payments, a Payment Service Provider (PSP) is an ideal solution for some businesses. By creating connections with different payment processors and consolidating transactions under one primary merchant account, customers can complete secure purchases seamlessly.
Keep in mind PSPs work in tandem with a payment gateway by providing encryption and verification on the back end of each transaction for extra security measures. Ultimately this collaboration between PSPs and gateways makes this convenient eCommerce process possible!
Merchant Account vs. Payment Gateway: How To Choose the Right One for Your SaaS Business
Many people think that a merchant account and a payment gateway are the same or that your business requires only one to operate. However, it's vital to remember the two have entirely different functions. You'll need a merchant account and a payment gateway if you have a business that accepts payments via credit card.
To choose a merchant account, you'll want to consider finding one available in your preferred currency. Another important feature when selecting a partner is accessing your account information quickly. In addition, check to make sure that there's no limit on monthly processing volume or any other hidden fees. You can choose between a PSP merchant account or an ISO merchant account, depending on the needs of your business model.
Meet PayPro Global.
The Merchant of Record that helps you grow.
PayPro Global takes away the headache of selling your products worldwide. From local payment methods to simplified subscription handling and tax management, we give you the eCommerce tools you need to scale your business smoothly into the global market.
When choosing a payment gateway, everyone agrees that security is the most critical factor. Remember that your chosen gateway must be PCI-compliant and protected by a good-quality SSL certification. Your payment gateway should also be compatible with as many currencies as possible and accept multiple payment methods, considering any alternative payments widely used in the specific countries where you may be doing business.
Lastly, look for a payment gateway that will detect and manage fraud. The importance of this cannot be overemphasized since, in this day and age, security when it comes to these matters is more of a concern than ever.
How Can PayPro Global Help?
As the industry grows, so do the many opportunities for SaaS developers to grow their businesses and enter untapped markets. However, this means facing the complexities of online payments, worldwide compliance, and tax regulations, not to mention the growing threat of online fraud. Having to deal with an increased operational workload, business developers like yourself are left with less time to create new products and improve existing ones. This will inevitably put growth at a standstill, not securing a true payment revolution.
PayPro Global is the solution you seek. Part of the industry for over 15 years, we offer SaaS, software vendors, digital goods, and gaming creators a unique MoR business model meant to lift the burden of global payments operations off your shoulders. We are your trustworthy business partner, ready to handle your financial, legal, and administrative work. From payments and recurring billing to managing customer disputes, taxes, and compliance, PayPro Global has the tools, infrastructure, and expertise to drive global business growth.
Final Thoughts on Merchant Accounts vs. Payment Gateways
Navigating online payments can be problematic, especially if your SaaS business is not well established. However, you don't need to be a payments expert to grow your business through transactions alone. Learning about merchant accounts vs. payment gateways and evaluating your needs on an ongoing basis will help you make the best decisions for your business and remove the SaaS risk.
You can also grow your business quickly by partnering with an expert in the industry. Please get in touch with us if you need assistance. Pay Pro Global can handle everything from your global payments and sales tax/VAT to 24/7 customer support and everything in between, allowing you to focus on all your company needs.
The most significant cause of churn is when customers are not receiving enough value from the product or service to justify the expense.
Infrequent login or usage, requests for refunds due to changes in billing, dissatisfaction with product updates, and lack of loyalty benefits--all are sure signs that customers are unhappy.
FAQ
Is a Merchant Account the Same as a Payment Gateway?
No, a merchant account and a payment gateway aren't the same thing. Simply put, a merchant account allows you to accept credit and debit customer payments. In contrast, a payment gateway forms a connection point between your customer's bank account and your merchant account.
Why do I need a merchant account and payment gateway?
In order to Grow your business, you'll need to have the right tools to accept payments online. A merchant account and payment gateway combo will give you a safe, secure platform so customers can purchase from you with confidence without ever having to worry about data breaches or fraud. You are sure to be successful by building an integrated team of payment processing experts and structuring the proper protocols for your business.
It doesn't take luck to make it, but it does take knowledge. Be the first to learn the latest industry insights and must know marketing tips and tricks. Sign up and enjoy! Always informed. Never Spammed.