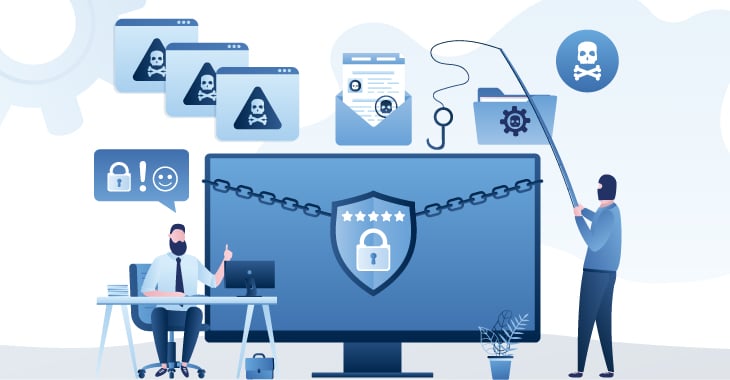 Published on May 11, 2023
Updated on May 11, 2023
Keep Your Digital Products Safe: 9 Ways For Keeping Online Piracy Away
Once upon a time, the low quality of pirated digital content as well as the complicated manner in which you gained access to it, were enough to put users off. This, of course, made digital product creators worry less about the security of their business. Today, things are quite different in the world, as digital piracy has become more user-friendly and more and more people are watching pirated content.
Indeed, selling digital products eliminates many of the logistical frustrations connected with physical products, but it exposes you to what is now a huge threat: digital privacy.
With the dramatic rise in threats, online piracy is now perceived as a problem, having the potential to undermine the uprising post-pandemic growth of the digital goods market. For obvious reasons, the majority of developers are now taking a proactive approach to resolving this issue. In other words, there is cause for hope. That being said, let's further explore this timely topic and dive into the most pertinent information surrounding the controversy, alongside some practical safety tips for digital piracy:
What is Digital Piracy, and Why is it Such a Big Deal?
Digital piracy is regarded as the unauthorized use or distribution of copyright-protected digital content such as software, eBooks, movies, music videos, or eLearning material. Furthermore, online piracy can also include someone using bits of your brand for their own benefit.
While this circumstance might be an unfortunate consequence of the eCommerce business, its repercussions go well beyond product creators. Considering they have lost significant millions in sales due to pirated content and have had their reputations affected, there is certainly reason for concern.
Unfortunately, the far-reaching consequences of digital piracy now extend to consumers and social frameworks. Buyers are exposed to low-quality or otherwise dangerous content as a result of copied materials circulating freely. Additionally, the flourishing presence of piracy within this market segment discourages investors, making it almost impossible for creators to grow.
Plus, an increasingly complex legal framework is making it very difficult and costly for content creators to obtain rights over their own work, leaving them unable to protect their products from online piracy.
Digital Content Piracy In Numbers
There is nothing better to prove the true impact of digital piracy than numbers. So, here is what statistics reveal about this global pandemic.
9 Safety Tips for Digital Piracy
1. Invest in a Strong Anti-Piracy Solution
One of the best things you can do when putting into place an effective protection plan is the use of anti-piracy software. For the sake of the profitability of your business, you need to be able to create, release and, most importantly, distribute digital products without the risk of losing them to online piracy.
When you integrate a robust security solution, you have the ability to better mitigate piracy threats, reduce investment losses and ensure long-term value and profitability. When choosing a provider for your business, make sure you consider software that offers ongoing monitoring, automated or human-led, and that has the necessary technology to quickly detect security breaches and take swift action against them.
Also, don't forget to consider your present and future needs, as well as the growth stage your company is in. Considering that the digital products market is growing at a fast pace, a scalable anti-piracy solution may be the right option for a promising start-up.
2. Use DRM (Digital Rights Management)
Focused on preventing content from being unlawfully distributed, DRM technology is used to control and manage access to copyrighted material. From file privacy to securing ownership and appropriate content access, employing digital rights management correctly brings a slew of benefits while also making it more difficult for digital products to be pirated.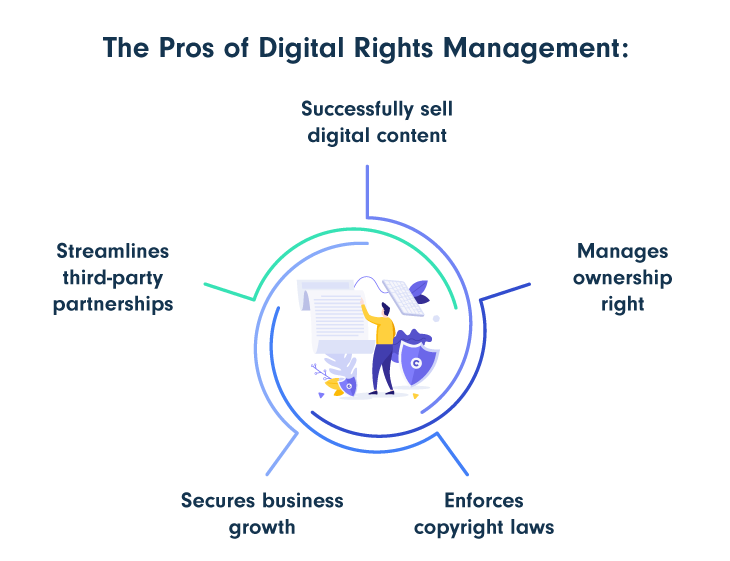 However, keep in mind that DRM can be perceived as a barrier for legitimate users in terms of accessing the products. Therefore, to get the best of both worlds, when implementing DRM technology, it is crucial that you find that sweet spot between keeping your digital content safe and maintaining its accessibility for your users.
3. Copyright Your Digital Product
While copyrighting might not directly prevent digital theft, it will certainly make it easier for you to seek compensation in case illegal copies of your product are distributed. By copyrighting your creative work, you are legally recognized as the rightful owner of your content, and you have the right to file for copyright infringement.
Given that this is a legal matter, you need to be aware that regulations may vary from country to country, copyrights are not universal, and not all products can be copyrighted. Therefore, the process of obtaining ownership over your digital products should be overseen by a lawyer, specialized in copyright laws in the countries you are selling your digital products.
4. Watermark Your Product
Watermarking your digital product is very much like putting a stamp on it. It is an effective measure against digital piracy, usually part of a larger DRM strategy focused on making it considerably difficult for your intellectual property to get distributed without permission.
The great thing about watermarking your products is that not only are you making it harder for a leak to occur, but should it take place, you can easily identify the source of the leak and work with law enforcement authorities to take further measures. Furthermore, this measure also limits different distribution actions like print or download.
So, it is essential that you consider the type of content you are offering as well as your target audience when thinking about piracy. While an efficient measure, it's possible watermarking digital products could alienate potential buyers or customers.
It is very important to take into consideration the type of content you wish to protect and put into place the best plan to prevent content piracy.
5. Educate Your Audience About Illegal Content
With pirate websites worldwide receiving 182 billion visits in 2021, it is safe to say that piracy has become the norm. Believe it or not, internet users may not understand the implications of this issue, specifically the legal ones. While we are passed nipping digital piracy in the bud, we can still decrease these incidents by educating audiences on this topic. Information can prove successful in combating piracy.

Dedicate some time to informing your users about the risks they are exposing themselves to, like downloading viruses or malware, as well as the legal repercussions they could face when choosing to pirate digital content. Ensure open communication and expose the risks of purchasing unauthorized copies. After all, this is an important step in a comprehensive content security strategy.
6. Set-up Product Licenses
You can't fight a war against ghosts, but you can, however, fight for control of what belongs to you. Battling digital piracy requires ongoing effort and smart technology used to ensure that only the right people have access to your legitimate services or products. And by the right people, we mean legitimate, paying users. Setting up product licenses is one way to approach file sharing and ensure your content is automatically protected.
Because it can be customized to fully suit your business needs, from limiting the number of users to that of devices, it gives you greater freedom to accommodate your target audience.
Additionally, by investing in dedicated license management software, you can automate the process. This will help you avoid digital piracy and more time to focus on other relevant areas of your business.
7. Password and Encryption To Protect Your Products
The era of unprotected digital content is long gone. Today, it's absolutely necessary to make it difficult for content pirates to steal your work. Passwords and encryption should be regarded as strong barriers to entry, preventing unauthorized access to your original content.
Through the use of secure and regularly updated passwords and encryption, in addition to two-factor authentication to obtain an extra layer of security, you can:
Make it difficult for someone to gain access to your files, discouraging piracy.
Track downloads by looking at usage logs and check if someone is stealing content.
Identify suspicious user behavior and disable access where necessary.
8. Monitor for Pirated Content
To effectively protect your digital products, you need to know exactly what is being pirated and, above all else, when this is occurring. Monitoring your business ecosystem is key to keeping track of everything that happens and allows you to respond swiftly as soon as breaches take place.
Active monitoring is best achieved through dedicated solutions that automate the entire process and employ the latest technology, leaving no stone unturned. Consider implementing automated online monitoring software from the very beginning or as soon as possible.
This would allow you to detect piracy instances, take concrete action and consistently personalize your anti-piracy strategy based on the threats received.
9. Connect with your users
One of the main reasons users resort to digital piracy for access to products is price. Consumers look for pirated content because it is cheaper. And, unfortunately for you, scammers have worked tirelessly to improve product quality, making pirated content even more appealing to consumers.
So, where does this leave you, the product creator that puts great effort, time, and resources into launching awesome products? The short answer is - at a great loss. However, there is still cause for hope, not just alarm. You can keep users active by offering fair prices that reflect your product value and investing in customer satisfaction, and building strong relationships.
Remember, price isn't everything to consumers. So, make sure you offer a complete package that includes quality products and superior customer support.
Meet PayPro Global.
Your Dedicated eCommerce Partner.
How Can PayPro Global Help?
PayPro Global is a complete solution ready to offer Software, SaaS, and digital goods developers the much-needed tools to successfully and easily sell their products around the world.
Offering content owners access to a complete growth infrastructure, covering areas like tax and compliance management, payment methods and currencies, and powerful real-time analytics, PayPro Global also handles product delivery.
We provide our partners with secure options when it comes to delivering the license key to their own content, streamlining the delivery, and protecting companies from digital piracy.
Additionally, using our state-of-the-art fraud prevention and detection platform, you can count on us to efficiently eliminate the risk of having your content pirated online, saving you time, money, and peace of mind.
Final Thoughts
You cannot stop piracy in this day and age. What started out as a shady hobby is now a serious criminal endeavor. Today, if you produce content, you need to protect it as well.
As a content creator, make sure you employ a comprehensive strategy to combat piracy that includes copyright content, limiting access to only those that are authorized, such as paying users, protecting the products, and closely monitoring your downloaded content.
Also, without any effort to educate your audience about the risks and damages produced by digital piracy, even when building strong relationships that keep customers satisfied, regardless of the price you are changing, there is no controlling piracy. Fighting digital piracy is now a mandatory practice for the sake of your business's health.
SaaS subscription service allows you to pay an ongoing annual or monthly fee, whereas on-premise solutions come at one initial cost.
FAQ
What is the most effective way to prevent digital piracy?
There is no single measure you can apply to prevent digital piracy, but rather a strong mix of solutions, which includes the use of DRM technology, constant monitoring of downloaded content, watermarking, encryption, and password protection, as well as product licensing.
Why is digital piracy such a big deal?
A common threat in today's digital landscape, piracy can easily result in millions of dollars in company losses while also significantly maligning the reputation of product creators and businesses. It can also lower the bar in terms of product quality, making it extremely difficult for businesses to put a fair price on value.
How can PayPro Global help prevent digital piracy?
PayPro Global's all-in-one eCommerce solution allows independent digital creators, as well as large and small businesses, to sell their products worldwide with our robust, built-in anti-fraud infrastructure. Through dedicated 24/7 payment-related support and various pricing tools, including promotion management, PayPro Global can help build long-lasting customer relationships.
Can watermarking prevent all digital piracy?
While watermarking cannot put an end to digital piracy, it is an effective tool that limits unauthorized access and distribution of your product. However, it is best to consider your audience and product type before deciding on the type of watermark you wish to use.
It doesn't take luck to make it, but it does take knowledge. Be the first to learn the latest industry insights and must know marketing tips and tricks. Sign up and enjoy! Always informed. Never Spammed.