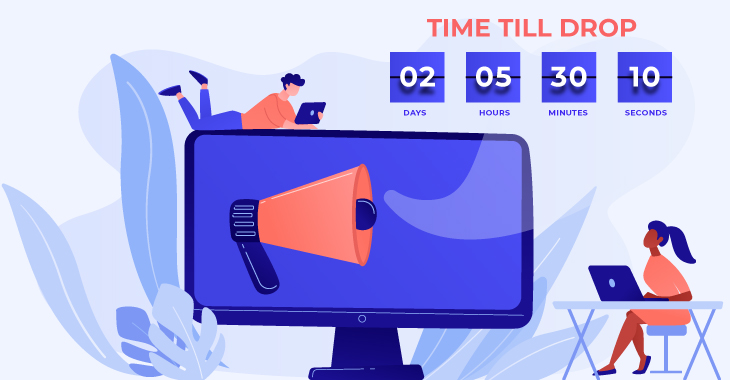 Published on October 19, 2023
Scarcity Marketing In SaaS: Definition + Tactics
Have you ever heard the phrase sale ends tomorrow and found yourself in an instant shopping frenzy?
There is a reason why.
Scarcity marketing functions on a straightforward and simple principle: people from all walks of life want what they can't have.
The rarer a product is, the more valuable it becomes. And this fear of missing out translates into a higher conversion rate for your business.
While scarcity marketing is often associated with the B2C sector, the SaaS industry is quite skilled at creating and leveraging a sense of urgency as well. In this article, we'll be diving deep into:
What Is Scarcity Marketing?
Scarcity marketing is a powerful strategy used by business owners that creates a perception of limited availability to encourage customers to take quick action, which increases sales.
Using scarcity tactics like time-limited offers extensively leverages the fear of missing out (FOMO), intensifying a must-have feeling for a specific product, as well as a shopper's desire to obtain something that is difficult to come by.
How Scarcity Marketing Works?
It all started with two jars of cookies.
As part of a marketing experiment, shoppers were given two cookie jars to choose from, one that had 10 cookies inside and another with only two. Guess which one won!
Exactly, the two-cookie jar.
It wasn't about taste but availability.
In any competitive industry, which the SaaS one happens to be in, the key to boosting sales is to position your product as a premium option. This will guarantee a constant flow of users and allow you to increase prices without losing your customer base.
And fortunately, you can achieve both goals by using scarcity marketing.
In the world of SaaS and software products, the idea of stock is non-existent, so developers need to think outside the box to create a sense of artificial scarcity and get customers excited. This can be done through time-limited discounts, exclusive access for early adopters, or special features available for a select user group.
In this industry, the psychological principle that is most used is the sense of exclusivity, combined with a higher value perception. This guarantees that the product sells.
Why Scarcity Marketing Matters in SaaS
To put it bluntly, the scarcity principle is playing with our emotions.
SaaS users might be into technology, but they have powerful feelings, which is why the scarcity marketing strategy is just as relevant in the software market as anywhere else. And it brings forward several benefits worth mentioning.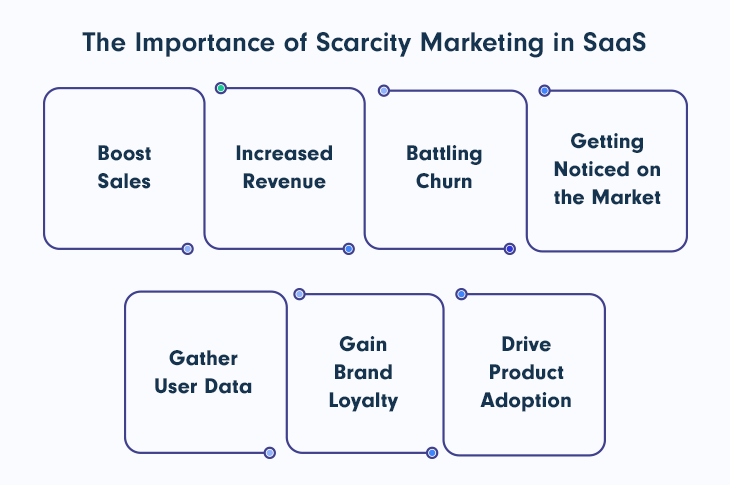 1. Boost sales
Exploiting FOMO (fear of missing out) through exclusive features or limited-time offers pushes customers to make quicker buying decisions. As a result, SaaS businesses witness a higher free-to-paid conversion rate, as well as more upgrades from existing customers.
2. Increased Revenue
Through scarcity marketing, products gain more value. Customers want to get their hands on a product temporarily discounted, as they believe they are getting a great deal. Thus, when the promotion is over, SaaS companies can easily revert to the initial price, having boosted product value and demand.
Plus, the profit margin is in no way affected during this pricing experiment because increased sales volumes can balance the books.
3. Battling Churn
This marketing strategy isn't only about winning new leads. Retaining new ones is also possible through scarcity tactics. 53% of customers state that discounts incentivize them with a brand over a longer period of time or even upgrade their plans. After all, this is also another way to gain more money.
4. Getting Noticed on the Market
With approximately 30,000 SaaS companies out there, you need to fight for your 15 minutes of fame. And what better way to generate buzz within the SaaS community than through great prices?
Highlighting exclusive offers or price promotions can help businesses stand out in the crowd and become more appealing to potential customers.
5. Gather User Data
Although gathering user data may not be the primary objective of scarcity marketing, which aims to expand the user base and increase revenue, it remains a valuable benefit.
SaaS companies that offer access to premium features in return for user information can obtain substantial insights about their target demographics, allowing them to enhance their marketing strategies.
6. Gain Brand Loyalty
Promotional offers don't just help you earn the favor of social media and help spread the word about your business. They allow customers to build a stronger bond with your brand.
Buyers who successfully snag products in high demand at discounted prices often transform into loyal customers. They perceive their accomplishment in securing an excellent deal as a triumph, forging a unique bond with that product, which manifests through subscription renewals and, in some cases, referrals.
7. Drive Product Adoption
Many people tend to think that scarcity marketing is all about convincing users to make a purchase, but the truth is it can also work wonders when it comes to offering training sessions.
When you use this approach, you're not just encouraging users to explore and fully embrace your software; you're also taking proactive steps to ensure their long-term satisfaction, keep them engaged, and reduce churn.
4 Scarcity Marketing Tactics

1. Time-Limited Discounts
This is the most used example of scarcity marketing. SaaS companies create an offer and monetize the user's fear of missing out.
However, customers may want to buy your product even more if they are well aware that the discounted price is time-limited. So make sure you emphasize this idea through email marketing or website banners on your pricing base. Paid ads should be part of your scarcity strategy, as they can bring substantial social media engagement.
How Does FreshBooks Do It?
FreshBooks is an online accounting software for small companies and freelancers, offering potential customers several plans, catering to the needs of different audiences.
At the same time, they are running a limited-time offer of 50% off on all existing plans. While they can increase sales from all targeted user groups, this offer is a great way to convince customers to try the premium plan for a discounted price.
FreshBooks does a great job at creating a sense of urgency and highlighting the offer.

2. Early-Access Offer
This scarcity marketing tactic helps SaaS businesses generate more sales by leveraging the user's desire to be part of a group.
When customers are given the option to sign up for software products and services that promise great value before they are officially launched, it makes them feel special and important. And that is definitely worth monetizing.
How Does Meeps Do It?
Meeps is a no-code platform that helps businesses create and manage membership websites. This SaaS tool is currently running early access discounts. To attract customers, Meets has designed its offer page by highlighting the benefits of becoming a paid member.
In a world where SaaS apps and tools are virtually everywhere, making potential customers understand why they should choose you is the number one rule in the success book.

3. Exclusive Feature Drop
You don't need to launch a completely new product to harness the power of exclusivity. For example, when dropping a new feature, you can offer exclusive access over a limited period of time to create a sense of urgency and increase demand as well as sales.
Also, to really enhance the feeling of urgency, you could add a countdown timer that shows the target audience how much time is left before the big product or feature drop.
How Does Figma Do It?
Figma, the website design phenomenon, is currently making use of the feature drop tactic in a rather unique way. Its technique of beautifully combining a form of free trial with scarcity marketing achieves two important goals.
Firstly, Figma is ensuring interested users are switching from the free-to-paid plan to test the Dev Mode feature for no extra charge. This offer is available throughout 2023.
Secondly, once 2024 comes knocking on the user's door, if they find the feature valuable, they will need to pay for it separately, depending on their existing plan.
It's a brilliant mix of different marketing strategies, demonstrating that if you decide to use scarcity, you need to treat it as one piece of a larger growth puzzle.

4. Invitation-only Access
This tactic has been known to cause quite a controversy among SaaS users. Using exclusivity as a viral accelerator in the context of either launching a product or a feature generates expected results as long as there is buzz created around the brand itself.
It's like telling everyone you have a secret that will change their life, but there is no way you are spilling the tea.
There have been plenty of brands that have used this strategy up to the point they were able to build a strong user base and refine the product as much as possible. Yes, you can think of this tactic as a Beta program.
How Does Lapse Do It?
Lapse, a social media app, is a really interesting concept that's all about urgency.
Still, in beta testing, Lapse allows users to take photos and share them with friends. So far, nothing out of the ordinary, right? Well, in this app, photos are available for only 24 hours, and this detail creates a whole lot of excitement.
Access to the app is invite-only, increasing curiosity and buzz. Because Lapse is still in beta testing, the goal at the moment isn't to make customers more likely to buy it. The purpose of using this type of marketing strategy is round up a sufficient number of users to further perfect the app before officially launching it.
And there is nothing like exclusivity to entice curious minds to join.

5 Ways to Avoid Scarcity Pitfalls
Scarcity marketing is very popular among online retailers. But can it yield results, no matter what?
The answer is no, so here are a few tips to help you make the most of this strategy.
Scarcity & Social Proof: The Perfect Combo
There is one rule in digital marketing (and it applies to other areas as well) that you must never forget.
Don't put all your eggs in one basket.
It's true that scarcity encourages customers to make quick decisions, but it's not always enough to close the deal. That's why you need to combine this tactic with other marketing strategies meant to increase trust.
Nothing works better in this department than social proof. By combining the idea of time-limited offers or exclusivity with social proof such as case studies, testimonials, and reviews, confirming the product's value, you are creating increased demand. Customers will see your offer as a good deal and therefore, invest in it.
Be Transparent About Your Offer
In SaaS, it's impossible to play the limited supply or limited stock card because it just doesn't work that way. The only way you can obtain perceived scarcity is by employing the idea of time limited sales.
But no matter how goal-focused you are, you need to avoid exaggerating the impression of limited availability.
What do we mean by this?
Be straightforward and clear about the details of your offer. You can use countdown timers on your pricing page to create the image of scarcity and help your customers understand what the time frame is. If you are running seasonal offers for a one-month period, then be sure to end the offer when you've reached the limit.
If you continue with the promotional price after the announced ending date, the feeling of scarcity vanishes, and you lose the trust of your customers.
Be fair and open about your campaign details.
Don't Overuse Scarcity
As tempting and profitable flash sales, time-limited promotions, or other scarcity marketing strategies might be, you want to avoid being associated with a discount brand.
An offer with an increased perceived value is achieved when the demand is high, and the opportunity to get the product for a discounted price is a rare find.
SaaS marketing teams need to make use of scarcity tactics strategically and thoughtfully, constantly diversifying their efforts to maintain customer interest and motivation.
Customer Experience Isn't An Afterthought
It's true that customers are drawn to the idea of access to an exclusive product. However, once they've got it, they also expect special treatment.
So, when capitalizing exclusivity, make sure you keep your promise throughout the user's overall experience with your product and not just the sign-up moment.
Be responsive to the needs of your recently gained customers and show them the value your product brings early in the process.
Remember, you can lose customers as easily as you've gained them.
Find The Right Messaging
Does scarcity work in SaaS? Yes.
Does it look the same for all software businesses? No.
Depending on the product itself as well as the targeted audience, you need to carefully craft the correct strategy and messaging to create excitement and motivation.
Make potential customers understand not just that it is an exclusive offer but clearly explain what makes your promotion different from anything else on the market.
Discuss the benefits and value it brings based on the needs of your consumers. Use paid ads and consistent email marketing to get your message across and reach your audience.
Numbers are great for creating scarcity. For instance, use phrases like 2 hours left on this deal in your campaign messaging.
Be mindful of how you frame your campaign so you're sure to take advantage of everything this type of strategy can give you.
Make Payments Easy
Since it's all about urgency in this growth strategy, it's important to allow users to get a good deal fast and without encountering any issues.
So, before your marketing team starts putting the campaign together, make sure your online store can facilitate your users' payment needs and preferences without any friction.
What does this mean exactly?
By providing customers with multiple payment methods, you are making it easier for them to easily complete their purchases through your site. Not to mention that you are significantly reducing your cart abandonment rate, assuring there is a successful transaction.
How Can PayPro Global Help?
PayPro Global's unified solution lets you tap into an innovative payment infrastructure ready to sustain and maximize your global growth efforts.
With access to multiple payment tools, as well as discount and promotion management, you can easily create and manage limited-time offers for your customers.
Additionally, to boost your long-term revenue, you can safely experiment with various SaaS pricing strategies and models and determine the optimal choice for your business.
Since there is nothing more important than data in this day and age, PayPro Global brings forward a built-in AI-driven SaaS analytics and BI engine that lets you monitor the success of your marketing campaigns, helps you forecast customer revenue, and make data-driven decisions.
Moreover, with access to a smart and comprehensive mix of payment methods and currencies, as well as localization tools, coupons, and complete subscription management, you can further tailor your offer to fit the needs of your target audiences and grow your SaaS into new and emerging global markets.
Visit PayPro Global or reach out to find out how we can help expand your SaaS business anywhere in the world.
Final Thoughts
With so many businesses offering customers time-limited deals, the question isn't whether or not you should be doing scarcity marketing but how to do it effectively.
Even though the basic principle is that customers want what's difficult to have, creating a sense of desirability in this equation is what makes scarcity marketing challenging, especially in the world of SaaS.
Today, it's no longer enough to say you're almost out of stock. That won't make customers react urgently.
Today, you need to know when to start and when to stop.
Create hype around your product and the upcoming discounts. Then, help customers realize that they're not just getting a good deal, but an exclusive one. Keep highlighting the value your product provides, and use all communication channels available to get your message across.
And last but not least, here's a friendly tip: avoid going down the path of becoming one of those discount-focused online stores. Instead, use scarcity to make your promotions feel like special, highly coveted sales events.
FAQ
What is Scarcity Marketing?
Scarcity marketing is a tactic employed by business owners or marketing experts to create the impression of urgency using the limited availability argument and convince clients to make a purchase.
How does Scarcity Marketing work?
The scarcity principle is all presenting products or discounts as available for a limited amount of time or an exclusive group. This marketing strategy capitalizes on the customers' fear of missing out on a product or opportunity. This becomes the driver to faster buying decision and ultimately increased sales.
Why does Scarcity Marketing matter in the SaaS industry?
Even though seasonal products or a limited number of products is not exactly SaaS related, scarcity marketing can still be very relevant in this industry. In the world of SaaS, the fear of being left out of a group or missing an opportunity is very real. Additionally, even though the end goal of this strategy is obtaining increased revenue, there are other relevant gains like achieving brand loyalty or collecting user data.
What are some Scarcity Marketing tactics in SaaS?
Among the most used SaaS scarcity tactics, time-limited discounts, early-access offers, exclusive feature drops, and invitation-only access are the ones that rank the highest in terms of popularity and effectiveness.
How can businesses avoid pitfalls in Scarcity Marketing?
No marketing tactic is flawless, not even one deeply rooted in human psychology as scarcity marketing. The good news is that you can avoid some of these pitfalls by combining scarcity tactics with social media, prioritizing customer service and satisfaction, crafting the correct messaging, and refraining from overusing the tactic.
It doesn't take luck to make it, but it does take knowledge. Be the first to learn the latest industry insights and must know marketing tips and tricks. Sign up and enjoy! Always informed. Never Spammed.