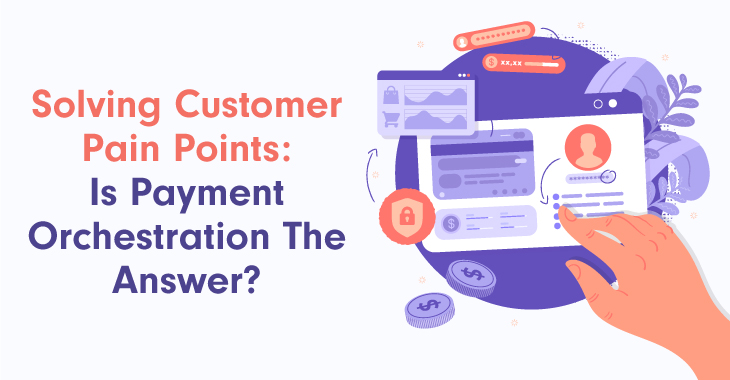 Published on September 5, 2023
Solving Customer Pain Points: Is Payment Orchestration The Answer?
There was a time when online businesses had absolutely no idea or interest in finding out who their clients were. All they knew was that business was coming in, and that was good enough. But things have changed significantly since then. Now, it's all about the customers, their needs, preferences, and pain points.
Expanding businesses are extremely focused on all kinds of ways of keeping clients satisfied with the purchasing experience while also keeping costs low. But it's a tough game to play, especially in the SaaS and software industry, with a whopping value market of no less than $237.55 billion, estimated in 2022.

The good news is that within this landscape, technology innovation, specifically in the payment ecosystem, has completely revolutionized the way in which online merchants respond to customer expectations. And at the heart of it lies the concept of payment orchestration. In this article, we plan on taking a deeper look at:
What Is Payment Orchestration?
Payment orchestration is the end-to-end process of integrating and managing numerous payment providers, methods, and channels, as well as complex and essential operations like transaction handling, authorizations, and routing. It involves the coordination of different entities like processors, gateways, and financial institutions all under one unified solution with the purpose of ensuring flawless payment experiences for shoppers.
With a payment orchestration system on their side, start-ups, SMBs, and enterprises can become more agile and are able to scale worldwide faster. They can easily enter new markets, answer to region-specific payment preferences, and comply with different regulations, all while keeping growth expenses low and staying focused on product development.
Think of this concept as a unified payment infrastructure. Once your business taps into this ecosystem, you can outsource costly and complex operations and ultimately accelerate your business's expansion.
Introducing the Payment Orchestration Flow
When it comes to digital payments, there are standard rules that govern how payments are processed and transactions are finalized. And the payment orchestration makes no exception to these rules up to a certain point.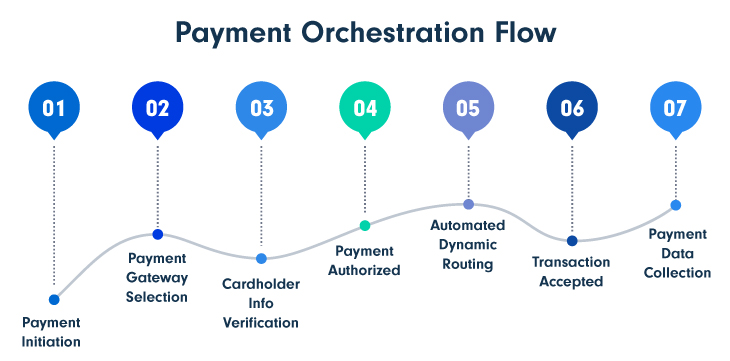 Step 1:

Payment Initiation
The shopper reaches the checkout page and selects the preferred payment method.
Step 2:

Payment Gateway Selection
The payment orchestration system decides which gateway is best suited to handle the transaction.
Step 3:

Cardholder Info Verification
The client's payment details are verified, and if there are sufficient funds available, the payment goes through.
Step 4:

Payment Authorized
The customer is informed that the transaction has been successful.
Step 5:

Automated Dynamic Routing
In case the payment is denied, the system will employ dynamic routing to quickly identify the right alternative and process the payment successfully.
Step 6:

Transaction Accepted
Once the payment is settled, the system will inform the customer and merchant.
Step 7:

Payment Data Collection
The orchestration platform collects payment data gathered from the operation, offering businesses the necessary information to analyze customer behaviors and better optimize their processes.
One of the biggest advantages of this digital payment process is that the platform will identify the best route for transactions to take, taking into consideration the region in which the payment is made.
With failed transactions causing businesses to lose up to 30% of their hard-earned revenue, it's easy to understand why the automated dynamic routing feature of payment orchestration systems is such an important feature.
Of course, there are other reasons why payments fail like:
Fraud
Invalid cardholder data
Insufficient funds
Still, mitigating the failed transaction rate will undoubtedly lead to increased revenue and happier clients. And that's always a reason to celebrate.
The 7 Benefits of Payment Orchestration
With online competition skyrocketing across all industries and customer preferences constantly in flux, businesses can no longer achieve their established revenue goal in the absence of a flexible and unified payment stack.

Being able to efficiently respond to customer demands and solve important pain points can only be done by joining forces with a payment system capable of ensuring these kinds of seamless experiences. Let's explore the seven benefits that payment orchestration platforms bring.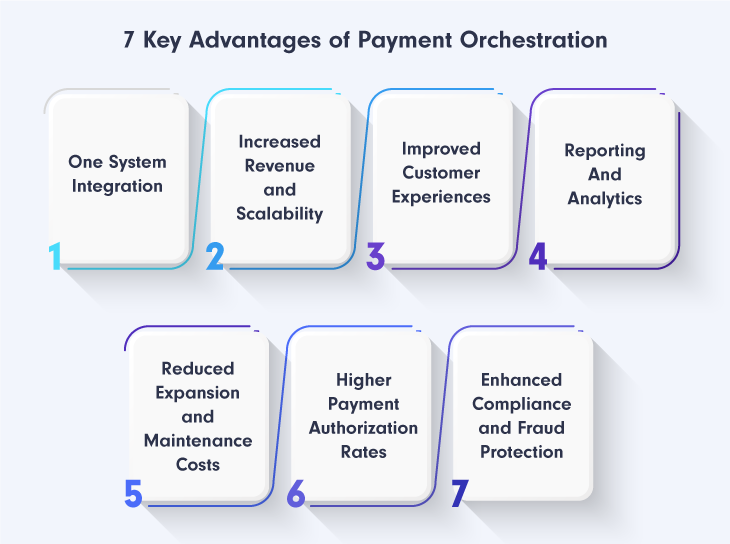 One System Integration
In the payments industry, solving customer pain points often mistakenly means integrating multiple third parties to successfully complete various operations. Whether it's payment methods or currencies, fraud, or billing, merchants often find themselves in the challenging situation of connecting different systems.
In the majority of cases, faulty integrations lead to significant losses and bring about the wrath of customers, who are left terribly dissatisfied with the shopping experience offered. Not only that, but you might end up burying your product development resources into system maintenance rather than innovation.
Working with payment orchestration platforms means benefiting from multiple systems through one unified API. So, instead of having to build a system, you would simply tap into an already existing, complex, but not complicated infrastructure, eliminating both the logistical and operational burdens you would take on your own.
Increased Revenue and Scalability
There is such a thing as payment language, and believe it or not, your customers speak it flawlessly. It's important that you do, too, so you can gain their trust and loyalty.
The payment language we are referring to is a combination of factors like currencies, alternative payment methods, local banks, compliance, and so on. Basically, it's about localizing the payment process so that clients in different regions and markets can better identify with your offer.
With a payment orchestration platform, you would have access to different payment service providers, gateways, and other useful applications, making it simple to satisfy customer preferences. This would also allow you to scale your business faster and reach shoppers around the world.
Improved Customer Experiences
The reason why payment orchestration systems were created in the first place was to give the merchant the necessary tools to offer frictionless experiences. With evidence showing that 96% of users who experience friction during their shopping journeys tend to be disloyal to those particular brands, it is paramount that online businesses focus on removing any pain points that cause the shopper to abandon the cart.
Payment orchestration systems do exactly that. Providing shoppers with access to a broad range of multiple payment methods and currencies, embedded checkouts, higher security levels, payments orchestration platforms eliminate the hurdles customers might encounter when making purchases. This, of course, leads to higher customer conversion rates and a lower cart abandonment percentage. And that means more revenue for you!
Reporting And Analytic
Customer preferences are constantly evolving, so growing businesses must figure out ways to adapt to new demands and challenges. The only way you can fully accomplish this goal is by harnessing the power of data. However, in the absence of a unified system that can gather transaction information spread across multiple systems, there is no way online merchants can easily accomplish this challenge.
The payment orchestration platform collects data from all connected operations and consolidates them in a single perspective, boosting efficiency and transparency. This way, you can modify your growth strategies and create new ones entirely in a more informed and targeted fashion.
Reduced Expansion and Maintenance Costs
As online businesses grow and aim to improve their performance, they might need to create new features or incorporate additional payment choices. This decision will most certainly come with significant maintenance costs in areas like IT, resources, licensing, and even development.
The payment orchestration layer gives you access to infrastructure that helps your business expand no matter its stage. It simplifies the road to obtaining new payment methods, adding multiple providers, and even enhancing payment security.
Higher Payment Authorization Rates
As we've mentioned earlier, payment transactions fail for multiple reasons, and one of them is routing or, better said, the lack of it. The last thing business owners need is to have their payment technology fail and encounter huge revenue losses due to unhappy shoppers who take their business elsewhere.
The great thing about a unified payment stack is its transaction routing feature. By quickly identifying an alternative payment processor for a failed transaction, you are increasing the acceptance rate. Plus, dedicated orchestration platforms will have real-time data analysis and machine learning algorithms built-in, allowing the system to better adjust its routing strategies. To put it simply, you are recovering lost profit and optimizing the payment flow as well as preventing fraudulent transactions from being carelessly approved.
Enhanced Compliance and Fraud Protection
Expanding globally is something most online businesses look to achieve. However, this means that merchants must be prepared to accept cross-border payments. Also, there is an additional consideration beyond simply looking at payment gateways or methods you are offering your shoppers. As an international online merchant, you must also consider compliance and security matters.
Payment orchestrators ensure the cardholder's payment information is securely handled, abiding by security standards like PCI DSS and data privacy regulations. This takes away a huge burden for the online merchant while also reducing the associated costs as well.
Regarding fraud protection, it's important to note that a unified system will always give better results than a fragmented infrastructure. With separate payment flows, security is much more challenging to ensure. A unified platform will be able to efficiently track processes and quickly identify inconsistencies, thereby also being able to develop effective protocols.
The Dark Side Of Payment Orchestration Platforms
With access to several payment processors, transaction routing, and numerous payment methods, these platforms seem like a dream come true. Only they are not exactly that, and here is why.
Not All Payment Orchestration Providers Are The Same
Like everything else, not all orchestration solutions are the same. There are specific factors that heavily contribute to their differences, and online merchants must be aware of this issue.
While most platforms of this kind offer a wide range of functionalities, anything from fraud prevention tools to payment options and subscription management, they vary in flexibility, ease of use, and quality.
Also, it's worth mentioning that payment orchestration platforms can differ in architecture and infrastructure, ultimately impacting the scalability and customization levels. This can be an issue for online businesses that focus on achieving global success, as choosing the wrong system could lead to sacrificing performance and minimizing your profit.
Payment Orchestration Systems Are Provider Marketplaces In Disguise
Let's set the record straight. With the orchestration system, you do have access to many payment service providers, and that's great. While part of the responsibility of adding them to your network is lifted, specifically the technical integration process, you still have significant work to cover.
Having multiple payment providers available isn't always the answer. Having the right ones is. Choosing between the alternatives provided is entirely up to you. Also, with a payment orchestration platform, you will still need to pass KYC and underwriting for each provider to obtain a merchant account, and you will need to make sure you comply with all regulations around payment processing.
Self-Managing the Routing System
As we've said before, the great benefit of the orchestration platform is that when the payment fails, the system will automatically route transactions. This, of course, is responsible for bringing back lost sales and increasing revenue.
However, when it comes to routing transactions, it's important to know that in the payment orchestration context, you will be responsible for setting the payment routing rules. This means time, knowledge, and resources. Of course, there are platforms that function on one basic routing rule, but this system may not provide the expected results.
Even though in the digital payments process, orchestration payment solutions have their own acknowledged set of benefits, they can only get you so far. The payment orchestration provider is only the first brick you lay your foundation on. To ensure that you accelerate your global growth, you will need the next-level growth solution.
Meet PayPro Global.
The Merchant of Record that helps you grow.
PayPro Global takes away the headache of selling your products worldwide. From local payment methods to simplified subscription handling and tax management, we give you the eCommerce tools you need to scale your business smoothly into the global market.
How Can PayPro Global Help?
Building strong SaaS and software businesses, as well as selling your video games online, is simpler with a dedicated MOR partner ready to support your global expansion. That partner is PayPro Global.

Part of the eCommerce market for over a decade, we've been doing payment orchestration even before it was called that. And now, recognizing the online merchant's need for more, we've built on it. Our unique MOR model was designed to simplify and amplify global commerce, streamlining payment operations and enhancing customer experiences.

With access to highly desired features like complete global tax and compliance handling, subscription management, fraud detection, and prevention systems, cross-border payments, localized processing catering to customer payment preferences worldwide, and more, we can take the financial and operational technicalities and allow you to focus on what matters most: your products.

With PayPro Global's MoR solution, equipped with an AI-trained cascading system, you can optimize your revenue streams by increasing your payment acceptance rate and recovering lost sales.

PayPro Global is a certified PCI-DSS Level 1 company offering SaaS, software, and digital goods developers with best-in-class security tools and processes.

Additionally, our solution offers extensive reporting, making it easy for you to track and analyze payment data and optimize your strategies.

With access to a complete developer's documentation and an assisted integration process, we make it simple for you to connect your business to our platform and start selling as fast as possible. Our dedicated and experienced team is always ready to help you overcome the hurdles and challenges of your global growth journey.

Get in touch with us to investigate our strengths and how they may fit your needs in obtaining a unified eCommerce payment solution.
Final Thoughts
It has become crystal clear to everyone involved in the dynamic world of eCommerce: customer centricity is essential in ensuring continuous business growth. Without understanding and responding to our customers' needs and preferences, online businesses cannot and will not survive.
But it's important to always consider the associated costs. After all, you wouldn't want to end up giving away all your hard-earned revenue simply to sustain the maintenance of different systems. That is why online merchants need to focus on striking the balance between offering exceptionally satisfying shopping experiences and balancing expenses.
The concept of payment orchestration gives you the technical infrastructure, which is essential for putting together a complete ecosystem. However, to ensure exceptional customer experiences and achieve rapid global growth, online businesses need to take another step further and consider the almighty Merchant of Record.
FAQ
What is Payment Orchestration, and why is it important for businesses?
The payment orchestration system is highly relevant for online merchants set on accomplishing global success because it creates the foundation. With the help of these platforms, businesses can go from a fragmented system to a unified infrastructure that simplifies access to various payment methods and providers and ensures seamless transactions for all parties involved.
How does Payment Orchestration differ from traditional payment gateways?
The main difference is that the payment orchestration platform sets the foundation for a unified payment ecosystem. This means that, unlike traditional payment gateways, orchestration systems offer merchants access to multiple acquiring banks, payment methods, and processors in real time. This translates into enhanced transaction success rates, higher revenue, and greater customer satisfaction.
What benefits does Payment Orchestration offer for global e-commerce?
With the help of the features, payment orchestration platforms bring forward, SaaS and software businesses can increase the number of cross-border transactions. From payment routing, security, reporting, and analytics to localized shopping experiences enabled by multiple payment methods, payment orchestration systems represent the technical infrastructure digital businesses require to expand.
How does Payment Orchestration contribute to improved customer experience?
Since payment orchestration represents the technical infrastructure, it lays down the ecosystem for online merchants to respond to customer payment preferences. With access to different payment service providers, channels, methods, currencies, and consistent checkout experiences, online merchants can earn their shopper's trust and ensure that transactions are completed smoothly.
It doesn't take luck to make it, but it does take knowledge. Be the first to learn the latest industry insights and must know marketing tips and tricks. Sign up and enjoy! Always informed. Never Spammed.