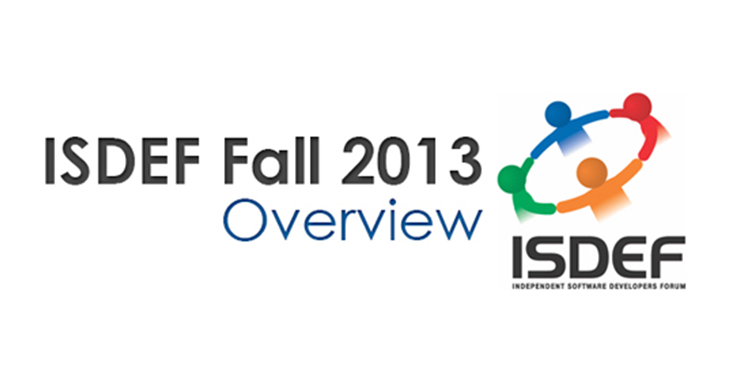 ISDEF Fall 2013 Overview
ISDEF Fall 2013 has drawn to an end. Just as last year, this year's event took place at Hotel Milan in Moscow on September 28th-30th. It was the 12th edition of this important event, organized by Independent Software Developers Forum. Traditionally, we enjoyed reconnecting with many of our partners, meet new members of the association, as well as share views and ideas on the current and future state of the industry. We were pleased to notice that the conference got more focused on software producers. Selling software online was one of the main topics of the speakers at the venue. The quality of the shared information significantly improved as well. The provided content was more relevant than ever, which offered great views on the fast-changing climate of the software industry to the participants of the forum. Seeing these changes was a great delight for us.
The conference agenda was packed with various sections; seminars and round tables. All these gave an opportunity to the visitors to discuss various aspects of software development and promotion. This time special attention was paid to developer support programms from leading western software companies. The participants also had the opportunity to take part in discussions on software distribution in Russia, Ukraine and Belarus. The sections were structured into many categories, which provided very valuable insights on all aspects of business of software:
Developer support program
Round table about software distribution in Russia, Ukraine, Belarus
Marketing
Investment into IT market
Business growth
legal issues
Business audit
Foreign jurisdictions for IT companies
PR
We were happy to reconnect with PayPro loyal partners, who are always taking an active part in improving our system, This is how many of our features and solutions are born. But we know it's a two-way street in this case and we were happy to share some company secrets and company's chosen directions with our partners to keep them strongly involved in the company environment. After all, this type of communication has always been the key ingredient of our success. This is something that we are endlessly grateful to all of you.
While we were writing this post, we got an announcement from ISDEF organizers that the next edition of this legendary forum will take place in beautiful Prague in April 2014. We are already impatiently looking forward to seeing everyone again. But until then we will be very busy turning your ideas into solutions, improving your conversion rates and just selling more software online!
We look forward to seeing you in Prague next Spring.
Meet PayPro Global.
Your Professional
eCommerce
Partner
No 3rd party integrations. No hidden costs. No wasted time.
Just a solution as unique as your business's needs.
Meanwhile take care and prosper!
It doesn't take luck to make it, but it does take knowledge. Be the first to learn the latest industry insights and must know marketing tips and tricks. Sign up and enjoy! Always informed. Never Spammed.