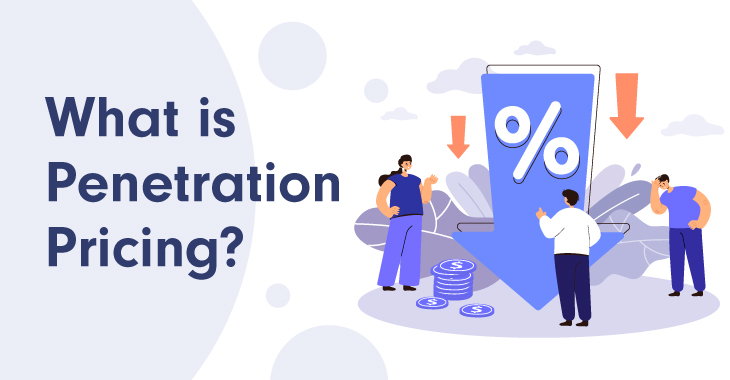 Published on October 5, 2023
Updated on October 5, 2023
What is Penetration Pricing?
Entering a new market can be extremely intimidating, especially a market as competitive as the SaaS industry. No matter how good the product is, you come face to face with a challenging and sometimes overwhelming task. The good news is that penetration pricing can level the playing field and make the whole process less unnerving.
Assuming everyone loves a good bargain (and why wouldn't they?), penetration pricing will be your best friend and trusted ally when striving to earn a toehold in the market.

This strategy entails putting into place low prices in order to lure customers away from your competitors, essentially sacrificing immediate profits for long-term growth.

In this article, we'll be looking at the ins and outs of penetration pricing and exploring how one can leverage the power of this pricing technique:
What is Penetration Pricing?
Penetration pricing is a user acquisition strategy that purposefully offers a product at a low initial price with the sole purpose of rapidly winning customers and brand recognition.
While penetration pricing can actually work, it can also prove to be risky business when not correctly put into place. Because prolonged short-term profit can stifle a company's business growth.
How It Works
In the early stages of product growth, penetration pricing offers businesses the great advantage of gaining popularity quickly through price alone.

Since price is a key factor in purchasing decisions, businesses can acquire a larger customer base as well as brand awareness by positioning a new product or service at a lower market value.

Once the product has gained market acceptance, this strategy requires companies to gradually increase their prices. But keep in mind this adjustment must be executed with precision, as it also has the potential to drive away price-sensitive customers.
Here's an example of how price penetration works:
A new streaming service, priced at $4 lower than the competition's offer, is made available to customers.
The following year, the streaming service raised its prices to $8.
Scenario 1:
If users had a positive experience with the streaming service during this year of operation, having access to a wide and constantly updated range of entertainment options, strong customer support, and high streaming quality, a large portion of the customer base will stay even though there has been an increase in cost.

Scenario 2:
If users are unsatisfied with the services provided, they will most likely cancel and switch to one of your competitors, new or established.
Key Takeaway:
To enjoy the desired results after pricing has been implemented, businesses must immediately start fostering strong customer relationships.
The Pros & Cons of Penetration Pricing
The penetration strategy can be extremely helpful when it comes to helping businesses gain a foothold in a competitive industry. But, like everything else in this world, it comes at a cost. Let's find out whether or not you should use this pricing strategy.
4 Benefits of Penetration Pricing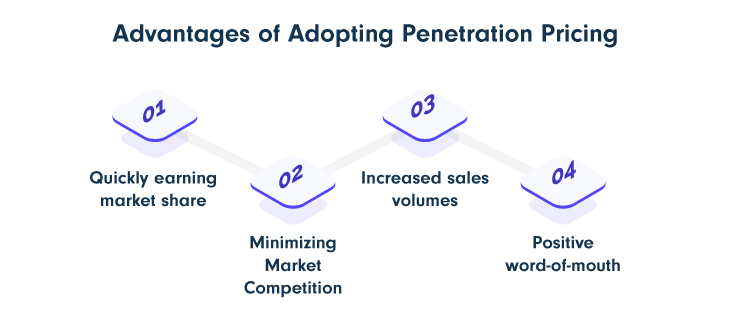 Quickly earning market share
The goal of the price penetration strategy is to swiftly draw in new customers and secure a significant market share while reaching the expected price. When executed effectively, it enables new businesses to quickly penetrate and establish themselves in fresh markets.
Reducing potential market competitiveness
When using the penetration pricing model strategy, you are making it difficult for new competitors to enter the market. Should they wish to entice customers to compete with you, they would have to entirely give up business profitability.
Increased sales volumes
Lower prices not only ensure market penetration but also incentivize customers, making them invest in your product. This, as you can imagine, leads to a high number of sales, which is obviously always good for business.
Positive word-of-mouth
Who doesn't want to create market buzz? The market penetration method is not only an effective pricing technique but a lucrative marketing strategy as well. If users are happy with the product or service acquired, they are more likely to be willing to pay higher prices.
Plus, they will recommend it to friends and family, which will help you obtain even more clients. Plus, building a positive brand image will be beneficial when having to increase product pricing.
5 Disadvantages of Penetration Pricing

Difficulty in building customer loyalty
Everybody knows a lower price is a strong magnet for bargain hunters. But unless you move quickly to cultivate brand loyalty, which, as you know, comes at a cost, there is a high risk you will lose part of your recently acquired customer base just as soon as you raise your price.
Initial investment
Launching a business requires significant resources for production, distribution, maintenance, support, and marketing. Plus, to remain competitive, continually developing new products is necessary. As long as you practice the market penetration pricing technique, short-term profits are sacrificed, leaving you with little to no resources to continue your expansion.
Unfavorable brand image
One of the biggest risks of the market penetration strategy is how customers may perceive you. Because of your product's low price, your target market might end up seeing your brand as low-quality, making it impossible for you to establish your business as premium.
A possible price war
Keep in mind, though, that In your battle to gain market share, you might discover that not all competitors are so easily defeated. Some actually might consider lowering their prices to come closer to your offer. If you follow suit, they might push even further, creating an endless cycle of price adjustments, which isn't pretty for anyone involved in the war.
Disappointed customer base
Unfortunately, the penetration pricing strategy can be effectively used to attract customers, but it's just not sustainable in the long run. Eventually, you will be forced to raise prices, disappointing customers who have grown accustomed to lower costs.
Key Takeaway:
It is essential that you carefully weigh the pros and cons of this strategy to determine if it is the right approach for your product or service, both short and long-term.
5 Best Practices For Successful Penetration Pricing
While penetration pricing is a great method for start-ups to reach potential customers, it's very important to understand that it's only the first step in a greater business growth strategy.

Your efforts to maximize profits should go well beyond just attracting customers. So, here are a few tips to help you encourage customers to stay the course long after you have increased your prices.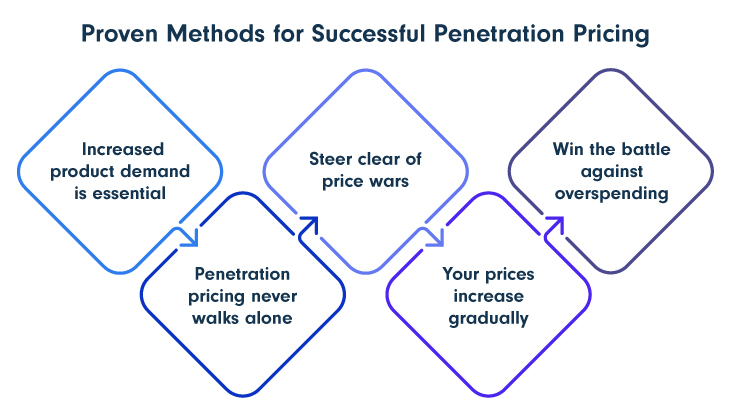 1. Increased product demand is essential
A penetration pricing strategy works best in a high-demand market. Why?
Because that is when price becomes one of the major decision factors.
With plenty of choices, customers are more willing to test other alternatives, especially when there are more attractive options cost-wise.

To capture market share, you are forced to sacrifice short-term gain. If your market is not cost-sensitive and the demand is low, you won't be able to increase your prices and recover your losses.
2. Penetration pricing never walks alone
When using this approach, you need to remember that your goal isn't only to quickly gain market share. You also want to attract blockbuster customers, ready and willing to pay premium pricing when the time comes.
To increase profit margins, penetration pricing goes hand in hand with other methods meant to build long-term loyalty:
Provide outstanding customer support and assistance to help users discover the true value of your product without encountering any difficulties. A smooth and fast-tracked adoption of your product goes a long way.
Cross-sells, upsells, and ad-ons will help you recover some of the profit you are sacrificing when using penetration pricing. Additional products will also enhance user experience while also allowing you to earn the trust of existing customers.
Encourage customer feedback. Whether you build a community where users can share thoughts about their experience with your product or reach out to users to gather their feedback, the point is to make your customers feel like they are always being heard.
3. Steer clear of price wars
Competitive pricing is, by all means, a smart approach, but when taken too far, it will end up working against you. The secret to a successful penetration pricing strategy is to always offer a competitive price. What does this mean exactly?
Well, if you are faced with fierce competitors ready to lower market prices to gain back customers, instead of taking part in the battle, do these:
Differentiate on quality: Add new features or emphasize lesser-known product capabilities. Make potential and existing customers understand the risks of choosing cheaper products.
Implement other pricing strategies: Keep your customers close by offering bundled prices or loyalty promotions for new products.
4. Your prices increase gradually
As we mentioned earlier, penetration pricing shouldn't be a long-term approach. At one point or another, you'll need to increase your prices. But you need to do this gradually and not suddenly. Higher prices scare off customers, so you need to be particularly careful about how and when you increase the cost of your product.

One thing is for sure, you do not make this move until you have gained a loyal customer base and know that time isn't your friend here. You need to take immediate measures to completely win over users once they have bought your product. Otherwise, you risk losing long-term value.
5. Win the battle against overspending
Today, building SaaS apps is no longer reserved only for coding experts. With so many available tools, you can quickly build workflows and entire ecosystems, being able to reap your ROI from day 1. However, we need to caution you that this can also lead to overspending.

When practicing penetration pricing strategies, you need to be very mindful of your resource spending. You won't be making a profit at first, and until you get there, you need to make sure that the solution you are offering to customers works flawlessly and keeps them happily hooked on your product.

We can't overstress the notion that, before you start practicing a low price, ensure that you can sustain maintenance costs over a set period of time.
Key Takeaway:
Because this approach cannot stand on its own, it's very important to create your own penetration pricing strategy, considering the techniques that best fit your business.
3 Real-Life Penetration Pricing Examples
Since penetration pricing is a go-to strategy in the SaaS and software world, we'll share three exciting examples of how to make this approach work wonders for acquiring customers.
Skyshowtime
With the streaming industry expected to reach a whopping $330 billion by 2030, it's only natural to assume that more and more competitors will also be offering it. Skyshowtime is the latest addition to the thriving online video streaming scene, which was launched on the 20th of September, 2022.

Joining the likes of Netflix and Disney+, this new service would have definitely required an aggressive and effective pricing strategy to quickly acquire as many customers as possible. And it did just that.

Skyshowtime is using penetration pricing, offering the low price of €1.99, and becoming the most affordable option on the market.

However, it is important to note that this price is limited to the first 6 subscription months, after which Skyshowtime's prices gradually increase to €6.99, the regular industry price.

By making it clear to customers that this is a time-limited offer, Skyshowtime is safely steering away from a possible price war.
Figma
The new kid on the web design block, Figma, is making its own path, trying to catch up to real industry monsters like Adobe.

To gain the desired market share, build a loyal customer base, and establish a strong position, this cloud-based platform has put penetration pricing to the test. So far, it has delivered, as Figma is gaining more and more customers.

Figma offers users the option of a free plan but with limited capabilities. This is a smart move because it offers curious users the chance to convince themselves whether or not Figma is the right option. On the other hand, this practice could build a rich collection of free users who have no intention to upgrade.

However, so far, Figma has been successful in its attempt to gain a strong market position, securing 4 million users worldwide.
Airtable
With the increased popularity that no-code tools and AI are currently enjoying, it's not at all surprising that a solution of this kind is gaining more and more subscribers.
Airtable, a flexible collaboration tool, is another example of penetration pricing, offering newly acquired customers a free plan with limited capabilities but with the option to upgrade and enjoy the full strength of the app.
With over 4500,000 active users, including the likes of LinkedIn and Dropbox, it would appear that the penetration pricing strategy has been a good fit for Airtable.
Is Penetration Pricing Right For Your SaaS?
Despite great revenue potential, penetration pricing remains one of the riskiest techniques for SaaS and digital products. Why? Because the industry itself is fiercely competitive. This means that at any point, another innovative solution could be launched and priced lower than yours.

And It's difficult to make a profit if you are constantly looking to outbeat the competition in terms of price.

Penetration pricing works as long as you have a long-term plan to keep users happy and earn their trust. In parallel with that, you'll need sufficient resources to create value to determine customers to stick with you and sustain your operations until you can increase your prices.

A business operating on a limited budget will not be able to stay competitive and become a market leader using the penetration pricing strategy for a prolonged period of time.
Key Takeaway:
Assess your resources and goals and decide if your SaaS can sustain customer acquisition and retention while practicing low product prices.
Penetration Pricing Vs. Price Skimming
Price penetration is often confused with price skimming, most likely because both are frequently used when launching products. But in reality, the two differ significantly.
Price Skimming: A company charges an initial high price, looking to gain the top layer of customers, after which it gradually lowers the price, looking to acquire more customers. This premium pricing strategy tends to be the right option for in-demand innovative or luxury products.
Price Penetration: A company enters the market by practicing a lower price than its competition, then raising it gradually once it has gained a customer base.
Key Takeaway:
Even though both are temporary strategies and their aim is to maximize the number of users, they fit different types of businesses and operate through distinct mechanisms.
How Can PayPro Global Help?
Choosing the right price for your SaaS product is a key factor in making your business thrive. But how can you know for sure that you are making the correct decision?

With PayPro Global's all-in-one solution, you can safely experiment with various SaaS pricing strategies and models and determine the optimal choice for your business.

Whether it's usage-based billing, freemium, penetration, or skimming pricing, PayPro Global empowers your SaaS to test different customer profiles and validate the most successful approach.
After all, SaaS pricing isn't (or shouldn't be) just some random number. It's vital when determining your SaaS business's sales success or failure. Finding the optimal strategy can be tricky, though.

That's why you need the help of a true expert. PayPro Global's CEO Meir Amzallag unravels the growth opportunities smart SaaS pricing can unlock. Check it out!

Moreover, with access to a smart mix of payment methods and currencies, as well as localization tools, coupons, promotions, and complete subscription management, you can further personalize your offer and target new and emerging markets.

Since nothing speaks louder than data, our comprehensive solution gives users access to AI-driven SaaS analytics and BI tools. They enable you to forecast customer expenses and revenue, providing real-time data for better business decisions.

With PayPro Global as your business partner, you can effortlessly monitor your entire SaaS sales process, putting together a winning pricing strategy fully capable of amplifying your revenue.

Visit PayPro Global or reach out to find out how we can help you stay on top of your SaaS pricing strategy.
Final Thoughts
SaaS businesses don't always give price the attention it deserves. The reality is, that regardless of how exceptional your product is or the value it offers, neglecting the development of a well-thought-out pricing strategy can hinder your sales.

Penetration pricing is not a stand-alone technique. It is only the first step in a more complex plan that requires attention to all growth stages. Make sure your company can sustain an approach of such complexity by working with experts in the industry.
It doesn't take luck to make it, but it does take knowledge. Be the first to learn the latest industry insights and must know marketing tips and tricks. Sign up and enjoy! Always informed. Never Spammed.