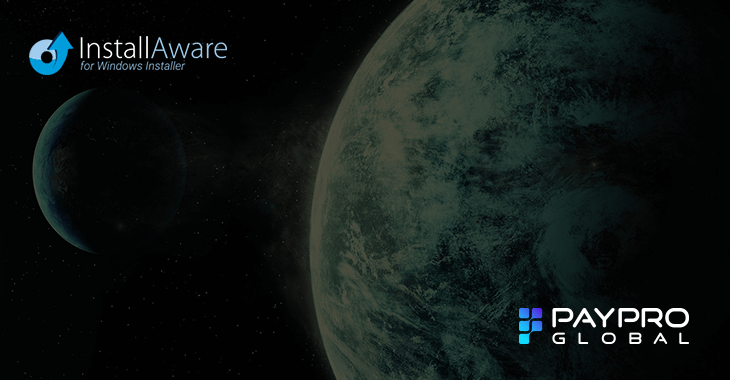 Published on April 6, 2020
Updated on March 14, 2023
InstallAware partners with PayPro Global, launches highly customized commerce solution
April 6, 2020 - Toronto, Canada - InstallAware, technology leader and premium software installation tool developer has partnered with PayPro Global, well-known full-service eCommerce solution provider, to streamline eCommerce operations and drive global revenue.
Leading eCommerce solution provider PayPro Global announces that the world-renowned developer of premium software installation tools for the Windows Installer (MSI) platform, InstallAware has selected PayPro Global to further streamline the company's eCommerce operations and continue to drive global revenue. InstallAware has leveraged PayPro Global's robust eCommerce solution to build a strong SaaS revenue infrastructure capable of managing and selling the company's products worldwide.
Recognized as a trusted developer of premium software, InstallAware is supported by thousands worldwide, and as it grows, the need to ensure highly customized shopping experiences is more visible than ever. InstallAware required a partner with great customization and localization capabilities, able to deliver unmatched results.
After serious evaluation, InstallAware chose PayPro Global due to the company's robust technology, unrivaled global payment and customization capabilities, as well as ongoing assistance to support the company's global expansion.
"We are delighted to welcome a company as prestigious as InstallAware as our newest enterprise customer, and we are excited to put our solution to work and to help our new partner continue with their global expansion. The only way to ensure that you maintain your success and continue to expand globally is to put your customers first and focus on delivering exceptional shopping experiences. This is what we do best and InstallAware's decision to continue their global growth alongside PayPro Global validates it perfectly" stated Jason Foodman, CEO of PayPro Global.
Meet PayPro Global.
Your Professional
eCommerce
Partner
No 3rd party integrations. No hidden costs. No wasted time.
Just a solution as unique as your business's needs.
About InstallAware Software

Install
Aware
Software, founded in 2003, is the leading Cloud Infrastructure Company with its laser-sharp focus on bullet-proof enterprise software deployment. Install
Aware
has been recognized by multiple awards coming from Microsoft, SDTimes "Leader of the Software Development Industry", Visual Studio Magazine Reader's Choice, ComponentSource, WindowsITPro, among other recognitions. Install
Aware
X11 is available in a complimentary edition for all Visual Studio users and paid editions with prices starting at $329. For a fully functional 30 day trial and more information, visit
installaware.com.
About PayPro Global
Since 2006, PayPro Global has been actively and successfully providing software, SaaS and digital goods companies with premium eCommerce solutions to better facilitate their global market expansions. Through highly efficient in-house tools, PayPro Global brings forward innovative capabilities, which in turn give its customers the freedom to focus on the essential aspects of their business, while managing to offer a significant competitive edge.
To learn more about PayPro Global, our products and services, please visit: payproglobal.com
It doesn't take luck to make it, but it does take knowledge. Be the first to learn the latest industry insights and must know marketing tips and tricks. Sign up and enjoy! Always informed. Never Spammed.