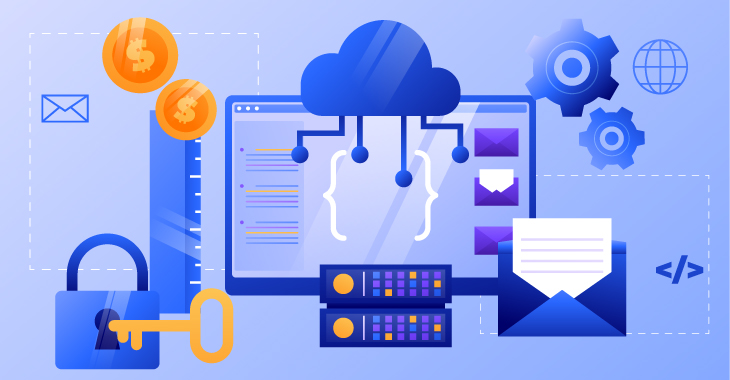 Published on November 8, 2023
Updated on November 8, 2023
What is Enterprise SaaS? + Examples
We live in the technology era. And if you think about it, we have for quite some time now.
Remaining competitive within the industry and constantly meeting customer needs makes businesses highly dependent on software.

But the question is, what kind of software provides businesses with the highest operational efficiency and lowest resource requirements?

SaaS solutions are, without a doubt, the answer to this question.

With the enterprise market seeing increased growth and the SaaS software industry valued at $237.48 in 2022, it makes perfect sense to plunge into these industry developments.

However, before you do, join us in taking a deep dive into enterprise SaaS solutions, as we look at:
4 SaaS Benefits For Entreprises
How To Price Your Enterprise SaaS
3 Enterprise SaaS Selling Tips
4 Essential Enterprise SaaS Metrics
What is Enterprise SaaS?
Enterprise SaaS solutions are cloud-based applications developed specifically for large-scale organizations with complex technological needs, thousands of employees, and multiple locations around the world.
Because of their large size, enterprise businesses require dynamic technology to conveniently sustain an increased number of complicated operations. This could mean anything from streamlining supply chains to managing financial data.
4 SaaS Benefits For Entreprises
With the impressive boom in eCommerce, SaaS software has skyrocketed in popularity, becoming the go-to choice for businesses of all kinds and, notably, a top favorite among large enterprise companies. And here's why.

1. Fast And Easy Implementation
Unlike traditional enterprise software, where the implementation process can take months, requiring extensive involvement from IT teams, SaaS solutions can be deployed in minutes. Yes, minutes!

Moreover, the training and onboarding processes are streamlined and focused on quickly delivering value and getting users accustomed to the product.
2. Lower Expenses
An enterprise level solution usually involves a costly upfront investment due to significant maintenance, software licensing, and customization costs.

On the other hand, Saas pricing comes in the form of monthly and annual subscription plans, offering users access to only the services they use on a regular basis. Without upfront investments in software maintenance or hardware, the organization can redirect resources to other needs.
3. Customizations and Updates
Up until recently, traditional enterprise software had the competitive advantage of providing organizations with customized solutions to fit specific needs. This has changed, as SaaS providers now offer this option as well, alongside other impressive advantages.

Due to its open web-based architecture, enterprise SaaS solutions can also be easily modified according to specific requirements.

And unlike traditional software, SaaS companies can effortlessly update their solutions, rolling out new features on a regular basis, thus ensuring that clients are given access to the latest technology.
4. Simplified Integrations
Traditional enterprise software justifies its increased costs through its complex infrastructure, meant to solve a wide range of tasks. However, a complicated system architecture generally speaking, requires extensive maintenance.

That's where SaaS wins again.

Enterprise level SaaS apps, while simple in their architecture, have streamlined integration processes, which enable users to successfully carry out a significant number of tasks.
This, of course, leads to increased efficiency and productivity, which is obviously attractive to every business out there.
Enterprise Vs. B2B SaaS
These two concepts might be often confused, but in reality, apart from both being cloud-based software, they are very different. Let's understand what sets them apart.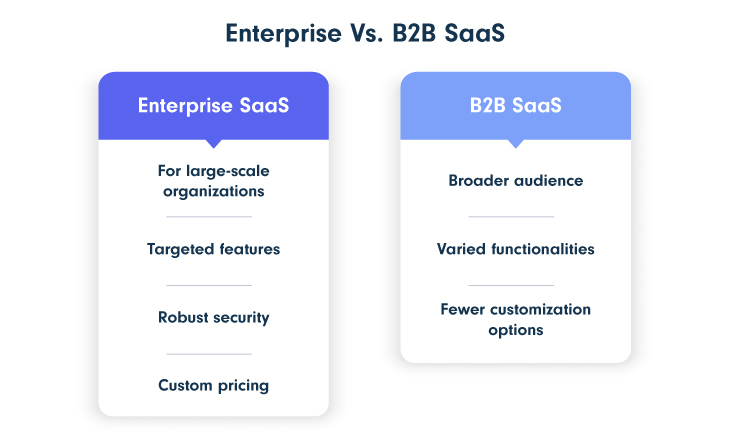 The Enterprise SaaS Solution
They are primarily aimed at large-scale companies and corporations.

They typically have many features developed to sustain complex business processes.

They often include robust security characteristics, extensive customization capabilities, and simplified integrations with third party tools.

They are priced according to the features and the level of scalability offered.
B2B SaaS
These solutions have a broader target market, being fit for both small and medium-sized companies, as well as large-scale organizations.

B2B SaaS applications, while aimed at improving operational efficiency, offer a more diversified set of features instead of promoting a targeted approach.

Unlike enterprise SaaS offerings, these systems have fewer customization options.
3 Enterprise SaaS Examples
Salesforce
One of the most popular customer relationship management (CRM) software in the world, servicing over 150,000 customers worldwide, Salesforce is an established enterprise SaaS solution.
And here's why:
Wide range of comprehensive features, which include anything from lead management to marketing automation or top-notch customer support.
Increased scalability, allowing users to make changes within the app's system without having to make additional investments.
Enhanced security, given that Salesforce is SOC Type II certified, meaning all security practices have been audited and verified.
24/7 customer support for its users, alongside an available knowledge base.
Semrush
Semrush, a major competitor in the SEO software market, has over 100,000 paying customers and is widely regarded as a solid SaaS solution for enterprises for a number of reasons.
And here's why:
Custom business plan, which gives users the possibility to have access to features that answer their specific needs.
Dedicated customer support, which ensures that enterprise customers have a flawless experience.
Large data sets, enabling enterprise customers to access massive website and traffic information, essential in conducting detailed research and analysis.
Extensive integration capabilities, simplifying access to third-party tools like marketing automation software or CRMs.
Google Analytics 360
Google Analytics 360 is the textbook example of an enterprise solution tailored specifically to assist large-scale organizations in carrying out complex tasks.
While there is a standard free version of this solution, the enterprise solution stands out because of its:
Huge data processing capabilities, making GA360 an ideal software for enterprise companies with high-traffic websites.
Enterprise-level support, which helps large-scale businesses to fully execute the power of this solution.
Advanced customization power, enabling businesses to make use of GA360 in a way that best suits their needs.
How To Price Your Enterprise SaaS
In the world of SaaS, although often overlooked, remember that the pricing strategy has a significant role in the future growth of your solution.

When it comes to enterprise software, the price carries an even greater importance because it is a direct reflection of value.

SaaS vendors need to pay attention to how they set the price of their solution. Not only do they have to consider their target audience and industry competitors, as large-scale companies perform careful enterprise resource planning, but their packages must give the feel of exclusivity. Through a careful mix of correct enterprise SaaS pricing and additional features, this can be achieved.

To make sure that your premium pricing gets noticed, the tiered model is your most trusted option, as this allows you to carefully display and compare different packages.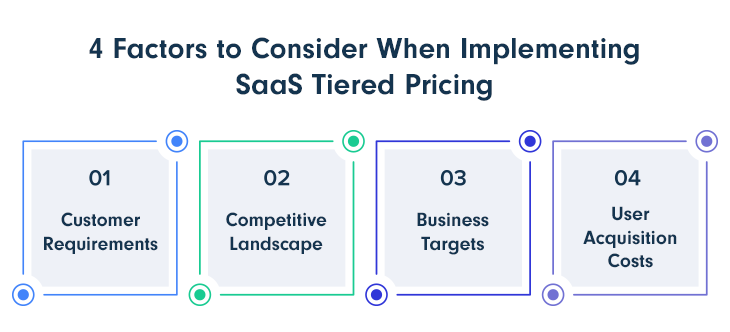 But how do you establish the correct price?

It's worth noting that when selling to enterprise organizations, there is usually greater friction within the process, which can mean increased acquisition costs. This is why most enterprise software providers apply the 10x rule, which equates to charging large-scale organizations ten times their regular prices.
Choosing this pricing lane, however, means that your premium packages are worthy of their increased price. So, remember to offer exclusive features, support, assistance, dedicated onboarding processes, enhanced customization capabilities, and usage limits.
3 Enterprise SaaS Selling Tips
When developing software as a service for enterprises, you need to dedicate some of your time to developing a strong sales strategy. You can't rely exclusively on the product to sell itself.
Account-based sales
This strategic approach implies the collaboration of all company departments to target and prioritize high-value customer accounts.

Instead of casting a wide net in the hopes of reaching a broader audience, the enterprise SaaS provider identifies a select group of enterprise businesses capable of generating increased revenue and tailors all efforts to their needs and preferences.
Account-focused sales rely on:
Multi-touch outreach: As opposed to the product-led sales approach where software vendors rely on the product to attract leads, the account-focused sales technique involves a series of interactions, such as email and social media campaigns, in-person meetings, and even direct phone calls, to target enterprise SaaS companies.
Cross-functional collaboration: Sales, marketing, customer service, and even technical departments, all part of a SaaS company, join forces to offer a unified experience to targeted customer accounts.
Customer-centric and personalized approaches: The core aspect of this sales technique is delivering tangible value by solving specific problems. This is usually achieved by providing personalized marketing content, sales pitches, and demo sessions.
Extensive account research and mapping: Performing account research for a deeper understanding of each target customer account while looking at the industry, key challenges, and pain points. Additionally, the sales team will create organizational charts to identify key decision-makers and account influencers.
Careful onboarding in the trial phase
SaaS vendors know all too well just how important the trial phase is when it comes to winning over customers, and this holds true even for enterprise-level SaaS offerings as well.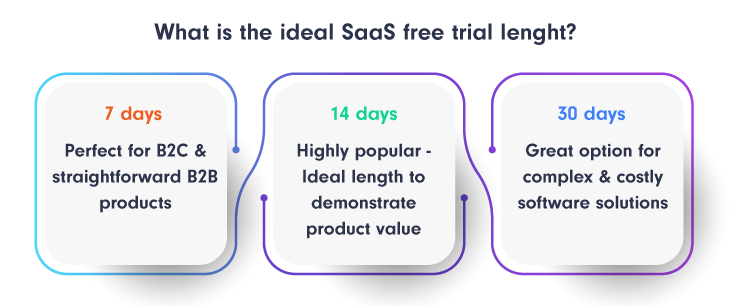 The faster your corporate client reaches the AHA moment, the sooner they will identify your product as the best enterprise SaaS solution. Once they are part of the trial process, you need to do everything possible to convince them to stick with you long-term.

When selling enterprise SaaS software, the trial should never be a solo journey for the customer. Corporate clients will always need special attention because of their increased revenue potential.

That is why the wisest approach is to connect with the client during the trial phase through scheduled training sessions accompanied by your customer success specialist and anyone else relevant to ensuring complete satisfaction.

Take the time to introduce your corporate client to the enterprise software you are selling correctly, removing all the frustration they might face otherwise.
Embrace the gatekeepers
The general impression is that enterprise software is sold through direct contact with a key decision-maker. And it's true. C-level specialists are the ones who make the final decision over the purchase of enterprise software. This is due to the usual high upfront investment required.

However, what will get your software as a service solution on the desk or email of the decision maker is the gatekeeper's impression of your product.

The gatekeeper is a general name for several corporate employees who perform different administrative tasks.

From interns and executive assistants to marketing or sales specialists, they are the ones who do the research, compare, and use the solutions before putting viable options on the desks of the decision-makers.
Your sales process needs to start with winning them first. Have the gatekeeper provide as many details about the company's goals, pain points, and preferences as possible and create your pitch based on the findings.
4 Essential Enterprise SaaS Metrics
Since we live in the data era, technology allows us to track the success of our actions, and knowing just how competitive the SaaS industry is, it seems crazy not to use this to our advantage.
When launching an enterprise software as a service solution, you need to carefully monitor the effectiveness of all the strategies you employ, from pricing to retention. So, here are five essential metrics to keep an eye on.
Customer Acquisition Cost (CAC)
Why is customer acquisition cost important?
The customer acquisition cost reviews your company's health and growth potential.
Understanding how much it costs your business to acquire customers helps you fix your pricing and better allocate your resources.
A rising CAC rate tells you that adjustments need to be made to your marketing and sales efforts. Otherwise, you might end up sacrificing your business's profitability.
CAC formula
CAC = (Marketing Costs + Sales Costs) / New Acquired Customers
Churn Rate
Why is churn important?
The churn rate is essential for vendors of all types of SaaS model solutions.
This is the metric that tells you what you are doing wrong by looking at the number of customers you are losing. The lower your churn metric rate is, the better it is for your business.

By closely monitoring and managing the churn rate, you are able to enhance customer satisfaction, improve your pricing, marketing, and even sales strategy, and, ultimately, make better and more informed business calls.
Churn rate formula
Churn Rate = (Lost Customers / Total Customers At The Start of The Period) x 100
Customer Lifetime Value(CLTV)
Why is customer lifetime value important?
The customer lifetime value rate is a crucial metric for SaaS vendors, as it indicates the potential growth of the company. For investor-funded businesses, CLTV occupies a leading position in the metric cheat sheet.

This metric looks at the total revenue a SaaS provider expects to generate from customers throughout their entire relationship.

Monitoring CLTV will allow you to identify high-value accounts and revenue streams and gives you a clear indication of how much your enterprise clients rely on your product.
CLTV Formula
CLTV = Customer Value x Average Customer Lifespan
Monthly Recurring Revenue (MRR)
Why is monthly recurring revenue important?
Monthly recurring revenue tells you how much your corporate clients pay for your product on a monthly basis. It's an important metric because it assesses the health of your business and the efficiency of your marketing and pricing strategy.
A high MRR rate can help investors understand the profitability of your business and also give you relevant data, allowing you to allocate resources better.
MRR Formula
MRR = Total Number of Active Users x Average Billed Amount
How Can PayPro Global Help?
When developing and selling enterprise solutions, you need a strong payment partner that can streamline monetization operations and sustain your sales and marketing efforts.

PayPro Global offers a unique MOR solution that gives you the freedom you need to focus exclusively on building and growing your solution while taking away the operational workload, allowing for increased profitability.

Through our tailored solution with seamless integration, you can effectively sell your enterprise SaaS and software anywhere in the world in the manner you choose. Whether it's Freemium, free trial, tiered pricing, you name it, we got it. Our system lets you test and implement different SaaS growth strategies in record time and, best of all, is hassle-free.

Thanks to our advanced analytics, you can adequately monitor the health of your business, assess the efficiency of your sales, pricing, and marketing companies, and, ultimately, maximize revenue.

As a PCI DSS Level One certified partner, PayPro Global is ready to offer your business increased data security.

Moreover, you can reach corporate status anywhere in the world, knowing you can count on a dedicated partner ready to equip your business with the right mix of methods and currencies, 28 supported languages, and branded checkouts. As for compliance and tax management, you won't need to worry about navigating these complex and labor-intensive tasks because PayPro Global can manage that too.

Visit PayPro Global or reach out to us to find out how we can help you successfully sell your enterprise SaaS solution anywhere in the world.
Final Thoughts
Due to numerous benefits, the enterprise SaaS business model is riding the wave right now.

Given this increased popularity, as well as the boosted revenue potential corporate clients, are known for, it's no wonder that more and more developers are orienting themselves toward this industry segment.

However, the truth is that building an enterprise SaaS solution is simpler than selling it, or at the very least, less time-consuming. The key to successfully achieving this goal is creating stellar enterprise product experiences.

Correct pricing, extensive industry and audience research, strong customer relationships, personalized support services, ongoing data collection, and analytics are just a few details of a robust GTM plan.

Remember this. Enterprise SaaS costs large-scale organizations thousands of dollars. Convince your audience that your product is worth the price.
FAQ
What is Enterprise SaaS?
Enterprise SaaS are cloud-based apps explicitly developed for large-scale companies having complex technological infrastructures, multiple employees, and performing global operations. Tailored to respond to advanced needs, SaaS enterprise solutions offer corporate clients extensive benefits.
What are the benefits of using SaaS for enterprises?
From fast and straightforward implementation, lower upfront investment, and customizable product versions to regular system updates and streamlined integrations, SaaS enterprise solutions focus on increasing efficiency and productivity.
How does Enterprise SaaS differ from B2B SaaS?
Enterprise SaaS is developed for large-scale organizations, providing targeted features for complex business processes, increased security, and pricing based on scalability. B2B SaaS, on the other hand, is focused on a broader market, with a more diversified set of features and fewer customization options.
Can you provide examples of Enterprise SaaS solutions?
Absolutely! Among the most successful enterprise software examples, we can name Salesforce, which offers robust CRM features, Semrush, a popular SEO solution, and Google Analytics 360, built for large-scale organizations with high-traffic websites.
How should I price my Enterprise SaaS solution?
A first tip would be to try the tiered model, thus being able to address to multiple market segments, but also visibly differentiating between corporate and regular packages. Secondly, you could consider applying the 10x rule, charging ten times your regular fee when creating the enterprise price. However, make sure your package delivers a premium experience for the users, with everything that includes.
It doesn't take luck to make it, but it does take knowledge. Be the first to learn the latest industry insights and must know marketing tips and tricks. Sign up and enjoy! Always informed. Never Spammed.