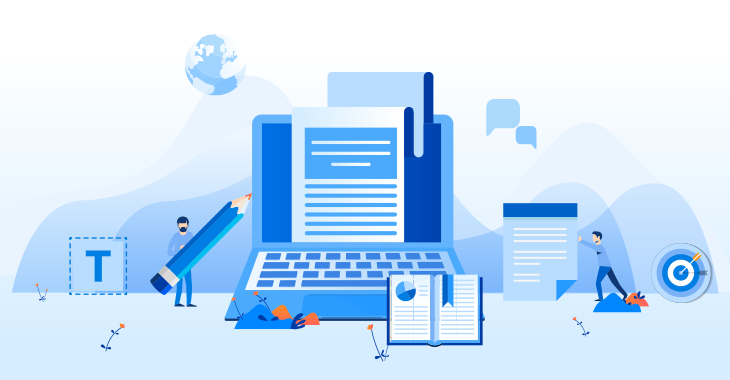 Published on March 18, 2013
Updated on March 13, 2023
Increasing Conversion Rates with Copywriting
The world of selling software online is experiencing dramatic changes every day. These occur due to the enhancement of techniques, new selling platforms, and ever-evolving SaaS trends and tools. Software publishers are constantly overwhelmed by the race after the latest trends in the online software world, where companies struggle to increase sales in an efficient manner. But from my observations, one of the most essential tools to sell software online remains neglected - Copywriting. One would ask why copywriting is so important in today's content-rich environment, where images and videos are the royal family. Do these images and videos really express the value proposition in a solid and clear manner? Perhaps, but not quite enough. The truth is that every product needs an exciting story behind it.
Website copywriting acts as an efficient salesperson or an eloquent speaker that weighs every word, seamlessly guiding you through every conversion funnel's steps and motivating a prospect to make the ultimate purchasing decision. Simply put - convert. Let's break down the process.
The Power of Value Proposition
This is the hardest part of any conversion funnel. I wouldn't be making a breakthrough by mentioning every software producer's harsh competition; the key here is to stand out from the competition. From my observations, many software publishers channel their efforts to providing tech specifications of their products rather than their functionality.
Are the tech specs the secret to attaining your perfect prospect? Before I answer this, I would like to ask a question: Why should your ideal prospect buy from you rather than your competitors? Would a dry tech spec list or a description of the nature of the product pull in your perfect prospect? Unfortunately, the answer is NO.
The truth is that prospects often don't care about these things; when they are looking for a product, it is because they have a problem and are looking for solutions. It is crucial that in the online environment, the indubitable benefit of buying your product stands out from the first sentence of your content. Ten seconds of attention, and the prospect is in. He is probably lost if you didn't capture his attention within these first 10 seconds.
Meet PayPro Global.
Your Professional
eCommerce
Partner
No 3rd party integrations. No hidden costs. No wasted time.
Just a solution as unique as your business's needs.
The steps in constructing a great value proposition would be the following:
Find the answer to the question: Why should your ideal prospect (or a group you intend to serve) buy from you rather than your competitors?
Compare your answer to your competitor's claims
Reduce the answer to a nurtured, perfectly crafted and instantly credible sentence
If you only had 10 words to describe why your prospect would rather buy from you rather than your competition, what would these 10 words be?
Write your value proposition.
Once you have found your true value proposition, we can say that you have found the key to efficiently optimizing your PPC and e-mail campaigns as well as your overall product sales. Now let me introduce you to another friend of mine. His name is the Micro-Yes.
Building your way to the Ultimate Yes
If we break down the purchasing process of every customer, it becomes clear that every buyer has a series of questions before hitting the BUY NOW button. You see, internet customers are rather different from the ones you meet in a brick-and-mortar store. They tend to be lazier, easily distracted, and do not like to waste time. Selling software online is a completely different process. That's why it is important to captivate your prospects even before they enter your website. This is where your beautifully crafted, short headline comes in. As an example, let's take a link headline of one of your PPC campaigns. Does your link headline motivate the prospect to click on it? If so, then you have just found your first micro-conversion of the whole process. Please take a look at the examples below and note the difference:

At the second step, your value proposition comes in. The value proposition moves you closer to getting your prospect to take action. By providing a clearer value proposition, you reduce the perception of cost, building your prospect's way to the call-to-action. This is the second micro-yes.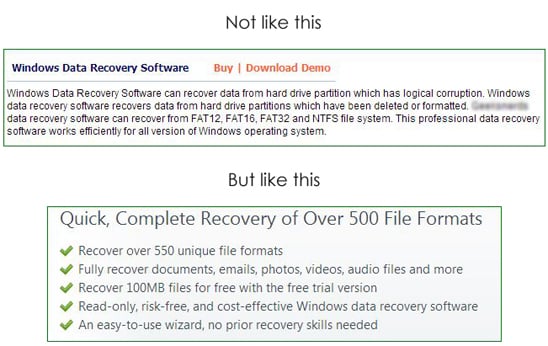 You can optimize this process further by providing the right incentives, if necessary or possible. This can be a coupon, a bundle offer, or anything suitable for your product. Incentives also reduce friction and perception of cost while increasing the overall value perception. To achieve the best results in this process, it is crucial to communicate well with your customers to know what they really value. Knowing this lets you create a perfect copy for your product that will lead to better conversions, sales, and revenue. It is very important to constantly test and optimize this process to achieve the best results in selling software online. After the prospect hits the BUY NOW button, new friction elements arise. The biggest of all is anxiety. The anxiety about transaction security, to be exact. Well, these are the steps addressed by your e-commerce provider, they have little to do with copywriting, but they play a very important role in reducing friction and anxiety. Let me show you how we do it.
Reducing Anxiety
The concept of reducing anxiety is not new for PayPro Global. As a software registration service, we understand that we have to stay as invisible as possible to the end consumers, while they are completing the purchase. This is why we offer full order page branding as a standard to all our partners. We strongly believe that we should never stand in the way between you and your customers unless they require assistance.
One of the highest anxieties customers face before filling in the forms is transaction security. According to numerous surveys we've conducted, 21% of shoppers were concerned about credit card security. The clearly visible highest SSL certification addresses this problem. This is why one of the first things you should look at when choosing the right e-commerce provider for your business, is the SSL certification they are using. This is the first assurance that the user's data is safe.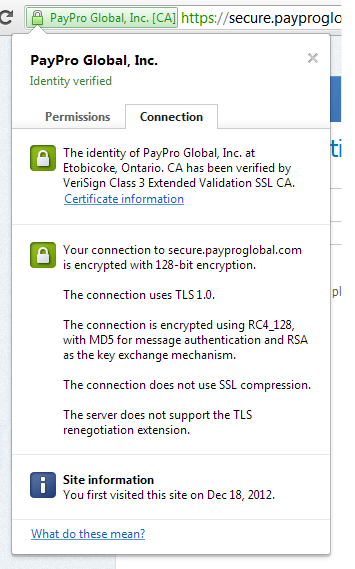 The presence of third-party security logos from trusted authorities such as MasterCard and Visa considerably reduces anxiety as well, resulting in a smaller shopping cart abandonment rate, as a result.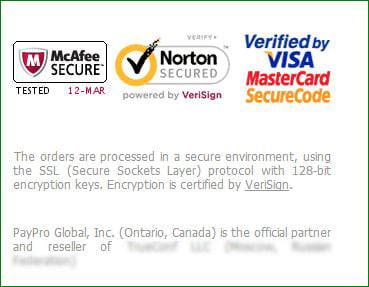 There is one more element that seems unimportant at first, but was found to reduce checkout process friction considerably. There is one peculiar aspect we've come across over the years; it is the fact that consumers don't feel very confident buying from companies that can only be reached online. Actually, 22% of shopping cart abandonments come from the absence of a support phone number displayed on the order page. Unfortunately, many software e-commerce providers neglect this simple fact, trying to ease their support operations by asking software producers for exclusivity agreements or by forcing their partners to upgrade to a higher, more expensive e-commerce suite just to have this simple feature.

Don't make them think
Disregarding to whom you may be selling, the right tone and terminology that consumers can understand goes a long way and can create that difference between visitors, SaaS free trial users and customers. If you are too pushy and aggressive, your visitors may be gone long before you start convincing them that they must own your product. Sound professional, trustworthy, and aware of their values, and your visitors will be far more receptive to your message.
Meet PayPro Global.
Your Professional
eCommerce
Partner
No 3rd party integrations. No hidden costs. No wasted time.
Just a solution as unique as your business's needs.
Has a tweak in your copywriting changed your sales results? Please share your stories with us.
Be bold, be sold
It doesn't take luck to make it, but it does take knowledge. Be the first to learn the latest industry insights and must know marketing tips and tricks. Sign up and enjoy! Always informed. Never Spammed.