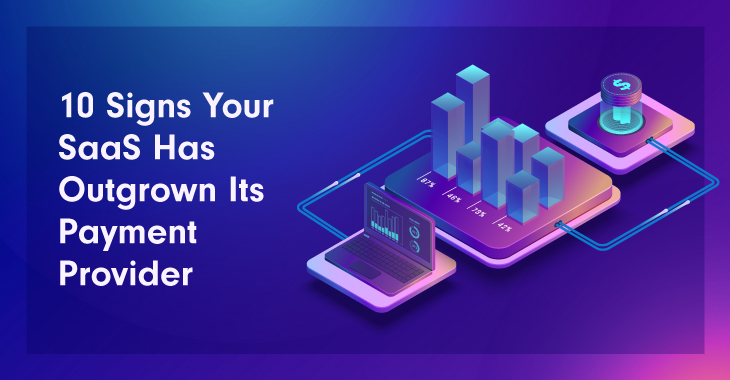 Published on April 6, 2023
10 Signs Your SaaS Has Outgrown Its Payment Provider
Payment technology is developing rapidly. According to Finances Online, 82% of Americans use online payments. Because of this, it is more important than ever for SaaS businesses to provide their customers with a wide range of payment capabilities to stay relevant.
As a result, most companies are utilizing SaaS payment solutions. These third-party providers offer essential services for a SaaS business, allowing them to generate revenue.
But what if your payment provider is falling short and holding you back? Is it only giving you the bare minimum or lacking flexibility? Or is it failing to keep up with the changing technological environment when it comes to current payment trends? The wrong payment partner can limit your business' growth opportunities, so these are questions you must ask.
If you find yourself wondering whether your payment service provider is best serving your needs, we've put together the top 10 signs to help you assess whether you've outgrown yours and should start looking for a more suitable provider to supercharge growth.
The Lowdown on E-Commerce Payment Support
There are three major types of online solutions that form the business payment infrastructure: payment service providers (PSPs), payment gateways, and merchants of record (MoR).
Understanding the differences between these is key for assessing the needs of your SaaS and whether your current payment process setup is truly working for you.
1. Payment Service Providers
PSPs are third parties that connect merchants with a financial infrastructure. They facilitate credit or debit card payments, bank transfers, and any other form of payment, such as e-wallets. PSPs offer many services, like currency processing, payment security, and transaction reporting.
2. Payment Gateway Providers
Payment gateways act as the middleman between the customer and the merchant. The main focus of the payment gateway provider is processing transactions quickly and securely. This is done through data collection, transferring payment details to the processor, and authorizing payments.
3. Merchant of Record
Merchant of Record is a legal entity authorized and held liable by a financial institution to sell goods or services to the end consumer. Regarded as one of the best payment solutions out there, the MoR is responsible for the entire customer interaction, from when the customer initiates the purchase process until they receive their product.
These business models offer a wide range of services, from local payment methods, managing recurring billing, and processing online transactions to allowing you to provide your customers with multiple subscription plans to improve customer satisfaction and boost monthly revenue.
How To Know if Your SaaS Has Outgrown Its Payment Provider
1. Lack of Customization
Personalization is one of the most important marketing trends right now, with 80% of consumers stating they are more likely to buy from a company that provides a tailored experience. And the same goes for SaaS companies.
Customization is important to ensure that your online payment processing system meets the needs of your customer base. Since your SaaS company is unique, it makes perfect sense that all business customers have specific preferences regarding online payments.
Some SaaS payment processing solutions only offer cookie-cutter payment solutions, which will never be the most effective solution for your business. You need to be able to find out what your market and customers want and then design your payment solution around them. Without a dynamic and flexible payment provider, you'll be unable to quickly adapt to the unique needs and requirements and should consider changing your provider.
2. Few Updates and Little Innovation
On a very basic level, your payment provider must implement periodic payment platform updates and update their technology regularly to keep up with the fast-paced changes in the industry. If they're using old, outdated technology, you've probably outgrown them.
This kind of software will make the lives of your development team and customers more difficult because it's tougher to integrate, tougher to update, and harder for your customers to use.
As an example, you want your payment provider's technology to integrate with a single API so that it's quick to implement and will be easy for the end user. In addition to that, the features must have the ability to be embedded directly into your own platform.
There is more to transaction processing than payment collection. A lack of updates could also mean compliance issues in the financial landscape since the regulations are changing frequently.
The same is true for the changes and updates with tax requirements worldwide, and you could land heavy fines if your payment provider isn't keeping up with these changes.
Your payment provider should be staying up to date with developments and consumer trends in the market. In terms of innovation, you want to see your payment provider trying new things and implementing forward-thinking features relevant to the payment journey, especially if you are a SaaS startup.
They should be able to assess the needs of your business and then work to meet them in a timely manner. Accenture found that 62% of high-growth companies plan to invest in technologies that lead to higher rates of innovation. This is the kind of payment provider you should be looking for, integrated payment solutions, constantly improving their systems to ensure your business is up to date with any changes within the payment industry.
3. Poor Integration
Good integration leads to smooth processes in payments. One red flag often seen is when your service provider is using a tech stack with multiple providers without organization and cohesiveness. They should fit in seamlessly with your tech stack. This is particularly important regarding your data, which should not be siloed and always be well integrated with your ERP, CRM, or PIM.
Integration of payment processes also has a direct impact on your software development team. They shouldn't have to deal with unnecessary amounts of work trying to integrate the payment software with your eCommerce platform. This could affect the workload on your operations over the long term and threaten the success of your business.
You also want to ensure your payment provider has a Software Development Kit (SDK). This is a set of software tools and programs documented by the provider that developers can use to build applications for specific platforms. SDKs help developers offer seamless integration of their apps with the payment provider's services.
4. Payment Options Are Limited
Today, customers want a diverse range of options when making payments that are seamless and frictionless. Gone are the days when just credit card payments would suffice. The more diverse your payment method offer is, the better. Modern payment methods include cryptocurrency, digital/mobile wallets, direct debits, and prepaid vouchers.
Alternative payment methods add value to the experience that customers have with your business, and offering these will lead to more sales and higher conversions. Unfortunately, your customers may well migrate to other businesses if they can't access the payment options they want to use.
It's important to remember that customer payment preferences differ across countries and regions. For example, MasterCard, Visa, and American Express are the top three payment methods in the US. WePay and Alipay are very popular in China, while Germany prefers Giropay, SEPA Direct Debit, SOFORT, and PayPal payments.
This serves as an important reminder of how important it is that your payment provider offers a range of payment methods suited to your customer base. Check out our piece on payment trends for a list of the latest innovative ideas in payments to look out for.

If your payment provider doesn't make it possible for you to offer multiple, up-to-date methods of paying, you've outgrown them.
5. Operational Costs Are High
High operational expenses mean less profit for your business. Spend some time evaluating the transaction fee associated with your payment processor and comparing them with similar providers.
There are various fees involved in payments which you should always keep an eye on. Fees could include interchange, assessment, and payment processing. These can vary widely depending on the provider you use and where you are selling.
Another thing to consider when it comes to operational costs is the expense of integration. If your payment provider is using older technology, it may be difficult to integrate with your systems. If you find your total payment-related operational costs too high, you may need to investigate an alternative provider.
6. Trouble Expanding Across Borders
If you're finding it difficult to expand into other markets, it may be linked to your payment provider. They must comply with all local laws within every jurisdiction you sell in, or you will be unable to transact in those regions.
For example, can they legally handle European VAT rates or US sales tax? More importantly, if you want to expand to other jurisdictions, do they have the knowledge and expertise to manage everything related to these tasks?
Another important factor to consider is whether your provider has flexible business models. Different jurisdictions may require different payment models, so your payment provider should offer different alternatives as options.
In some places, a PSP model may be more effective, while in others, an MoR may be necessary. If your provider isn't offering you this flexibility, it may be time to shop for alternatives better suited to your business.

Lastly, you want your provider to partner with local acquirers in all the regions you are selling globally. This makes the processing of international transactions much simpler, as they can process payments locally, which leads to better authorization rates.
7. Inefficient Subscription Handling
Subscription management is not a simple business. SaaS billing systems need to accommodate multiple aspects of recurring payments, from different-length subscriptions and manual and automated payments and on-demand renewals to upgrades and downgrades.
Additionally, having access to a strong subscription analytics tool will help you understand what needs to change to offer your customers better experiences.
Your payment provider needs to make managing these multiple tasks easier, not more complex. They should not add an extra burden to your already busy business management workload. If the subscription management system makes you feel overwhelmed, you may have the wrong payment provider.
8. Difficulty With Tax Management and Compliance
As mentioned earlier, tax management and compliance are complex for SaaS businesses selling across global jurisdictions.
And it gets more complicated as tax and compliance regulations change rapidly. Your SaaS risks hefty fines for errors, missed deadlines, or misinterpreted guidelines.
Our articles on the true cost of compliance for SaaS and a global SaaS compliance audit checklist demonstrate the level of effort it can take to stay on top of tax and compliance regulations.
Your payment provider needs to be able to help you to develop a highly responsive system to stay on top of these issues so that you can focus on your product and business.
Meet PayPro Global.
Your Dedicated eCommerce Partner.
Thrive with the industry's most innovative all-in-one SaaS & Digital Goods solution. From high-performing payment and analytics tools to complete tax management, as well as subscription & billing handling, PayPro Global is ready to scale your SaaS.

Sell your SaaS globally with PayPro Global!
9. Poor Customer Service and Client Support
The more basic the functionality your payment provider offers, the more basic the level of support offered likely is. This is a double bind since you want more than basic functionality and top-quality client support.
You don't want to be routed to a generic email address when you raise a concern or suggest a new feature. You deserve multiple channels for reaching your provider with the option of emergency access to a support system.
Look closely at how your payment provider responds when you bring a problem to them. Perhaps you struggle to get an actual human on the phone or feel as if those who do answer don't seem qualified to do so.
Does it take a long time for tickets to be resolved? Is the feedback you receive more general rather than specific for your inquiry? Are there failed payments and refund requests without your involvement in these processes?
If you're looking to get more out of your payment provider but don't feel like your current one offers you the level of support needed, you may have the wrong provider. Without having a partner who has years of experience and a solid solution could lead to multiple issues and, eventually, a decrease in the profitability of your business.
Excellent support shouldn't just extend to you as the client because 68% of consumers say they are willing to pay more for products and services from a brand known to offer good customer service experiences. Your customers should also be receiving top-quality customer service.
They deserve quick and effective answers to their payment queries from a knowledgeable professional in a timely manner. If you sell internationally, your payment provider should handle inquiries across multiple time zones. If they can't do this, it may mean you need to look elsewhere.
10. Ineffective Fraud Management
According to estimates, e-commerce losses due to payment fraud were estimated at 41 billion U.S. dollars globally in 2022. The figure is expected to grow to 48 billion U.S. dollars by 2023. Since payment security should be a top priority for your business, you'll need a payment provider who takes fraud management seriously.
An SSL certificate should be required to safeguard confidential customer data by encrypting the data, which prevents fraud. Also, additional security features like 3DS2 and tokenization are offered by respectable payment solutions to protect your business.
A reputable payment provider should also be using effective fraud prevention algorithms to provide manual verifications of suspicious orders. Check-in with your payment provider to determine whether they have sufficient fraud management tools in place to protect your customers and, ultimately, your business.
Features To Look for in a Credible Payment Provider
If you feel like you've outgrown your payment provider, you'll need to begin the search for one that can meet your needs. But what features should you look for?
These are our top considerations for an effective payment provider:
Good payment security
Efficient and careful tax handling
Localization of payment flows
Easy and quick onboarding and integration
Strong customer support
Global payment processing
Regular platform updates
Multiple business model options
A Merchant of Record (MoR): The Best Solution for Boosting SaaS Growth
One model which can tick all these boxes is an MoR. The MoR model is an alternative to either building your own billing engine or partnering with several different third parties to get everything you need.
An MoR is a full-service solution that allows a SaaS business to outsource several operations. It handles tax management, payment processing, data compliance, fraud, and chargeback management, as well as the set-up of merchant accounts.
Our article on Merchants of Record will give you all the information needed to understand an MoR and its value for SaaS businesses.
How Can PayPro Global?
PayPro Global offers a complete eCommerce solution for SaaS, software, and digital goods developers. Our unique Merchant of Record business model is the right growth partner for your business, giving you access to innovative payment tools, automated billing and tax management, fraud detection, and prevention, as well as global compliance.
With over 70 payment methods and more than 110 currencies, you easily tap into new, emerging markets and offer shoppers localized payment experiences. Additionally, by equipping our partners with 24/7 dedicated payment-related customer service, we are putting shoppers at ease and reducing the risk of chargebacks.
We are your one-stop eCommerce solution, successfully unifying all the payment tools and technologies you need to create remarkable experiences and drive global revenue.
Concluding Thoughts on Outgrowing Your Payment Provider
Nowadays, a strong online payment system is the core of the modern business. If you're not tuned into the needs of your SaaS in terms of payments, you could be putting a strain on the growth of your business by not having the correct payment provider that meets your needs.
At PayPro Global, we're the MoR you can trust. From managing taxes and subscriptions to simplifying automated billing, we handle everything for you. Let us take the pressure off payments and give you the flexibility to achieve global success.
It doesn't take luck to make it, but it does take knowledge. Be the first to learn the latest industry insights and must know marketing tips and tricks. Sign up and enjoy! Always informed. Never Spammed.