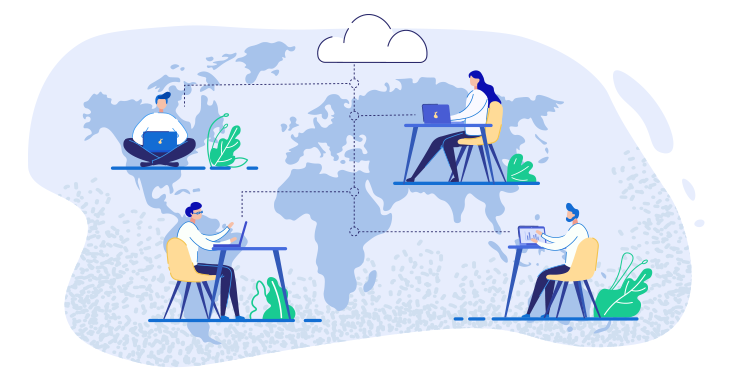 5 reasons why SaaS companies should outsource automatic recurring billing
Businesses are always striving to reduce operational costs, this is a very wise decision in the pursuit of profitability. But often they fall into traps of hidden costs, which are not very obvious at first sight and the outcome can be dramatic in the medium to long run.
SaaS start-ups are always faced with the dilemma on what to do with their recurring billing solution; to develop their own or outsource? By simply taking a fugitive look at processing rates, many businesses would go for their own solution. But is it really cheaper? I will raise both hands for outsourced solution and here's why:
1. PCI DSS Compliance costs and associated risks

To accept credit card payments online, a merchant needs to become PCI DSS compliant to ensure payment security. These requirements are very strict and require a complex software and hardware infrastructure that would take months to set up. This means the company would be stuck for months employing specialists and setting up the system. Are you considering time as a resource? You should, as during this time, you won't have any revenue.
Most start-ups fall in the category of level-4 merchants, which means that they have e-commerce transaction volumes between 20,000 - 1,000,000 transactions per year. According to research firm Gartner, level-4 merchants would have to spend approximately $44,000 for assessment and $81,000 for compliance. If the transaction volume grows in time, the cost only gets higher, this cost can end up in hundreds of thousands of dollars. This is a very painful number for a start-up or any company in general. This money can be wisely spent on product development or other important company needs.
And this is only about credit cards. I think you might want to accept ACH or PayPal, so the cost would get even higher.
Meet PayPro Global.
Your Professional
eCommerce
Partner
No 3rd party integrations. No hidden costs. No wasted time.
Just a solution as unique as your business's needs.
Another cost with PCI compliance is audit. Merchants need to perform quarterly scans to check vulnerabilities and all outward-facing IP addresses. Roughly, the cost of the scans is $150-$2,500 per IP address per year. And again, time is a resource that plays a very important part in this process.
2. Fraud check

The DNA of SaaS and Cloud companies is global. This means they have orders coming at any time of the day and night. A very important aspect of accepting payments online is, of course, fraud. The truth is that every ecommerce company is attacked by fraudsters. You can of course find a relatively cheap fraud-screening software, but it's the human factor that has the final say. The thing is, cyber criminals become more and more sophisticated in their practices, they know how to mask themselves to look as legitimate shoppers. This only means that you will need a whole team of highly-qualified personnel to screen orders and double check buyer's identity 24/7. This means cost again, this means training, this means time.
3. Involuntary churn

In subscription business, customers often churn involuntarily because of payment problems. Let's imagine that a long-time customer's subscription couldn't be renewed just because his credit card or PayPal account had insufficient funds at the processing day; Do you have what it takes to tackle the problem? This means the customer has to be called, or reminded about it, and means his card has to be tried again in a few days. It's obvious that your support team would consume even more resources to prevent bigger problems.
4. Infrastructure

Placing a subscription product on the market would mean that you would need to manage its pricing, promotions, delivery and campaigns. You would need sales reports too. Of course you can find lots of standalone solutions out there to manage all these separately, but the aggregated cost can end up much higher than paying additional percentage points per transaction. Again, time required to set it all up is another resource leak. Just think about abandoned orders and remarketing tools.
Checkout interface is another important feature. The checkout conversion is a whole science by itself. Every element has to be A/B tested, tweaked and adjusted according to individual needs. This would require a dedicated web developer, a graphic designer and of course, marketing expertise.This leads to additional costs again. Why not entrust this important step of your conversion funnel to experts who know what they are doing? For example at PayPro we offer it all to all our partners as a standard with no additional cost and constantly tweak the checkout for higher conversion and less abandonment.
Another point that is not to be neglected is presence on local markets. If you have a merchant account in the US, you lose a huge competitive advantage in other areas of the world. A competitor from another world region with another merchant account will outrank you easily on his territory. Why not give yourself a competitive advantage with local payment methods, shopping cart localization and local currency display and billing? All these are available instantly with an outsourced recurring billing solution.
5. Disputes

Another aspect to consider is chargebacks. Very often subscribers are too shy to ask you directly to cancel their subscription and prefer to chargeback instead. Sometimes they simply forget they signed up in the first place. This means you would need to handle chargeback disputes on a monthly basis. It's not easy, bank regulations a very complex and to successfully navigate in this legal mumbo-jumbo requires high level of expertise and storage of data. Just think if you would be fully prepared to successfully dispute your first chargeback on time.
Another aspect to consider is that even if you win all chargeback disputes, this doesn't save you from the negative statistics that can't be reversed. With negative statistics your processing rates will only grow higher and higher as a result of the risk factor, and this is never the case with an outsourced solution. We can help you avoid chargebacks altogether.
Conclusions and takeaways
When outsourcing automatic recurring billing, a company would have to pay 2%-4% more per transaction than with a merchant account from a bank. But an ecommerce platform always offers much more value than a simple merchant account. It doesn't have any set-up fees and offers a ready-to-sell infrastructure at the moment of sign-up. It offers many sales, marketing and reporting tools to offer upgrades, cross-sells and add-ons during checkout. This only means higher order values, higher LTV (lifetime value) and conversions rates. This also means that these 2-4% will be easily compensated and help you not only save money, but increase your profits in the end, while you concentrate on improving your product.
Meet PayPro Global.
Your Professional
eCommerce
Partner
No 3rd party integrations. No hidden costs. No wasted time.
Just a solution as unique as your business's needs.
Moreover, an outsourced recurring billing solution already has all the necessary ecommerce expertise and human resources to guide you during your starting phase and tweak your operations for a greater result.
Do you want to know more about the advantages of an outsourced automatic recurring billing solution? Contact us
It doesn't take luck to make it, but it does take knowledge. Be the first to learn the latest industry insights and must know marketing tips and tricks. Sign up and enjoy! Always informed. Never Spammed.