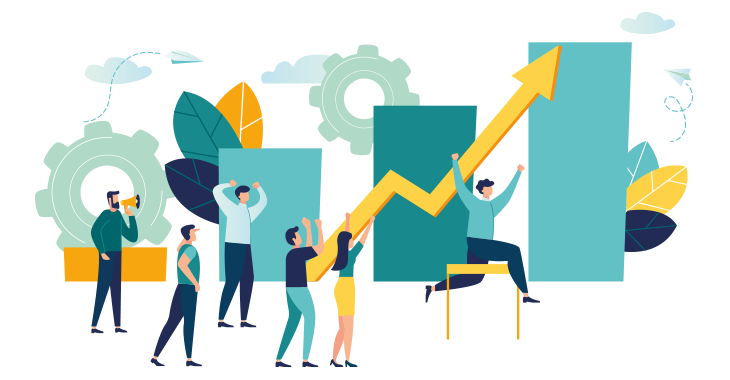 iSpring eLearning Solutions: Employee onboarding done right
Why don't we pay as much attention to our employees as we do to our customers? Somehow, we fail to realize that customers bring us profit, but only when their experiences are rewarding. And that depends on our employees.
You have so many departments involved in the creation, testing, marketing, and sale of your product, not to mention that a team of dedicated customer specialists needs to make sure that your customers are happy with the product they receive. So, engagement and work are expected from your team. Therefore, let us ask you again:
Why don't we pay as much attention to our employees as we do to our customers?
And here's something else. Not only are you paying a small fortune to recruit the right people for a position within your company, but you might also be losing money if one of your employees isn't doing his or her job correctly. The irony of it all is that you can't even blame that person for messing up because the chances are it might be your fault. Why? Because you haven't invested the proper time and resources into adequately training your staff. Because you have not been paying attention to the onboarding process. That's why.
Meet PayPro Global.
Your Professional
eCommerce
Partner
No 3rd party integrations. No hidden costs. No wasted time.
Just a solution as unique as your business's needs.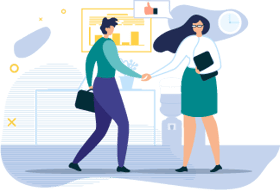 Why does it even matter?
It matters. Without a proper onboarding process, you are shifting the responsibility onto one of your staff members. That means that, for a time, all of his or her tasks are somewhat delayed. Are there chances for a chain reaction? You can bet on it. You don't like it when tasks are delayed, right? Why? Because you may suffer losses.
Employee onboarding should be as important as customer onboarding because it's just as rewarding. Or it can be, as long as it is done right. Now, you might be wondering what else can be done besides designating a person and thus blocking them from completing their tasks only to educate the new team member. Well, you could forget about the human side and switch to tech. Switch to eLearning and kill two birds with one stone.
eLearning is training management at its best, because it focuses on the needs of the employee, giving him both control and responsibility.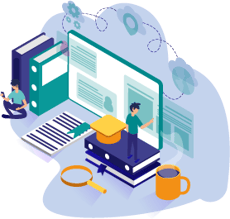 Putting eLearning to good use: iSpring's creative toolkit
Yes, eLearning should be regarded as the future of employee onboarding. Creating powerful experiences will prove to be highly rewarding in the long run. According to SHRM (The Society for Human Resource Management), employees are 69% more likely to continue working for your company for three years1 if they've experienced great onboarding. Talk about a long-term investment, right?
iSpring Suite is a leading eLearning toolkit that permits users to create a unique employee onboarding experience by leveraging the power of PowerPoint. You can produce high-quality courses, video lectures, and assessments that are ideal for educating new hires and testing their knowledge. Thus, not only are you delivering a significant amount of information to your new employees, but you are also putting the responsibility and opportunities solely in their hands by structuring the information intake.
iSpring Suite is the preferred method of choice because it makes online course creation faster and easier. In just a matter of seconds, you can update your onboarding presentation and provide new hires only with up-to-date information. Think of it as an online community for SaaS businesses can use effectively.
Considering that the onboarding process is meant to prepare your employees to face up to challenges and to always consider the company's best interests and core values, an authoring toolkit that provides its users with a dialogue simulation feature is gold. This helps new hires practice their conversational skills, so when the time comes for actual interactions, your newest employee will most certainly rise to the challenge.
Next in line are the built-in video and audio editors, which are awesome features. These contribute to the overall level of engagement of the onboarding procedure, not to mention its time efficiency. Using video and audio editors, you can create captivating lessons, put together key employee interviews, and even introduce new hires to their future working environment by creating a quick virtual office tour.

Remember the shift in responsibility? Well, with iSpring Suite, this is possible. Within the courses you give your new employees, you can add quizzes to test their information intake. Thus, no more waiting and praying that the new team member will accurately understand your company's product or service. And no more surprises. No other team member has to devote some time to watching the new hires and ensuring they understand their tasks. Now, you have the integrated QuizMaker, which can do that for you and do so effectively.
iSpring Suite is also an easy-to-use file converter that turns PDF, Word, PowerPoint, and mp4 to SCORM format, which can be uploaded to any SCORM-compliant LMS. With iSpring, you can also convert PDF, Word, and PowerPoint to a flipbook in just a few clicks.
Basically, you are looking at a tool that permits you to create and offer engaging, time-efficient, and highly informative onboarding experiences, which can have considerably better results in terms of employee productivity and performance.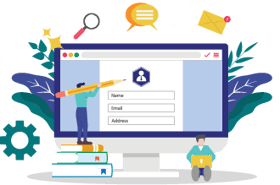 Taking the "ache" out of "headache" with iSpring Learn LMS
With iSpring Learn LMS (Learning Management System), you can automatically assign courses to newcomers, thus creating a learning path. Once a course has ended, the next one will automatically begin, and you won't have to worry about a thing. However, unlimited course access can be provided to learners if needed.
There's more. You can track how new hires are doing and check if they are progressing as you hoped. Should you notice something else, then you can always provide them with guidance to make sure they get back on track. You can even create reports on the progress your team or employees are making in terms of information intake. Additionally, iSpring Learn LMS can manage training deadlines and automatically send invitations and reminders, making the life of an employer or an L&D specialist easier.
You see, the entire point of using dedicated tools such as the ones provided by iSpring is to make your life as an employer simpler, as well as help your teams reach their best results when offered the right information.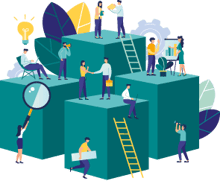 Let's allow the numbers to do the talking, shall we?
There is no better argument in any discussion than numbers. Once you throw one into a debate, the tone changes. You are given the floor. Now, to make sure that you maintain the floor, you need to keep producing numbers. And that's exactly what we are going to do.

Onboarding time reduced by 50%
Central One Federal Credit Union, a not-for-profit credit union in Central Massachusetts, has been using iSpring's creative toolkit to provide consistent training for 17 departments. Also, the estimated SaaS user onboarding period has gone from 7-8 weeks to only 4. Central One Federal Credit Union has 110 employees on the iSpring Learn portal, providing constant, ongoing, and, most importantly, updated information.

Training over 1,200 employees
Knox Community Hospital, located in Vernon, Ohio, has successfully trained over 1,200 nurses and ancillary staff using the iSpring toolkit. It has revolutionized the way the hospital trains its staff. And because courses are so simple to create, taking no longer than 30 minutes, several problems within the institution have been solved by sharing organized and adequately structured information.

Managing 520 quizzes & over 12,000 questions
Learning Nurse, an informal training platform that trains over 250,000 nursing students yearly, has managed to create and distribute 520 quizzes on a variety of topics, from diseases and disorders to diagnosis and testing, all using iSpring's creative toolkit.
Meet PayPro Global.
Your Professional
eCommerce
Partner
No 3rd party integrations. No hidden costs. No wasted time.
Just a solution as unique as your business's needs.
Onboarding experiences can change everything. If they fail, your business could end up losing, on so many different levels. If they succeed, however, your business grows. It grows from the inside. Your staff knows what to do, how to do it, and with whom. Teams are better connected through information, and iSpring really makes it simple to deliver an amazing onboarding experience.
For more information about iSpring, features, case studies, and news, just go ahead and check out their website.
Note:
https://www.shrm.org/resourcesandtools/hr-topics/talent-acquisition/pages/dont-underestimate-the-importance-of-effective-onboarding.aspx
It doesn't take luck to make it, but it does take knowledge. Be the first to learn the latest industry insights and must know marketing tips and tricks. Sign up and enjoy! Always informed. Never Spammed.