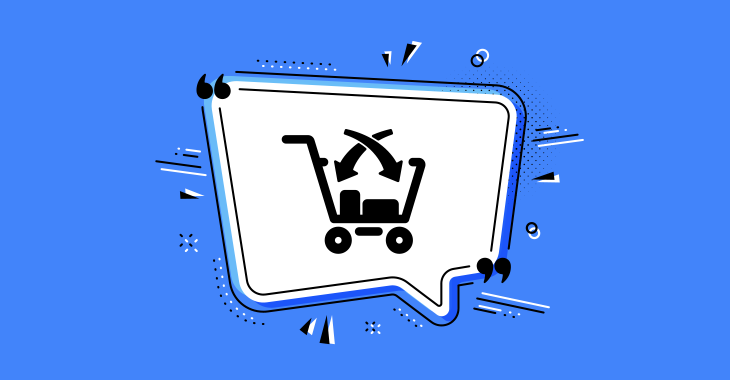 Published on April 5, 2013
Relevance is the key to successful cross-selling
Recently I purchased a new phone from a brick and mortar store (yes, I know, shame on me, but as I needed it urgently, I couldn't deal with delivery waiting time). While the shop consultant was wrapping my purchase she proposed to buy a phone case for my new toy and pointed to the stand with a huge selection of cases of various colors. After my previous phone was shattered into pieces from hitting a concrete sidewalk, I succumbed to her offer and bought the additional item. This was a classic cross-sell in the real world.
You might ask how it is relevant to the process of selling software online. Well... it has the most relevance as the example above is the grandfather of today's digital cross-sell. How did the shop consultant get so successful in selling me an additional item? The simple truth is she proposed something complementary to my original purchase. The case was perfectly relevant for today's fragile electronics that tend to shatter easily.
Meet PayPro Global.
Your Professional
eCommerce
Partner
No 3rd party integrations. No hidden costs. No wasted time.
Just a solution as unique as your business's needs.
Traditional Cross-Selling
This is how things should work when you sell software online. The most common mistake in using traditional cross-selling I've noticed is that a software producer has several completely different products on offer and tries to cross-sell them to their customers. The publisher is clearly forgetting that the additional offer is completely irrelevant to the original purchase and usually the buyer would never be interested in that. This results in very modest additional sales.
The important aspect many of us overlook is that cross-selling is perfect for complementary items to the main product you intend to sell. This can be premium support, or additional software modules. Actually, it can be anything related to the main product.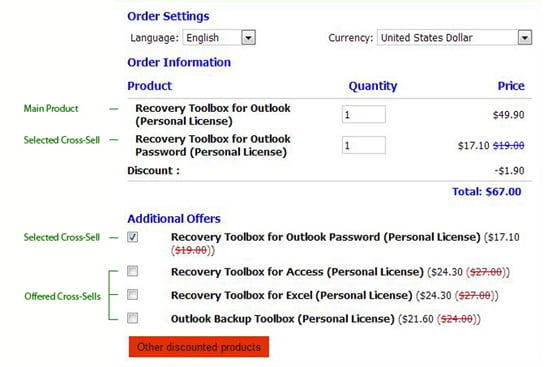 In the example above you can find a typical example of efficient cross sell functionality. The software producer chose a few complimentary products, but shows only first three in order to keep the page simple. In case the customer is really interested in additional offers, he is opening them by using the respective button. Simplicity and customer interaction are two of the most crucial elements when offering something else.
A different approach
At PayPro Global we offer an additional tool to improve your cross-selling results – the Cross-Sell Pop-Up. It is the perfect way to promote exclusive products. We've been offering this exclusive tool to our partners for several years already and we keep getting great feedback about it.
So how does it work? After the customer has gone through all the checkout stages, filled in all the forms and payment data and clicks the Submit Button. But the magic happens before his credit card is charged. This is where the cross-sell pop-up comes in.
As you can see in the example above, the customer is given two options. Either to add the discounted product to the cart or to refuse it. If they click YES, their order is automatically updated and his credit card is charged with the updated amount. If they choose to click NO, then nothing is added and the customer is charged with the original amount.
The particularity of the cross-sell pop-up when selling software online, is that this method avoids the risk of scaring the customer away with too many persistent offers. As the customer has already made the purchasing decision and confirmed his purchase by clicking the submit button, there is no turning back. The results from using this cross-selling method are pleasing as well. According to the feedback kindly provided by our partners, this yields in 10-12% conversion rates on average. I think it's a number that just can't be ignored.
Meet PayPro Global.
Your Professional
eCommerce
Partner
No 3rd party integrations. No hidden costs. No wasted time.
Just a solution as unique as your business's needs.
Regardless of the cross-selling strategy you choose to sell software online, there is always room for creativity, optimization and improvement. I am sure you will find the perfect formula for your particular product to achieve the greatest results for your business.
Happy cross-selling!
It doesn't take luck to make it, but it does take knowledge. Be the first to learn the latest industry insights and must know marketing tips and tricks. Sign up and enjoy! Always informed. Never Spammed.