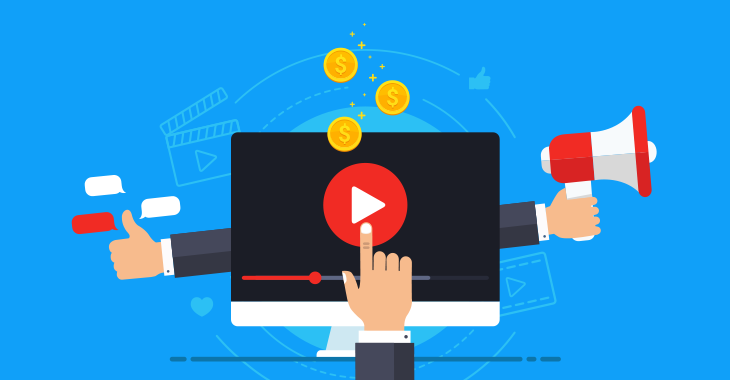 Video didn't kill marketing: It just made it better
While you might stumble upon hundreds, thousands, maybe, of articles that promise to give you the complete set of rules of making a huge profit in the eCommerce world, you needn't be discouraged.
You don't have to know and respect 10 or 20 or 100 rules. In all fairness, knowing them can in no way guarantee that profit will come barging in.
There is however one rule you must own. And by owning it, you will be gaining a true business sixth sense that can in no way be denied. A sixth sense that will bring you the profit you are craving for.
Embrace change, but remember your goal.
That's it, the only rule you will ever have to remember. Forget the rest. But not this one. By making this rule your own you will soon discover the missed or overlooked opportunities, part of your industry and you will be able to play your cards right. The power of video is one such example. Sure, you'll be saying that this is no missed or overlooked opportunity. It's a full-scale phenomenon.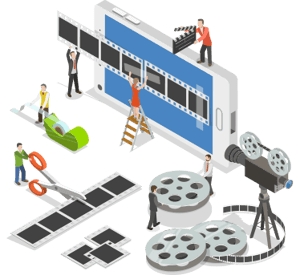 And yet, not that many video strategies make it to episode 2 being quickly abandoned for not obtaining solid results and being too expensive to sustain. Missed, overlooked, killed, name it what you will. The idea is that people, more specifically B2B businesses hit a real roadblock when having to promote products or services by means of video without being able to see an immediate payoff. Why? Because it's just not done properly.
So, we come back to the only existing rule in the e-commerce world. What was it again? Embrace change, but remember your goal. If you follow this rule, what do you get? You discover a solid trend that might make you want to get off the beaten path.
-62% of B2B marketers consider that video is the right format to choose to distribute content1
-8 out of 10 B2B marketers announce that video provides much more audience insights than any other tool.2
-48% of B2B marketers primarily use videos to promote products.3
Video is the change. Engaging with customers is the goal.
So, yes, video is big. It's the kind of trend that is bound to grow. But there is just one problem. And it has to do with those words that marketers love so much, immediate returns. Promoting your products by means of videos, while a highly popular practice, needs to be done in the correct manner in order to bring those returns. Otherwise, you might end up joining those marketers that decided to stop video strategies, assuming that these were not at all as profitable as the world assumed.
The two MISTAKES you NEED to AVOID
1 What do you plan on doing with your video?
Just like any marketing tool, videos need to serve a purpose. Otherwise, your work, your investments will all be in vain. So, when you start putting together a plan, you really need to know from the very beginning where that video will be going. Social media channels, cold emails, maybe forums? Define the purpose and use of your video before calling all major Hollywood directors to work on it.
2 Who are you creating the video for?
Now, that you know what you want to achieve, you should think a bit about your audience. This is yet another mistake that B2B marketers tend to make and ultimately, this error could affect the results of your video strategy. Targeting is a word that we hear a lot in the B2C world, but, frankly, not everyone is keen on these strict classifications. B2B, B2C, at the end of the day you are selling to people. So, having a message that can hit straight home can do wonders for your product. Try not to shrink your product or service to those two magic words you think your audience loves so much, profit and automation. Yes, these are great attention grabbers, but a video is not just a 10-second pronunciation lesson.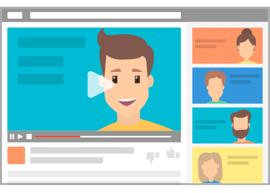 A video is a direct product presentation. Use the time you have to explain why your product is worth buying in a manner that your customers can relate to. And, make sure you consider the purpose and distribution channel. Social media, for instance, is all about presenting tough lessons in a humoristic kind of way. So, don't be the geek at prom, because you might go home alone. Be the popular student, loved by your target audience.
Meet PayPro Global.
Your Professional
eCommerce
Partner
No 3rd party integrations. No hidden costs. No wasted time.
Just a solution as unique as your business's needs.
A four-point checklist to improved videos
A strategy is as good as you make it. Statistics might tell you that video is strong, but they are not going to show you what you need to do to enjoy success. That's something you will have to discover on your own. Here are 4 tips that might help you strategize.

Reporting, the golden tool
It's not enough to decide upon channels to distribute your video. You also need to watch over them and compare their effectiveness against each other. Have one unified look over the behavior channels have in relation with your video content. Use trusted tools that offer an overview of all your channel related statistics.

Unveiling data
Data is most certainly king. It's up there, next to content. And content and data need to have a strong relationship. It's an absolute must. Video is just another type of content, so extract as much data as you can from it. Go deeper than looking at channel distribution. Check engagement, drop-off rate, actions taken by viewers, traffic sources, audience demographics, really anything you can get your hands on. Data will allow you to understand what you are doing right and what you are doing wrong.

Repurposing and testing content
So, you have a lot of data. Good for you. Now, you need to use it. If one distribution channel failed, it does not mean that the video is worthless. Having audience related data, you can repurpose it, with the right description. For instance, it might be a much too serious video for social media, but it might be a perfect fit for a cold email approach. Don't be afraid of testing. Use video with targeted CTA, email subjects or links to other sections of your website. Test everything and anything. Think of your video strategy as a trial and error one.

Story matters.
Yes, you shouldn't judge a book by its cover, but this is the age of speed. How much time do you think your audience has to see that your product is so much better than those overly-advertised options? We're talking minutes here, seconds actually. Build a story that is catchy, funny, easy to relate to. Concentrate on the value your service/product is bringing to its users. Bring solutions. Nowadays, the cover of the book is just as important as its content. How else would you explain user-friendly interfaces?
Knowledge Takeaway:
The buyer's journey has changed dramatically, but in no way does this mean that traditional marketing principles no longer apply. The change is fueled by the apparition of new frames to carry content, new frames to help build and maintain relationships. Video is undoubtedly one of those frames, being fundamental in the sales funnel. Promote your products by means of videos and be willing to reshape your strategy based on insights and data. Produce and repurpose content, showcase your products or services, focus on the value they bring to their users, rethink channel distribution, let data dictate the approach, test your work as often as you can. It may be hard work, we'll give you that, but in the end, the greater the challenge, the greater the gains.
Notes:
1/2/3 According to a 2018 LinkedIn survey - https://business.linkedin.com/en-uk/marketing-solutions/blog/posts/B2B-video/2018/welcome-to-the-era-of-b2b-video
It doesn't take luck to make it, but it does take knowledge. Be the first to learn the latest industry insights and must know marketing tips and tricks. Sign up and enjoy! Always informed. Never Spammed.