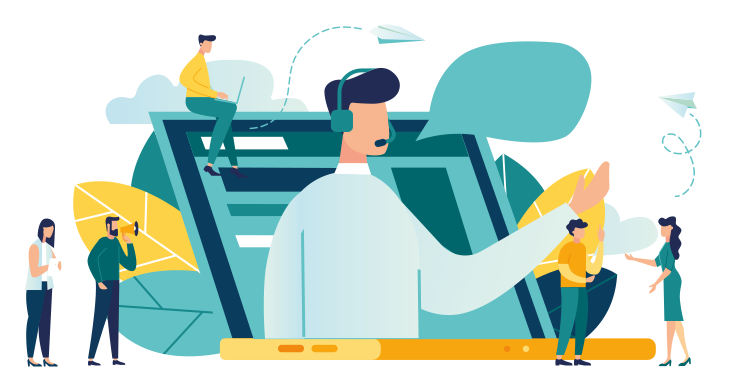 4 reasons why you have to improve your customer support before switching to recurring payments
When switching to recurring payments for software products, it is important to understand that customer support will now play a central part in your business. After all, when a customer signs up for a subscription, he actually signs up to a relationship with you, your customer support can transform it into a long lasting friendship. Long lasting is the keyword here, as the longer the recurring payments from every customer flow, the more profitable your business is.
Good customer support can go way beyond the capability of problem solving for customers. It can actually increase your customer retention and drive repurchase.
Check out the 4 reasons why you have to improve your customer support before switching to recurring payments.
1. Data collection for a holistic customer view

A good support department doesn't only answer calls, it listens to your customers and collects the most valuable data about them, such as usage, challenges, blockers and so on. This data will later serve all of your departments, from sales & marketing to UX design teams to even further improve the usability of your product.
In recurring payments model, the customer data is extremely important to identify roadblocks for customer satisfaction before they turn into problems and result in churn.
2. Eliminate issues before they appear

The rich data gathered by support can help you identify at-risk customers and take action before they reach a state that can cause them to abandon the service. This kind of customer outreach always increases customer satisfaction, as the customer feels his problems and frustrations are heard and resolved when needed.
When a customer feels that his problems are being heard and understood, it adds more trust to the relationship between him and your business
3. Predicted outcomes increases retention

Retention plays the key role in recurring payments, since your business model doesn't entirely rely on the initial purchase, but on the many subsequent recurring payments over a long period of time. The CLTV (customer lifetime value) represents a sum of all the recurring payments collected from a customer over the whole collaboration with your business.
The customer satisfaction will convince your clients to stick to your service and keep paying as a result.
4. Good customer service can act as sales

As your customer service is now essentially a "customer intelligence center", a properly trained customer support representative can identify when it is the right opportunity for an upsell or cross-sell pitch. Existing customers are more likely to get convinced to upgrade their accounts by a customer support representative than a salesman, as it is perceived as a resolution to a problem, rather than a simple attempt to squeeze more money out of your customer.
When accepting recurring payments, ARPU (average revenue per user) is an integral part of your yearly bottom line. The more options an account has, the more monthly revenue you get.
Meet PayPro Global.
Your Professional
eCommerce
Partner
No 3rd party integrations. No hidden costs. No wasted time.
Just a solution as unique as your business's needs.
Conclusion
Accepting recurring payments means focusing more on your existing customers, rather than investing all of your resources into new customer acquisition. You business profitability now mostly relies on such KPI's as ARPU (average revenue per user), CTLV (customer lifetime value) and MRR (monthly recurring revenue). In other words your business needs to nurture long lasting, profitable relationships with customers. The customer service is the key factor in nurturing these recurring relationships.
It doesn't take luck to make it, but it does take knowledge. Be the first to learn the latest industry insights and must know marketing tips and tricks. Sign up and enjoy! Always informed. Never Spammed.