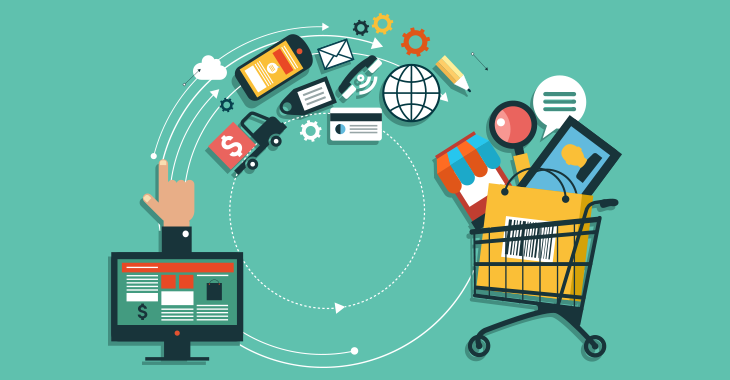 Published on December 12, 2016
Updated on July 25, 2022
An eCommerce Review - 10 Key 2016 Facts and 5 Clues about 2017
Jeff Bezos once famously said "Being customer-focused allows you to be more pioneering". 2016, one could argue, has been the biggest year-to-date for both customer-focused strategies and service innovation in e-commerce.
With innovation and major evolutions around the world, looking back at 2016 is quite an insightful experience, which we invite you to discover in our yearly e-commerce review.
E-commerce retail sales reached for a new record of 9% of total worldwide retail sales. Major events, such as Singles Day, Black Friday, Cyber Monday, Amazon Prime Day and the end-of-year holiday season have proved, one after the other, the unstoppable growth of e-commerce around the world. Emerging markets represent the main engine behind the phenomenon, with countries from Asia-Pacific, the Middle East and Africa contributing to the impressive $1.91 trillion value of global sales.
India has risen as the fastest growing e-commerce market, with an estimated 75% growth over 2015. The spectacular spike (an estimated $23.39 billion in online sales in 2016) is the result of an equally booming smartphone adoption rate, bringing millions of new users in contact with their first online shopping experiences. The trend is set to become a rule for India in the following years, given the country's large population of young consumers, as opposed to the Western markets or China, where the general population is aging steadily.


China's Singles' Day reaffirmed itself as the biggest shopping holiday of the year (oh, and the world too). With the 2016 edition's sales amounting to $17.8 billion, Alibaba smashed all its previous records (up 24% over 2015 figures), as well as surpassing results generated by similar international events - Black Friday, Cyber Monday. It is also worth noting that the results well exceeded the expectations of market analysts, who predicted moderate growth, in accordance to China's economy slowdown. In just 24 hours, buyers from China, Hong Kong and Taiwan purchased goods from over 14,000 international brands, using their mobile devices in 82% of the cases.
Alibaba's business model may influence the entire Asian region, as Jack Ma (Alibaba's founder) has agreed to act as adviser to the Malaysian government, helping the country's efforts to strengthen its digital economy. Alibaba has also partnered with Thailand's government, in a project focused on the development of Thai SMEs.
The European Union is taking steps towards the creation of a single digital market.

By implementing a series of regulatory measures towards the elimination of geo-blocking, an issue negatively impacting the current commercial results, the EU plans to boost its digital business landscape and increase the region's e-commerce value and competitiveness.

The European Union is expected to reach an ecommerce value of 509.9 billion € (approximately $540 billion) in 2016, marking a 12% increase versus last year. In comparison, the US e-commerce growth rate is estimated at 7% this year.

As the e-commerce traffic continues to move from desktops to smaller, mobile screens, payments are embracing a similar trend, with mobile payments reaching an estimated value of $972.25 billion in 2016. Naturally, noticeable differences between various regions continue to persist, but this is predicted to change dramatically in the following 4 years. 2021 is forecasted to reach a global milestone of $3 trillion in mobile payments, the equivalent of 11% of total payments. In 2016 mobile payments made up 5% of all processed transactions, with China accounting for 58% of the global mobile-based commerce. UK and USA are the other 2 big promoters of mobile commerce.
The e-commerce expansion is pushing for similar advances in adjacent services, with delivery services holding the spotlight in 2016. The US market, where Amazon's growth is a particularly strong driver, has seen an influx of thousands of jobs within the delivery and logistics company. Warehousing and storage companies have also become increasingly important for the success of e-commerce businesses. As the consumers expect lower and lower delivery times, innovation in the industry has also become a hot topic in 2016. This year Amazon announced the launch of a drone delivery system and initiated delivery tests in UK in the second half of 2016. Additionally, free delivery has become a common benefit expected by shoppers around the world and e-commerce players are rallying up to the new standard.
In late October several big players on the online scene (PayPal, Twitter, Netflix, Spotify, eBay to name just a few) were affected by a major Internet outage following a massive DDoS attack. This event brought cybersecurity into the public spotlight once again, as concerns regarding WWW safety reemerged. Online shoppers' concerns are not new, personal data privacy having been a fundamental, persistent hot topic throughout the WWW's evolution. A KPMG study released in November revealed that 55% of online shoppers have abandoned a purchase due to privacy concerns. 10% believe they have no control over how a supplier or merchant will manage their personal data, while 82% are concerned about their details being shared with 3rd parties. Supplementary security layers and enhanced transparency regarding privacy policies are reaffirmed as best (and mandatory) practices for e-commerce players worldwide. The European Union also initiated a project to impose supplementary layers of authentication for online shoppers. With the video gaming market sparking interest, it's safe to say that cybercriminals are getting ready to strike. Entrepreneurs in this market looking to sell online should focus on identifying the right merchant of record for gaming companies to help them secure their businesses.
Customer Experience is, probably, the biggest e-commerce trend of the moment. With the surge of customer loyalty programs and simplified, intuitive experiences throughout the entire shopping cycle, designing optimized services, websites and mobile apps is a buzz. Recurring billing SaaS tools have also been in the spotlight. Further stressing the importance of e-commerce, Google launched AMP - Accelerated Mobile Pages Project, the company's push for an even better mobile web. It also made important changes to its ranking algorithm, not only rewarding but also demanding the presence of optimized, fully functional mobile versions for each website its robots will crawl.
And since we mentioned robots - chatbots are another headline of this year's e-commerce industry.
2016 was the year social e-commerce reached a definite shape and important providers & users of this new commercial sub-market enthusiastically embrace its specific requirements and audiences. Facebook launched its Store feature, Pinterest announced its buyable pins and Instagram updated its in-app advertising options, while also adding new content formats (Stories, Live Video, disappearing video & photos). As an extension to the social e-commerce functionalities, chatbots have entered the scene, connecting brands with their customers via messaging apps such as Slack, Facebook Messenger, Telegram. Aside from providing an almost instant support environment, integrating chatbots also lets companies create richer profiles of their customers, leading to better-targeted campaigns and offers.
Finally, 2016 has been the year of new surprise entrants in the fast-paced world of e-commerce. Previously reluctant industries have joined the global bandwagon - top fashion designer houses, luxury goods and real estate, traditional retailers (ex. Walmart), automotive, to name a few. In conjunction, applying the omnichannel concept has and will continue to be a major challenge for most players moving from brick & mortar to digital shopping.

And with this overlook of what e-commerce meant in 2016, we can better prepare for what 2017 will bring to our fast-growing industry. We're ending this e-year review with a few glimpses into the elements shaping the e-commerce universe in the upcoming year.
The quality of customer experiences throughout the entire shopping cycle and especially in the post-purchase phases will be a critical success factor for businesses from all industries. So definitely measure customer success in SaaS.
As the entrepreneurial movement continues to pick up speed (and size) and as it learns from its past mistakes, small and agile businesses will strengthen their impact in both local and global markets.
The wave of popularity stirred by business models such as Uber and Airbnb is expected to fuel the wider adoption of social e-commerce. Community as a concept will become a force to aggregate like-minded business minds and influence the services offered and the popularity of businesses in multiple industries.
Derived from the social model, the shared business model is another trend to observe in the coming year. As geographical boundaries are eliminated and cost efficiency in a 5G world is vital, we expect to see entrepreneurs, startups, and companies around the globe embrace a resource-sharing model - from working spaces to cloud services and storage.
The market for B2B e-commerce solutions is forecasted to outgrow B2C e-commerce solutions in the following years. A Gartner study predicts that this change of roles will occur by 2019, when the B2B e-commerce solutions market is expected to reach an impressive value of $1.1trillion (versus $480billion for B2C).
Meet PayPro Global.
Your Professional
eCommerce
Partner
No 3rd party integrations. No hidden costs. No wasted time.
Just a solution as unique as your business's needs.
Beyond all facts and figures, charts and research, success is still a matter of inspiration, hard work, and good timing. As Seth Godin puts it "Soon is not as good as now". And 2017 is happening soon - we hope you make it your best e-commerce year.
It doesn't take luck to make it, but it does take knowledge. Be the first to learn the latest industry insights and must know marketing tips and tricks. Sign up and enjoy! Always informed. Never Spammed.