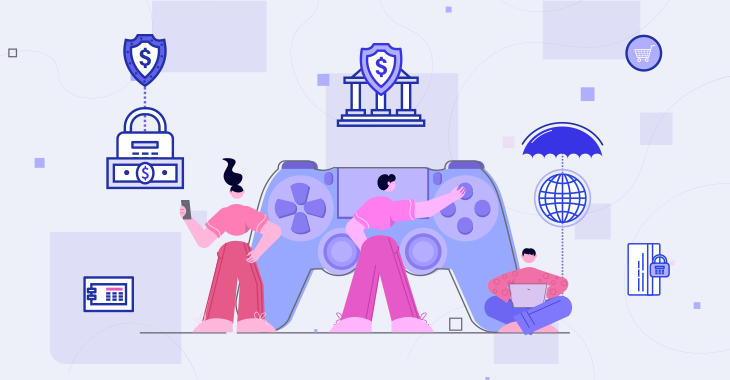 Published on April 28, 2022
Updated on May 9, 2023
Merchant of Record for Gaming Companies [The How-To Guide]
The years 2020 and 2021 brought about unprecedented growth in the videogames market. The world was forced to stay inside due to the pandemic, and people were looking for entertainment and social connections. Many found these in video games. With such a diverse range of video game consoles as well as the many mobile gaming options, there's never been a better time for this industry. More and more companies sell video games online. According to Statista.com, there were an estimated 3.24 billion gamers worldwide in 2021, and the online gaming industry revenue reached $175.8 billion, gaining more and more customers.
Since this market brings incredible opportunities for game developers, it would be extremely beneficial to learn more about how one can maximize sales and revenue, taking advantage of the amazing recent growth in this industry. But there is one thing video games, SaaS of all kinds (including the on premise vs off premise debate results, as well as SaaS open source), will need to consider. And that is an all-in-one partner.

As you are likely aware, payment processing, billing, online gaming fraud, and tax handling can be among the most complex parts of running your gaming business. With payment options expanding and taxes on video games becoming more complicated, you need a solution covering all your bases, helping you deal with all financial institutions while allowing you to focus on what matters most, your game. Let's talk about a Merchant of Record (MoR) solution.
3 Major Types of E-Commerce Support
There are three major types of online payment solutions worth exploring when it comes to selling your game.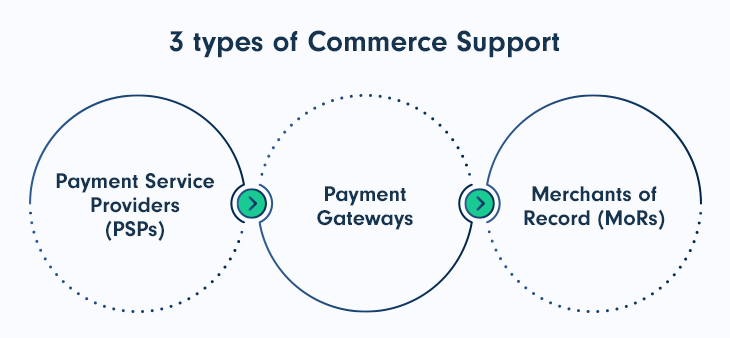 Payment Service Providers (PSPs)
A PSP is a third-party organization that enables merchants to accept payments securely by connecting them to a broader financial infrastructure. They provide merchant accounts and payment gateways, which allow merchants to collect and manage payments efficiently through both technical and financial processing.
PSPs handle the payment processing, from when the customer initiates the transaction to when the funds are deposited into the business' bank account. This solution means that the providers assess the financial risk and take the necessary steps. In the end, you as a business are liable for everything. They're often the most affordable option for smaller companies or those just starting out and tend to simply cover payment processing. In other words, there aren't a lot of bells and whistles with this option, and a lot of other responsibilities fall to the merchant to care for or contract with another third party.
Payment Gateways
A payment gateway acts as the link between a game developer's website and the customer, providing businesses with the necessary technology to accept debit or credit card payments from customers. It collects transactional customer information and passes them on to a payment processor or the acquiring bank.
In a sense, these gateways are similar to online point-of-sale machines. On the front end, it's the partner you need to ensure payment processing; on the back end, it enacts transaction encryption and verification of payments. However, unlike a PSP, payment gateways only process payments and not actual cash transfers. Plus, even if you are using a payment gateway, you will still be required to establish a contractual relationship with a bank or card acquirer.
Meet PayPro Global.
The Merchant of Record partner you can trust.
Scale up your video game business with our unique Merchant of Record model. From managing taxes and subscriptions to simplifying automated billing, we handle everything for you. Let us take the pressure of payments and give you the needed flexibility to achieve global success.
Merchants of Record (MoRs)
A Merchant of Record solution will provide your company with total commerce support for all game-related transactions. They are legal entities or organizations authorized to act as a reseller between two parties in an e-commerce transaction. An MoR accepts various credit card payment methods and bank transfers to e-wallets. The entity takes responsibility for reselling merchants' products to customers worldwide while providing game devs with the tools needed to manage their overall business operations. This means many features and functionalities reach well into sales and marketing tools, payment processing services, compliance, and taxes.
One major advantage is that the Merchant of Record solution takes on the financial liability and risk on behalf of the merchant. They differ from PSPs and payment gateways in that the MoR is responsible for the entire customer interaction and everything going on in the background.
This process includes:
Obtaining the highest ROI out of organic monetizing.
Owning your customers and the entire flow of shoppers.
Giving players access to in-app purchases and one-click top-ups for all your video games.
Running automated and manual subscriptions and controlling the entire process.
Easily integrate your launcher or an external one with your payment provider.
Externalize the hassle and huge responsibility of being tax compliant worldwide.
The company, in turn, doesn't have to take financial liability or maintain banking relationships, merchant accounts, and payment gateways. Merchants receive the much-needed support and freedom to concentrate on growing their business, focusing on improving their game.
Additionally, working with an MoR solution makes sense, as the entire eCommerce flow is externalized to one system. This is a huge advantage for any business part of the video game market, as that system is easy to scale, integrate with new technologies and even manage gaming communities. In the absence of a centralized system, you would be required to integrate with multiple internal and external entities.
6 Payment Challenges Facing Video Game Companies
Companies part of the video game industry have to deal with various payment-related challenges that can waste valuable time and represent an additional fee if not managed effectively. Let's take a closer look at some challenges that might prevent you from selling your game.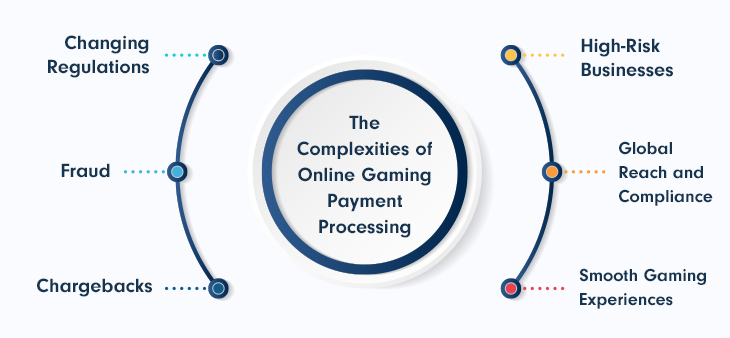 Changing Regulations
One of the biggest obstacles any gaming business encounters is the ever-changing nature of regulations. The industry is tightly regulated, and no single policy provides game devs with universal rules. Countries all have their own rules and requirements. As a result, it can be tough for game developers to keep up with changes and remain compliant within their target markets. This constitutes a problem, as SaaS startup funding is a real possibility for a large number of game developers. Failing to remain compliant is an obstacle to securing funding.
Fraud
As games grow in popularity, so does the threat and prevalence of fraud due to cybercriminals capitalizing on subscriptions-based models and micro-transactions. Because of this, gaming companies must monitor suspicious activity and look out for problems such as account takeovers.
This process requires:
Fraud protection tools and solutions
Human resources
Specialist software
Expertise
Accountability to merchants who want results
Chargebacks
Chargebacks are typically high in the video game industry. Children spending money without their parents' permission, account takeovers, credit card testing fraud, and friendly fraud (when a customer accidentally or deliberately files a chargeback on a legitimate transaction) often occur. Many companies spend time, money, and other resources disputing chargebacks and identifying instances of friendly fraud, family fraud, and cyber shoplifting.
High-Risk Businesses
"High risk" is a label payment processors give companies believed to have an increased risk for fraud and chargebacks. The video games industry, unfortunately, falls into this category also due to the diversity of laws and regulations, high-volume turnover, and age restrictions.

High-risk businesses can have their merchant accounts frozen or terminated when payment providers determine their fraud or chargeback rates are too high. This can lead to reputation damage for the merchant and problems with the payment processors. In fact, you can be fined by payment processors on behalf of Visa or MasterCard. Additionally, if the merchant account is terminated, there is also the risk of being blacklisted and not being able to obtain a new account. Companies categorized as high risk also have to deal with higher processing fees to mitigate the risk taken on by payment processors.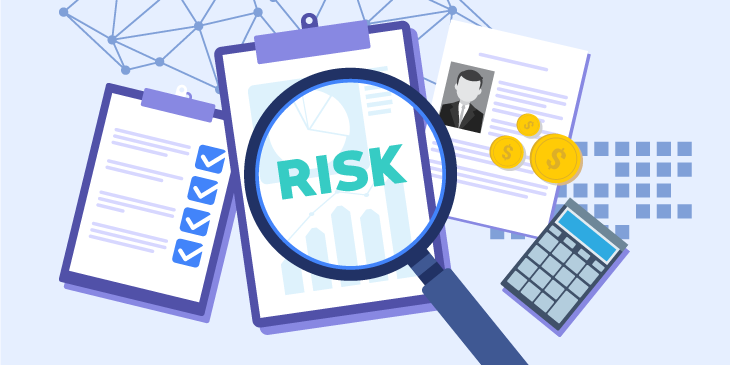 Global Reach and Compliance
As a global industry, video games require brands to accept payments in multiple currencies. In addition, they also need to send money to partners who may be in various other parts of the world.
Because of this, the gaming brand's checkout system must support multiple languages and currencies to accommodate users regardless of location.
Smooth Gaming Experiences
Video game customers tend to have high expectations regarding their user experience. Their ability to make payments seamlessly with their payment method of choice can be a make-or-break issue for many gamers. Payments need to be quick and straightforward, and they should never interfere with the gaming flow. They also need to meet the relevant security requirements, which can also be a deal-breaker for users. One-click payments that let gamers save their information like credit card numbers are highly desired and most effective in keeping their users satisfied. It's very much like building a SaaS revenue infrastructure.
Running a successful video games business online is determined by how well game designers can deal with the many payment challenges that lay ahead. But this is where the Merchant of Record solution comes in ‒ they're experts at managing all the difficulties surrounding online transactions so that you can focus on your brand's needs.
8 Benefits of Using an MoR for Gaming Companies
Easy Payment Flow
The Merchant of Record is authorized to sell your games and collect the payment on your behalf. This means that they're the end recipient of funds from customers, and their name often appears on the customer's payment receipt as the seller.

So why is this beneficial for video games companies? It makes the purchase path simple and efficient. You're essentially outsourcing and delegating all your transactions to their entity. After the MoR has collected the funds from the customer, they transfer the funds to your merchant account. You are then relieved of the responsibility of managing payments and all of the concerns that come with that process.
Legal Liability for Sales and Distribution
Another relevant point to consider when working with an MoR is that they take on the legal right to sell and distribute the software (including downloadable content) you've created for your customers. The MoR signs a licensing agreement that means they legally own and distribute the software on your company's behalf. This mitigates many operational headaches for the game developer, which still benefits from the sales of games.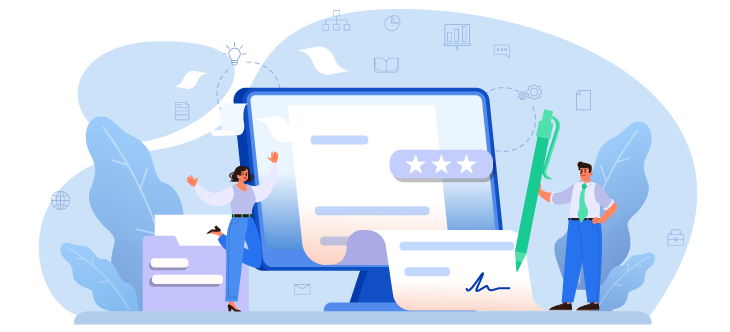 Direct Liaison with PSPs, banks, and card acquirers
Because Merchants of Record work with multiple payment service providers, having a large portfolio of many clients, they can maximize performance and save you time that would otherwise be spent dealing with complexities such as coverage.

Together with PSPs, MoRs can work on new payment methods, analyze current ones, and much more.
Fraud Protection
As the video games industry and its online transactions for video and mobile games grow, unfortunately, so does the prevalence of fraud. One of online gaming businesses' biggest challenges is stopping cybercriminals in their tracks. Fraudsters continue to advance in their skills and have developed elaborate and sophisticated scams over the last few years.
Platforms that offer the MoR solution offer dedicated services and support in this regard, being skilled in detecting and stopping fraud in its tracks. Their expertise in managing risk is invaluable by making sure you work with a reputable company. Since they use the most innovative, up-to-date solutions to detect and prevent fraud, you can rest easy knowing you are getting the prevention you need to mitigate fraud. Among other things, they will flag possible fraudulent activity and then review and take action on those orders – all without you having to spend any of your valuable time and money reviewing orders and activity.
A good MoR will have a team dedicated specifically to fraud prevention, carrying out security checks, and contacting customers where there's any suspicious activity on your account.
As you can imagine, this frees up a lot of resources to manage your business rather than dealing with each potential fraud case individually. A Merchant of Record is also motivated to create effective fraud prevention systems to protect their liability, which will work to your benefit.
We recommend making sure that the MoR solution you partner with understands the specific fraud risks this particular industry is facing and that they're able to adapt accordingly. You should expect reputable payment solutions to use cross-game analytics, blacklisting, and technology that automatically blocks suspicious activity.
Comprehensive Compliance
Global compliance has become a major concern and a source of frustration for the video game industry. Most online gaming is international, which means global SaaS compliance in finance and transactions are a top priority that must be carefully tended to. Closely working with different financial institutions, an MoR with the knowledge and expertise will provide the full range of compliance support necessary for gaming businesses looking to process payments online globally.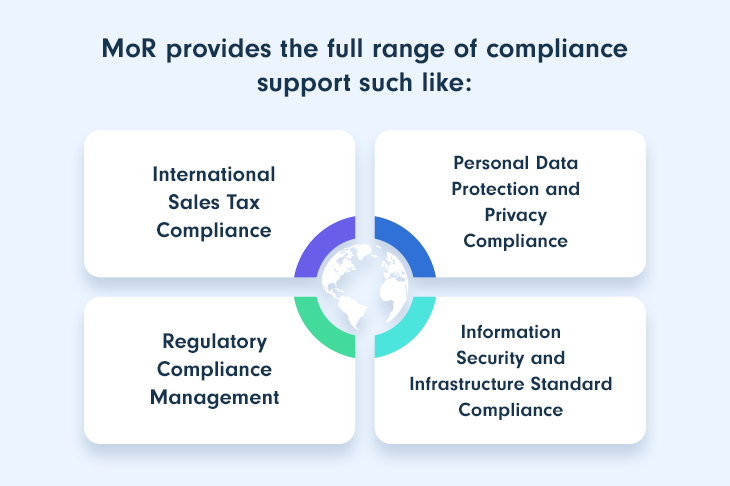 Tax Compliance
As a merchant, you're responsible for collecting and remitting tax on the sales of your gaming goods or services. But navigating sales tax requires extensive knowledge and can be very challenging, especially for gaming companies selling in many different local and global jurisdictions. Keeping an eye on video gaming and SaaS online sales tax is time-consuming and complicated.
Every region, country, state, zip code, province, or district has tax rules and rates. There are thousands of different tax jurisdictions in the U.S. alone and many more worldwide. So, remaining tax compliant is an enormous responsibility for online brands with a global reach. It's become a full-time job to keep up with tax rates, remittance timing, and changing regulations in your markets, which often requires an in-house tax team. Most importantly, if you get it wrong, you're liable for the damage, which can be costly and put a financial strain on your business.
When you are using an MoR solution, one of the greatest benefits is having a dedicated partner that will ensure your sales are tax compliant throughout the entire world. Since the responsibility is shifted to the MoR to collect and remit the taxes for you, they will regularly monitor changes in all jurisdictions to ensure compliance. Sales tax scaling is no longer a burden.
Meet PayPro Global.
The Merchant of Record partner you can trust.
Scale up your video game business with our unique Merchant of Record model. From managing taxes and subscriptions to simplifying automated billing, we handle everything for you. Let us take the pressure of payments and give you the needed flexibility to achieve global success.
Personal Data Protection and Privacy Compliance
Data privacy has become increasingly important in the last several years. Today's customers want to know that their credit card data is securely handled when making payments. In response, data privacy laws and regulations now exist worldwide and continue to evolve to keep up with technology. Unfortunately, staying current with all the different requirements is more than many companies can manage.
Because the MoR solution you have contracted to use is responsible for protecting your customers' data from breaches or online theft, they will also ensure your data protection policies comply with all the relevant data privacy laws and regulations worldwide. For example, they will need to know the ins and outs of the GDPR, the CCPA, and other data protection laws which require hands-on experience to implement. They're responsible for updating their privacy policies regularly and ensuring customers can consent appropriately to the use of their data. Consequences of non-compliance regarding security and privacy issues are increasing and can be devastating to businesses that have failed to stay in check.
However, if an MoR fails to implement the correct policies, they become liable for the penalties instead of you as the company. This is important as the penalties for failed GDPR compliance can be incredibly high and consequential.
Regulatory Compliance
Beyond data compliance, regulations that impact the gaming industry are often neglected and misunderstood. An MoR will have a deep understanding of all regulations and be able to inform you of how they'll affect your business and advise you whenever necessary. Like the many other services you can benefit from as a result of partnering with an experienced MoR solution, this leaves you free to focus on what's important ‒ your gaming products and your overall business strategy.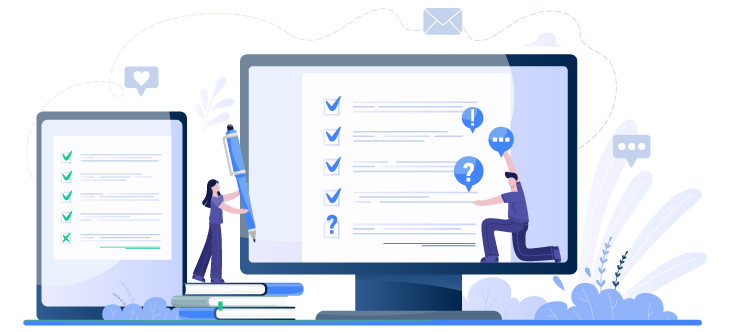 Information Security and Infrastructure Standard Compliance
There are internationally recognized information security and infrastructure standards such as the Payment Card Industry Data Security Standards (PCI DSS), System and Organization Controls (SOC 2), and the Information Technology Infrastructure Library (ITIL) to consider. These are designed to provide the best data security and management practices and often regulate many components relevant to the payment industry. Understanding the PCI DSS, SOC 2, and ITIL standards takes many years of experience. Plus, keeping up with the changes they make can be much more demanding than many eCommerce businesses care to commit to.
In addition to other advantages of using this payment solution, an MoR will ensure your company adheres to all relevant compliance frameworks to avoid theft or misuse of payment data and reputational damage.
Handling of Refunds
As consumers make more payments online, their rights to refunds in qualifying transactions are becoming more uncertain. Besides the legal obligation to take care of the customer, properly managed refunds build trust and loyalty with them. This can be a labor-intensive process requiring knowledge of many different payment methods. Fortunately, skilled professionals within the MoR solution are in place to manage these and will be mindful of mitigating any unnecessary loss for the businesses they partner with.
An MoR solution will handle refunds entirely, from when the customer requests order reimbursement to when it's settled and processed. In addition, the Merchant of Record works with the applicable public law and applies best practices for the gaming industry. An MoR will assist you in developing a clear refund policy, which protects the company and shows dedication to your customer's satisfaction.
Management of Chargebacks
All online businesses aim to keep chargebacks to a minimum as they can lead to additional fees and reputation damage, with many banks and merchant accounts being blacklisted as a high risk.
Among the many services offered, good-standing merchants of record have access to effective chargeback management tools that prevent chargebacks from happening, but if they do, the MoR handles them on a case-by-case basis. This process involves analyzing open cases and disputing illegitimate chargebacks.
User Support
An MoR can provide your gaming company with the highest quality of order support. They work to resolve issues that customers experience which builds loyalty and trust for the merchant. This support is usually in the form of call centers, live chats, social media messaging, and instant chat channels. Customer success relies heavily on this kind of support, and having an MoR manage all transaction-related queries can save your company time and money.
How PayPro Global's MoR accelerates your gaming company's growth

As the gaming industry grows, so do opportunities for gaming companies to scale and expand globally. With this comes the many complexities of managing online transactions. And these carry a different kind of cost. While you may be tempted to focus your search on finding competitive rates, the elaborate nature of online payments may restrain the success of your games. A merchant of record is the best partner a game developer can have as far as handling your financial, legal, and administrative work is concerned. Payments, recurring billing, handling customer disputes, taxes, and compliance don't need to burden your company and stifle your growth.
At PayPro Global, we have over 15 years of experience working with software vendors and are perfectly positioned to take the confusion, liability, and cost out of processing payments. Whether you sell eBooks online, video games, SaaS, or software, we are the right partner for you. To find out what we can do for your gaming website, check out our unified e-commerce solution right here.
SaaS subscription service allows you to pay an ongoing annual or monthly fee, whereas on-premise solutions come at one initial cost.
It doesn't take luck to make it, but it does take knowledge. Be the first to learn the latest industry insights and must know marketing tips and tricks. Sign up and enjoy! Always informed. Never Spammed.