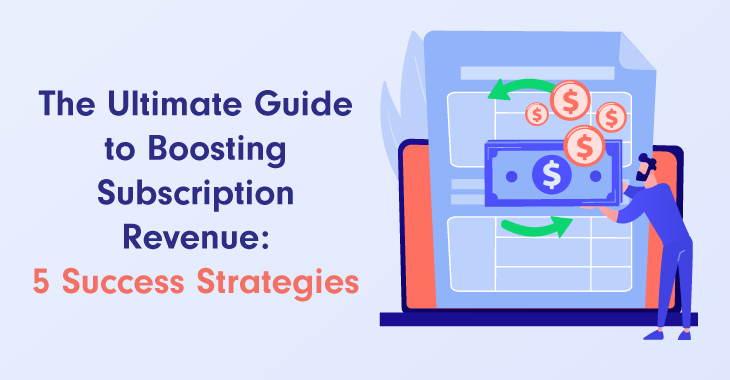 Published on August 9, 2023
The Ultimate Guide to Boosting Subscription Revenue: 5 Success Strategies
Did you know the subscription model first emerged in the 17th century as a way for authors to sell their works of literature? Who knows, maybe it even dates back to ancient times.
What we do know is that, the arrival and impressive popularity of the internet sparked a true revival over the past two decades, creating what we know today as the subscription economy, powerful enough to transform everything that entrepreneurs choose to sell. Anything can be bought using the subscription revenue model, from workouts to dinners or software.
Now powered by insights on customer behaviors and emphasizing service personalization, this industry has grown more than 435% over the last nine years, reaching a total value of 650 billion U.S. dollars in 2020, making it crystal clear to everyone that the subscription model is thriving.
Considering that subscription businesses can grow 5-8 times faster than a traditional business model, it's a bandwagon you should consider jumping on ( if you haven't already). So, let's have a look at the ins and outs of this revenue model:
What is Subscription Revenue?
The income generated through recurring fees is referred to as subscription revenue. Clients pay monthly or yearly, receiving access to the product or service. At the core of the subscription business model stands the notion of bringing value through your products and establishing strong client relationships. So, it's essential to make every effort to retain your customers.
The great thing about subscription services, and one of the reasons why so many entrepreneurs choose this business model, is that there is no limit to your monthly recurring revenue. It can grow exponentially, depending on how many subscribers you gain. Plus, additional revenue sources like cross-sells, up-sells, add-ons, or upgrades can trigger even greater business profitability.
Subscription Metrics To Keep An Eye On
While the subscription model is incredibly beneficial, has a high revenue potential, and is impressively versatile, making it successful DOES require hard work, constant performance tracking, and continuous improvement. To succeed, there are four important metrics you need to regularly track to gather valuable insights and enhance your subscription packages. Consider the following:
Subscriber Count
SaaS, video games, software companies, and any subscription business must keep a close eye on the number of subscribers. Your existing customers are the ones that generate revenue, and you need to make sure that their numbers are growing. By tracking this metric, you will gain greater knowledge of your customer acquisition and retention rates, thereby figuring out ways to lower associated expenses. Always remember that acquisition and retention costs can kill your business by taking too much of your profit.
Churn Rate
Because this metric looks at the number of customers that have terminated their subscription, it's an all-time favorite. Churn is on every business owner's mind as they struggle relentlessly to ensure it stays as low as possible. And the higher this rate is, the greater the need for improvement.
Churn is far more complicated than you might think, especially since it can take on different forms, which we call-voluntarily and involuntarily. Both are important, but different strategies apply.
However, we recommend that you try not to set impossible goals because all subscription businesses have churn. So you need to monitor it and make sure you do everything you can so it doesn't increase. As a rule of thumb, a churn rate between 3%-5% is widely accepted. Anything under 3% is amazing. Anything above 5% is worth looking into.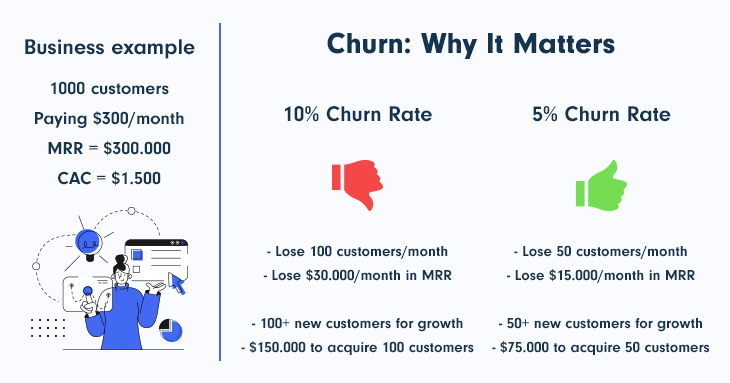 Monthly Recurring Revenue
Curious to find out how profitable your business is? Well, this metric can show you! MRR is one of the most common KPIs used to determine the health of recurring businesses because it gives you a complete view of your predictable revenue. But keep in mind that this is no revenue forecasting tool. MRR only provides insights into the current revenue generated by existing subscribers and not your possible future gains.
When calculating your monthly recurring revenue, there are certain expenses you need to exclude to obtain the correct result:
Set-up fees
One-time activation fees
Suspended accounts
Additionally, if you've had a high intake of new customers, account upgrades, or downgrades during a month, you might consider calculating Net MRR instead of MRR.
Free Trial Conversion Rate
How are you drawing customers to your product? What kind of pricing strategies are you using? If you've decided to offer free trials, you should consider monitoring the campaigns' conversion rate.
The free trial conversion rate evaluates the effectiveness of your offer, telling you when it's time to make adjustments. However, calculating the conversion rate will not provide you with specific details that need improvement. But if you run multiple tests, you can compare the data provided by this conversion rate and see if the changes are making improvements in your metrics.
Because subscription companies strive to gain paying customers by delivering value, free trials are a great way to introduce your product to target customers by showcasing your advantages.
The Subscription Revenue Cycle
Every subscription-based company embarks on a five-step revenue cycle triggered by the arrival of a new subscriber.
Customer acquisition
Subscription service delivery
Upsell or cross-sell opportunities
Customer retention
Repeat
Let's take a closer look at what each step involves.
Step 1

: Customer Acquisition
Building your customer base is the first step to achieving subscription success. However, finding and convincing users to pay a monthly subscription fee can be both complex and costly. You should aim to optimize those expenses as much as possible to ensure they don't eat into your profit.

The free trial is the easiest and most popular way to accomplish this.. When conducting these campaigns, you should invest time in creating an offer that is difficult to refuse, putting together a strong value proposition coupled with a customer-oriented onboarding process while providing excellent real-time assistance and support.

Because of the competitive nature of the software and SaaS landscape, acquisition costs have skyrocketed, being 50% higher than five years ago. One way to lower these expenses is to execute the freemium model as an option.

Why? Because this pricing model entails less operational workload than the free trial option. With the freemium alternative in place, you allow users to discover your product at their own pace.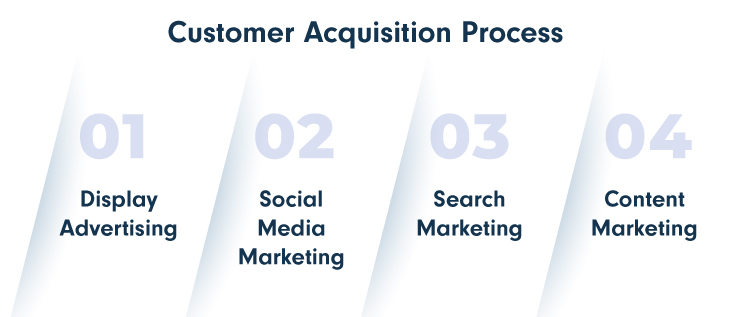 Yes, it can take longer to get them to convert, and you might have some subscribers that won't upgrade at all. But if you create a freemium plan that shows value and entices users to want and need more features, your conversion rate should be good enough to see a profit at the end of the month.
Step 2

: Subscription Service Delivery
Once you have acquired your customers, you need to focus on delivering value. Not only should you provide high-quality service by giving them full access to your product features, but you also need to make sure they receive top-notch customer support and assistance.

Another way to keep your customers happy is to have a carefully crafted onboarding process that they can participate in, enabling them to get the most out of your app. Consistently delivering premium service should be your goal in this phase of the subscription cycle. After all, it's the foundation for building strong and long-term customer relationships.
Step 3

: Upsell or cross-sell opportunities
As your customers get better acquainted with your solution, consider building some expansion revenue into your purchase path. After all, customer acquisition isn't the only way your subscription business can make a profit. Increasing the customer lifetime value through cross-sells, upsells. or add-ons can generate a healthy excess in revenue.

To succeed in monetizing your clients, you must first be able to count on their trust and loyalty to your product. Only after you've built that strong customer relationship, clearly understand how your product is bringing value, and how often it is used can you start looking for these opportunities.
Step 4

: Customer retention
When considering the best way to retain customers, you need to think about providing ways that will make them want to stay after you have won their trust and their monthly fee. And it's not easy. Many subscription-based businesses believe that the hardest part is acquiring clients because it's more costly. But the greatest growth boost actually comes from customer retention.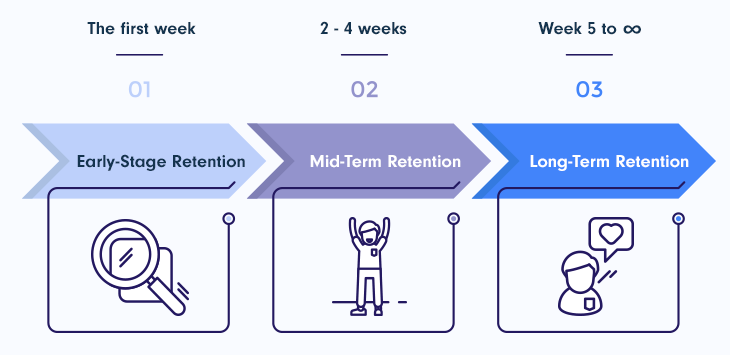 Several strategies can be employed to increase subscription revenue and keep those recurring payments coming. One way to do this is to execute the powerful combination of support, feedback collection, and implementation. Make sure you are ready to help your existing customers with everything they may need from you, perform periodic system evaluations, ask for feedback, and implement your findings.

In the retention phase, the goal is to take your customer relationships to the partnership level, and this can only be achieved if they feel heard. So involve your existing clients in your product updates, so you can offer greater value and always take care of their needs as best and quickly as possible.
Step 5

: Repeat
This is where the subscription cycle gains momentum. It's important to grow the number of subscribers to increase your annual revenue and lower the acquisition costs. Because the subscription based business model involves a repetitive cycle of many different steps, any small improvement can bring a huge gain.

By always monitoring data and seeing what steps can be enhanced to obtain more active subscriptions, you will help keep this momentum going.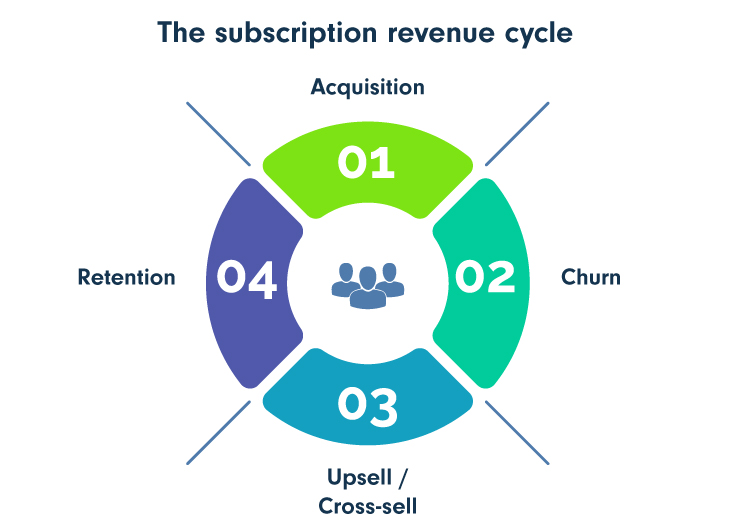 5 Ways To Keep Your SaaS Subscription Revenue High
Experiment With Subscription Pricing
One of the most difficult and, ironically, often overlooked aspects of the subscription-based revenue model is pricing. Given the competitive nature of the industry, pricing has become an essential growth lever detrimental to customer acquisition. You must find that sweet spot between achieving profit and maintaining market competitiveness.

Because there are so many pricing strategies, viewing your product monetization process as an ongoing experiment is recommended. Test, analyze, and implement. This is the pricing mantra.

Also, any pricing changes you make need to follow a gentle path. Sudden pricing modifications can result in customer churn, which you obviously want to avoid. Always monitor your competition, research your target audience extensively, understand their pricing points, and experiment with strategies. When done right, pricing can put your subscription business on the track to hypergrowth.
Diversify your Acquisition Channels
One of the biggest challenges in the customer acquisition process is actually reaching your target audience. To ensure you obtain the best results, you must diversify your acquisition channels to gain flexibility and open up new customer segments.

There are several perspectives from which to look at channel diversification. First, you have digital marketing channels like search engine optimization, paid advertising, or content marketing. Leveraging them could strengthen your market position and attract more interested customers.

Secondly, you must consider how leads get acquainted with your subscription-based services. Many software companies go for the sales-driven model exclusively, whereas others prefer the self-serve option, best represented by free trials or freemiums. If your product allows it, the smartest approach would be to combine the two and offer your users multiple methods to test and understand your offer.
Scale Your Product Globally
What better way to maximize your revenue than expanding your audience? So instead of restricting your subscription services to a single territory, consider taking your business globally. Selling your software in different countries aligns well with software and SaaS products, so you don't want to miss out on this amazing opportunity.
However, before you start counting your money before you have profit coming in, remember that selling internationally comes with several hurdles. Compliance regulations, complex tax management, the need to provide customers with localized processing, and their preferred payment methods and currencies - all these challenges can make SaaS companies question expanding internationally.
But there is a solution that can take the operational and financial burden off your shoulders: finding a strong, unified payment solution. For example, PayPro Global offers a unique MoR model to optimize and fast-track your global expansion.
Boost Product Confidence
When running a subscription business, the goal isn't to obtain one-off purchases but to establish long-term relationships with your clients to secure recurring revenue. An ideal way to do that is by cultivating customers' trust. The more your potential leads gain confidence in your services, the more likely they are to become loyal to your brand.
To boost the audience's confidence in your product, you should:
Share user testimonials and client stories
Quickly respond to customer reviews and issues
Offer product demos
Ask for feedback and use it to improve your product
Leverage An Efficient Billing System
We mentioned how a growing churn rate is one of the biggest enemies of subscription businesses. Clients decide to say goodbye to your brand for multiple reasons, and among them is when credit cards expire and your billing system can no longer process their payment. When that happens, you lose revenue and maybe even customers for good.



By investing in a comprehensive billing and subscription system that can notify subscribers that their credit cards require renewal, you could resolve this problem proactively. A system of this kind has several other benefits as well, like setting up recurring billing cycles, customizing pricing plans, and, most importantly, promoting customer trust and satisfaction.
Meet PayPro Global.
Your Dedicated eCommerce Partner.
Thrive with the industry's most innovative all-in-one SaaS & Digital Goods solution. From high-performing payment and analytics tools to complete tax management, as well as subscription & billing handling, PayPro Global is ready to scale your SaaS.

Sell your SaaS globally with PayPro Global!
How Can PayPro Global Help?
Thanks to PayPro Global's all-in-one eCommerce solution, SaaS and software developers can enjoy numerous subscription management features that allow them to adequately optimize and grow their businesses.

With unlimited access to our solution, you can significantly increase your recurring revenue by earning new customers and keeping your existing ones satisfied with the services provided. Not only will our partners benefit from secure and professional payment processing, but through a strong combination of over 140 currencies, key payment methods, and localized processing, software and SaaS companies can tap into an extensive infrastructure ready to help them reach clients worldwide.
PayPro Global can provide its partners with AI-powered reporting capabilities, helping them gain crucial insights into how to improve their results.

Furthermore, by being able to test different pricing models, including the freemium model, up-selling and cross-selling campaigns, as well as support trials and automatic renewals and offer dedicated 24/7/365 customer support, PayPro Global is the ultimate eCommerce solution that will allow subscription businesses to expand worldwide.
Final Thoughts
While the traditional business model has not completely disappeared, it remains hidden in the shadows, with subscription models enjoying the spotlight. However, even though the concept of subscriptions can be applied to any industry and not just selling software, more than the model itself is needed to ensure success. This business model requires much work and creativity to acquire and retain customers.

Use the strategies highlighted in this article to put your business on the track to hypergrowth. Experiment with them not only to achieve success but also to maintain it over prolonged periods.
It doesn't take luck to make it, but it does take knowledge. Be the first to learn the latest industry insights and must know marketing tips and tricks. Sign up and enjoy! Always informed. Never Spammed.