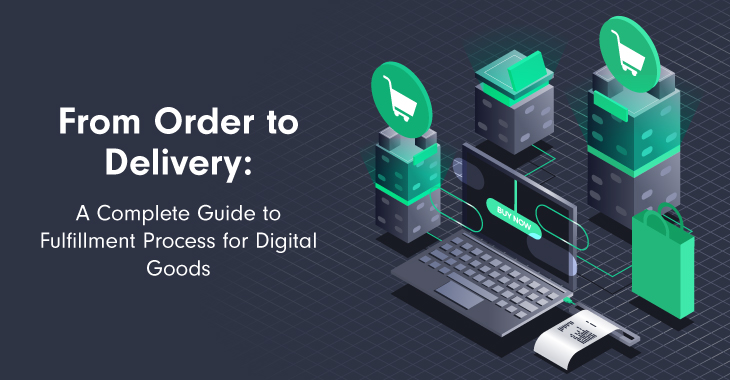 Published on June 28, 2023
Complete Guide to Fulfillment Process for Digital Goods
The world has come a long way from driving to brick-and-mortar shops, finding a software product on a shelf, and purchasing a physical copy.
Technology has radically transformed the order fulfillment process for digital goods, making it simpler, faster, and more efficient while bringing huge benefits for both sellers and customers.
But modern order fulfillment goes way beyond its obvious benefits. In a world wrapped around the need for instant gratification of otherwise evolving customer preferences, digital goods developers that are looking to cash in need to be able to offer a flawless delivery process.
After all, since it's expected that by 2040, 95% of all purchases will be made online, there's room to make a substantial profit amount. Now more than ever before, getting order fulfillment right is essential to business success.
In this article, we'll be taking a serious look at this topic by examining the following:
What Is Order Fulfillment?
A new sale is reason for celebration, but when it comes to digital products, the process is not complete until that order is fulfilled and the customer receives what they have paid for.
With 69% of shoppers abandoning a brand if the product purchased is not delivered fast, the digital fulfillment process is a critical task, part of any business's strategy for long-term success.
Due to their electronic format, the order and delivery of digital products are much simpler than physical ones. Once the payment is complete, the user receives the order almost instantaneously.
The 4 Order Fulfillment Challenges
Digital product sellers often encounter various challenges linked to order fulfillment, and your ability to solve them is crucial for maintaining the success of your business.
1. Digital Piracy
Depending on how it is used, technology can be an ally for business owners, as well as fraudsters. Take, as an example, the order fulfillment process for digital products.. Providing users with their orders may be simple and fast, but so is replicating and distributing unauthorized digital content.
Entrepreneurs must take different measures to ensure that their work is protected from fraudsters, such as implementing robust digital rights management (DRM) and delivery mechanisms.
2. Capacity and Scalability
The digital format of these products has numerous benefits for both users and sellers, from instantaneous delivery to being available for access and download from anywhere in the world. However, the problem is that as your company scales, your infrastructure needs to handle an increase in order volume, and this can be challenging.
It's essential that you make use of digital technologies that can scale together with your ambitions. The servers and bandwidth involved need to be able to handle increased demand without compromising either delivery speed or quality.
3. Customer Expectations and Support
If your order fulfillment process doesn't live up to your customer's expectations, you might lose them. Even worse, they might leave negative feedback about your brand, turning away potential users and making it impossible for you to achieve your business objectives. It's very important to do your best to offer flawless and fast delivery services and be prepared to provide shoppers with excellent customer service in case something goes wrong.
Whether users ask for assistance with downloading, accessing, or troubleshooting, you need to be able to offer prompt and knowledgeable customer service on all available channels.
4. Data Security and Privacy
One of the biggest challenges faced by eCommerce organizations is protecting user data and maintaining privacy. When purchasing digital products, customers entrust you with their personal information.
This makes you fully responsible for safeguarding them according to existing standards and implementing robust security measures against data breaches and unauthorized access. Complying with different regulations such as GDPR is not only mandatory but also imperative in gaining (and maintaining) your users' trust.
The 5 Steps Of The Order Fulfillment Process
Delivering digital products may be more straightforward than traditional ones, but it does have several steps that need to be completed. Let's dive in!
Step 1:

Receiving a new order
The purchase decision kicks off the entire delivery process with the customer placing the order. Online shoppers will expect a seamless checkout experience, regardless of what you are selling, so make sure you are able to meet their expectations.
Once the necessary details have been provided, such as product quantity and payment information, the beginning of the delivery process will be triggered. This needs to happen automatically, whether you are using a third-party solution or handling it on your own. Any delays in this phase will result in delivery issues.
Step 2:

Processing the order
Once the order has been placed, it undergoes processing. This means that all details provided will need to be verified, including payment info. Additionally, fraud detection mechanisms are triggered at this point as well. As soon as the order is validated and the payment has been made, the product will be prepared for delivery.
The order processing time can differ due to the many steps involved. Also, keep in mind that your payment partner plays an important role in getting transactions approved at a faster pace.
Step 3:

Digital product delivery
Once the order has been processed, the digital product is delivered to the buyer. This step of the process can be completed successfully through various methods, like email attachments, direct downloads, or access to a secure online portal.
In the case of physical products, this step would have involved updating the inventory. However, with digital products, there is no need for this, as there is no maximum product quantity that needs to be considered.
Step 4:

Customer communication and support
Maintaining clear and timely communication with your customers is important throughout the order fulfillment process and beyond. So, make sure you send order confirmation emails containing all the relevant details regarding their purchase, delivery notification, and any additional instructions or assistance you believe would allow them to use the product and understand its value.
Also, keep in mind that post-purchase support is essential to maintaining a strong market reputation. Being easily accessible to your shoppers in case they have inquiries or need product assistance will help you earn their trust.
Step 5:

Establishing a product return protocol
You might think that the order fulfillment process is complete once the product is safely delivered to the user. And you would be right, theoretically. But what happens if the shopper is not satisfied with the order and wants their money back?
Online brands need to make sure they have a solid refund process in place. This alone can destroy your reputation and, in some cases, bring your business to failure.

DIY Vs. Third-Party Fulfillment Method: Which is Best?
Surely you've given this a thought. The self-fulfillment option might seem more appealing, most likely because of the idea of control. However, if you want total control, know that it comes with great costs and responsibilities. But then again, handing over one of the most important parts of a successful company seems like a tough decision to make too. Let's understand what the pros and cons of each option are and then decide which would serve your needs best.
In-house Fulfillment
Also known as self-fulfillment, this model entails that the merchant handles the entire online process internally. Generally considered a better option for small businesses, it can be found in larger companies as well.

Advantages:
Greater Control and Customization: Given that the entire order fulfillment process is handled in-house, the DIY approach does offer the business owners greater control over the steps involved. Additionally, if sufficient expertise and resources are available, the system can be extensively tailored to meet specific needs and preferences.

Direct Shopper Interaction: The entire delivery-related communication with the customer is directly managed by retailers, allowing quicker resolutions to different issues and greater message personalization.

Better Cost Management:

Handling the delivery process in-house gives the entrepreneur, especially the small business owner, better control over costs. However, keep in mind that cost control is not the same as cost reduction.
Disadvantages:
Time-consuming: Successfully managing the entire order delivery process internally adds a new layer of complexity to your operations, taking you away from what matters most: your digital products.

Costly Infrastructure: Self-fulfillment comes with great investments in technological capabilities and personnel. Servers, bandwidth, software, and a dedicated team to handle all related operations and resolve errors, are high costs that can eat into your profit. Additionally, as your company grows, greater investment will be required to ensure increased scalability. Otherwise, your delivery infrastructure will not keep up with your order volumes, leaving the end customer unsatisfied with the service offered.

Lack of Expertise: Since digital products can be delivered worldwide at the click of a button, your company must comply with all existing compliance rules and regulations. And that can be extremely time-consuming and costly, given that you would need to invest in putting together a dedicated team to oversee this issue.
Third-Party Fulfillment
This method refers to solutions that provide complete assistance and handle the entire delivery of digital goods as a result of an existing partnership.

Advantages:
Expertise: Providers that specialize in digital product delivery have the required knowledge and experience to successfully carry out all related operations, offering you greater efficiency and streamlining the process.

Established Infrastructure: When collaborating with a third-party provider, you needn't worry about infrastructure investments, as this is already taken care of. A solution of this kind will have the required technology in

Time and Resource Savings: When working with a third-party specializing in order fulfillment, you can focus on other operations that benefit your company directly, like product development, customer acquisition, or marketing.
Disadvantages:
Limited Control and Customization: When collaborating with a third party, you are partially losing control over various operations like delivery procedures or customer interactions. Additionally, third-party providers offer a standardized framework, which limits the customization capabilities of the delivery process.

Faulty Integrations:

Relying on different systems to keep your business operating successfully can result in different errors or inaccuracies if, during the integration process, you encounter difficulties. When data between the payment provider and the order delivery solution fails to sync, systems do not communicate correctly, disrupting business operations and leading to poor customer experiences.

Increased Costs: While you are not required to invest in building your delivery infrastructure, the added expenses of collaborating with a third party could impact the overall profitability of your company. Keep in mind that taking care of the delivery process is only a piece of the puzzle. There are other operations that need to be handled correctly and that require specialized technology and support.
Meet PayPro Global.
Your Dedicated eCommerce Partner.
Thrive with the industry's most innovative all-in-one SaaS & Digital Goods solution. From high-performing payment and analytics tools to complete tax management, as well as subscription & billing handling, PayPro Global is ready to scale your SaaS.
Sell your SaaS globally with PayPro Global!
How Can PayPro Global's Unified Solution Help?
PayPro Global is the all-in-one eCommerce solution for software, SaaS, and digital goods developers. Packed with the much-needed tools to successfully sell products and services all over the world, you can't go wrong with the benefit of this industry knowledge.
Offering digital goods sellers access to a complete growth infrastructure, covering everything from payment methods and currencies to better insights for focused decision-making and full product delivery, PayPro Global is the partner ready to scale your company.
We provide our partners with dedicated order fulfillment options, ensuring greater agility, streamlining operations, and handling all the behind-the-scenes technicalities in a professional and, most importantly, secure manner. Through our state-of-the-art fraud detection and prevention system, we eliminate the risk of digital piracy, saving you time, money, and peace of mind.
Having dedicated customer service, PayPro Global provides your customer with amazing shopper experiences, sustaining your efforts to grow your brand awareness. Get in touch with us to investigate our strengths and how they may fit your needs in obtaining a unified eCommerce payment solution.
Final Thoughts
While often taken for granted, order fulfillment is an integral part of achieving a strong eCommerce business and ensuring revenue growth. You need to make sure that you can efficiently support sales through effective checkout processes and offer reliable product delivery services. But a fragmented perspective involving various systems, in-house or third parties, that are not designed to interconnect to achieve this goal is no longer an option. They will not help you rise to the expectations of your users.
Today, instantaneous product deliveries are part of offering a rewarding customer experience and best achieved by unifying solutions with extensive digital fulfillment capabilities, favoring holistic visibility and optimizations of the entire customer lifecycle.
It's important that retailers and online brands look beyond independent digital supply networks that solve only the product distribution process and focus on the concept of a unified partner that can help you stay ahead of your competition and empower customers.
Working with a dedicated payments digital solution that can take control over the order fulfillment process, effectively solving technical and compliance issues, and satisfying customer demand is the solution for worldwide business growth.
It doesn't take luck to make it, but it does take knowledge. Be the first to learn the latest industry insights and must know marketing tips and tricks. Sign up and enjoy! Always informed. Never Spammed.