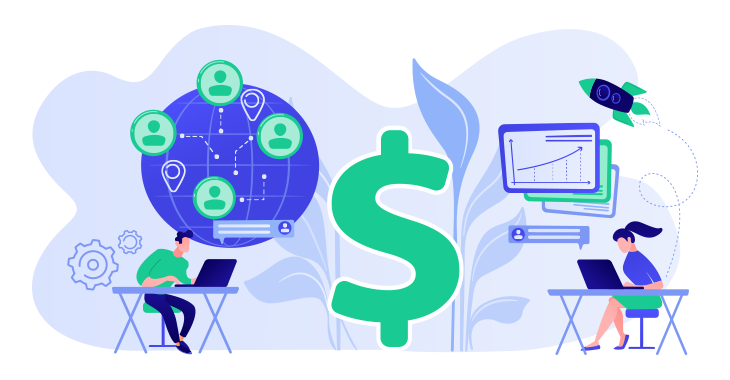 The Extensive Guide to How to Sell More Software During the Holidays
Thanksgiving, Black Friday, Cyber Monday, Free Shipping Day… the (Shopping) Holidays are almost here, my friend.
The "Holy Grail Period" of sales & discounts is so close that you can smell the marketing in the air.
Marketers will go nuts during this period just because they know lots of sales are to be made, consumerism is at its best, and everyone wants a slice of the pie valued at billions and billions of dollars.
If you are reading this article only now, you still have a chance to get your piece of the pie, even though some marketers start promoting Holidays offers in late October or early November, Halloween has usually been used as a reference to kickstart this type of action.
To set you up with a plan for this magic time of the year, we will talk about:
what days are the most important (sales-wise)
how to make your offers more attractive and generate instant reactions from potential buyers
why a segmented list of leads can be crucial to your business and what kind of visitors you should care about the most
what happened in 2012 with 500 retailers who sold merchandise worth billions of dollars
why should you focus on providing good offers after the holidays
a handful of tips, tricks, and takeaways


Meet PayPro Global.

Your Professional

eCommerce

Partner

No 3rd party integrations. No hidden costs. No wasted time.
Just a solution as unique as your business's needs.
2013 Shopping Holidays Calendar
Here are the days you should care about the most:
Thanksgiving - November 28
Black Friday - November 29
Small Business Saturday - November 30
Cyber Monday - December 2
Giving Tuesday - December 3 (focus on Charity)
Last Night of Chanukah - December 5
Green Monday - December 9
Stamp and ship Day - December 14 (the 1st time it was tried was in 2012)
Free Shipping Day - December 18
Super Saturday - December 21
Gift Card Exchange Day - December 26
11 days that have some kind of theme you can explore.
So, you can start drafting already your Holidays Marketing Plan. Build great content, eye-candy designs, and slick ads around these themes.
Of course, you shouldn't neglect any day between these Shopping Fiestas, but because most consumers expect great offers on these days, you should make sure you have everything prepared to maximize your results.
Each day has its specific theme, so they can help you understand what kind of people will buy stuff on that day. This way, you can target specific types of customers, depending on their needs, profiles, and context:
Thanksgiving - Generic discounts for all products
Black Friday - Clearing out your stocks, people will buy almost ANYTHING during this day
Small Business Saturday - you can create bundles for businesses and help them save money for the next year.
Cyber Monday - people will buy gadgets like hot cakes, so you better create bundles that match the electronics people buy.
Giving Tuesday - is all about giving to charity, so maybe to can create a flash sale with a part of the sales going to a charity of choice. Or better yet, ask your customer what charity deserves the money.
Last Night of Chanukah - prepare a "kosher" deal for your Jewish customers.
Green Monday - eBay succeeded in coining this term, and it stands for its most profitable day of the year. Maybe you can create a bundle with some powerful merchants on eBay?
Stamp and ship Day - was first tried in 2012, maybe it will stick with people this year. If you sell physical copies of your product, help your customers by taking care of the delivery process to their loved ones. So if someone buys your product, they could have to option to send the present directly to their loved ones, just in time for Christmas.
Free Shipping Day - who doesn't love free shipping? Maybe you can associate yourself with a retailer and include some coupons in their shipment boxes. People love getting free stuff, especially during the Holidays.
Super Saturday - is the day when last-minute shoppers or procrastinator shoppers spend their hard-earned cash to salvage their reputation, so make sure you also offer some last-minute deals.
Gift Card Exchange Day - when people don't know what to buy, they buy gift cards. That means you can offer on your website gift cards that can help you sell bundles of your products.
EXTRA TIP: add some scarcity to your offers.
"There is distinctive psychology of scarcity, argues Mr. Mullainathan and Eldar Shafir, a psychologist at Princeton University. People's minds work differently when they feel they lack something. And it does not greatly matter what that something is. Anyone who feels strapped for money, friends, time, or calories is likely to succumb to a similar "scarcity mindset".
This mindset brings two benefits. It concentrates the mind on pressing needs. It also gives people a keener sense of the value of a dollar, minute, calorie, or smile. The lonely, it turns out, are better at deciphering expressions of emotion". (source)
People will be bombed with marketing messages, offers, discounts, and bundles, so you better make sure you leverage all psychological factors, including scarcity.
Offer limited deals to incentivize users to take action right after they check out your offer. People fear more what they can lose than what they stand to win. So maybe you can use a "puppy dog close" strategy. Don't know what that is?
The "puppy dog close" is a famous example where pet store owners let indecisive families "try out" a puppy over the weekend. Rarely are those puppies ever returned.
So if you sell SaaS, maybe you could give out a free month of access if they claim their offer and start using your product before Christmas.
What Happened in 2012?
Adobe did us a favor, and they tracked the visits from 500 big internet retailers and pulled some data that can help us understand how to best plan the efforts for this year.
If you didn't start your marketing efforts already, you can use the calendar in the article, and use the data below to better understand where to focus most of your efforts.
Granted, those websites may not be selling software, but they are selling a lot of electronics, and electronics may need your software to enhance their capabilities.
Maybe you can use the information in this article to plan something fast and collect your piece of the pie.
From their analysis, Adobe generated the stats below, and you can see that Cyber Monday may be the best day ever for Internet Retailers.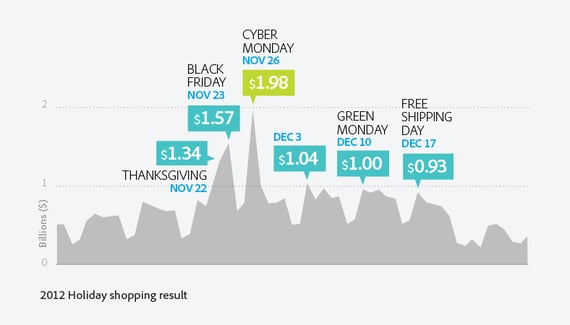 But, not everyone is selling the same amount of merchandise. The average retailer sells four times as much merchandise, but the top percentile of retailers sells as much as six times worth of merchandise.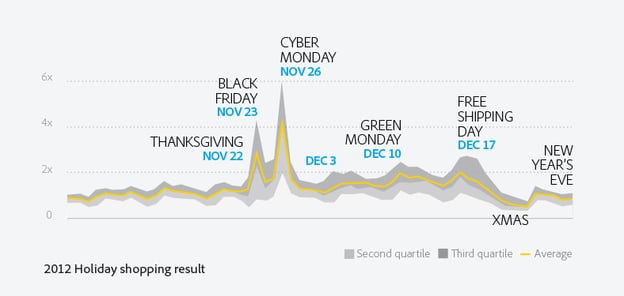 What does it mean for you, it means that you plan your efforts in the right way, you can experience similar results because retailers also sell software.
Segmenting your lists
I'm sure the retailers selling more items don't just have better offers, but they also target the right people with the right offers at the right time.
What will improve your marketing is segmenting your email lists.
There are various criteria to segment your list, but it's very straightforward to say that the more segmented your email list is, the easier it is to manage.
By breaking your list into smaller chunks, you can find better ways to deliver laser-targeted campaigns with increased chances of leads and sales.
So, segment your list by convincing subscribers to complete a survey or confronting email list data with purchase or CRM data.
No matter what method you choose to segment your list (it depends on the industry), remember to focus on what matters for each specific sector.
If you feel segmenting your current list is too hard, maybe you should start collecting already segmented leads.
You can use Padiact to target people based on their browsing behavior, and you can collect emails from people more likely to convert into customers.
This way, segmenting your big list into smaller but more compact lists can be less stressful.
Don't Forget about the Post Holiday Sales Strategy
Just because Christmas will be gone doesn't mean you should stop acting like it isn't Christmas anymore.
There's a lot of money to be made post-holidays because people are starting to use their newly bought gadgets and realize that they need some tools to achieve certain results.
For example, if people get a camera for Christmas, they first learn how to use it, record clips, and try to experiment with different features of the camera. Then they want to make a montage or something like that, so they start researching software that can help them join clips together, add visual effects, sync video with music and do all sorts of goofy stuff.
So, January, February, and even March can be great months for sales if you plan your strategy well.
You can be very sleek about your email marketing and create a Holiday follow-up series, deliver tutorials on how to use your software for people to learn how to do what they want, and also test out your software.
If your product is dependent on hardware that takes a little more time to get used to, maybe you should make sure you don't max out on your good offers during the holidays and at least have some special discounts for people that don't buy software the next day after they got their gadgets.
Tips, tricks & takeaways
you have multiple days when you can try to send out some good offers and cash in on people's willingness to spend loads of money (see the calendar).
you need a segmented email list so that you know what kind of offers to send and to expect betters results.
don't max out on good offers during the holidays, leave some for the start of next year, most marketers focus on the holidays.
plan out your offers based on how people shop. If your product depends on specific types of hardware to be sold, you should plan accordingly, taking learning curves into account.
personalize every offer. the more personalized, the better because it makes it more exclusive.
add scarcity to your offers, loss aversion is a handy tool for marketers.
don't be that annoying marketer and don't over-promote your products, don't overdo announcements, focus on what matters for the subscribers, and that usually means delivering high-quality content, cool offers, giveaways, and coupons.
to serve best your customers, you need to know them better, so make sure you make the extra effort and connect with them via social media, live chat, forums, or blogs.
working with a dedicated partner, like a merchant of record for gaming companies or SaaS and software, to oversee your international transactions is vital.
ensure global SaaS compliance if you plan on selling your products and services worldwide.
Meet PayPro Global.
Your Professional
eCommerce
Partner
No 3rd party integrations. No hidden costs. No wasted time.
Just a solution as unique as your business's needs.
Is your head spinning already?
It should be.
Planning your holiday marketing efforts is hard work, and the sooner you get it done, the more time you have to A/B test your subject lines, offers, designs, timeframes, and other elements.
Also, you will have more time to ensure you are taking the right steps to deliver a perfectly planned email marketing campaign.
So, this year put more focus on planning your campaign and try to deliver the right offer, at the right time, to the right customers, and for sure, you can achieve better results than last year and maybe sell more software than ever before.
It doesn't take luck to make it, but it does take knowledge. Be the first to learn the latest industry insights and must know marketing tips and tricks. Sign up and enjoy! Always informed. Never Spammed.